Posted By Norman Gasbarro on May 29, 2017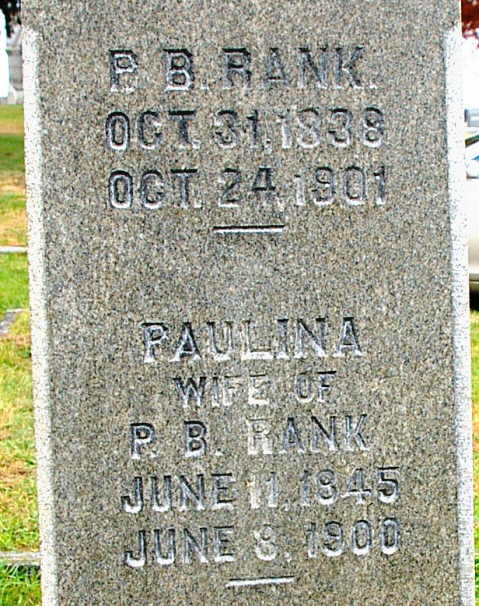 Peter B. Rank was born 31 October 1839.  During the Civil War, he served in the 48th Pennsylvania Infantry (Emergency of 1863), Company D, as a Corporal, from about 2 July 1863 through discharge at the end of the emergency, 26 August 1863.  He married the former Pauline Rudy, and with her had four children.  He died in Williamstown, Dauphin County, Pennsylvania, 24 October 1901.
His obituary, and that of his father-in-law, Martin Rudy, appeared in the Lebanon Evening Report, 30 October 1901:
DEATHS AND BURIALS

Record of Those Who Are Claimed by the Grim Reaper

FREDERICKSBURG FUNERALS

Further Details Regarding the Last Rites for Peter B. Rank and Martin Rudy Who Were in a Common Family Bond – The City.

Fredericksburg, Pennsylvania, 30 October 1901 — The funeral of Peter B. Rank, from his late residence at Williamstown, Dauphin County, took place on Monday morning at 9:30 o'clock.  Interment was in the Cedar Hill Cemetery at this place.  The deceased leaves the following children:  Emma Rank; Charles Rank; and Edgar Rank.  The funeral was in charge of Undertaker Hess.  Rev. W. H. Dale officiated.  The pallbearers were Amos Lebo; Ed Berry; George Lenker; William Smith;William James; and James Woffenden….

In the afternoon of the same day, Martin Rudy, the oldest citizen of Fredericksburg, and the father-in-law of Mr. Rank, was laid to rest.  Deceased was aged 78 years old.  The funeral was in charge of Undertaker Gerhart, Rev. Mr. Hilbish preached the funeral sermon.  The pallbearers were Simon P. Boltz; Isaac Abling; William Schoeffer; and Franklin Leitz.  The remains reposed in a black walnut coffin, heavily adorned.  In life he was a stalwart Democrat, a member of the Reformed Church, and by trade was a tanner, which he carried on at this place for many years.  The following are the surviving children:  Mrs. John Wise; Miss Sabine Rudy; Mrs. J. F. Strauss; and Mrs. Jacob Schnofferly.
The Lebanon Courier and Semi-Weekly of 30 October gave the following additional information:
Peter Rank, a prominent and highly respected merchant and for many years engaged in the general merchandise business, at Williamstown, Dauphin County, died on Thursday morning, after an illness of only a few days.  Death was caused by pneumonia.  He was a son of the late Jacob Rank, a resident of Union Township, this county…. Deceased was well known in this city and was a relative to the Mader family, John R. Rieber, William R. Bobb and Miss Sallie Bobb.
The death notice also appeared in the Lebanon Daily News and in the Harrisburg Daily Independent.  None of the obituaries mentioned that Peter B. Rank was a Civil War veteran, and his Findagrave Memorial does not mention that fact either.
In 1890, Peter B. Rank reported his military service to the census, and that it how it was determined that this long-time Williamstown resident and merchant belonged in the list of Civil War veterans from the greater Lykens Valley area. He is buried in Lebanon County because he spent his early life there.
Additional information is sought about Peter B. Rank, his family, and his military services.