Posted By Norman Gasbarro on May 1, 2017

Michael O'Leary, whose name appears on the Lykens G.A.R. Monument as a Civil War veteran from the Lykens-Wiconisco area who was not a member of the Heilner Post, was identified as to his regiment and company by a record found on Ancestry.com in the series, Headstones Provided for Deceased Union Civil War Soldiers.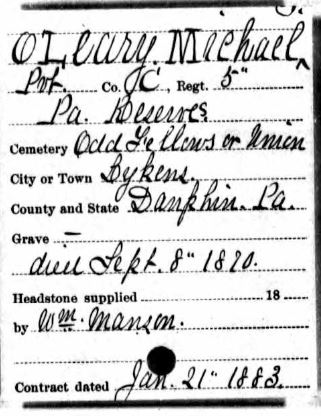 The index card shown above indicates that Michael O'Leary died on 8 September 1870 and that he served in the 5th Pennsylvania Reserves [34th Pennsylvania Infantry], Company C, as a Private.  While there are several persons of that name who served in the war, this one is buried in a cemetery in Lykens and a government-issued gave marker was provided as the result of a contract dated 21 January 1883.
Michael O'Leary would not have been identified as a Lykens area soldier from simply reviewing the Pennsylvania Veterans' File Card, shown below from the Pennsylvania Archives as there is no evidence on the card of an association with the Lykens area.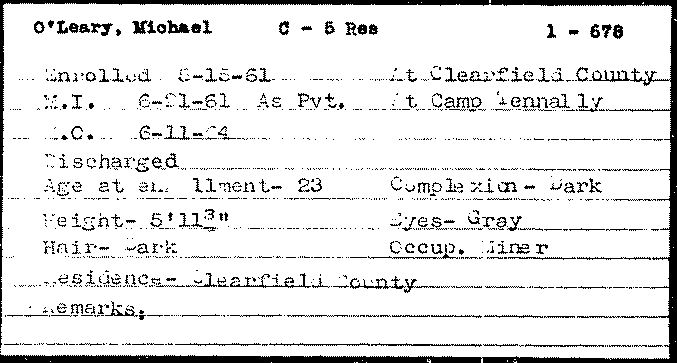 On 15 May 1861, Michael O'Leary enrolled at Clearfield County, Pennsylvania, in the 5th Pennsylvania Reserve Infantry [a.k.a. 34th Pennsylvania Infantry].  At the time of his enrollment, he claimed that he was 23 years old, was working as a miner, and lived in Clearfield County.  He stood nearly 6 feet tall, had dark hair, a dark complexion, and grey eyes.  He was mustered out on 11 June 1864.
During his service time, his regiment was at Gettysburg.  However, Michael's name does not appear on the tablet for Company C at the Pennsylvania Memorial.
No Pension Index Card has been located for him.
In 1850, Michael O'Leary was in the household of his parents in Wiconisco Township, Andrew O'Leary, a miner, born about 1812 in Ireland, and Mary Ann [O'Donnell] O'Leary, born about 1818, possibly in New York.  There were several other children in the household.
Michael O'Leary has not been located in the 1860 census.
In 1870, Michael O'Leary was living in Wiconisco Township in the household of Daniel Grow, a laborer in the mines.  Michael indicated in this census that he had been born in Ireland – which conflicts with information in the 1850 census where it was stated that he was born in Pennsylvania.  At this time, Michael O'Leary was working as a coal miner.  As per the headstone record, he died later in the year, 8 September 1870.
As of this writing, no photo has been seen of his grave marker, no one has created a Findagrave Memorial for him, and his cause of death is unknown.
Additional information is sought about this Civil War veteran. Why didn't he serve at Gettysburg?  Was he married?  In which cemetery section in Lykens is he buried?  How did he die?  Readers who can answer any or all of these questions are urged to add comments to this blog post.