Posted By Norman Gasbarro on May 26, 2017

The name of John Rathvon appears on the Millersburg Soldier Monument as someone who served in the Civil War from the Millersburg area.  When and how did he serve is the focus of this blog post.
The obituary of John J. Ratahvon appeared in the Elizabethville Echo on 8 December 1932:
Millersburg Veteran Buried on Sunday

Funeral services for John Rathvon, age 92 years, who died at his home after a short illness, were held Sunday afternoon, from the Minier Funeral Parlors at that place.  Interment was made in Oak Hill Cemetery where members of the Steever R. Day Post American Legion conducted military rites at the grave.  Mr. Rathvon was Millersburg's last Civil War veteran.

He learned his trade in an iron foundry at Millersburg.  As a young man he emigrated to Ohio.  Later he decided to move on to Montana and boarded a river steamer at St. Louis.  This boat had to be abandoned because of an Indian attack.  Mr. Rathvon resumed passage on another boat and disembarked near Fort Benton.  For a time he was captain of a boat that went up and down the Missouri River, buying buffalo hides and furs from trappers and traders.

In Montana, Mr. Rathvon prospected for gold and found pay dirt but was driven from further endeavor by Indian attacks.  Returning east, Mr. Rathvon enlisted with the Pennsylvania Volunteer Militia in June 1863, and saw service during the Battle of Gettysburg.  When this term expired, he re-enlisted for the remainder of the Civil War, receiving his honorable discharge at Harrisburg.

After his return to Millersburg, Mr. Rathvon entered the greenhouse business, becoming a grower of flowers and other plants, in which he engaged for many years.
If the obituary is to be believed, John Rathvon served from just before Gettysburg through the end of the war, and therefore, there should be records available to document that.

In 1890, when given a chance to indicate whether he was a Civil War veteran, John Rathvon reported that he had served in the 6th Pennsylvania Militia [6th Pennsylvania Infantry (Emergency of 1862)] from September 1862 through October 1862.  This was the only service he reported to the census!  Above portion of census from Ancestry.com.
A Pennsylvania Veterans' File Card for John Rathvon from the Pennsylvania Archives confirms that service.  On 13 September 1862, at Halifax, Dauphin County, Pennsylvania, he enrolled in the 6th Pennsylvania Infantry (Emergency of 1862), Company E, as a Private, and served for the duration of the emergency until 27 September 1862, when he was honorably discharged.  At the time of his enrollment, he said he was 21 years old and resided in Millersburg.
Under the name of John Rathvon, no other Pennsylvania Veterans' File Cards were located.

The obituary stated he served at Gettysburg, so his name was entered into the Steve Maczuga search site for names that appear on the Pennsylvania Memorial at Gettysburg.  The result that came up was for a John J. Rathvon who served in Company K of the 26th Pennsylvania Infantry (Emergency of 1863), as a Private.  That name was located on the monument tablet, as shown above.  However, in the Steve Maczuga's database of Pennsylvania soldiers, when searching for the surname "Rathvon," no one by the name of John J. Rathvon was listed in that regiment and company.  With one more way to search the Steve Maczuga's database (by regiment) the list of all men who served in any 26th Pennsylvania regiment and company was examined, and there in the listing was a "John J. Rathboon" who served in Company K of the militia as a Corporal.  Armed with that information, a return to the Pennsylvania Veterans' Card File at the Pennsylvania Archives resulted in a matching card, shown below: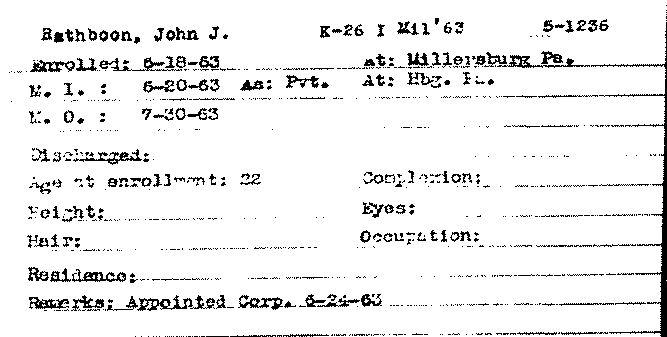 The card indicates that on 18 June 1863, at Millersburg, he enrolled in the emergency militia, 26th Pennsylvania Infantry, Company K, as a Private, he was mustered into service on the 20 June 1863,and on 24 June 1863, he was appointed Corporal.  At the end of the emergency, on 30 July 1863, he was discharged.  When he enrolled, he gave his age as 22.  Therefore, he did serve at Gettysburg as indicated in the obituary.
Note:  By searching for "Rathboon" in Fold3, an additional spelling came up of the surname:  "Rattsboon," under which his military records for the 26th Pennsylvania Infantry (Emergency of 1863) are filed!
At this point, if John J. Rathbone did re-enlist after Gettysburg and serve for the duration of the war, no other military records have been located to support that service – under any of the spellings of the surname!  And, no Pension Index Card has been found to support that he applied for a pension, which surely would have been the case at some point in his old age when he would have felt entitled by surviving as long as he did.  It should be noted here that while several attempts were made to allow pensions to be issued to men who served only in state militia regiments, those pensions were never approved or granted, and the only way a militia-man could get a pension was to serve a cumulative total of three months (or be seriously injured as a result of his militia service).  Few qualified under the "serious injury" requirement and no cumulative service in militia-only regiments met the three month minimum.
The Montana "experience," as described in the obituary, had to occur between the 1860 census, when John was enumerated as an "apprentice molder" in Millersburg, and his service in the 6th Pennsylvania Militia, which occurred in late 1862.  Thus far, no documents have been located that actually place him in Montana.
Strangely, John J. Rathvon is named on the Millersburg Soldier Monument, while his brother Ambrose Rathvon is not.  Is there an explanation for this?  John was alive and living in Millersburg when the monument was dedicated and he may be pictured in the group photo that was taken the day of the dedication.  Ambrose had died in 1905, prior to the erection of the monument.
Finally, about 1880, John J. Rathvon married Sarah Elizabeth "Sallie" Miller, the daughter of George S. Miller and Elizabeth [Lower] Miller.  No record has been seen to indicate they had any children.  Sallie died in 1916, and is buried at Oak Hill Cemetery, Millersburg.  See her Findagrave Memorial.  When George died in 1932, he too was buried at Oak Hill Cemetery.  Although he was the last surviving Civil War veteran from Millersburg, nothing is mentioned on his Findagrave Memorial of his military service.
Any additional information that can be supplied about John J. Rathvon would be appreciated and should either be added as a comment to this post or sent via e-mail.