Posted By Norman Gasbarro on May 24, 2017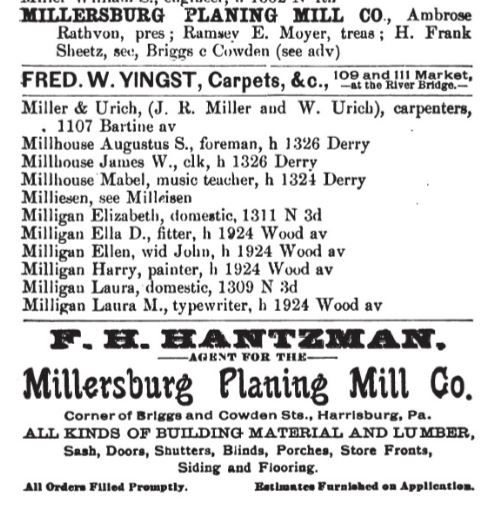 Two entries appear in the 1893 Harrisburg City Directory for the Millersburg Planing Mill Company, as seen in the page portion above.  In the first entry, the company is named in the alphabetical listing with officers given as follows:  Ambrose Rathvon, President; Ramsey E. Moyer, Treasurer; and H. Frank Sheetz, Secretary.  At the bottom of the page there is an advertisement which reads:
F. H. HANTZMAN, Agent for the Millersburg Planing Mill Co.  Corner of Briggs and Cowden Streets, Harrisburg, Pennsylvania.  ALL KINDS OF BUILDING MATERIAL AND LUMBER, Sash, Doors, Shutters, Blinds, Porches, Store Fronts, Siding and Flooring.  All Orders Filled Promptly.  Estimates Furnished on Application.
In the 1850 census for Upper Paxton Township, Dauphin County, Pennsylvania, Ambrose Rathvon was living with his parents.  He was recorded as 10 years old.
In the 1860 census for Millersburg, Ambrose was still living with his parents, but was working as a carpenter.  He was recorded as 22 years old.

In the 1863 Civil War Draft, shown above from Ancestry.com, Ambrose Rathvon, living in Millersburg,  claimed he was 25 years old, was working as a carpenter, and was married.  At that time, he reported no current of previous Civil War service.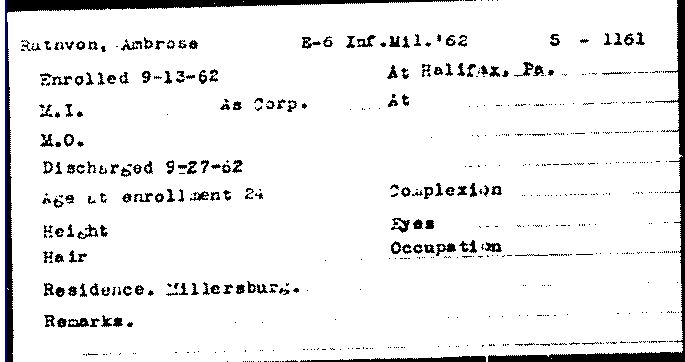 However, as documented on the Pennsylvania Veterans' File Card from the Pennsylvania Archives (shown above), Ambrose Rathvon had already served in the 6th Pennsylvania Infantry (Emergency of 1862), Company E, as a Private, from about 13 September 1862 through discharge at the end of the emergency on 27 September 1862.  At the time, he enrolled at Halifax, claimed his residence as Millersburg, and his age as 24. No other Civil War service record for him has been found.
In 1870, Ambrose was living in Upper Paxton Township, where he was living with his wife, the former Catherine Heckert, two small children, and working as a farmer.
In 1880, Ambrose was back in Millersburg as a carpenter.  His wife Catherine and five children were members of his household.
In 1890, Ambrose Rathvon reported his Civil War service to the census, claiming he served with the "Emergency Men" and naming the militia regiment and company of his service, as well as his rank of Corporal.  In 1890, he was still living in Millersburg.
In 1893, according to the previously mentioned Harrisburg City Directory (see top of post), he was president of the Millersburg Planing Mill Company.
In 1900, Ambrose Rathvon had changed occupation to that of "florist."  He was still living in Millersburg with his wife Catherine, but only one daughter remained in the household.
As of this writing, an obituary has not been found for Ambrose Rathvon, but his wife died in 1920 as reported by the 25 November 1920 Elizabethville Echo.
MRS. CATHARINE RATHVON

Mrs. Catharine Rathvon, widow of the late Ambrose Rathvon and daughter of the late Daniel Heckert, died at Millersburg last Saturday morning of congestion of the lungs at the age of 80 years. Funeral services were held on Tuesday afternoon by Rev. Mark. L. Burger of the Evangelical Church.  Burial in Oak Hill Cemetery.
Searching for Ambrose Rathvon in Findagrave, produced a photograph of his grave marker: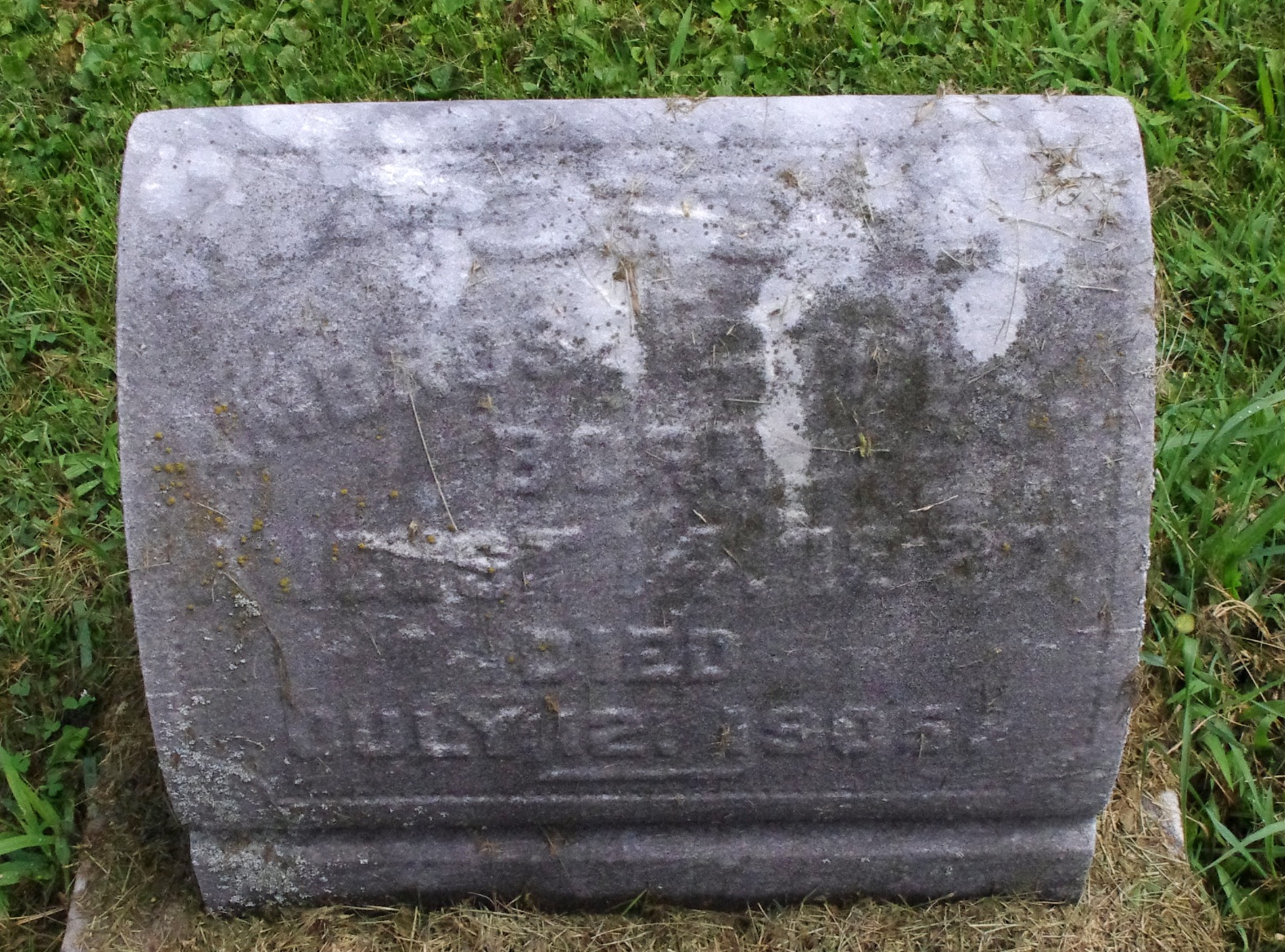 Ambrose Rathvon is buried at Oak Hill Cemetery, Millersburg, and his wife Catherine is buried next to him.  However, there is no indication in the photo that he was a veteran of the Civil War, nor is there any indication in the Findagrave Memorial.  There is also a problem with the birth date as recorded on the stone as 14 August 1827.  Ambrose Rathvon, according to all other records (census and Civil War included), was more likely born in 1837, not 1827.  Yet, it is clear that this is the same Ambrose Rathvon who served in the Civil War – and the same Ambrose Rathvon who was the president of the Millersburg Planing Mill Company.  The only place the date of death has thus far been found and verified, is on the grave stone – 12 July 1905.
What is possible here is that since the widow died 15 years after Ambrose, the stone was not placed on his grave until her stone was placed after her death, and whoever contracted the stone, did not accurately know what year he was born.
More information is sought about Ambrose Rathvon – in particular why he is not included in the list of those who served from Millersburg, and why he was not named on the Millersburg Soldier Monument?  Information can be added as a comment to this blog post or sent via e-mail.  Also, is there a picture available of him?
________________________
Note:  The brother of Ambrose Rathvon, John Rathvon, is named on the Millersburg Soldier Monument.  John served in the same emergency regiment as Ambrose.