Posted By Norman Gasbarro on May 8, 2017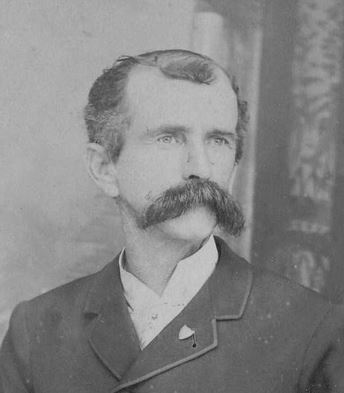 Aaron Ossman was born on 8 December 1838 in Valley View, Hegins Township, Schuylkill County, Pennsylvania, the son of Philip Ossman (1796-1866) and Barbara [Friedlein] Ossman (1794-1860).
In 1860, Aaron was living with his parents in Hegins Township, where at age 22, he was working as a carpenter.  At the time he enlisted in Civil War, 19 August 1861, he was at the same place and still working as a carpenter.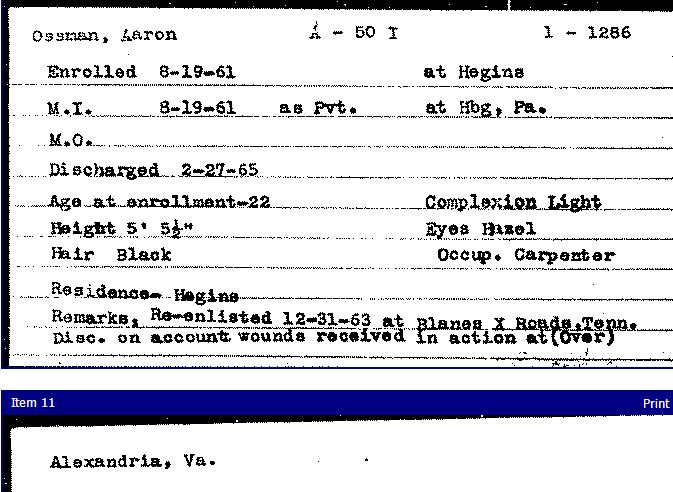 On the same day he enlisted at Hegins Township, he was mustered into service in the 50th Pennsylvania Infantry, Company A, as a Private, along with many of his neighbors who also were enrolled in that same company.  Physically, he was nearly 5 foot 6 inches, had black hair, a light complexion, and hazel eyes.  The record of his service indicates that he received no major injuries up to the time he re-enlisted at Blaine's Crossroads, Tennessee, on 31 December 1863.  The record also shows that as a result of injuries received at Alexandria, Virginia, he was discharged on 27 February 1865 on a Surgeon's Certificate of Disability.

Specifically, the injury was a gunshot wound to the right arm – which was described in the 1890 census.  "G.S. Wd. R. Arm" as shown on the portion of the 1890 Census, shown above.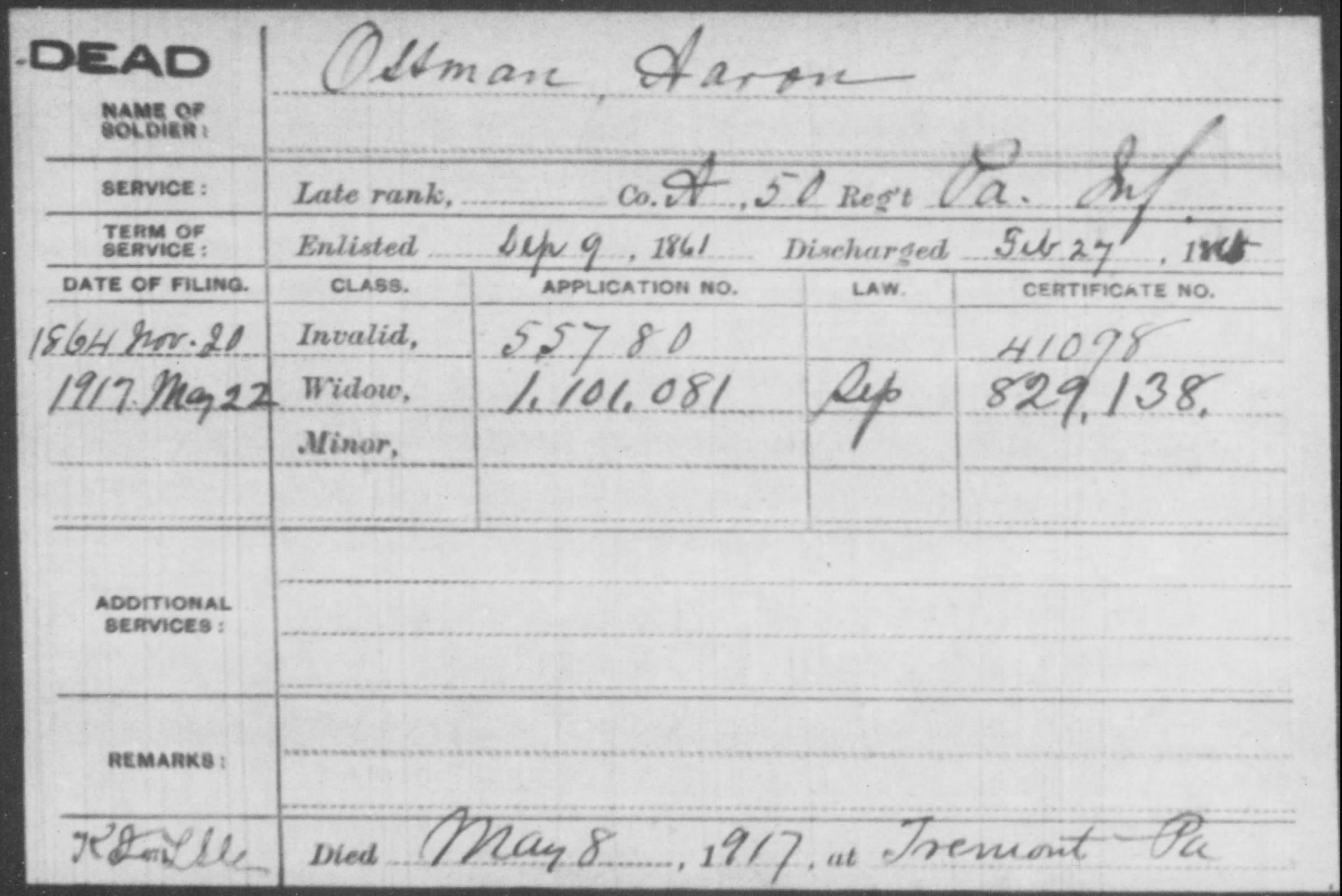 The injury was sufficient for Aaron Ossman to apply for a pension, on what appears to be 20 November 1864, prior to his discharge.  He was awarded the pension, which he collected until his death, which occurred on 8 May 1917 at Tremont, Schuylkill County, Pennsylvania.  Upon his death, a widow applied on 22 May 1917, which she was awarded and collected until her death.  Note:  Penson Index Card, above, from Fold3.
Aaron Ossman was first married to Henrietta "Harriet' Header who died in 1876.  Then he married Margaret "Maggie" Bone, who survived him and was the recipient of the widow's pension.  This fact is shown on the Pension Index Card from Ancestry.com (not shown here).
In 1870, Aaron Ossman was living in Tower City, Schuylkill County, and working as a carpenter.  He is not named on the Tower City All-Wars Monument, but should have qualified because of his residence there.
1n 1880, he was living in Hegins Township, and still working as a carpenter.
In 1890, he was living in Tremont, when he reported his war service to the census.
In 1900, he was still living in Tremont, and working as a land agent.
And, in 1910, he was living in Tremont, where he was no longer working, presumably living off his pension.
Four correspondences have been located between Aaron Ossman and the National Tribune, Washington, D.C., the official newspaper of the Grand Army of the Republic.  All were published in editions of that newspaper and attest to his interest in the issues of the day.
On 26 February 1903, in relation to the blanket issuance of pensions to all who served in the war, and in recognition that he was receiving a disability pension for severe wounds received to his right arm:

Aaron Ossman, Co. A, 50th PA., Tremont, Pa., does not favor a service-pension bill, unless it be in addition to disability pension.
On 2 April 1908, in relation to the women of the south erecting a memorial to Henry Wirz, commander of Andersonville Prison Camp:
Aaron Ossman, 50th Pa., Tremont, Pa., says that the Wirz Monument is the result of the continual dinging about it by the veterans until they stirred the ladies of the South to the present pitch.  It is absurd in the women of the South to honor this fellow when they have hundreds of true and faithful men who fought to the last for what they believed to be right.  The monument will be a disgrace to those who put it up, and to all generations to come as long as it shall stand.
On 11 February 1909, Aaron Ossman related what he believed to be the proper definition of the term "veteran."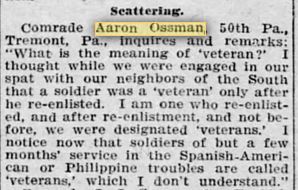 Scattering.

Comrade Aaron Ossman, 50th Pa., Tremont, Pa., inquires and remarks:  "What is the meaning of 'veteran?'  I thought while were engaged in our spat with our neighbors of the South that a soldier was a 'veteran' only after he re-enlisted.  I am one who re-enlisted, and after re-enlistment, and not before, we were designated 'veterans.'  I notice now that soldier of but a few months service in the Spanish-American or Philippine troubles are called 'veterans,' which I don't understand."
Finally, on 21 October 1909, Aaron Ossman wrote regarding the higher amount in monthly payment given to those who reached the age of 70 and were eligible, than to those who were severely disabled – arguing that those who were disabled should receive both amounts: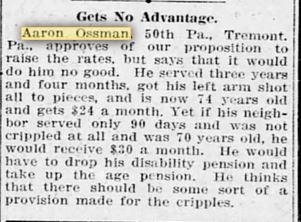 Gets No Advantage.

Aaron Ossman, 50th Pa., Tremont, Pa., approves of our proposition to raise the rates, but says that it would do him no good. He served three years and four months, got his left arm shot all to pieces, and is now 74 years old and gets $24 a month. Yet if his neighbor served only 90 days and was not crippled at all and was 70 years old, he would receive $30 a month.  He would have to drop his disability pension and take up the age pension.  He thinks that there should be some sort of a provision made for the cripples.
What may seem confusing after reading this entire blog post, is that it was reported in the 1890 census (shown above) that Aaron Ossman's wound was to the right arm, and in the 21 October 1909 letter to the National Tribune, he stated that the damage was done to his left arm.  A final piece of evidence as to which arm received the gunshot wound is shown below – the full picture of Aaron Ossman from which the portrait at the top of this post was cropped: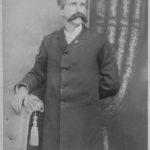 Unless the photograph was taken of a mirror, it is the left arm, hidden behind his back, that was most likely damaged.  For additional proof, an examination of the pension application file would be necessary.  That file, from the National Archives, was not available for this blog post.
__________________________
The photograph of Aaron Ossman is from a publicly posted family tree on Ancestry.com.