Posted By Norman Gasbarro on April 7, 2017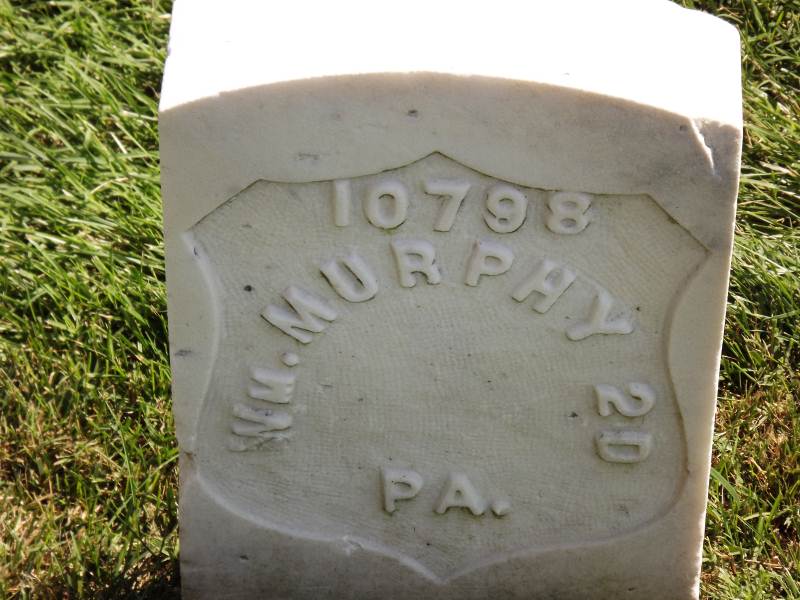 William D. Murphy, or William Murphy II as he is found in some records, was born in August 1844 in Ireland.  According to information in the 1900 census, he came to America in 1862, during the Civil War.  He married Hannah Grant some time prior to emigrating and they began a family in Ireland, which after arrival in the United States continued to grow.  The last-known child was Timothy Francis Murphy, born in 1882 in Tremont, Schuylkill County, Pennsylvania, where the family lived after the Civil War and where William worked in the coal mines. In 1890, William D. Murphy reported his Civil War service to the census.  He continued to work in the mines, but by 1910, he was no longer able to do so and was residing at the Hampton Soldiers' Home, Hampton, Virginia, where he eventually died on 5 September 1915.  He is buried in the National Cemetery there.
Several available records confirm all of the above and more!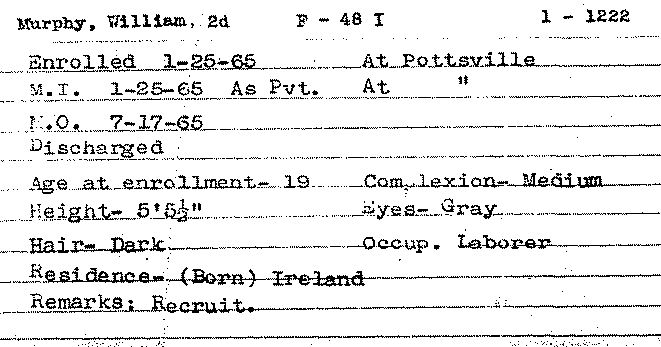 According to the Pennsylvania Veterans' File Card available at the Pennsylvania Archives, William Murphy 2nd enrolled in the 48th Pennsylvania Infantry, Company F, at Pottsville, and was mustered into service the same day as a Private.  At the time, he claimed to be 19 years old, was of Irish birth, and was employed as a laborer.  He stood nearly 5 foot 6 inches tall, had dark hair, a medium complexion, and gray eyes.  On 17 July 1865, he was mustered out of service with his company and given and honorable discharge.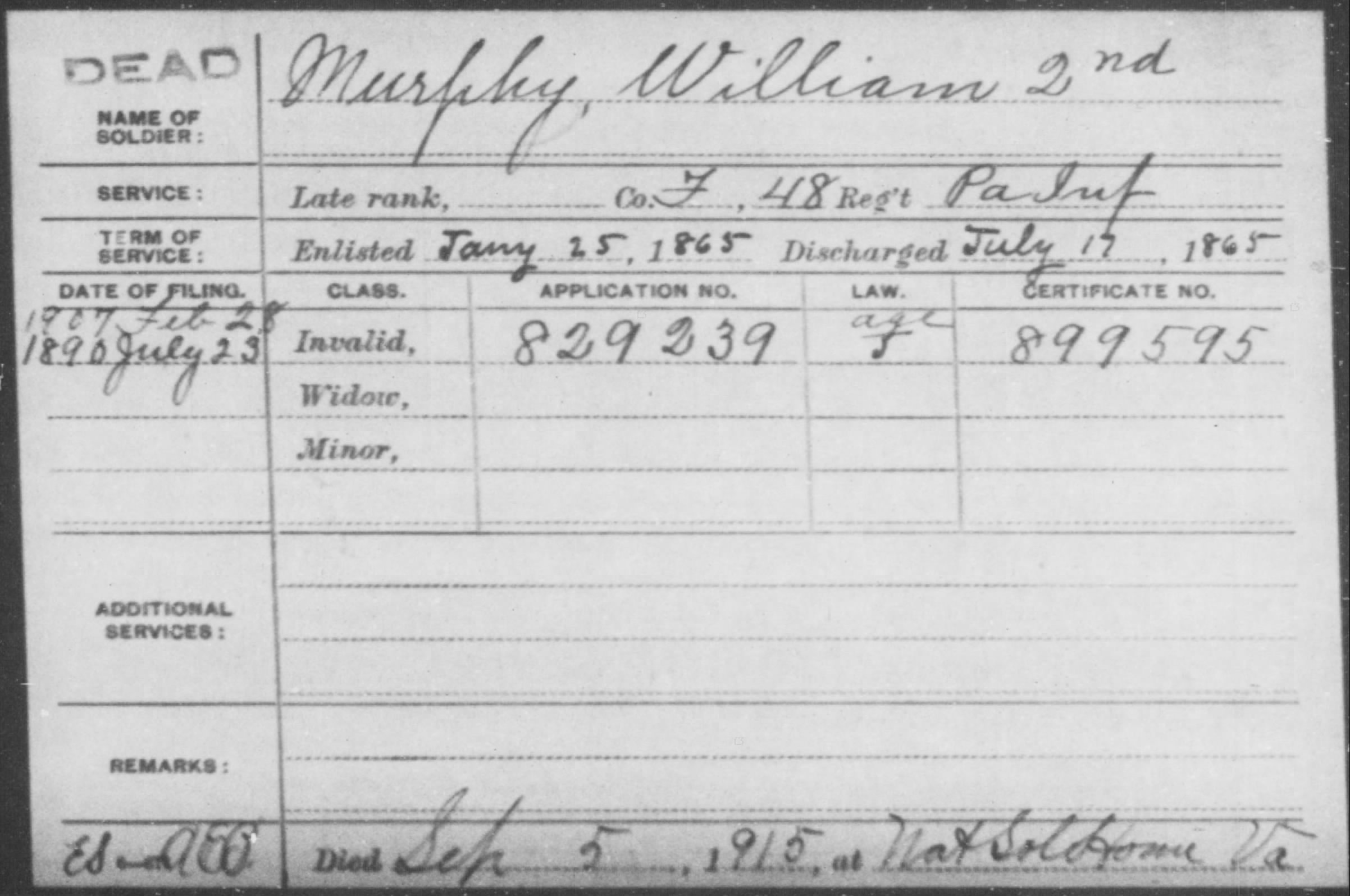 The Pension Index Card, shown above from Fold3, confirms that William Murphy 2nd died at the National Soldiers' Home, in Hampton, Virginia, on 5 February 1915. In addition it shows that he first applied for a pension on 23 July 1890 and collected it until his death.  No widow applied, so it could be assumed that the wife, Hannah [Grant] Murphy, preceded him in death.
In 1890, then living in Tremont, William D. Murphy gave the census-taker his military information and then stated that he had no Civil War-related disabilities.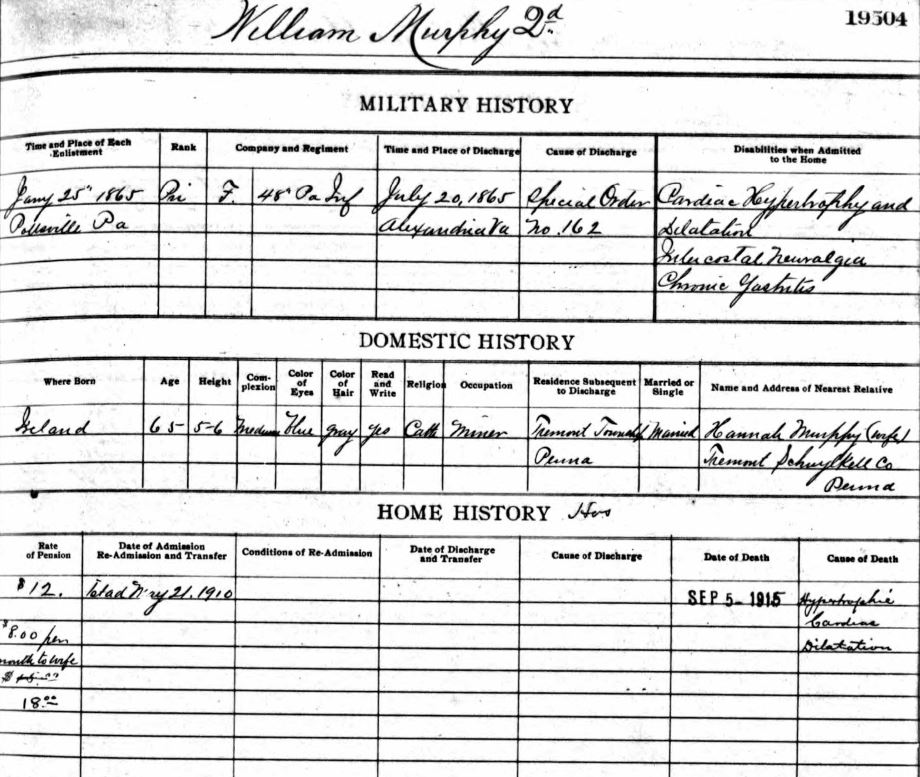 The Soldier Home record for William Murphy 2nd, notes that he was first admitted on 21 May 1910 and at that time was suffering from cardiac "hypothophy and sedation, intercostal neuralgia, and chronic gastritis."  Also, in 1910, his wife Hannah was named as nearest relative, his residence (and hers) was Tremont, and he was 65 years old. The death date of 5 September 1915 is also in the record.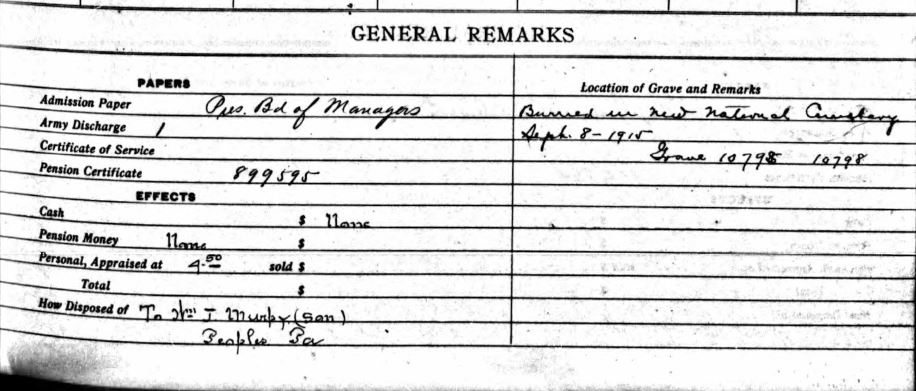 The bottom portion of that same record page gives the burial place as the "New National Cemetery" [Hampton], grave number 10798.  A picture of the grave marker, from Findagrave, is shown at the top of this post.  A son's name, William J. Murphy, of People's, Pennsylvania, is the person to whom his effect, total value $4, were given.
An interesting news article was found on-line regarding William's lost brother John Murphy, and another man named James Murphy, probably not related, who William claimed to rescue from death outside Petersburg in 1864.  While much of the story focuses on William's attempts to locate John Murphy, who apparently had joined the Southern army or a Union regiment from Tennessee, the interesting side-story of James Murphy emerged.  James Murphy, who had not been previously identified by the Civil War Research Project, had enrolled at Donaldson, Schuylkill County, in the 96th Pennsylvania Infantry, Company H, as a Private, on 3 October 1861.  The article, believed to be from the Pottsville Republican some time in 1891, told the story as follows:
At the siege of Petersburg, after William was relieved from doing duty in one of the trenches in front of the place, he heard in camp from one of his companions that a man named Murphy had been shot about 9 o'clock in the morning and left dying where he fell.  He immediately asked permission of his captain to go in search of the body.  His request was granted, and he crawled on his hands and feet to the spot designated and found the body.  He brought the body into camp when it was discovered that he was a member of the 96th Pennsylvania Regiment  [96th Pennsylvania Infantry] and had enlisted from Minersville.  His name was James Murphy.

He was placed with a number of dead and wounded, and the surgeon summoned who, on examination, pronounced Murphy dead.  Another surgeon, passing shortly after, his attention was called to Murphy, and he ordered him  to be sent to the hospital, where he recovered consciousness.  The ball entered above the eye and penetrated the brain.  It was removed, the wound bandaged and, as the hospitals around Washington were crowded with wounded soldiers, Murphy, with others, was sent to a West Philadelphia hospital, where, after a week's time, he became a raving maniac.  After the wound had been bandaged, it was left untouched and mortification had set in.  One of the Sisters of Charity at the hospital gave as her opinion that the wound had healed too quick.  A doctor was called, the wound opened, when a horrible discovery was made that maggots were eating inside.  The wound was cleaned.  Murphy recovered, went to the front and came home honorably discharged.
Little is known about what happened to James Murphy after the war, except that pension records show that he applied for benefits on 4 December 1875 from Pennsylvania, and a widow, Ellen Murphy, applied for benefits after his death.  Regardless, James Murphy, with an established relation to Donaldson, is another lost veteran from that area who has now been discovered and needs to be further researched.   Surely, there is further information about this soldier in the pension application files, which may confirm the battlefield story of how he was saved from death by William Murphy.
The news article continued by telling how, after the war, William Murphy returned to Tremont, Schuylkill County, believing that his brother, John Murphy had died in the war.  Then about 1891, William received a letter from Cottage Grove, Minnesota, inquiring whether he had a younger brother John, who he had carried aboard ship as they left their native Ireland.  William then sent for John and the "joyous" reunion was held in Pottsville.  At this writing, nothing further is known about John Murphy, including whether he served in the Civil War.
Since research is still on-going, additional information is sought on all the men mentioned in this blog post.