Posted By Norman Gasbarro on April 19, 2017

In the 1890 Veterans' Census for Williamtown, Dauphin County, Pennsylvania, Robert Newton, alias Richard Noble, reported that he had served in the 95th Pennsylvania Infantry, Company E, as a Private.  He was located in the records of that regiment under the name Richard Noble.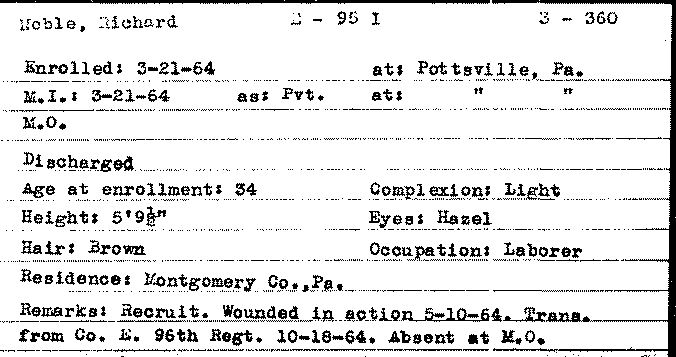 The Pennsylvania Veterans' File Card from the Pennsylvania Archives gave the following information about Richard Noble:  At the time of his enrollment, he was a recruit who resided in Montgomery County, Pennsylvania, was 34 years old (born about 1830), and was working as a laborer.  He stood nearly 5 foot 10 inches tall, had brown hair, a light complexion, and hazel eyes.  On 21 March 1864, he was mustered into service at Pottsville in the 96th Pennsylvania Infantry, Company E, as a Private, and was wounded in action on 10 May 1864.  On 18 October 1864, he was transferred into the 95th Pennsylvania Infantry, Company E.  And at the date of muster out of the company [17 July 1865] he was absent.  Other records indicate that his wounds were receive at 10 May 1864 at Spotsylvania Court House, Virginia.  This information as to his wounds was also reported as a war-related disability in the 1890 Census cited above.
At this point in the research into Richard Noble, it is not known if that was his original name, which after the Civil War was changed to Robert Newton, or if he was originally Robert Newton and decided for some reason to serve under the name of Richard Noble.  In searching the pension records on Fold3, no pension application was located under either name or for either regiment of service.
All the post-Civil War records of this individual are found under Robert Newton, and the only record located thus far which gives the alias is the 1890 Census.
For most of his post-war work career, Robert Newton worked in the mines in and around Williamstown.
About 1860, Robert Newton married Mary Ann "Annie" Dugan (1838-1910) and had six children with her:  Mary Newton (1863-1948); James Clemeth Newton Sr. (1865-1930); Hannah Newton (1866-1945); Robert Newton Jr. (1870-1936); Charles J. Newton Sr. (1871-1947); and Thomas Bernard Newton (1875-1937).  Most of the family is buried at the Sacred Heart Cemetery in Williamstown including Robert and his wife Annie.
According to cemetery records and newspaper information, Robert Newton was born 3 September 1833, probably in Maryland, and died on 19 December 1910 in Williamstown.  Annie [Dugan] Newton was born May 1838 in Ireland and died 12 October 1910 in Williamstown.  At the time of this writing, the Findagrave Memorial was not updated to include the information about Civil War service.
Additional information is sought about this Civil War soldier who served under the name of Richard Noble but lived out his life in Williamstown as Robert Newton.