Posted By Norman Gasbarro on April 17, 2017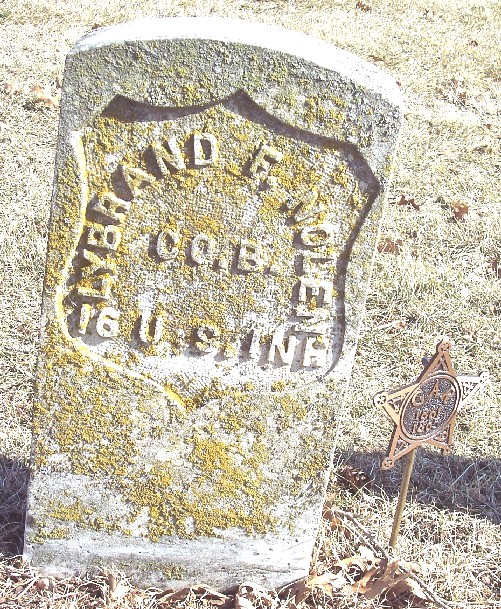 Lybrand F. Nolen is buried at the Municipal Cemetery in Carroll, Carroll County, Iowa.  His grave marker is a government issue stone which notes that he served in the 16th United States Infantry, Company B.  Other records indicate that he served as a Private, beginning his three-year term of service on 4 October 1864 during the Civil War, and ending it a Macon, Georgia, as part of the occupation force during Reconstruction, 4 October 1867.
Additional information about him is also found at his Findagrave Memorial.
Lybrand F. Nolen was born in Lykens, Dauphin County, Pennsylvania, on 7 January 1832, the son of Richard Nolen and Mary Nolen.   In 1850, he was living with his parents in Wiconisco Township, Dauphin County, where his father was working as a stone mason.  Lybrand married about 1854 and with his wife Sarah, had at least seven known children which have been identified in Ancestry.com trees, although in 1900, Sarah reported that she had eight children, four of whom were still alive.
In 1860, Lybrand Nolen was a store keeper in Wiconisco Township.
In 1870, the family lived in Wiconisco Township, where Lybrand was working in the mines.  His oldest son, Milliard Nolen, was also working in the mines.
The Harrisburg Telegraph, 1 August 1879, reported from the Lykens Register that L. F. Nolen (as he was also known), was involved in a mine accident:
An accident occurred in No. 5 gangway, deep slope of the Lykens Valley Colliery on Wednesday afternoon, which severely injured L. F. Nolen and J. W. Witmer, of this borough.  They were working at the head of a manway, ad a bump of top-rock suddenly occurring, let the sulphur down from the fissure upon their naked lamps, which caused an explosion and knocked the men down to the bottom of the manway, a distance of thirty-three years.  Neither one was badly burnt, but both were severely bruised, and Mr. Nolen had numerous cuts about his head and face.
In 1880, going by the name of Leib Nolen, the family appears in the 1880 census for Lykens, where Lybrand was still working in the mines.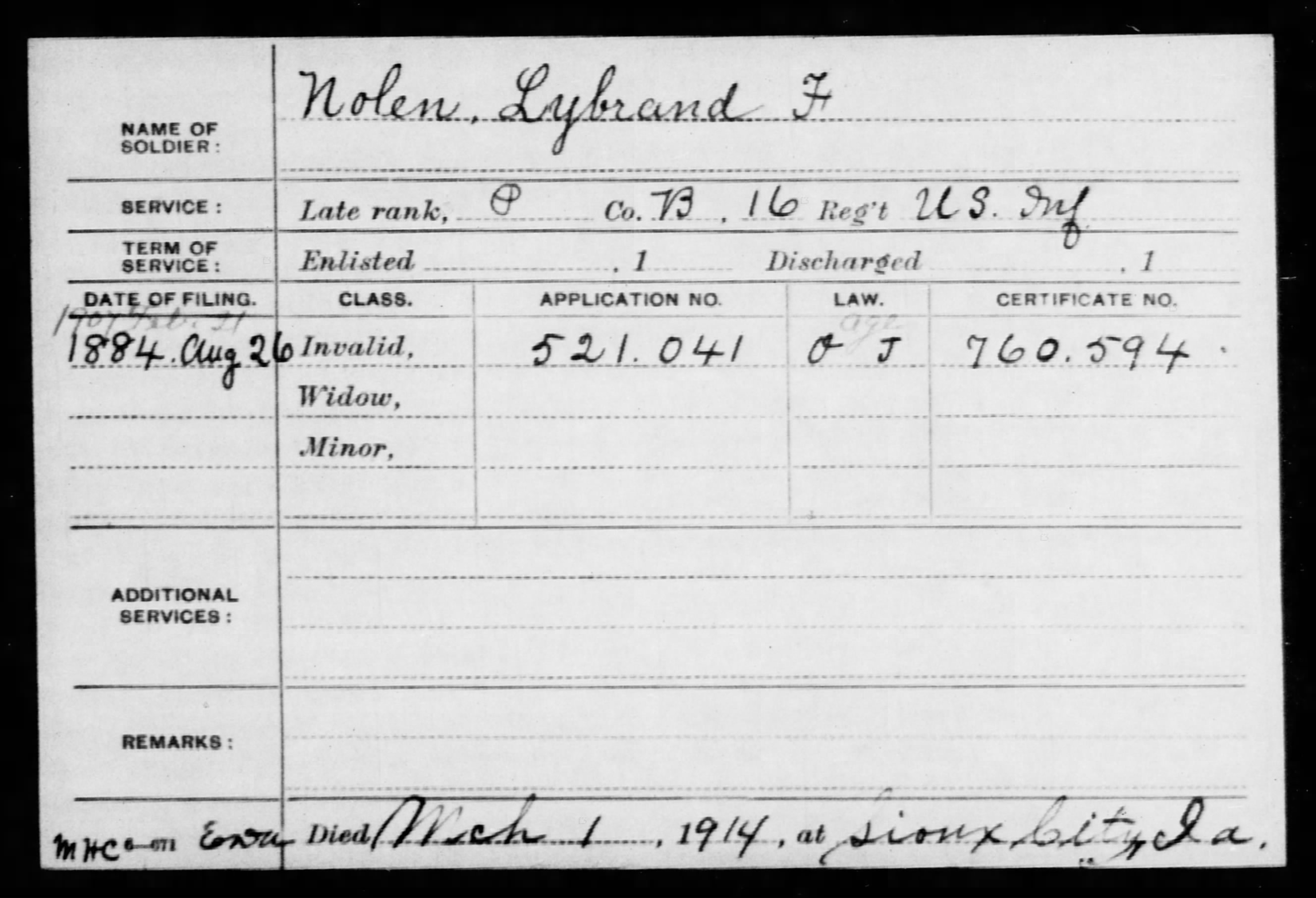 By 26 August 1884, Lybrand Nolen applied for a disability pension based on his military service – which he received and collected until his death, which, according to the Pension Index Card from Fold3 (shown above), occurred on 1 March 1914, in Sioux City, Iowa, where he and his family moved some time after he was involved in a second mining accident.
The second accident was reported 30 November 1888 in the "Upper Dauphin Notes" of the Harrisburg Telegraph:
L. F. Nolen, of Lykens, had his left leg broken in the mines last Monday by coal and dirt falling on him.
The family appears in the Carroll County, Iowa, census of 1895, and again at the same place in 1900, where Lybrand was working as a day laborer.  By 1910, he was retired, and living off his "own income," presumably his Civil War pension.
Findagrave records indicate that Lybrand's wife Sarah died on 24 1912, leaving him a widower for a little more than the last two years of his life.
Finally, the Lykens G.A.R. Monument contains the name "L. F. Nolen" in the category of those who joined the Heilner Post after its organization.
Did Lybrand F. Nolen move to Iowa because of his misfortune in the mines or was there another reason?  Much more research still needs to be done on this veteran who served honorably in a United States regiment during the Civil War.  Any additional information that can be supplied by a blog reader would be welcome!