Posted By Norman Gasbarro on April 15, 2017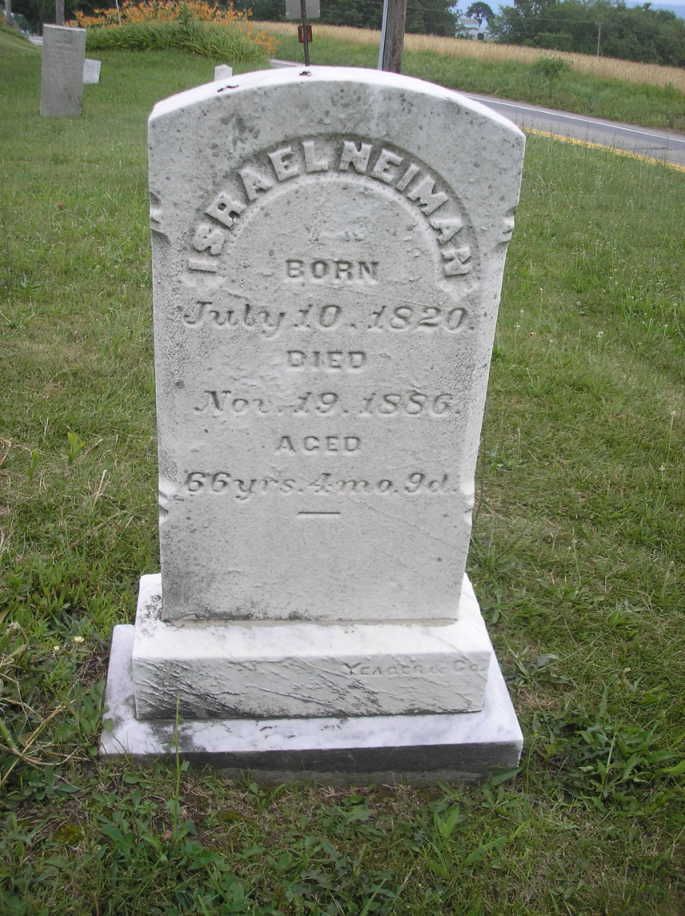 Israel Neiman is buried at the Old Methodist Cemetery in Berrysburg, Dauphin County, Pennsylvania.  At the time the photograph of his grave maker was taken (shown above) there was no indication at the cemetery that he was a Civil War veteran.  According to the stone, he was born 10 July 1820 and died 19 November 1886, aged 66 years, 4 month, and 9 days.  Also, at his Findagrave Memorial, there is no mention of his Civil War service.
Previously on this blog, Israel Neiman was added to the list of Civil War veterans who served from the Lykens Valley area.
On 26 November 1886, the Harrisburg Telegraph reprinted an obituary of Israel Neiman that had appeared earlier in the Lykens Register: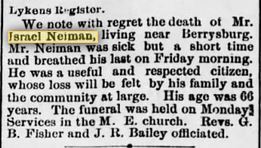 We note with regret the death of Mr. Israel Neiman, living near Berrysburg.  Mr. Neiman was sick but a short time and breathed his last on Friday morning.  He was a useful and respected citizen, whose loss will be felt by his family and the community at large.  His age was 66 years.  The funeral was held on Monday.  Services in the Methodist Episcopal Church.  Revs. G. B. Fisher and J. R. Bailey officiated.
The obituary also failed to mention his Civil War service.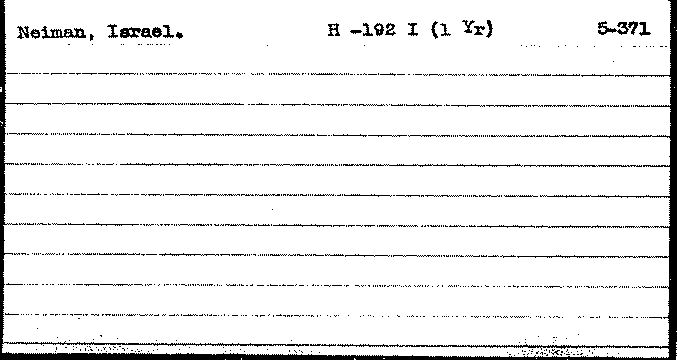 A Pennsylvania Veterans' File Card was located at the Pennsylvania Archives for an Israel Neiman who served in Company H of the 192nd Pennsylvania Infantry.  It appears that this is the same Israel Neiman who is buried at Berrysburg.  Records of the regiment indicate that he was mustered into service on 21 February 1865 and honorably discharged on 24 August 1865.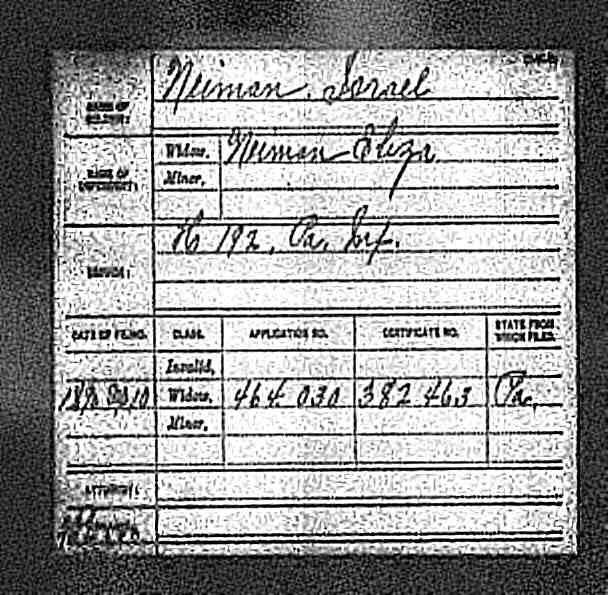 Since Israel Neiman died in 1886, he did not apply for a pension, having received no disability as a result of his war service.  In 1890, when the rules were relaxed to allow old age as a sufficient reason to apply, an Eliza Neiman applied for widow's benefits, which she received and collected until her death, as shown on the Pension Index Card (above) from Ancestry.com.
Eliza Neiman, according to information found in family trees on Ancestry.com, was Elizabeth Enterline born 13 May 1825 and died 9 July 1896.  She married Israel prior to 1847 and had at least seven children with him:
Mary Neiman (1847-1867);
John L. Neiman (1849-1872);
Israel E. Neiman (1851-1931), who married Susan Daniel (1858-1932);
Sarah S. Neiman (1853-1948), who married William Streepy;
William Neiman (1854-1923), who married Ellen Sabina Row (1860-1933);
Michael Neiman (1858-1927); and
Samuel M. Neiman (1861-1918).
Occupations for Israel Neiman include blacksmith (1850); farmer (1860); farmer (1870); and farmer (1880).  Also, information is available on Newspapers.com that indicates Israel served on several juries during his lifetime, that he was the executor of at least one estate, and that he was elected and served as a Mifflin Township supervisor.
More information is sought about Israel Nieman, his Civil War service and his family. Readers who can add to this blog post can do so by responding in the "comments" section.