Posted By Norman Gasbarro on April 26, 2017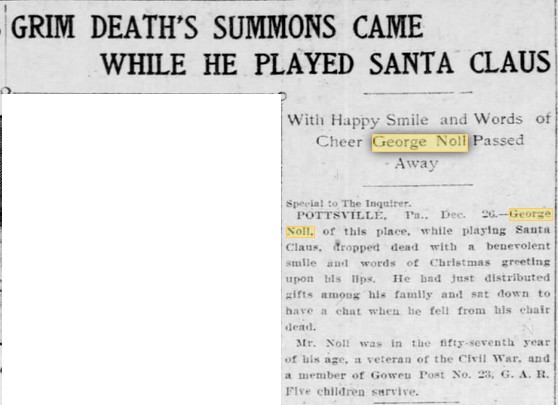 An interesting news story appeared in the Philadelphia Inquirer, 27 December 1901:
GRIM DEATH'S SUMMONS CAME WHILE HE PLAYED SANTA CLAUS

With Happy Smile and World of Cheer George Noll Passed Away

Special to the Inquirer

POTTSVILLE, Pennsylvania, 26 December 1901 — George Noll, of this place, while playing Santa Claus, dropped dead with a benevolent smile and words of Christmas greeting upon his lips.  He had just distributed gifts among his family and sat down to have a chat when he fell from his chair dead.

Mr. Noll was in the fifty-seventh year of his age, a veteran of the Civil War, and a member of Gowen Post No. 23, G.A.R.  Five children survive.
The Harrisburg Daily Independent of the same date added the following:
[He] dropped dead as a Christmas greeting left his lips….  [He] sat down to have a chat, when he fell from his chair a corpse.
And The Times of Philadelphia noted that his "Santa Claus play was fatal."
In researching this Civil War veteran, it was discovered that in 1890 he lived in Tremont, Schuylkill County, Pennsylvania, where he reported that he had served in the 12th Indiana Infantry, Company G, as a Private from 21 October 1861 until his discharge on 19 May 1862.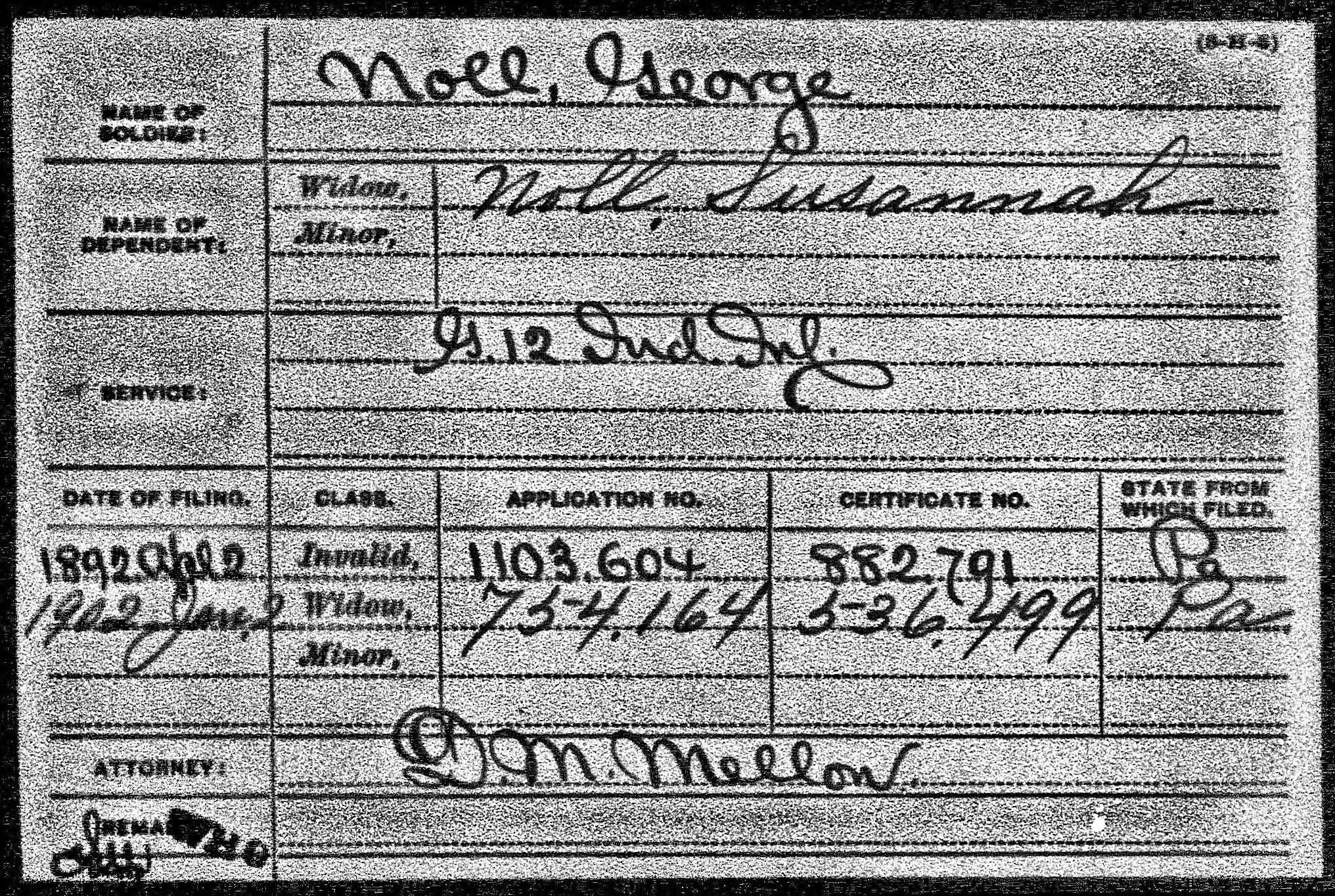 The Pension Index Card from Ancestry.com gives the widow's name as Susannah Noll and the date of her application for a pension as 2 January 1902 – very soon after the death of George.  George Noll had previously applied for pension benefits on 2 April 1892, which he was awarded and collected until his death.
In 1880, the family lived in Bethel, Berks County, where George indicated he was a farmer.  And in 1900, the family lived in Pottsville, where George was working as a huckster.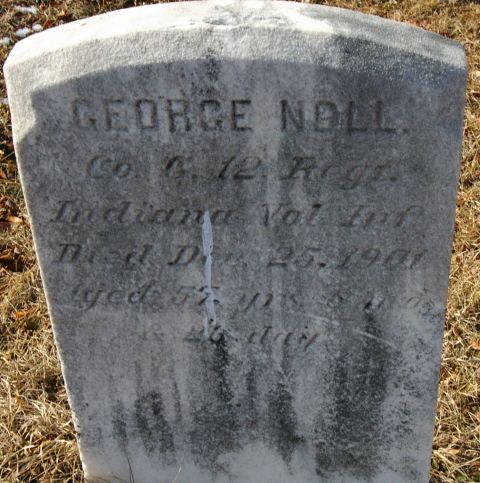 The Findagrave Memorial gives some additional information.  George Noll is buried at Klopp's Cemetery, Hamlin, Lebanon County, Pennsylvania.  His stone notes his service in the 12th Indiana Infantry as well as his death on Christmas Day, 1901.  Susannah Noll, the widow, was the former Susannah Houtz.  She was born on 10 April 1846 and died on 18 May 1931, and is buried at the same cemetery.
Additional information is sought about George Noll.  Comments can be added to this blog post.