Posted By Norman Gasbarro on April 11, 2017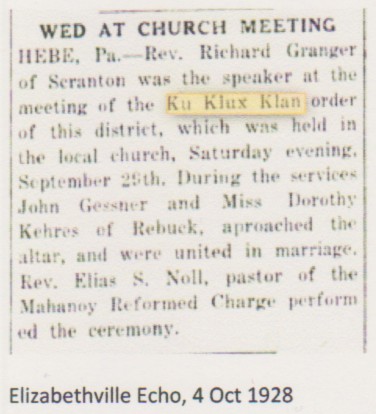 This post is a continuation of the reporting on hate groups that were active in the Lykens Valley area in the years following the Civil War.  It was a widely known fact that the third iteration of the Ku Klux Klan had a significant presence in the Lykens Valley and adjacent valleys during the early years of the 20th Century.
This strange incident occurred at the local church in Hebe, Northumberland County, Pennsylvania, on 29 September 1928, as reported by the Elizabethville Echo, 4 October 1928:
WED AT CHURCH MEETING

HEBE, Pennsylvania – Rev. Richard Granger of Scranton was the speaker at the meeting of the Ku Klux Klan order of this district, which was held at the local church, Saturday evening, 29 September.  During the services John Gessner and Miss Dorothy Kehres of Rebuck, approached the altar, and were united in marriage.  Rev. Elias S. Noll,pastor of Mahanoy Reformed Charge performed the ceremony.
Efforts at this point to connect John Gessner or Dorothy Kehres to any Civil War soldiers from the area have been unsuccessful.
According to information found on Ancestry.com, John F. Gessner was born on 26 April 1904 in Pennsylvania, the son of Samuel Durrell Gessner and Emma Jane [Bordner] Gessner.  In the 1920 and 1930 census, he was living in Jackson Township, Northumberland County.  Dorothy Kehres was born about 1913, and if that date is correct, was only about 15 years old at the time of her marriage.  The couple appears in the 1930 census for Jackson Township, Northumberland County, with one child, Emma Jane Gessner, who was born about 1929. A death date and place for John F. Gessner has been located:  October 1980, Norristown, Montgomery County, Pennsylvania.  The child, Emma Jane Gessner, was located at Mansfield State Teachers College (now Mansfield University), Tioga County, Pennsylvania, where she majored in music and graduated around 1948, perhaps thereafter becoming a teacher.  At this point in the research, no other information about the family has been located, but an Ancestry.com member has publicly posted a portrait of John and Dorothy taken in Shamokin, perhaps being their wedding picture – or taken about the time of the wedding.
Many questions remain about this couple and the circumstances that led to their attendance at the Klan meeting and their decision to get married there.
_____________________________
For previous blog posts on the Ku Klux Klan, click here.