Posted By Norman Gasbarro on March 13, 2017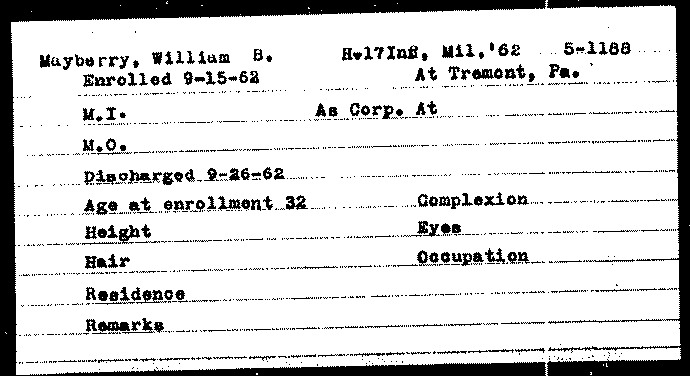 William B. Mayberry answered the militia call of the emergency of 1862 by enrolling in the 17th Pennsylvania Infantry (Emergency of 1861) at Tremont, Schuylkill County, Pennsylvania, where he was mustered into service as a Corporal.  He gave his age at the time as 32 (born about 1830).  He was discharged from service on 26 September 1862, at the end of the emergency.  No other record of service has been found for him.  The card above is from the Pennsylvania Archives.
In 1890, his widow, Sarah [Williams] Mayberry was living in Tremont and reported his war service to the census.  However, because the service was part of a militia and was less than three months, she was not eligible for a pension.
The family is found in the 1870 Census for Tremont, where William's occupation is given as coal operator.  His wife Sarah Mayberry, is 35 years old and is "keeping house."  The children of the couple are also listed:  Eddie E. Mayberry, age 10, attending school; Mary E. Mayberry, age 7, attending school; Annie Mayberry, age 6, at home; Harry Mayberry, age 3, at home; and Edith Mayberry, age 1, at home.
Harry's death certificate confirms that his mother's maiden name was Williams.
An 1871 estate record in Schuylkill County shows that William B. Mayberry died in 1871.  At the time of this writing, a cause of death has not been found.  It would not be unreasonable to assume that the death may been connected in some way with coal mining operations in Schuylkill County.
Additional information is sought about William B. Mayberry, his Civil War service, his family and his early death at about the age of 41.  Readers are encouraged to add comments to this post.