Posted By Norman Gasbarro on February 15, 2017

Patrick Mullin was living in Williams Township, Dauphin County, Pennsylvania, in 1890, and reported to the census that he had served in the 46th Pennsylvania Infantry, Company I, as a Private, with service beginning on 31 October 1861.  However, in the comments section (not shown), he also reported that he deserted on 19 June 1862.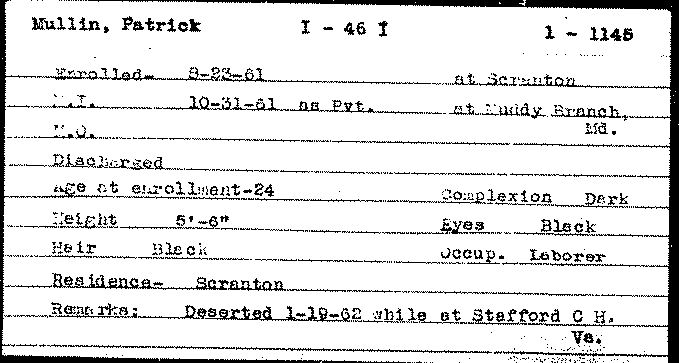 From the Pennsylvania Archives, the card (shown above) for Patrick Mullin states that he was a resident of Scranton at the time of his enrollment and enrolled there on 23 August 1861.  He was 24 years old (born about 1837), was five foot, six inches tall, had black hair, dark complexion, and black eyes.  He was a laborer.  He was mustered into service on 31 October 1861 at Muddy Branch, Maryland.  The card also confirms that he deserted, but the date is different, 19 January 1862, and the place is given as Stafford Court House, Virginia.
Nothing else is known about him.
Anyone who can provide any additional information about this Patrick Mullin is urged to do so by adding comments to this post or sending the information by e-mail.