Posted By Norman Gasbarro on February 27, 2017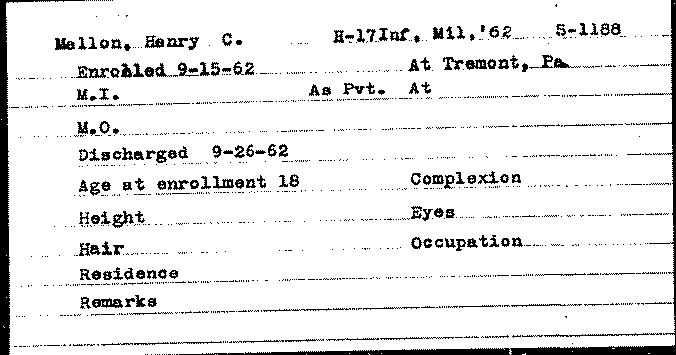 Previously on this blog, the name of Henry C. Mellon was added to the list of Civil War veterans who had some connection to the Lykens Valley area.
During the war, Henry Clay Mellon enrolled at Tremont, Schuylkill County, Pennsylvania, 15 September 1862, in the militia regiment known as the 17th Pennsylvania Infantry, Company H, as a Private.  His term of service was short and he only was needed during the 1862 threat to the state from Pennsylvania.  He was discharged at the end of the emergency, 26 September 1862.  The card shown above is from the Pennsylvania Archives.
Henry was the son of Mark Mellon (1803-1852) and Justine "Jestie" [Werner] Mellon who were living in Tremont where the father was a hotel keeper.
After the Civil War, Henry Clay Mellon moved to Illinois.  He is found in the 1870 census for Dixon, Lee County, Illinois, where he was working as a machinist and living in a boarding house.  Two years later, he married Alice Atkins (1851-1927), whose portrait is shown above.  No portrait has been found of Henry.
Henry died on 19 August 1877 and is buried at the Oakwood Cemetery, Dixon, Lee County, Illinois.  Additional information about him is provided at his  Findagrave Memorial, including a brief biographical sketch by Elsie Harmon, who, a few years ago, provided this project with valuable information on Henry C. Mellon including the photograph of his wife Alice.
After Henry's death, Alice married twice, first to Jesse Hetler who died in 1907, and second to Simon Stoner, who was a Civil War veteran of the 146th Illinois Infantry.  Simon survived Alice who died in 1927; he died in 1931
Additional clues to researching Henry C. Mellon while he was living in Tremont include finding the name of the hotel operated by his father Mark in 1850.  Perhaps a picture exists of the hotel?
Henry's father died in 1852 and some time after that, but before 1860, his mother re-married to William Glanding, a 54 year old confectioner, also from Tremont, where the family is found in the 1860 census.