Posted By Norman Gasbarro on February 1, 2017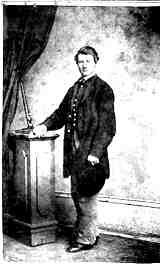 Edward B. Martz was born on 23 July 1843, the son of Charles F. Martz (1817-1880) and Elizabeth Ann [Haas] Martz (1821-1849).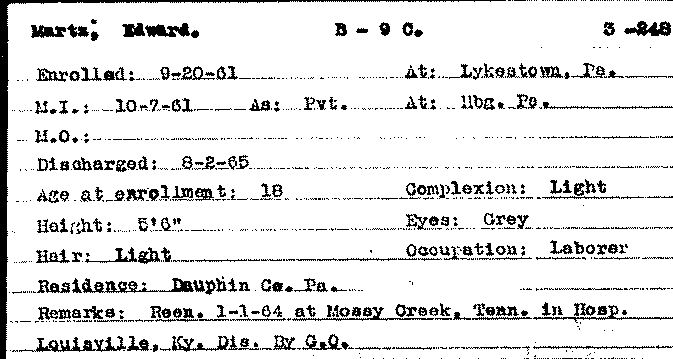 On 20 September 1861, Edward Martz enrolled at Lykens Borough in the 9th Pennsylvania Cavalry, Company B, and on 7 October 1861, he was mustered into service as a Private.  At the time, he was 18 years old, was 5 foot 6 inches tall, had a light complexion, grey eyes and light hair.  He was working as a laborer and his residence was Dauphin County.  The record shows that he re-enlisted on 1 January 1864, at Mossy Creek, Tennessee and that at some time during the war (date unknown), he was in a hospital at Louisville, Kentucky.  At the conclusion of his service, 2 August 1865, he was honorably discharged by General Order.
The photograph above shows Edward in his Civil War uniform and is from the database, "United States Civil War Soldiers, Records and Profiles," available at Ancestry.com.  The veterans' card above is from the Pennsylvania Archives.
It was at first believed that Edward Martz married Mary Elizabeth Strausser, some time before their first child was born in 1865.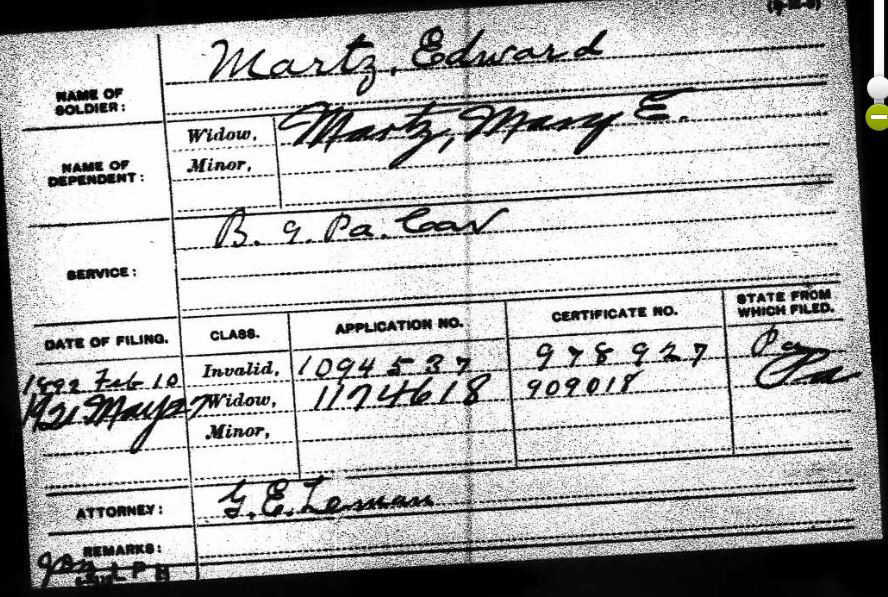 On 10 Feb 1892, Edward Martz applied for a disability pension, which he received and collected until his death, which according to a Pennsylvania Death Certificate available on Ancestry.com, occurred on 15 May 1921.  Following his death, his widow applied for benefits, which she received and collected until her death.  Since pension application files are not yet completely uploaded to Fold3, we must rely on individuals who have obtained them to post what is in them.  Fortunately, someone [L. Sykes to readsewmuch tree on Ancestry.com] has contributed an abstract of the genealogical information in the pension file: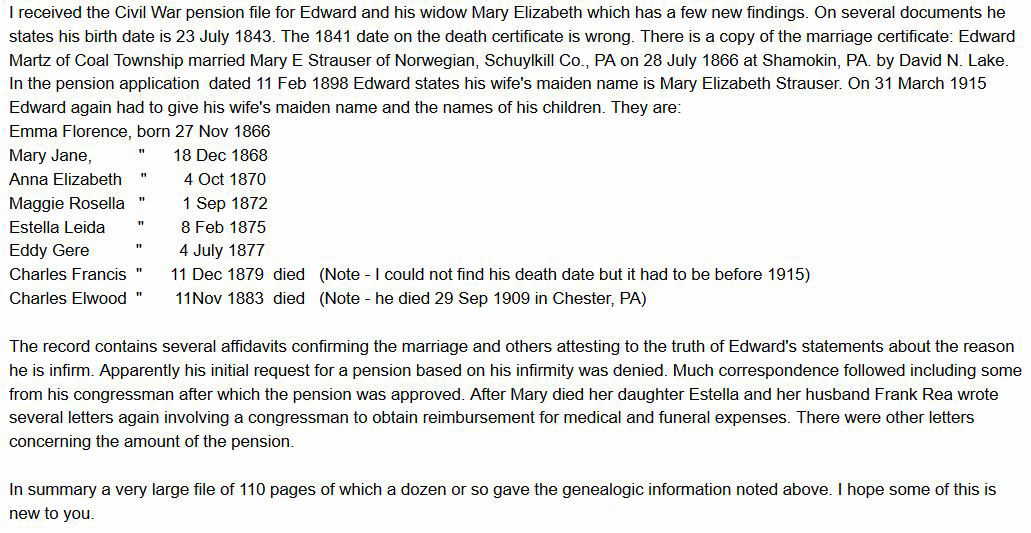 I received the Civil War pension file for Edward and his widow Mary Elizabeth which has a few new findings.  On several documents he states his birth date is 23 July 1843.  The 1841 date on the death certificate is wrong.  There is a copy of the marriage certificate:  Edward Martz of Coal Township married Mary E. Strausser of Norwegian, Schuylkill County, Pennsylvania, on 28 July 1866 at Shamokin, Pennsylvania, by David N. Lake.  In the pension application dated 11 February 1898, Edward states his wife's maiden name is Mary Elizabeth Strausser.  On 31 March 1915 Edward again had to give his wife's maiden name and the name of his children.  They are:  Emma Florence Martz, born 27 November 1866; Mary Jane Martz, born 18 December 1868; Anna Elizabeth Martz, born 4 October 1870; Maggie Rosella Martz, born 1 September 1872; Estella Leida Martz, born 8 February 1875; Eddy Gere Martz, born 4 July 1877; Charles Francis Martz, born 11 December 1879 (Note – I could not locate his death date but it had to be before 1915); Charles Elwood Martz, born 11 November 1883 (Note – he died 29 September 1909 in Chester, Pennsylvania).

The record contains several affidavits confirming the marriage and others attesting to the truth of Edward's statements about the reason he is infirm.  Apparently his initial request for a pension was approved.  After Mary died her daughter Estella and her husband Frank Rea wrote several letters again involving a congressman to obtain reimbursement for medical and funeral expenses.  There were other letters concerning the amount of the pension.

In summary a very large file of 110 pages of which a dozen or so gave the genealogical information noted above.  I hope this is new to you.
Both Edward and his widow are buried at the Chester Rural Cemetery, Delaware County, Pennsylvania.
Of course, this is not the complete story of Edward Martz.  One additional piece of information needs to be presented here.  His name appears on the Lykens G.A.R. Monument as someone who was not a member of the Heilner Post.

Although Edward Martz spent the early years of his life in the Lykens-Wiconisco area and he enrolled in the 9th Pennsylvania Cavalry at Lykens, his later years were spent in Northumberland County and Chester County.
____________________________
Additional information about Edward Martz and his family can be added as comments to this post – or sent to the Project via e-mail.