Posted By Norman Gasbarro on January 13, 2017

The name Owen McDermot appears on the Lykens G.A.R. Monument as an area veteran who was not a member of the Heilner G.A.R. Post.  Who was he?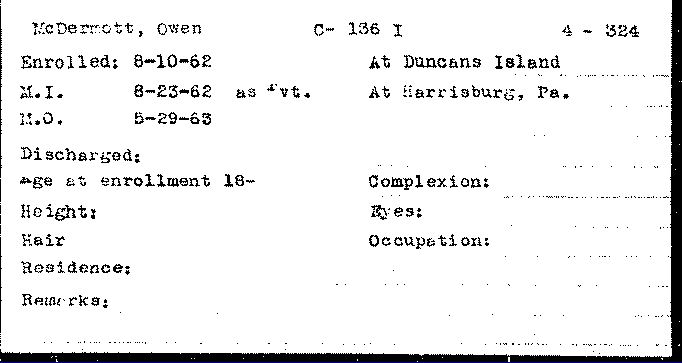 The only person of that name who was found in the Pennsylvania Veterans' Card File was Owen McDermott, who at 18 years old, enrolled in the 136th Pennsylvania Infantry, Company C, as a Private on 10 August 1862, at Duncan's Island, Dauphin County, Pennsylvania.  He was mustered into service on 23 August 1862 at Harrisburg.  His discharge occurred on 29 May 1863, when he was mustered out.
That same Owen McDermott applied for a pension on 18 August 1891, which he received.  After he died, widow applied on 27 February 1896, and she received benefits.  The information on the Fold3 version of the Pension Index Card does not include Owen's date of death.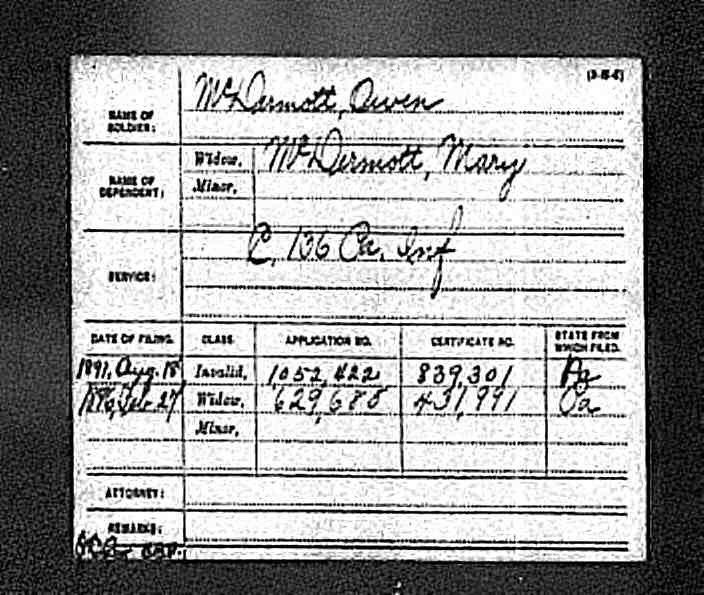 The information of the Ancestry.com version of the Pension Index Card, includes the widow's name of Mary.  It also shows that both pension applications were made from Pennsylvania.
Presuming that Owen McDermott was alive in 1890 when the Veterans' Census was taken, a search was made to see where he was living.  However, no matching person was found.
No other information has been located on any person named Owen McDermott who could be the one named on the Lykens G.A.R. Monument.  So, who is Owen McDermott?