Posted By Norman Gasbarro on January 16, 2017
The Pennsylvania Veterans' File Card for John McCurtin (shown above from the Pennsylvania Archives), indicates that a 45 year old John McCurtin, enlisted at Berrysburg, Dauphin County, Pennsylvania on 25 September 1861, in the 9th Pennsylvania Cavalry, Company B.  At the time, he indicated that he resided in Dauphin County and was a stone cutter by occupation.  He stood 5 foot 9 inches tall, had dark hair, dark complexion, and hazel eyes. The card notes no date of discharge.  Instead, John McCurtin was recorded as "Deserted January 1862 Jeffersonville, Indiana."
What is known about him prior to the war is that he was a stone cutter living in Mifflin Township, Dauphin County, Pennsylvania, in both the 1850 and 1860 censuses.  He was also found as head of household in the same place in the 1840 census.  His birth year, based on the various records, was as early as 1810 and as late as 1816.
In 1860, John's household consisted of his wife Hannah, and six children:  Henry McCurtin, age 18; Mary McCurtin, age 16; Milvena McCurtin, age 13; Hannah McCurtin, age 11; Sarah McCurtin, age 6; and Matilda McCurtin, age 3.
Based on the information in the 1860 Census, and on John McCurtin's occupation of stone cutter, the family was located in Mifflingburg, Union County Pennsylvania, in the 1870 Census:

In that John McCurtin was alive and working in 1870, the question is open as to why he was recorded as deserted in 1862 and whether that had any consequence for him.
Returning to the Census of 1860, it must be mentioned that Henry McCurtin, son of John McCurtin, was also a Civil War soldier – who also served in the 9th Pennsylvania Cavalry, Company B, beginning as a Private and concluding his service as a Corporal at discharge.  Henry McCurtin also appears on the Lykens G.A.R. Monument.
At this point in the research on John McCurtain, it is not known what happened to him or to his wife Hannah.  They have not been located in the 1880 Census.
As for the son, Henry McCurtin, he is in the 1870 Census for Washington Township, Dauphin County, where he is enumerated in the household of John N. Huffman, a tavern keeper. Henry's occupation is laborer.  There is a Mary McCurtin, in that household, named just under Henry in the listing and two years younger, who might be Henry's wife.  As of this writing, Henry McCurtin has not been located in any census beyond 1870 nor has he been found in the pension records.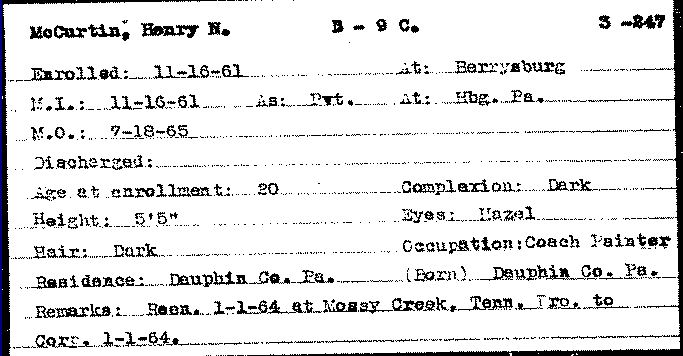 The military record of Henry N. McCurtin notes that he enrolled in the 9th Pennsylvania Cavalry at Berrysburg on 16 November 1861, more than a month after his father enrolled.  He also was mustered into service the same day as he enrolled, again, more than a month after his father was mustered into the same regiment.   Ar the time of Henry's joining, he gave his occupation as a coach painter, and his birthplace and residence as Dauphin County.  He said his age was 20, but he was actually a bit younger, he stood 5 foot 5 inches tall, had dark hair, dark complexion, and hazel eyes.  On 1 January 1864, he re-enlisted, as did many of his comrades, at Mossy Creek, Tennessee, and with that enlistment came a promotion to the rank of Corporal.  What might be possible, although not confirmed by any military records, was that Henry joined to replace his father, and that replacement was not recorded on any of the records thus far seen.  John's desertion date of January 1862, may not have been a desertion, but may have been incorrectly reported as such.  Further research may confirm this theory.
Any information on what happened to either of these two men would be appreciated!  Please add as comments to this post.