Posted By Norman Gasbarro on January 20, 2017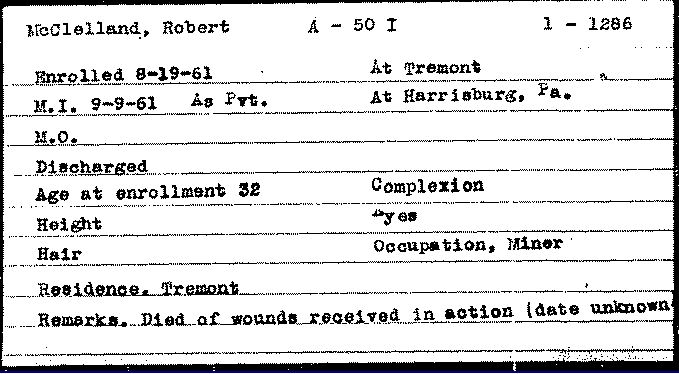 On 19 August 1861, Robert McClelland, age 32, enrolled in the 50th Pennsylvania Infantry, Company A, at Tremont, Schuylkill County, Pennsylvania.  At the time, he was a coal miner whose residence was Tremont.  Other sources note that he was married and had five living children when he enrolled, the youngest, Eleanor McClelland, just born less than a month earlier, 28 July 1861.  On 9 September 1861 he was was mustered into the company as a Private.  He probably knew personally many of his fellow soldiers, because this regiment was heavily composed of men who lived and worked along the route from Lykens Township, in Dauphin County, to Tremont – and many of this company were fellow miners.
The information on the Pennsylvania Veterans' Index Card (above from the Pennsylvania Archives) does not include where and when Robert McClelland died – but does indicate that he died of wounds received in action.   Recently, information about his death was made public on Fold3 with the publication of a Minors' Pension File.
On 11 July 1868, Ellen Grayston, widow of Robert McClelland, who had since remarried to Robert Grayston at Pottsville, 4 November 1865, applied for pension benefits for minor children of her deceased husband.   Since she had legally re-married, she was not eligible for benefits for herself.   On one of the opening pages of that application, the following was stated:
Robert McClelland died at Beaufort, South Carolina, on the first day of June, A.D. 1862 in consequence of wounds received in the battle of Pocatallago, South Carolina, 29 May 1862.
In order to prove that her children were the children of Robert McClelland, Ellen had to provide evidence that she had been legally married to him, and that the children were recognized as his at the time of their birth.  She also had to provide evidence of her second marriage.  This information included more about her – including that she was Ellen Burke before marriage, and that she had been born in Ireland 37 years prior to the application, or about 1831.
The testimony Ellen provided was not only from residents of Tremont, Wiconisco, and Pine Grove, but also, she had the complicated issue of proving the birth of her eldest child, Agnes McClelland, who was born in the Parish of Gowan, County of Lanark, Scotland, on or about 16 October 1849.  Letters had to be written to Scotland seeking documents that proved the marriage and birth, which were eventually provided from Glasgow.  Although Agnes was nearly twenty years old at the time of the pension application, she would have been eligible for retroactive benefits from the time of her father's death in 1862 to her 16th birthday (which occurred prior to the pension application).  Fortunately for Ellen Grayston, she had the strong support of her attorneys as well of two residents of Tremont, namely Ann Gammell and Edward Rumberger, who provided significant legal support for her claim of benefits for her children.
The 48-page pension application file, as previously stated, is now available on-line through Fold3.  For those interested in obtaining a copy of the file, a subscription to Fold3 is required (for those without a personal subscription, check your local library).
While further research needs to be done on Robert McClelland who was a resident of Tremont at the time he joined the war effort, the time and place of his death have now been discovered.   Anyone who has further information about this soldier and/or his family is asked to provide it by adding a comment to this blog post.