Posted By Norman Gasbarro on January 9, 2017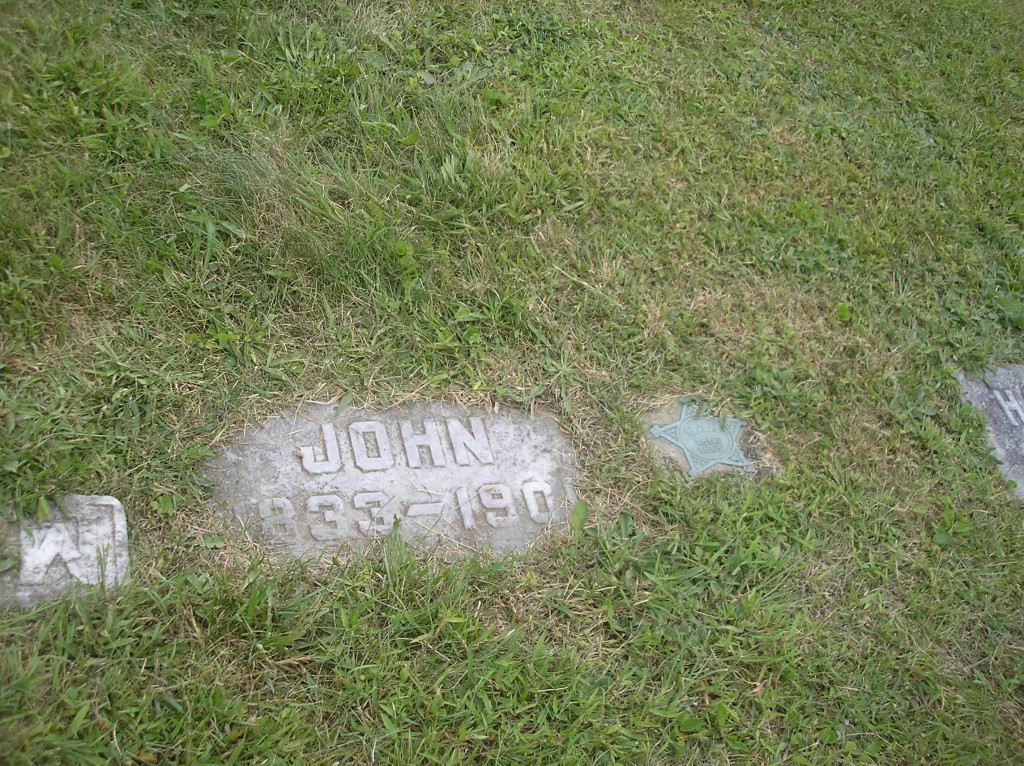 John McCollum is buried in the United Methodist Church Cemetery in Williamstown, Dauphin County, Pennsylvania.  Previously on the Civil War Blog, he was featured with the following information:
John McCollum (1833-1901). He is buried in the McCollum family plot and a ground marker notes his name as "John."  Census records indicate he was born at sea while his parents were emigrating to America.  A G.A.R. star is mounted next to his stone.  John McCollum served in the 1st Pennsylvania Infantry from 20 April 1861 to 24 Jul 1861.  He and his wife Priscilla lived in Berrysburg and Williamstown where he worked as a stone cutter.  In 1900 he was a widower, living a hotel in Williamstown operated by Solomon Hess.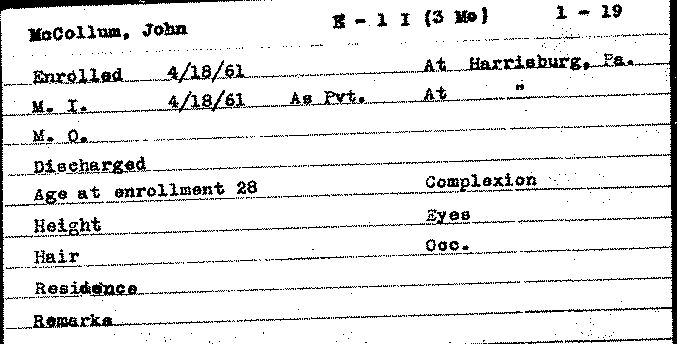 The Pennsylvania Veterans' File Card, shown above from the Pennsylvania Archives, gives no new information about him or his service.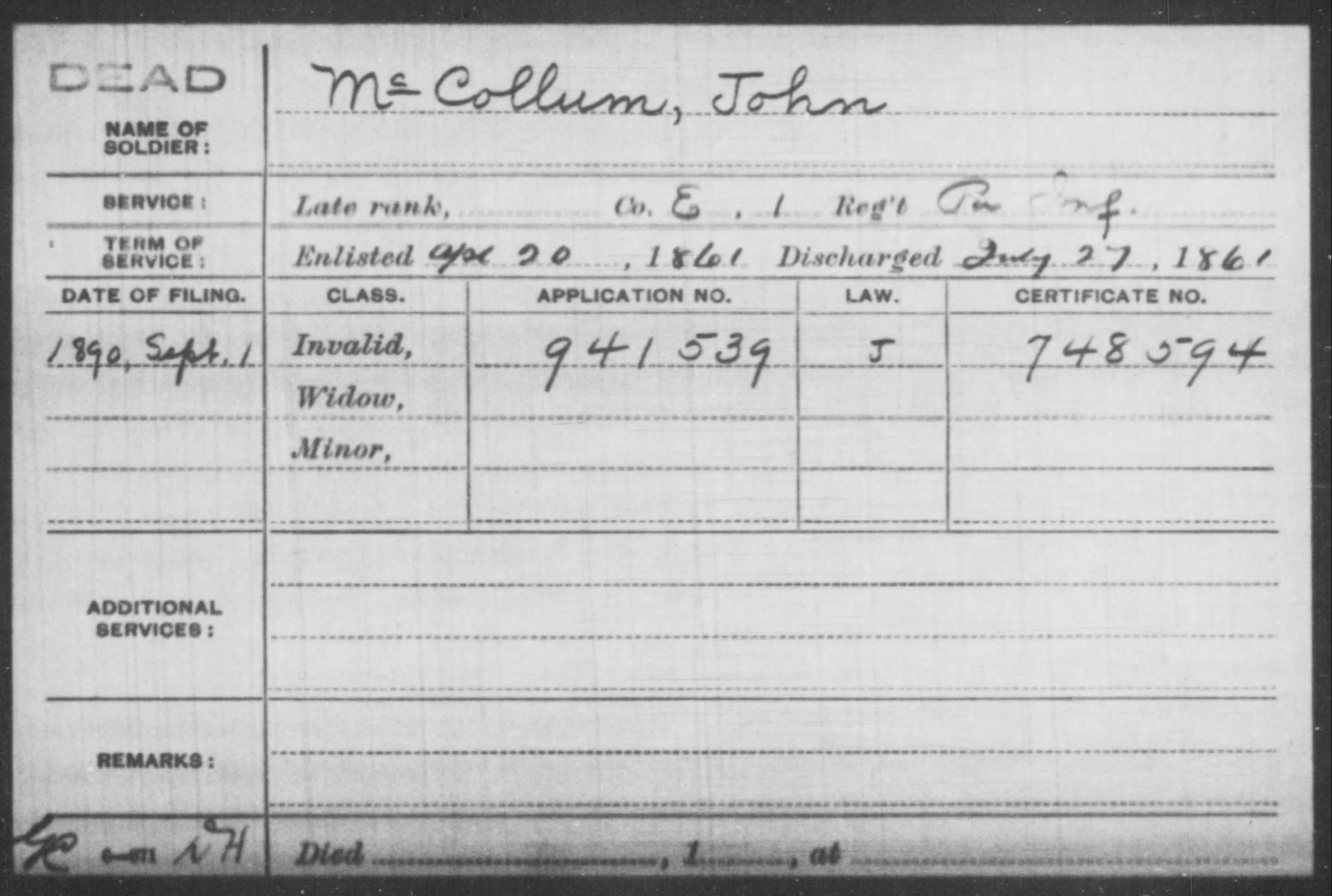 On 1 September 1890, John McCollum applied for a pension, which he received and collected until his death.  No widow applied, since John's wife Priscilla had preceded him in death.  The Pension Index Card, shown above, is from Fold3.  Cemetery records at Sweitzer's Memorial in Berrysburg confirm that Priscilla [Roop] McCollum died in 1871.  She is buried with her parents, Jonathan Roop (1812-1880) and Sarah [Bordner] Roop (1811-1888).  Priscilla's grave marker notes that she was the wife of John McCollum (shown below).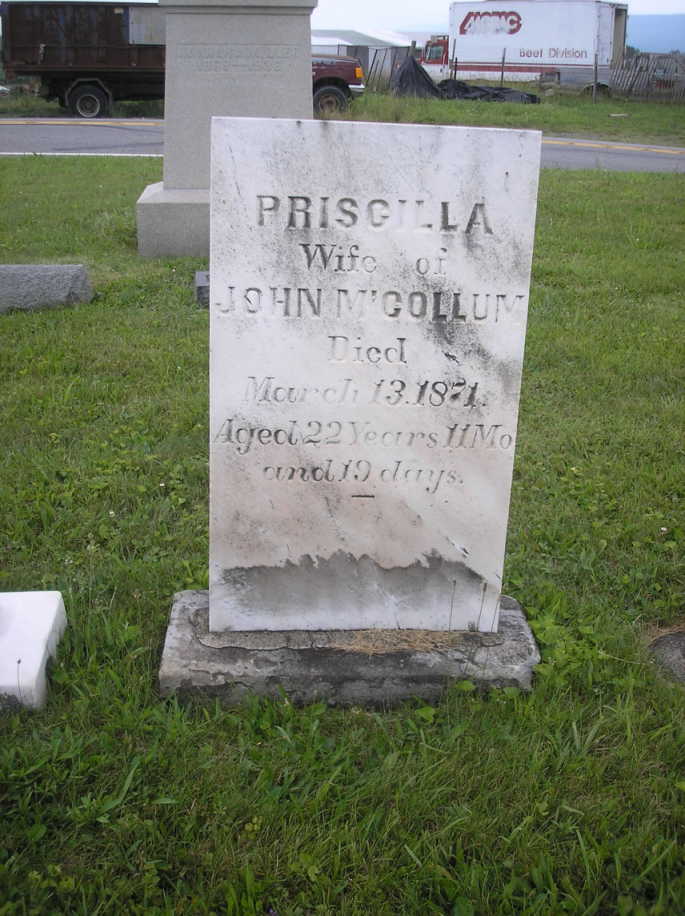 It is possible that Priscilla died in complications from childbirth from a second or third child, but there is no record of this.  Priscilla and John McCollum had at least one child who lived to adulthood. He first appeared in the 1870 Census for Berrysburg – Harry B. McCollum, who was born 2 September 1867 in Berrysburg, and died on 25 April 1927 of prostate cancer in Wilmington, Delaware.  Harry is buried in the United Methodist Church Cemetery in Williamstown.
In 1870, the family was living in Berrysburg, where John was working as a stone cutter.
At this time, it is not clear where John or his son Harry were living in 1880.
When the 1890 Veterans' Census was compiled, John was living in Williamstown, and he reported no Civil War-related disabilities.
Much more information is needed about John McCollum, particularly about his Civil War service and his years after his wife died.  Anyone who can add to this story can do so by commenting below.