Posted By Norman Gasbarro on December 30, 2016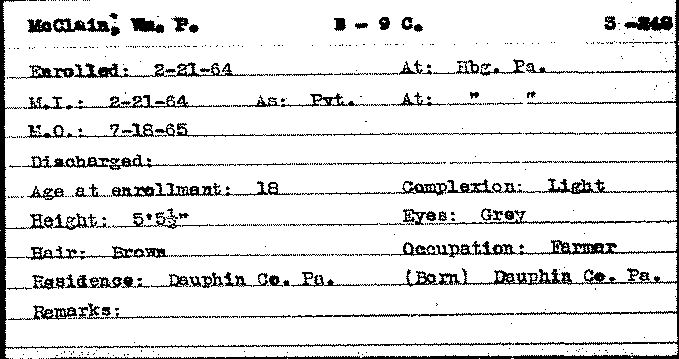 William McClain, a farmer who was born in Dauphin County, Pennsylvania, and resided in Dauphin County, enrolled in the 9th Pennsylvania Cavalry on 21 February 1864, at Harrisburg.  On the same day, he was mustered into service in Company D, as a Private.  His personal information included his age of 18, his height of nearly 5 foot 6 inches, his brown hair, light complexion, and grey eyes.  The regimental records show that he served through muster out on 18 July 1865.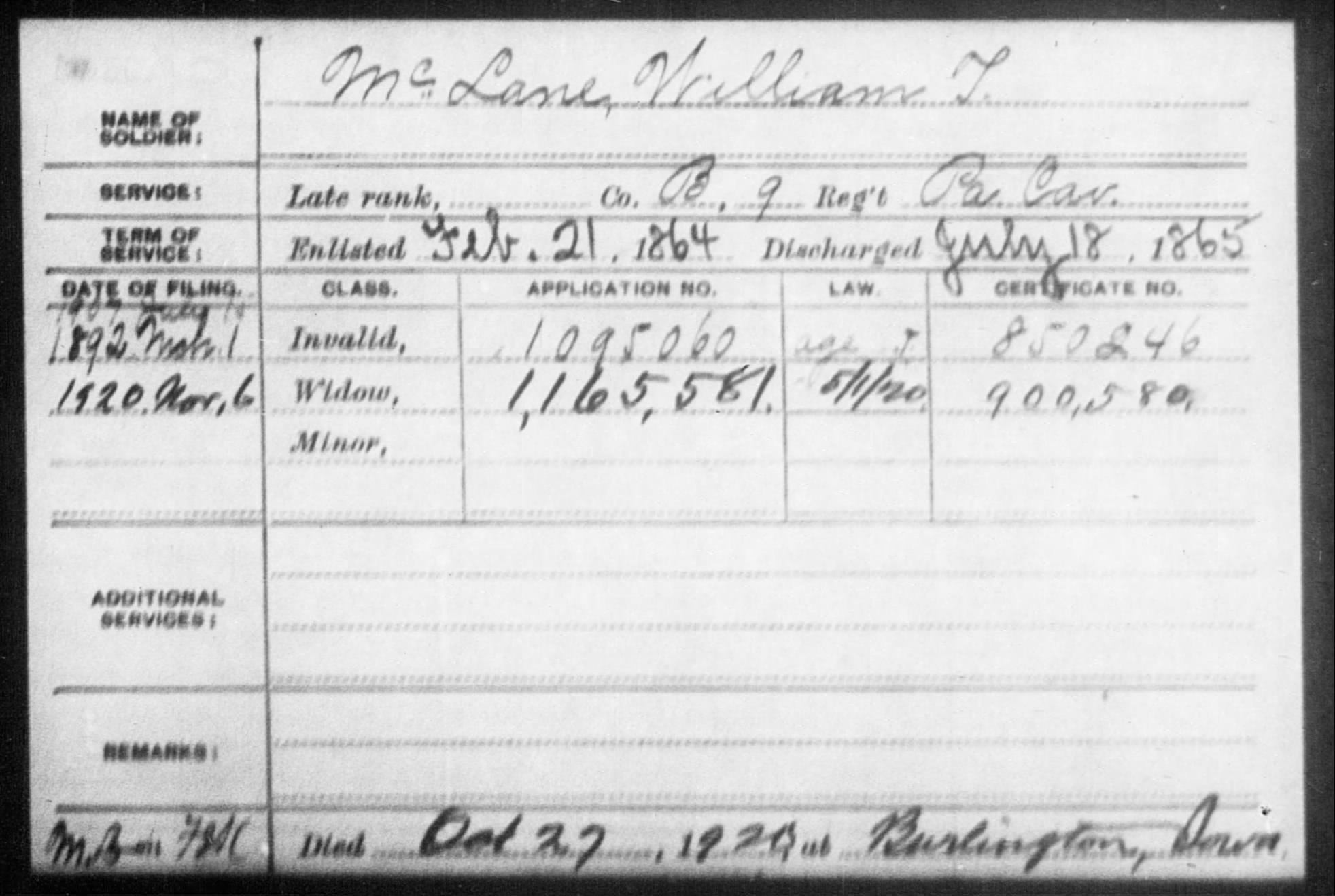 The Pension Index Card (shown above from Fold3) notes that William T. McLane applied for a pension in 1892, which he received.  The card also gives a death date of 27 October 1920 and a death place of Burlington, Iowa.
The Findagrave record gives the place of burial as Aspen Grove Cemetery, Burlington, Des Moines Co.unty, Iowa – and gives William's place of birth as Millersburg, Dauphin County, Pennsylvania.  William's father, Enos McLane, was also born in Millersburg.
One confusing issue in researching this soldier is the variation in the spelling of the surname, sometimes found as McClain, McLain, McLane, or McClane.  However, one thing is certain:  this is another case where a veteran of the Civil War with a connection to Millersburg has been ignored on the Millersburg Soldier Monument.  Increasingly, it is becoming evident that the monument only names a small fraction of men who should have been included on it.  It is not known why the research was so poorly done at the time the monument was erected just a little over a hundred years ago. With roots in Millersburg – and having served in a regiment and company with others who are included on the monument – and with William McLane still alive at the time the monument was erected – why was he not included?
Further information is sought on this soldier who served honorably and died at the age of 75.  Comments can be added to this blog post.