Posted By Norman Gasbarro on November 25, 2016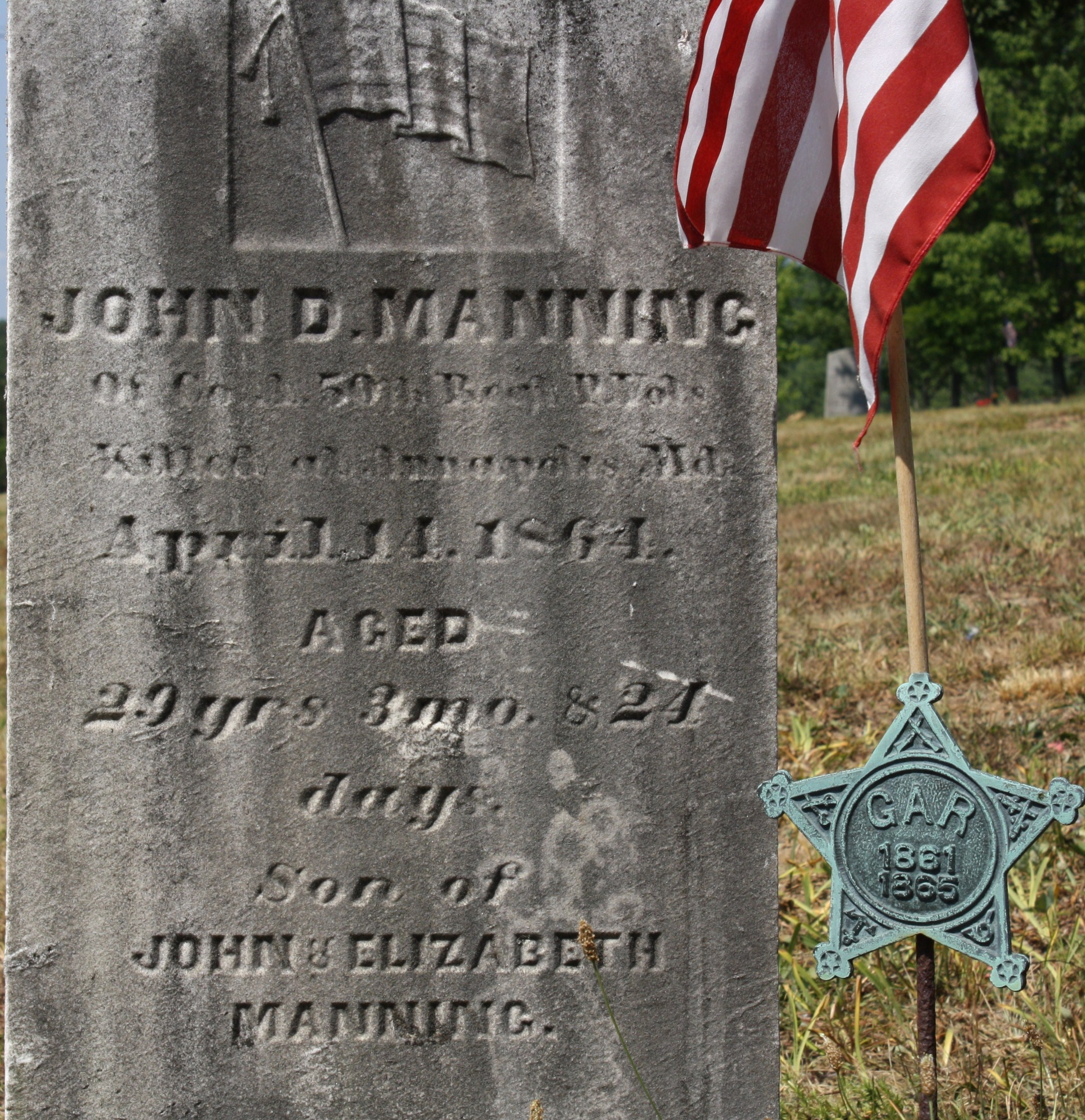 John D. Manning of Llewellyn, Schuylkill County, Pennsylvania, son of John Manning and Elizabeth Manning, was mustered into the 50th Pennsylvania Infantry, Company A, as a Private, on 9 September 1861.  The records of that regiment show that he was about 27 years old at the time and was working as a laborer.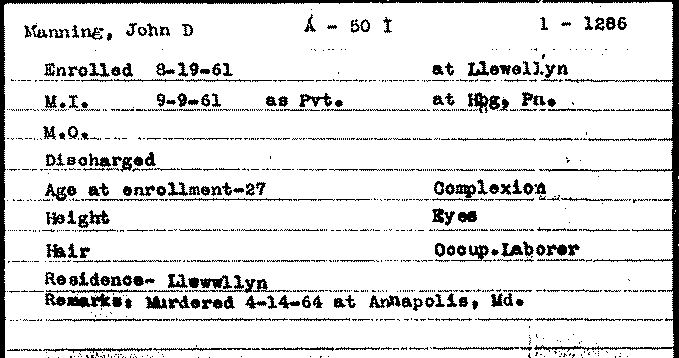 The Pennsylvania Veterans' File Card from the Pennsylvania Archives also notes that John D. Manning was "murdered 14 April 1964 at Annapolis, Maryland," without giving further details.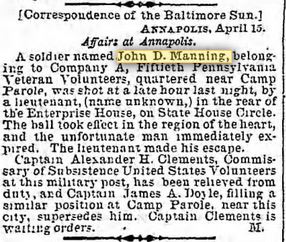 The Baltimore Sun of 16 April 1861, gave the following correspondence.
A soldier named John D. Manning, belonging to Company A, Fiftieth Pennsylvania Veteran Volunteers, quartered near Camp Parole, was shot at a late hour last night, by a lieutenant (name unknown), in the rear of the Enterprise House, on State House Circle.  The ball effect in the region of the heart, and the unfortunate man immediately expired.  The lieutenant made his escape.

Captain Alexander H. Clements, Commissioner of Subsistence United States Volunteers at this military post has been relieved from duty, and Captain James A. Doyle, filling a similar position at Camp Parole, near this city, supersedes him.  Captain Clements is awaiting orders.
The newspaper does not make it clear if the replacing of Captain Clements had anything to do with the murder of Private Manning.
According to information on Findagrave, John D. Manning is buried at Frieden's Lutheran Church Cemetery, Minersville, Schuylkill County.  His grave marker, pictured above, states he lived 29 years, 3 months, and 24 days.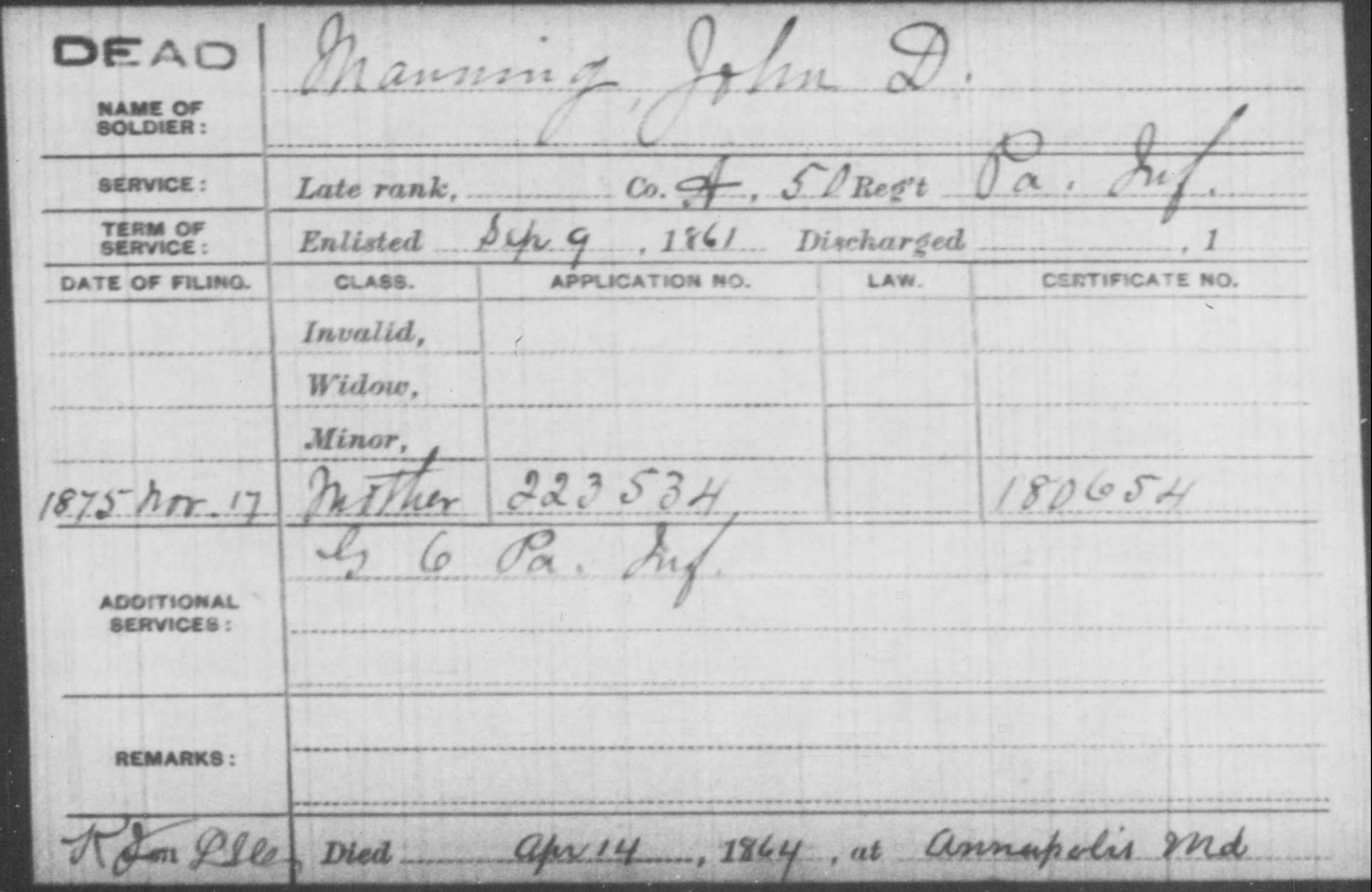 A Pension Index Card has been located on Fold3 which gives the death date and place for John D. Manning, notes that his mother applied for pension benefits on 17 November 1875, which she received, and mentions that he also served in the 6th Pennsylvania Infantry, Company G.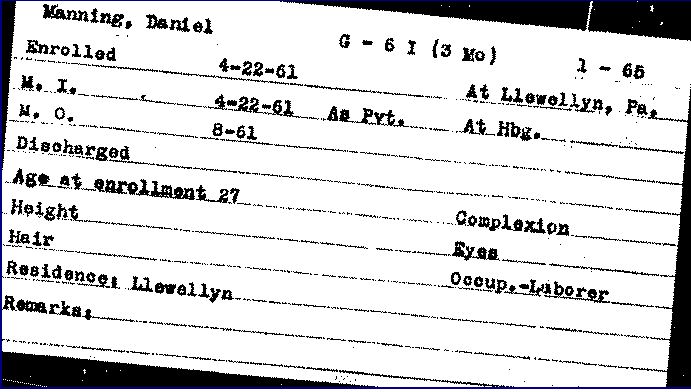 After carefully checking both the Pennsylvania Archives and regimental rosters, the only possible match is the card shown above – i.e., John D. Manning served in the 6th Pennsylvania Infantry under the name of Daniel Manning.  The age, residence, occupation and place of enrollment is the same.  His full name was most likely John Daniel Manning.  In that regiment, he was mustered in on 22 April 1861 and was mustered out in August 1861.  Thus, with the exception of about one month, Private Manning served from the beginning of the war in April 1861 to his death in April 1864.
No other information has been located to explain the his murder, whether the lieutenant who allegedly killed him was ever brought to justice.
It is possible that additional information about the circumstances of his death can be found in the pension application file, but that has not been consulted for this blog post.
Can any reader provide more about this?  Please add comments to this blog post!
---
The news clipping is from Newspapers.com.