Posted By Norman Gasbarro on November 18, 2016

The Harrisburg Daily Independent, 17 February 1905, printed a brief notice of the death of Isaac E. Marks of Tremont:
—Isaac Marks, a prominent Tremont, Schuylkill County, citizen and retired merchant, is dead of pneumonia at his home, aged 62 years.  He was a veteran of the civil war.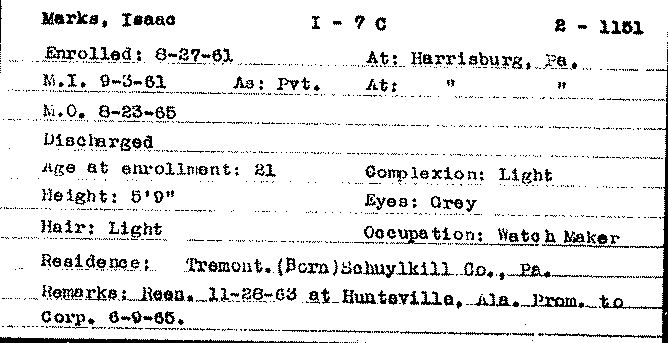 As shown by the Pennsylvania Veterans' File Card (above from the Pennsylvania Archives), Isaac Marks enrolled on 27 August 1861 at Harrisburg, and was mustered into the 7th Pennsylvania Cavalry, Company I, as a Private, on 3 September 1861.  He was 21 years old at the time, stood 5 foot 9 inches tall, had light complexion and light hair, grey eyes, and was employed as a watchmaker.  His residence was Tremont, Schuylkill County, Pennsylvania, where he also was born.
On 28 November 1863, Isaac re-enlisted in the same regiment and company at Huntsville, Alabama, and on 9 June 1865, he was promoted to the rank of Corporal.   On 23 August 1865, he was honorably mustered out with his company.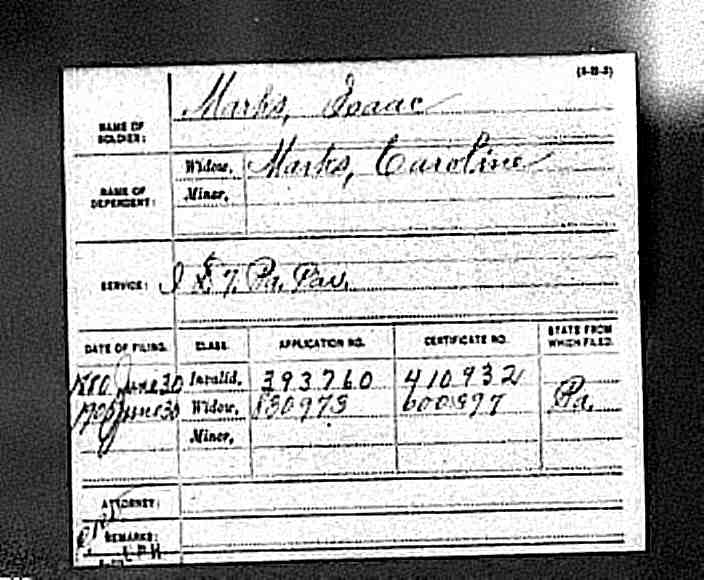 On 30 June 1880, Isaac Marks applied for a Civil War pension, which he received and collected until his death, and afterward, his widow Caroline applied and received benefits until her death. The Pension Index Card, shown above, is from Ancestry.com.
In 1890, Isaac Marks was living in Tremont.  He reported his service in the 7th Pennsylvania Cavalry and did not report any disabilities as a result of that service.
From all presently known information, other than the Civil War, Isaac spent his entire life in Tremont.
Any readers who can offer additional information can do so by adding a comment to this post.