Posted By Norman Gasbarro on November 2, 2016
The photograph shown above was purportedly taken by O. Pierre Havens of Ossining, New York in either 1862 or 1863, of the camp of the 5th New York Cavalry.  In the center of the picture, seated, is a man wearing a top hat.  While many people have concluded that the man is Abraham Lincoln, Stefan Lorant, author of Lincoln, A Picture Story of His Life (page 308), is skeptical.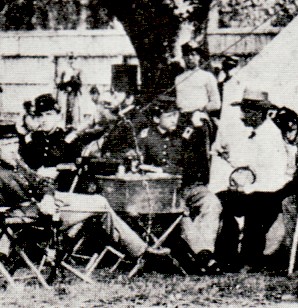 An enlargement of the center of the picture is shown above.  Lorant believes that the casual and informal attitudes of the soldiers in the picture makes it unlikely that it is Lincoln.  But if it is not Lincoln, then who is it?
For a more complete discussion of this photograph, see Civil War Talk.