Posted By Norman Gasbarro on October 7, 2016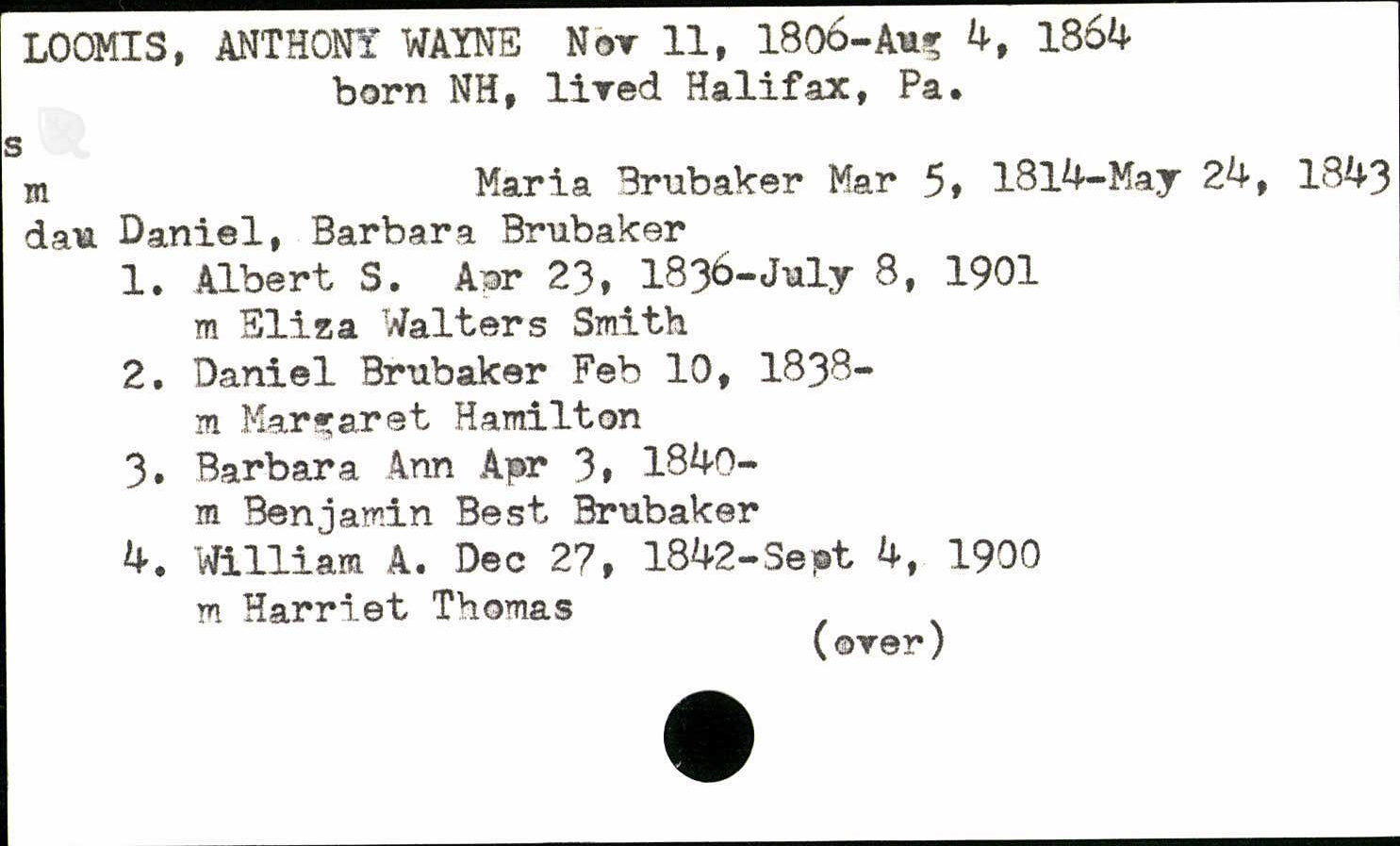 The above family card for Anthony Wayne Loomis (1806-1864) was found in the Mennonite Vital Records of Lancaster County, Pennsylvania, 1750-2014, available on Ancestry.com. It shows a child, William A. Loomis, born 27 December 1842, married Harriet Thomas, and died 4 September 1900.  The card states that Anthony Wayne Loomis lived in Halifax, Pennsylvania.
On 7 September 1900, the Altoona Tribune [Blair County, Pennsylvania] reported the death of William A. Loomis: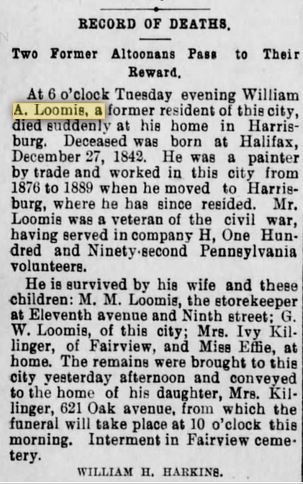 Former Altoonan Pass[es] to [His] Reward

At 6 o'clock Tuesday evening William A. Loomis, a former resident of this city, died suddenly at his home in Harrisburg.  Deceased was born at Halifax, 27 December 1842.  He was a painter by trade and worked in this city from 1876 to 1889 when he moved to Harrisburg, where he has since resided.  Mr. Loomis was a veteran of the Civil War, having served in Company H, One Hundred and Ninety-Second Pennsylvania Volunteers [192nd Pennsylvania Infantry].

He is survived by his wife and these children:  M. M. Loomis, the storekeeper at Eleventh Avenue and Ninth Street; G. W. Loomis, of this city; Mrs. Ivy Killinger, of Fairview; and Miss Effie Loomis, at home.  The remains were brought to this city yesterday afternoon and conveyed to the home of his daughter, Mrs. Killinger, 621 Oak Avenue, from which the funeral will take place at 10 o'clock this morning.  Interment in Fairview Cemetery.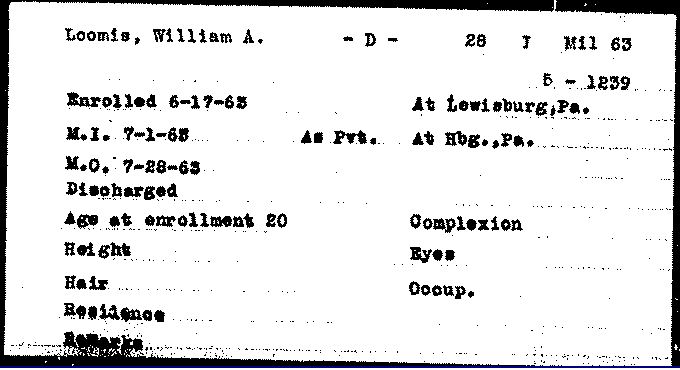 In addition to the service reported in the obituary, William A. Loomis first served in the 28th Pennsylvania Infantry (Emergency of 1863), Company D, as a Private.  The card above from the Pennsylvania Archives gives his muster-in date as 1 July 1863, but the enrollment date was 17 June 1863 at Lewisburg.  This is a strange time gap for this emergency militia.  It could be that William took extra time to decide whether he would actually join the militia regiment because of his Mennonite faith.
According to James O. Lehman and Steven M. Nolt, in Mennonites, Amish, and the American Civil War:
During the American Civil War, the Mennonites and Amish faced moral dilemmas that tested the very core of their faith. How could they oppose both slavery and the war to end it? How could they remain outside the conflict without entering the American mainstream to secure legal conscientious objector status? In the North, living this ethical paradox marked them as ambivalent participants to the Union cause….
The record card does show that William A. Loomis was discharged at the end of the emergency on 28 July 1863.  It also should be noted that his father, Anthony Loomis, did not die until 4 August 1864, and if this military service was a point of religious conflict in the family, the elder Loomis was still alive during the emergency and may still have had some influence on his son.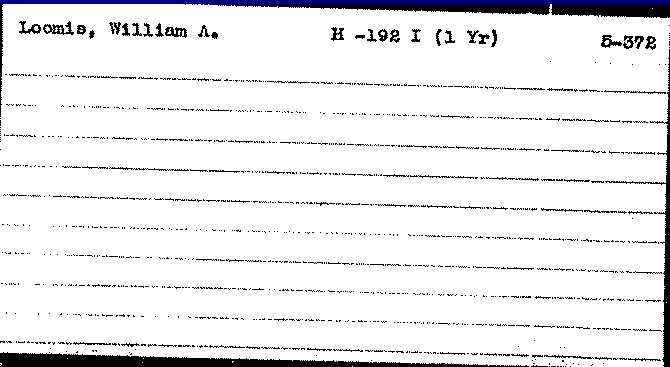 The military records for the 192nd Pennsylvania Infantry show that William A. Loomis was mustered into that regiment on 21 March 1865 as a Private in Company H (after the death of his father).  He served until he was honorably discharged with his company on 24 August 1865.  Additionally, in the database U.S. Civil War Soldier Records and Profiles, Loomis is reported as from Blair County – not Dauphin County.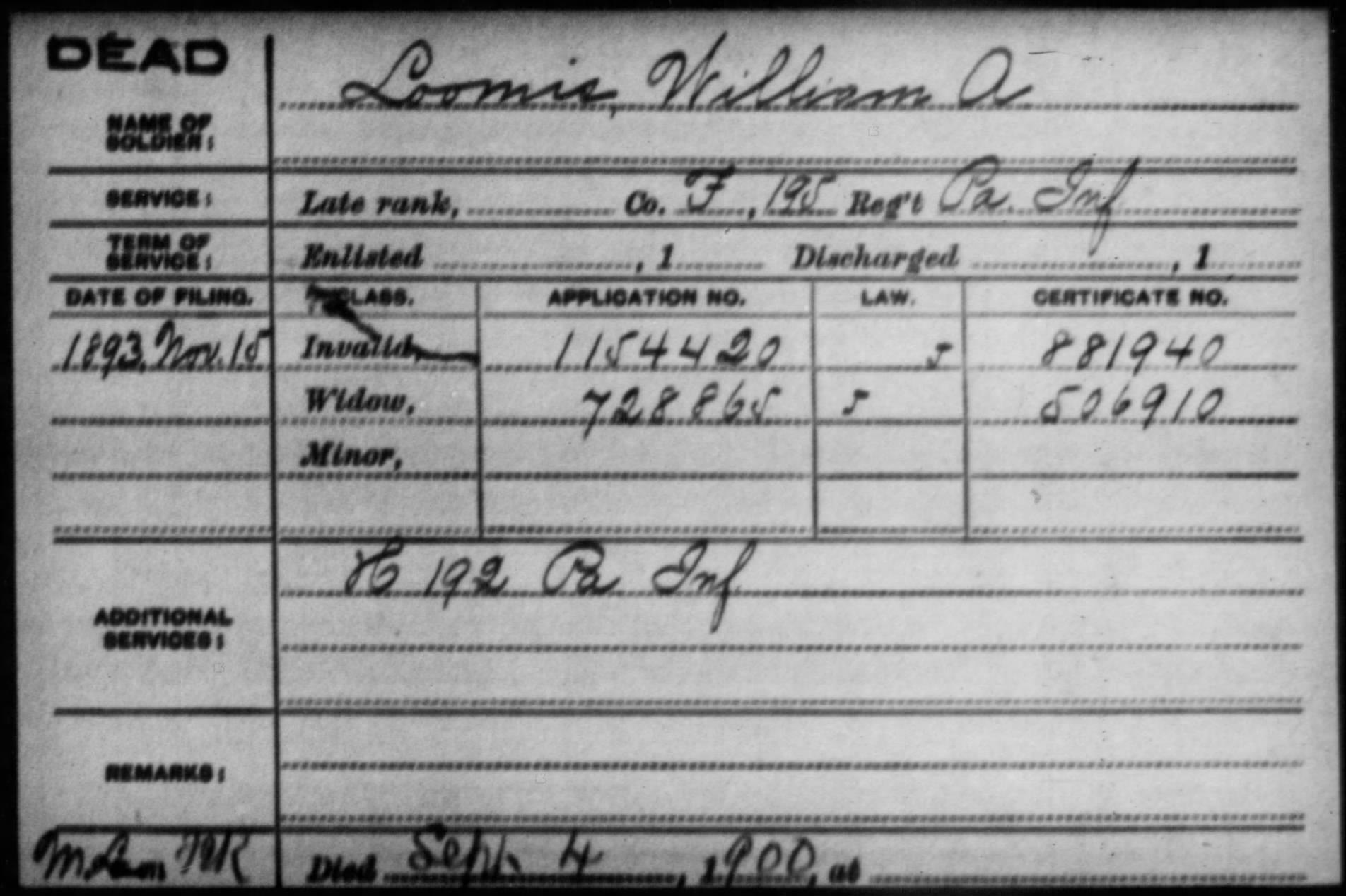 A further complication in seeking to determine the extent of his actual military service is found on the Pension Index Card, shown above from Fold3, in which the application records also indicate service in the 195th Pennsylvania Infantry, Company F, but he is not found in any of the usual military records for that regiment.  Furthermore, the militia service of 1863 was not given as part of the actual service record used in compiling time for pension benefits. In any event, the pension was granted and collected until his death, which as previously stated occurred in 1900.  This was then followed by a widow's application, which was made on 23 October 1900 per the Ancestry.com version of the Pension Index Card (not shown here). Presumably, the widow, Harriet "Hattie" [Thomas] Loomis, collected benefits until her death.
Many of the questions surrounding the military service of William A. Loomis can most likely be resolved by obtaining his military records and his pension application records, which were not consulted for this blog post.  If any readers have information that can resolve how he reconciled his Mennonite beliefs with his military service – or whether he simply abandoned the faith – that would be greatly appreciated!  Please add comments to this post so others can benefit from a discussion.
The Loomis family did reside in Halifax during the mid-to-late nineteenth century and played an important part in the community.  Several brothers of William are buried in the Halifax United Methodist Church Cemetery, although none seem to have served in the Civil War.