Posted By Norman Gasbarro on October 14, 2016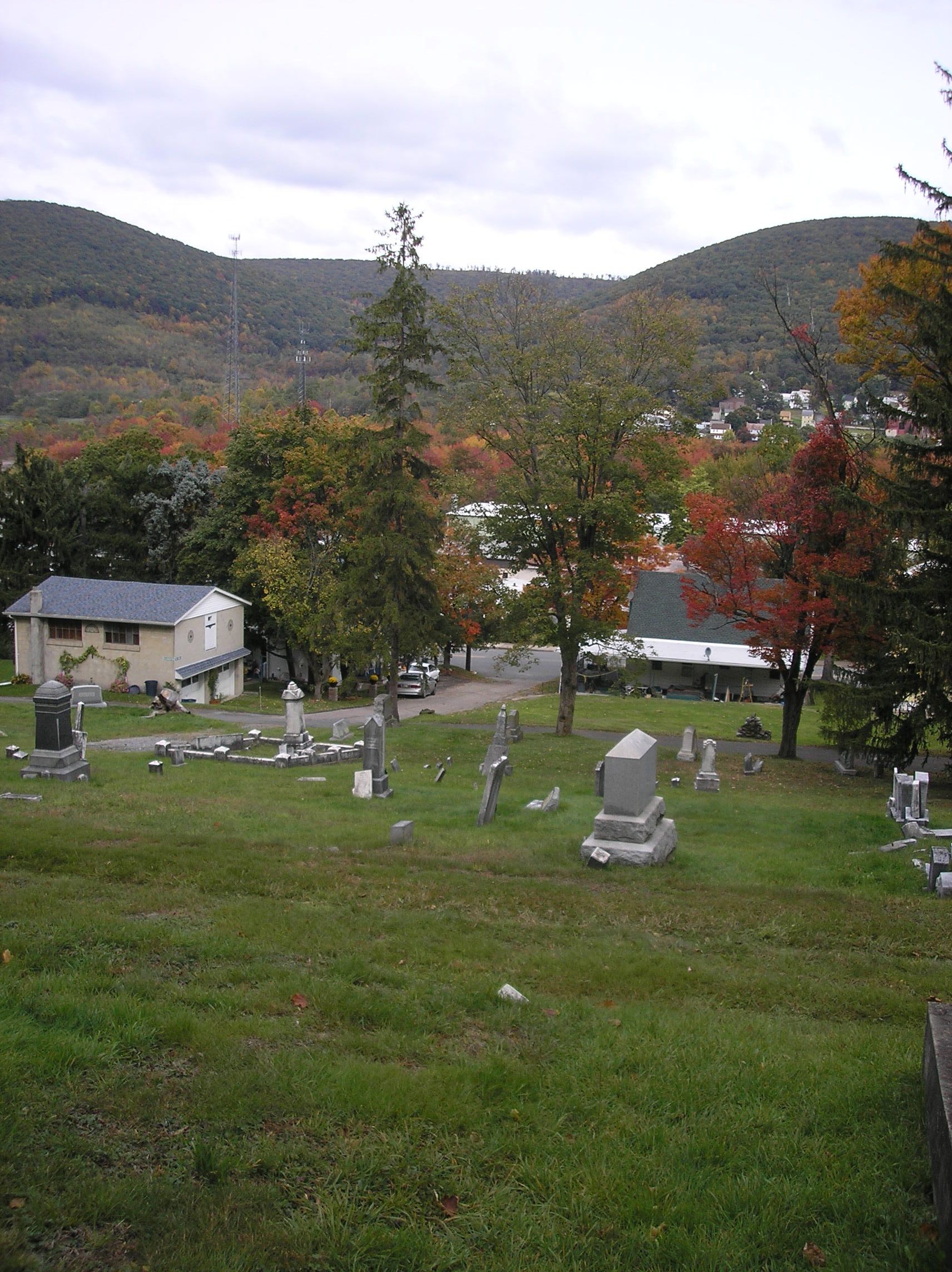 In the Memorial Book of the Otterbein Church of the United Brethren of Christ, Lykens Borough, Dauphin County, Pennsylvania, the following tribute is recorded:
Brother Nathaniel Charles Lehman was born 12 September 1844 at Berrysburg, Pennsylvania, and died in Lykens, Pennsylvania, 5 March 1918, age 73 years, 5 months and 23 days.

He was married 29 March 1867 to Miss Malinda Moyer and to their union were born eight children, three sons and five daughters.  His wife, two sons, Harry C. Lehman, and William F. Lehman, and two daughters, Emma Lehman (Mrs. William P—-) and Ruth M. Lehman, have preceded him in death.

The surviving children are:  Amelia C. Lehman (Mrs. G. W. Heartter), Salome M. Lehman (Mrs. D. H. Fegley), Estella C. Lehman (Mrs. Harry Shomper) and Jacob D. Lehman, still at home.

There are also 18 grand-children.

He was a veteran of the Civil War having served a period of eighteen months.

The following Resolutions were adopted by the Official Board:

Whereas, God in His all-wise providence has seen fit to remove from our midst the soul of our deceased Brother Nathaniel Charles Lehman;

We the members of the Official Board of the Otterbein Church of the United Brethren in Christ feel that we have sustained a severe loss but it is to our Brother's eternal gain;

And while we bow in submission to the will of Him who cannot err we desire to express our appreciation of the life and labor of our Brother.

Brother Lehman was converted and united with the Church in 1875 and continued faithful until his death.  He served the Church as an Official Member almost continuously as his name appears on the records as early as 1879 as a General Steward.

He served as Class Steward from 1890-1900.

In April 1903 he was elected to the office of Church Trustee of which he was a member at the time of his death.

His funeral services were conducted in his home on East Main Street, 8 March with short services there in charge of his Pastor and proceeded at once to the Odd Fellows Cemetery where services were conducted by the Knights of Pythias, and the Sons of Veterans.

He received a military burial.

The funeral then proceeded to the Church where services were concluded with a sermon by his Pastor, the Rev. S. L. Rhoads, from the words found in II Timothy 4:7,8.


[Verse 7. I have fought the good fight, I have finished the race, I have kept the faith. Verse 8. Henceforth there is laid up for me the crown of righteousness, which the Lord, the righteous judge, will award to me on that Day, and not only to me but also to all who have loved his appearing.]

Thus from our membership another has been called to his eternal reward and we should learn the lesson that this would teach us, always to be ready for in such an hour….

Therefore be it resolved –

First: that we tender to the family of our Brother our most earnest sympathy and prayer.

Second:  that these resolutions be published in the Conference Herald and that a copy be given to the family, and that they be spread on the Minutes of the Official Board.

William H. Snyder, H. G. Deibler, R. H. Rhoads – Committee.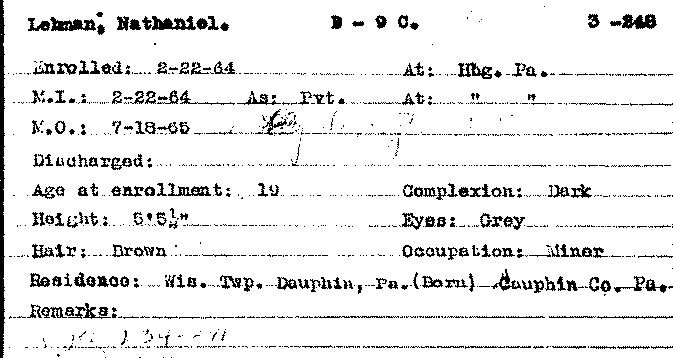 At the time of the Civil War, Nathaniel Lehman enrolled at Harrisburg in the 9th Pennsylvania Cavalry, Company B, as a Private on 22 February 1864, and was mustered into service the same day.  He gave his age as 19, birthplace as Dauphin County, his residence as Wiconisco Township, and his occupation as miner.  He was just over 5 foot, five inches tall, had brown hair, a dark complexion, and grey eyes.  The record card shown above from the Pennsylvania Archives shows that he was honorably discharged on 18 July 1865.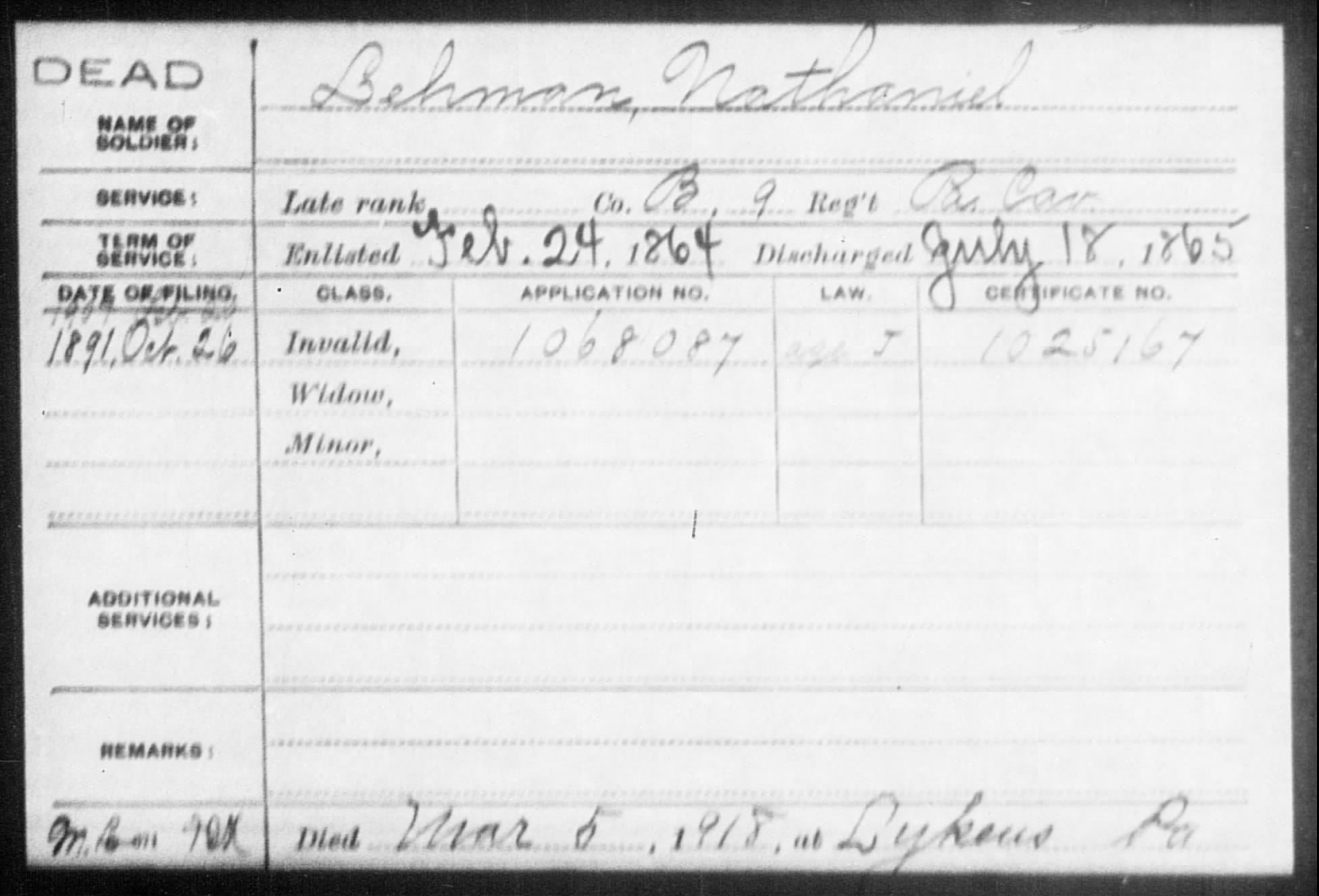 For his service in the Civil War, he was awarded a pension, which as shown on the Pension Index Card from Fold3, he applied for on 26 October 1891.  His death date is confirmed on the card as 5 March 1918, in Lykens, as previously noted.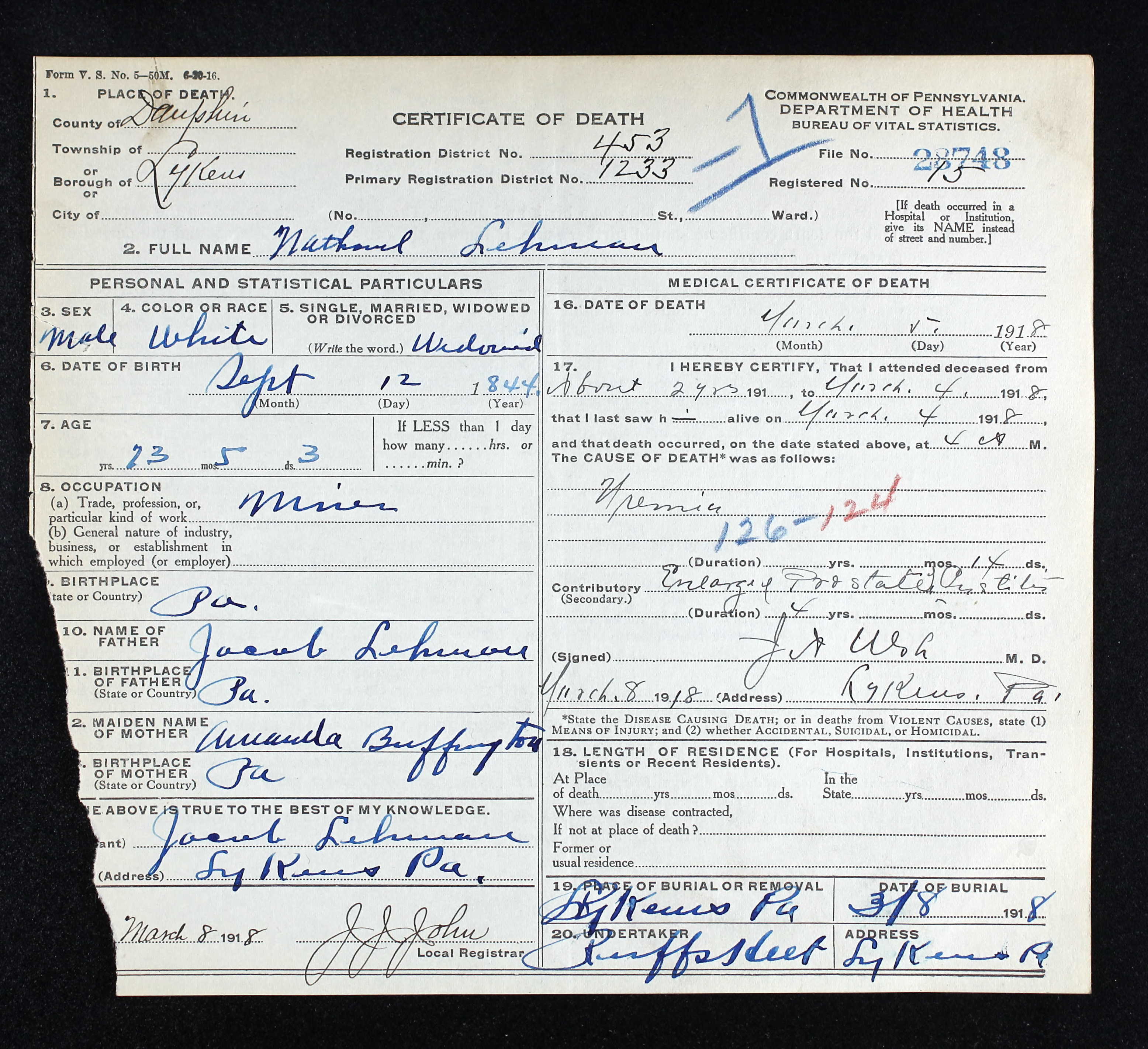 The cause of death was reported on his Pennsylvania Death Certificate (from Ancestry.com).  He died of uremia, which was complicated by a enlarged prostate.

As a member of the Heilner G.A.R. Post at Lykens, he was named on the Lykens G.A.R. Monument, as "Nat. C. Lehman."
Additional information is sought about this Civil War soldier, including a picture which surely must be available somewhere considering the date of his death, the number of survivors, and his activity with his church as well as with the G.A.R.  Anyone who can help can either add a comment to this post or send the information via e-mail.