Posted By Norman Gasbarro on September 22, 2016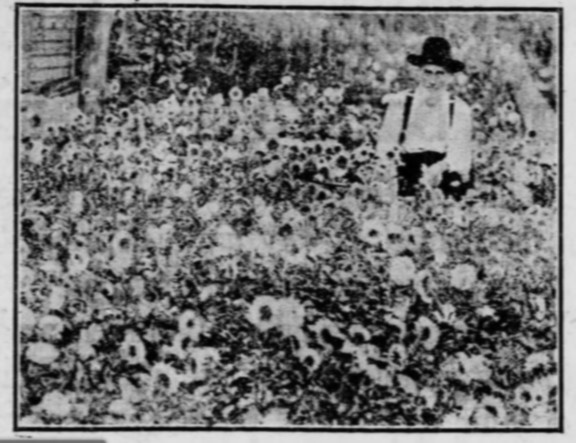 On 4 October 1913, the headline in the Harrisburg Telegraph read:  "Emanuel Lehman and His Flower Bed."  A photo and the story followed:
Lykens, Pennsylvania, 4 October 1913 — The above is a picture of Emanuel Lehman, of Lykens, who was recently elected to the office of Sunday School Treasurer of the United Brethren Church for the twenty-fourth annual term.  During his many years in the office there has never been a mistake in his accounts, notwithstanding the fact that the Sunday School moneys amounted to nearly $20,000.  Mr. Lehman, who is 70 years old, is in good health and seldom misses a church service.

Mr. Lehman raises more fine flowers than another person in this section, and for the last fifteen years or more the pulpit of the church of which he is a member, was not on a single Sabbath without its bouquet taken from Mr. Lehman's garden.  He is a cobbler by trade, was a veteran of the Civil War, and a member of the United Brethren Church for nearly fifty years.  The above picture shows Mr. Lehman in a bed of asters in his garden.

A little more than three years later, the Harrisburg Telegraph reported his death:
EMANUEL LEHMAN DIES

Lykens, Pennsylvania, 17 February 1917 — Emanuel Lehman, aged 72 years, died at the home of his son-in-law, Edward Matter, Wednesday afternoon, from paralysis.  Mr. Lehman was a Civil War veteran and was a member of the Heilner Post, 232, G.A.R.  Funeral services took place at the home of Edward Matter, in North Second Street, this afternoon at 2 o'clock, the Rev. Mr. McDonald of the United Brethren Church, in charge.  Burial was made at the borough cemetery at which place the Junior Mechanics had in charge of the service.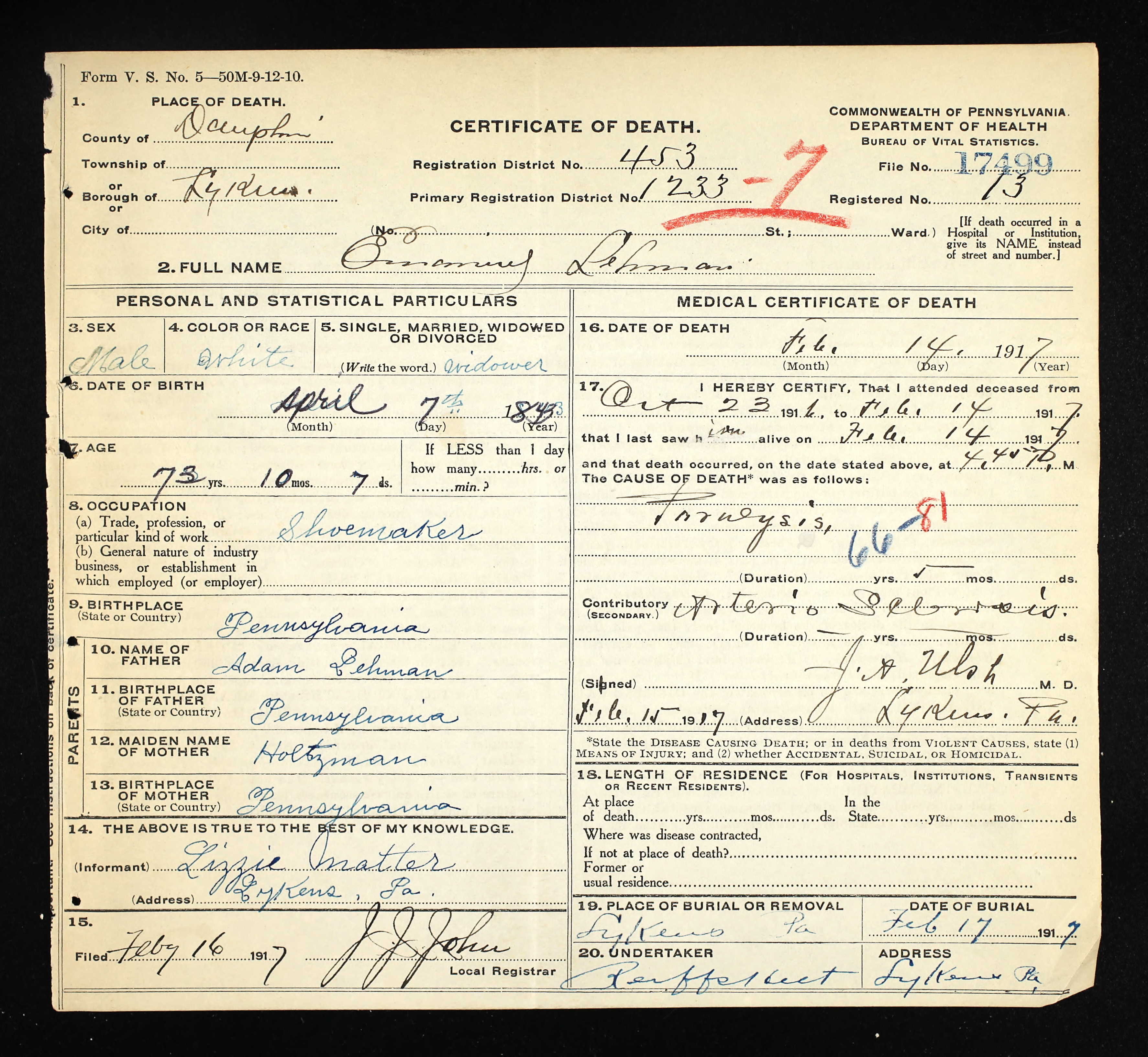 Emanuel Lehman's death certificate, shown above (from Ancestry.com), gave his birth date of 7 April 1843, his death date of 14 February 1917, his occupation as shoemaker, his father's name as Adam Lehman, and his mother's maiden name as Holtzman.  Other sources give the mother's full name as Elizabeth Holtzman (1816-1892).  At the time of his death, Emanuel was a widower; his wife, Lydia A. [Shoop] Lehman, passed away on 26 April 1886.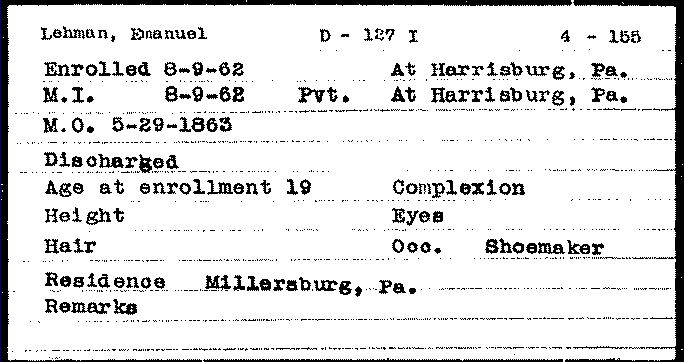 The Pennsylvania Veterans' File Card, from the Pennsylvania Archives (shown above), indicates that on 9 August 1862, Emanuel Lehman enrolled in the 127th Pennsylvania Infantry, Company D, as a Private, at Harrisburg, and was mustered into service the same day.  At the time of his enrollment and muster he gave his correct age of 19, his occupation as shoemaker, and his residence of Millersburg, Dauphin County.
It is believed that Edward Lehman participated in all engagements of the 127th Pennsylvania Infantry, a history of which can be found at the Pennsylvania Civil War web site.  He was honorably discharged on 29 May 1863.

For his war service, Emanuel Lehman was recognized on the Lykens G.A.R. Monument as a member of the Heilner Post who joined after organization.  Note:  Name spelled Emmanuel Lehman.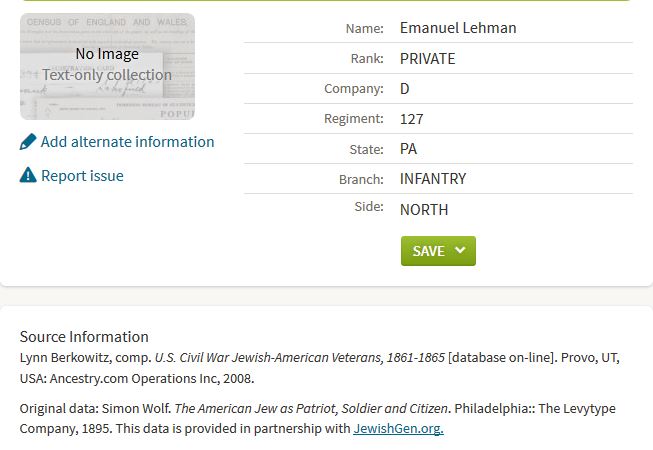 In what is clearly an error, this same Emanuel Lehman is named in the database U.S. Civil War Jewish-American Veterans, 1861-1865 (see above screen capture from Ancestry.com).  An explanation of how this type error occurred was previously discussed on this blog on 19 April 2011.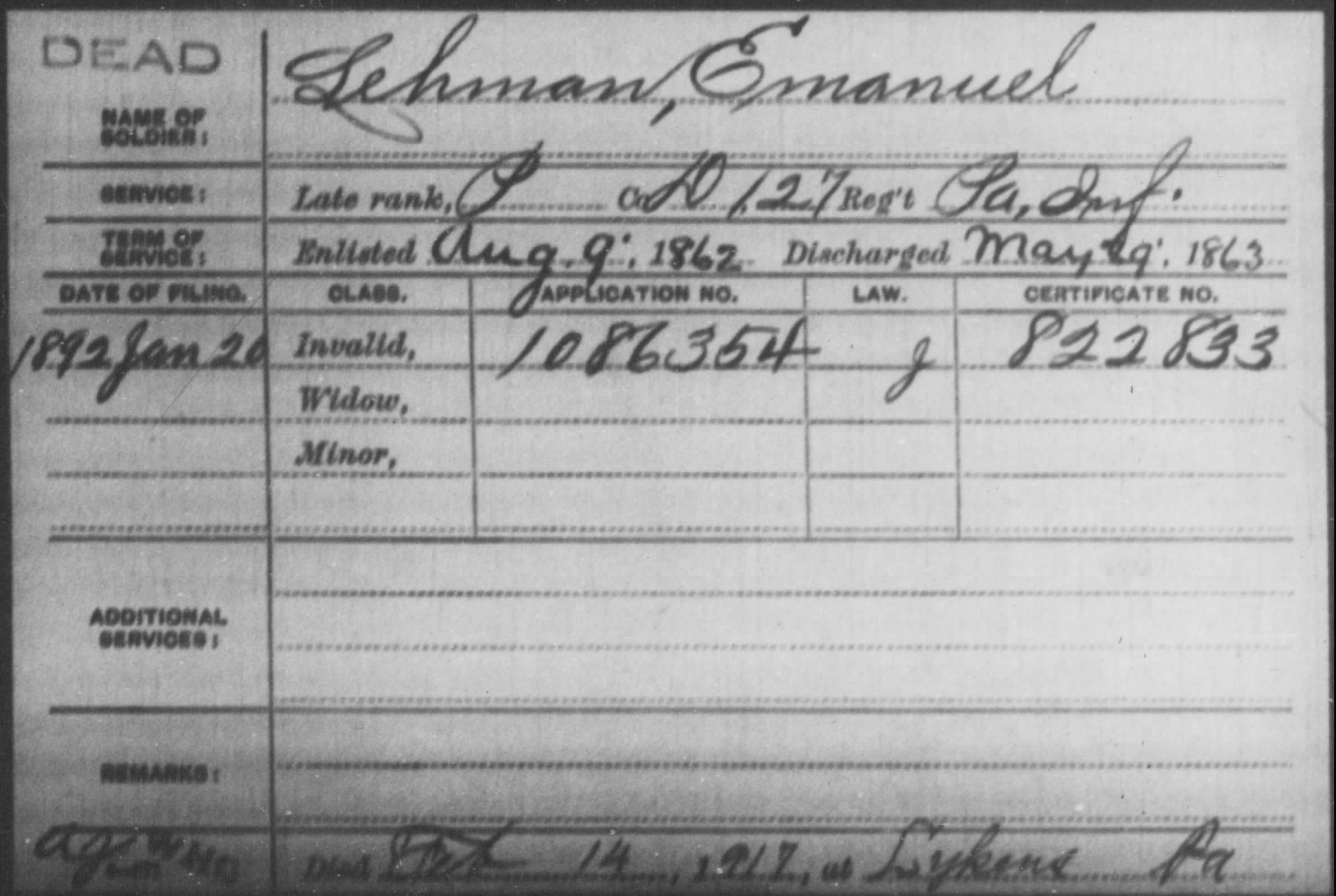 On 20 January 1892, Emanuel Lehman applied for an invalid pension.  This application date is an indication that he had no Civil War-related injuries that affected his life.  He waited until after the pension eligibility rules were sufficiently relaxed in 1890 to allow "old age" to be a reason to receive benefits.  He was awarded benefits which he collected until his death as noted on the Pension Index Card (shown above from Fold3).
The 1860 Census for Mifflin Township, Dauphin County, shows that Emanuel was working there as a farmer.   Census records also show that Emanuel Lehman was living in Millersburg as late as 1870, working as a shoemaker, and married with three small children in his household.  However, given that other records such as the U.S. Civil War Draft Registration (1863) and the Pennsylvania Veterans' Index Card (1862) also give his residence as Millersburg, it must be noted that his name does not appear on the Millersburg Soldier Monument.  He should have been included!
By 1880, the Lehman family had moved to Lykens Borough. Mrs. Lehman died in 1886.  In 1890, Emanuel reported his Civil War service in the 1890 census.  In 1910, still living in Lykens, he was working as a shoe raiser in a car shop.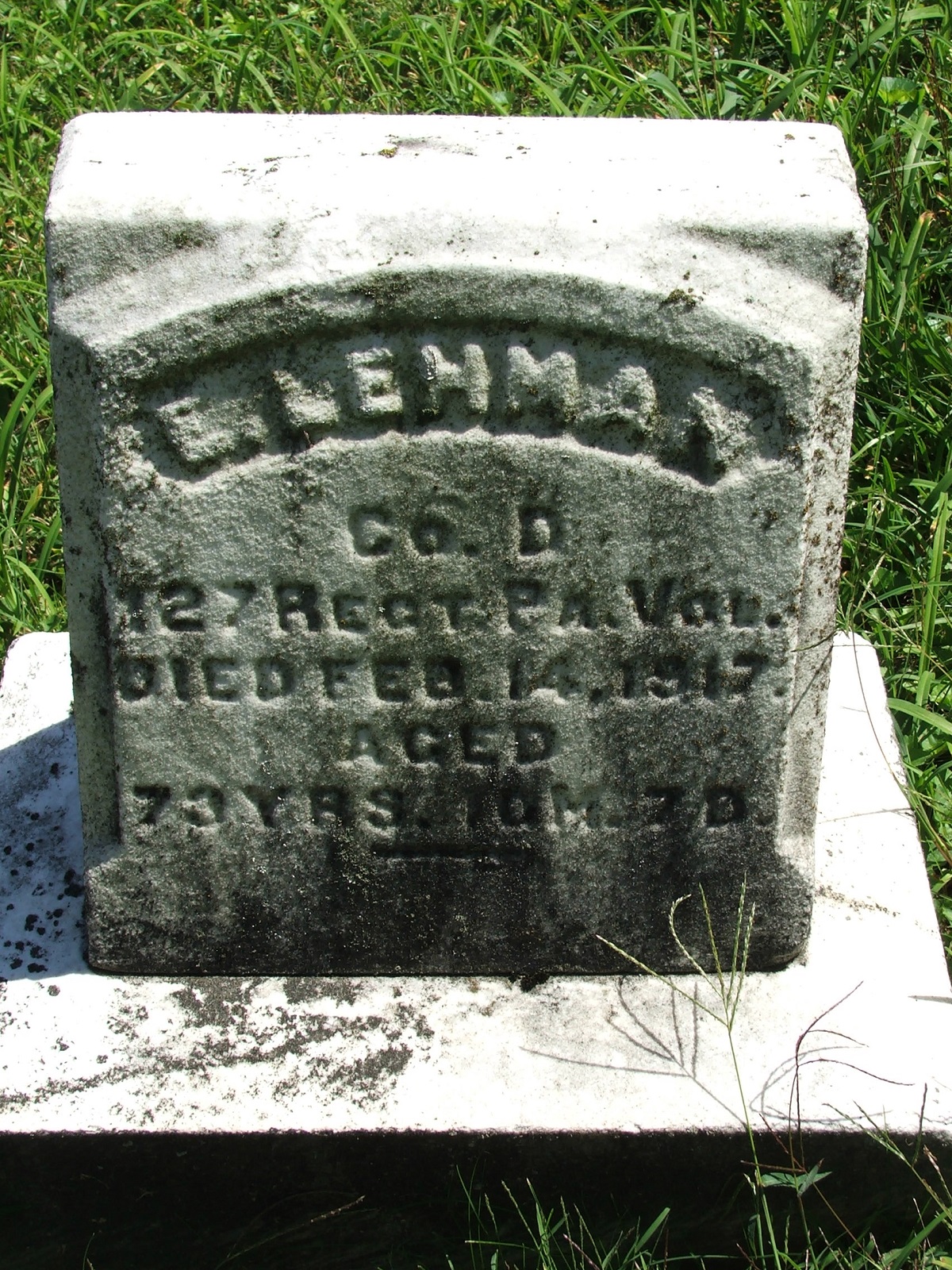 Emanuel Lehman is buried at the Lykens I.O.O.F. Cemetery.  His grave marker gives his death date as well as the regiment and company of Civil War service is engraved on the stone.
In the Memorial Book of his church, the following was recorded: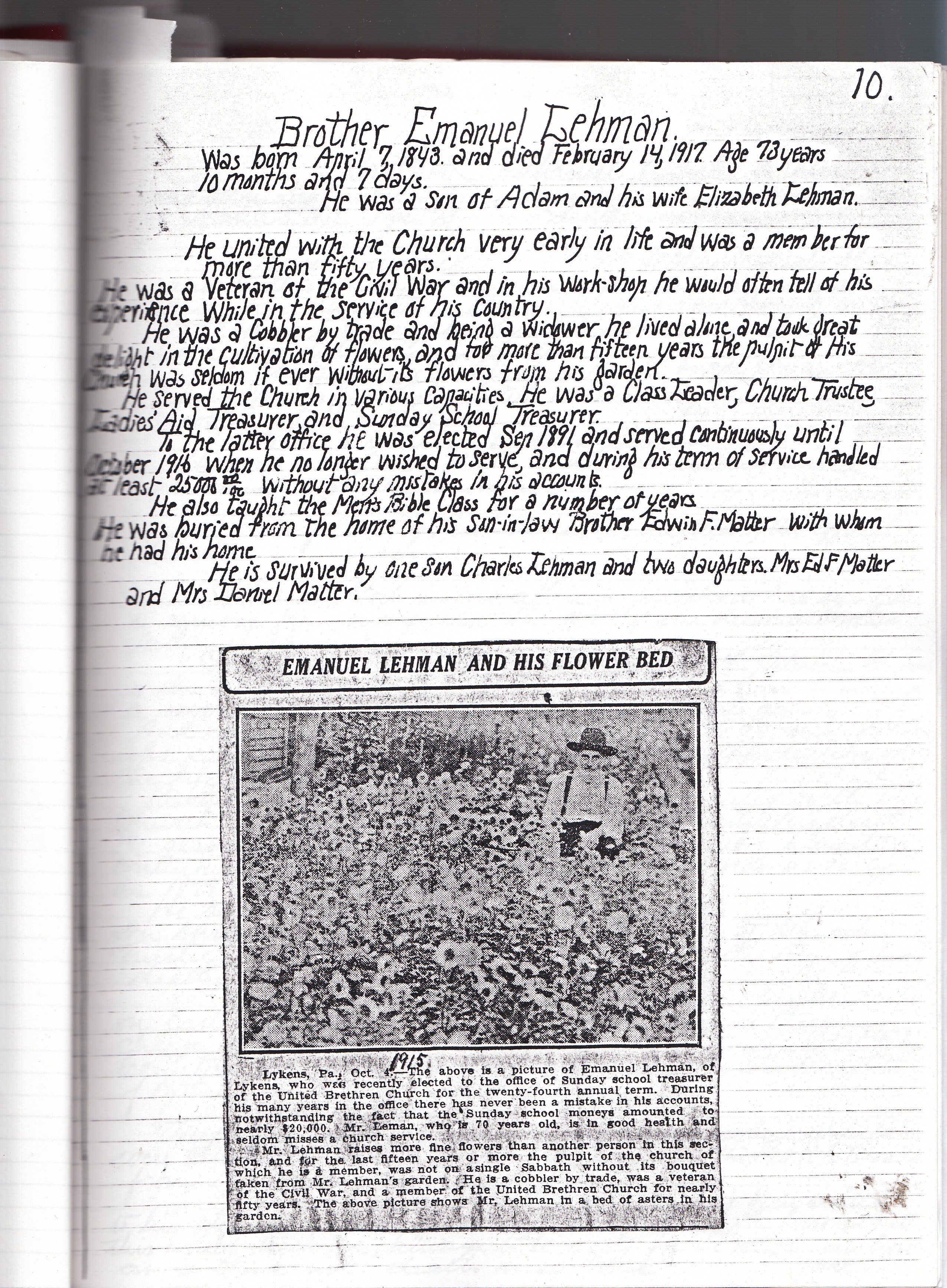 He united with the Church very early in life and was a member for more than fifty years.

He was a veteran of the Civil War and in his workshop he would often tell of his experience while in the service of his country.

He was a Cobbler by trade and being a widower he lived alone and took great pride in the cultivation of flowers, and for more than fifteen years the pulpit of his church was seldom without its flowers from his garden.  He served the Church in various capacities.  He was Class Leader, Church Trustee, Ladies' Aid Treasurer, and Sunday School Treasurer.

In the latter office, he was elected September 1891 and serve continuously until October 1916 when he no longer wished to serve and during his term of service handled at least $25,000 without any mistakes in his accounts.

He also taught the Men's Bible Class for a number of years.  He was buried from the home of his son-in-law, Edwin F. Matter with whom he had his home.

He is survived by one son Charles Lehman and two daughter Mrs. Edwin F. Matter and Mrs. Daniel Matter.
To the memorial page was added the news article and picture that appeared in the Harrisburg Telegraph on 4 October 1913, "Emanuel Lehman and His Flower Bed," which is featured at the top of this blog post.
What stories of the war did Emanuel Lehman tell in his cobbler shop?  Were any of these stories written down anywhere?  Any information that can be provided by readers would be greatly appreciated.
---
News articles are from Newspapers.com.