Posted By Norman Gasbarro on September 30, 2016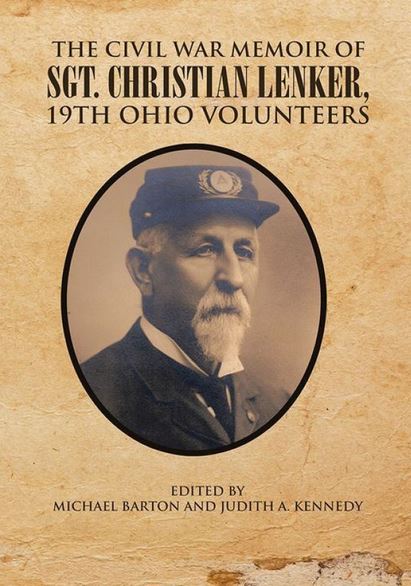 Dr. Christian Lenker was found in the Biography and History of Schuylkill County, as a Civil War soldier who served in the 19th Ohio Infantry, Company H, as a Sergeant.  His connection to the Lykens Valley was clearly stated in the opening paragraph of the sketch.  It is obvious from that opening paragraph that he belongs in the Elizabethville area Civil War veterans' list. From reading through the biography, it is also clear that as a teacher in the schools of Millersburg, he also belongs in the veterans' list for that community – and is he one of the many persons with a connection there who are not named on the Millersburg Soldier Monument.
From the Biography and History of Schuylkill County, p. 309:
Dr. Christian Lenker, a prominent physician of Schuylkill Haven, and a descendant from prominent and pioneer families of the state, was born near Elizabethville, Dauphin County, 10 March 1842.  His great-grandfather on the maternal side, Ludwig Shott, was one of the original settlers in the Lykens Valley, having removed from the vicinity of Reading in company with [Andrew] Lykens, for whom the valley was named. Their efforts to establish homes and open the section to civilization was hazardous and was met with much opposition from the roaming bands of Indians who were occupying the territory, and with whom the settlers were in frequent battle. His grandfather, also named Ludwig Shott, was born in Dauphin County.   He was a farmer, and successfully followed that vocation all of his life, except for a period during the War of 1812, when he served his country in the military operations in and around Baltimore.

Dr. Lenker's grandfather, Stephen Lenker, was a native of Chester County.  He emigrated to Dauphin County in the latter part of the last century, and settled near Elizabethville, where he owned and cultivated a fertile farm of two hundred acres.  He was a prosperous man, intelligent and respected.  Christian Lenker, the father of the present Dr. Christian Lenker, was born in Dauphin County, in the year 1800.  He was a farmer, vigorous and enterprising.  In public matters he took an active interest. He was a democrat, and was elected by his party a county commissioner, faithfully looking after the interests of the entire period.  He was a leader in military affairs, and was a captain in the state militia.  He was twice married.  His first wife was a Miss Hawk, and by this union there were two children.  His second marriage was with Susan Shott, and to them were born four sons, one of them being Christian Lenker, the subject of this sketch.  The brothers were Daniel Lenker, Valentine Lenker, and Hiram Lenker.  Hiram Lenker died at the age of fourteen.  Daniel Lenker is a prominent real estate dealer in Canton, Ohio.  He began life as an iron moulder, and was at one time foreman of Buckeye Mower and Reaper Works.  He enlisted and served in the Civil War as a Lieutenant in the Canton Artillery.   Valentine Lenker, who resides at Berrysburg, Dauphin County, and is a saddler and harness maker, and a dealer in the goods of his trade. In 1861, he enlisted in the 9th Regiment Pennsylvania Cavalry [9th Pennsylvania Cavalry], and served three years with distinction.  He is a Republican and has been elected and served two terms as an assemblyman from Dauphin County, in the State Legislature.

Dr. Christian Lenker received a primary education in the public schools of Dauphin County.  At the breaking out of the war, he was a student at Mount Union College, Ohio.  He immediately joined the Canton Artillery, serving with that body three months.  He then enlisted in Company H, 19th Ohio Regiment [19th Ohio Infantry], and in 1863, re-enlisted in the same regiment as a veteran, serving in the army altogether four years and three months.  He was a true patriotic soldier, shirking no hardship and evading no duty.  He was at the front in many arduous campaigns and marches, and on the hotly contested battlefields of many states.  At various times he served under Buell, McClellan, Rosecrans, Halleck, Thomas, Sherman and Grant, and in the states of West Virginia, Kentucky, Tennessee, Mississippi, Alabama and Texas. He was an active participant in many of the battles fought in those states.  During his long service he was seldom absent from the field of war from any causes; and when convalescent from sickness in Nashville, Tennessee, twice escaped to rejoin his command, and was often returned to the hospital by his superior officers.  After being honorably mustered out at the close of the war, Dr. Lenker attended Millersville State Normal School, and was graduated with the Class of 1869.  Being fully capable and well prepared he began teaching, first in the grammar school at Millersburg, Dauphin County, and afterwards in the Boys' High School at Lock Haven.  He was elected principal of the city schools of Lock Haven, and performed the duties with credit to himself and benefit to the schools, for one year.  At the expiration of the scholastic year he was elected to and accepted a similar position in the schools of Northumberland, Northumberland County, where for three years further success crowned his efforts.  Dr. Lenker was successful teacher and an efficient school manager and in the change of professions the State lost a valuable educator.  But the gain was to the sick and afflicted, for while filling the position at Northumberland he, under the preceptorship of Dr. Joseph Priestly, undertook the study of the medical sciences, a profession in which he was to distinguish himself even more than he had in teaching.  In 1875, after a thorough preparatory training, he entered the Medical Department of the University of Pennsylvania, and was graduated in the medical department in 1877, and also attended the auxiliary course for two years.

He located near Bloomsburg, Columbia County, and began practicing.  With a practical mind, trained to understand and analyze, and possessed of a thorough knowledge of theory, he was not long in establishing himself and holding a lucrative practice.  But in 1882 he determined to locate in Schuylkill Haven, which he did, and where he has since attained much prominence in the practice of his profession.  Thoroughly equipped in all that pertains to the art, with a nature humane and kind, a logical and discriminating mind, well balanced in every way, he stands easily in a position high among the leading practitioners of his country and state.  The knowledge of what to do, and the persistent energy to do it, two very essential factors in a physician, are possessed in a large degree by the doctor.  He is, in addition, a man of high social standing, a good citizen, prominent in the affairs of his section, and posted in the occurrences and methods of the world in general.

He is a member of the Schuylkill County Medical Society, and of the State Medical Society, and is held in high professional and personal esteem by his brother members.  He belongs to the Union Veteran Legion, Encampment No. 19, at Pottsville; and to the Jere Helms Post, G.A.R., or Schuylkill Haven.  He is a member of Lafayette Lodge, No. 199 F. and A. M. at Lock Haven; and of the Carroll Lodge of the I.O.O.F., at Schuylkill Haven.

In politics, Dr. Lenker is a Republican, and while in no sense an office seeker of a partisan, he takes an active interest in the furtherance of the party's interest and its prosperity.  He was a delegate to the National Convention at Minneapolis in 1892, which nominated General Harrison for a second term.  He is at present most successfully serving his third year as a member of the school board of Schuylkill Haven.

Dr. Lenker was married 6 June 1878 to Mary Stoddard, of Wilkes-Barre, a daughter of John  Stoddard, now deceased, who was a prominent lumber dealer of that section.  Five children have blessed their union.  They are Robert E. Lenker; Frank S. Lenker; Helen Lenker; Marion I. Lenker; and Harold E. Lenker.

Dr. Lenker is in every way a representative man, safe and conservative, an honor to his section.  To such citizens is due the material prosperity of a community.
According to military records, Christian Lenker joined the 19th Ohio Infantry on 30 November 1861 as a Private or Corporal, and on 1 January 1863, was promoted to Full Corporal.  On 6 August 1864, he received another promotion to Full Sergeant, the rank at which he was mustered out on 24 October 1865.  Prior military service for Christian Lenker was in Capt. Williams' Independent Battery, Ohio Light Artillery.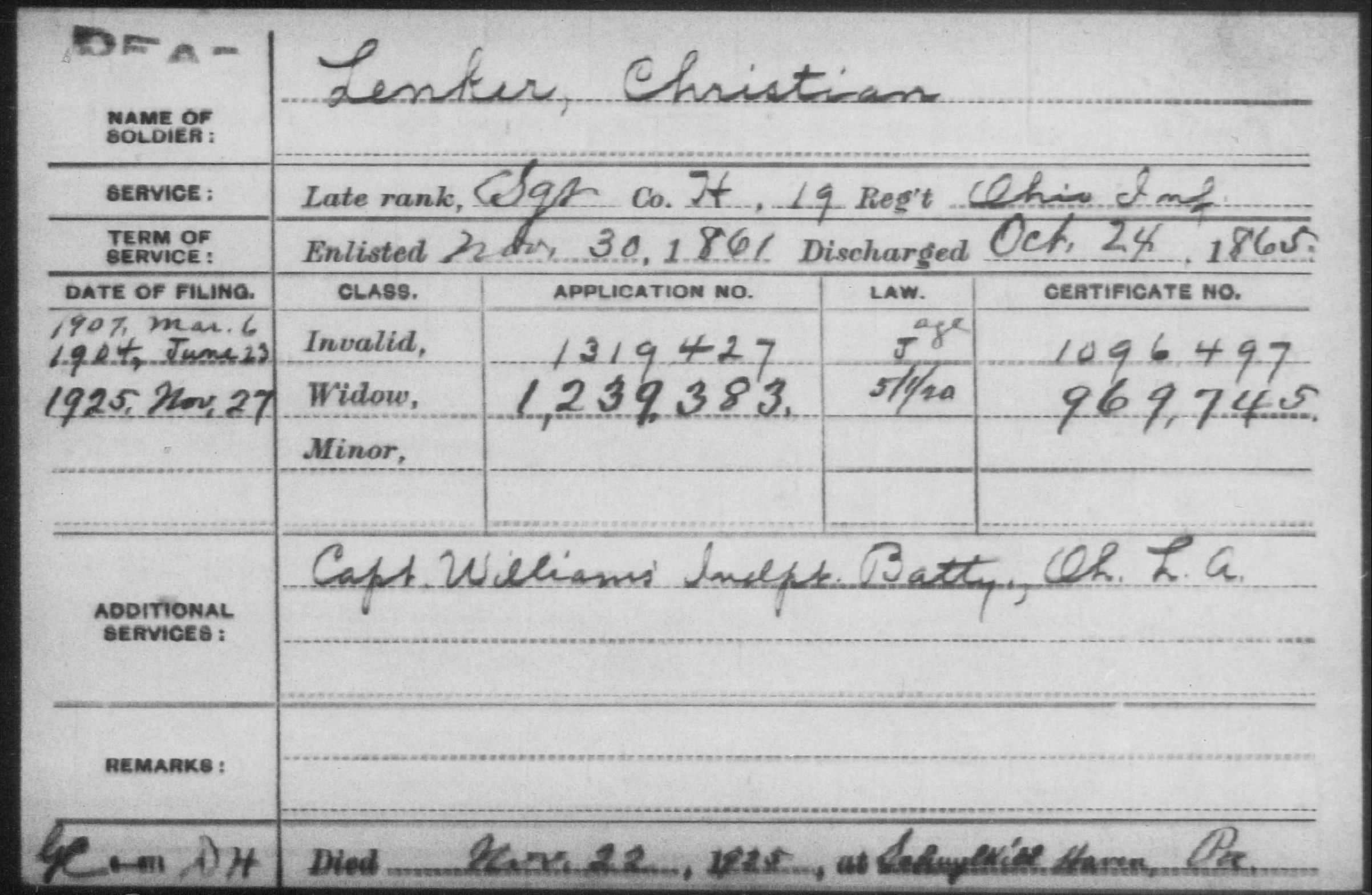 Dr. Lenker did not apply for an invalid pension until 13 June 1904 as shown by the Pension Index Card (above from Fold3).  The card shows that he received the pension, which he collected until his death, which occurred on 22 November 1925.  His widow, Mary [Stoddart] Lenker then applied and collected benefits until her death, which occurred in January 1932.  Her obituary appeared in the Reading Times, 21 January 1932: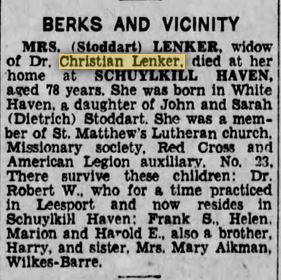 Mrs. [Stoddart] Lenker, widow of Dr. Christian Lenker, died at her home at Schuylkill Haven, aged 78 years.  She was born in White Haven, a daughter of John Stoddart and Sarah [Dietrich] Stoddart.  She was a member of St. Matthew's Lutheran Church, Missionary Society, Red Cross, and American Legion Auxiliary, No. 23.  There survive these children:  Dr. Robert W. Lenker, who for a time practiced in Leesport and now resides in Schuylkill Haven; Frank S. Lenker; Helen Lenker; Marion Lenker; and Harold E. Lenker; also a brother, Harry Stoddart; and a sister, Mrs. Mary [Stoddart] Aikman.
The Lenker's are buried in Union Cemetery, Schuylkill Haven, where both spent the latter part of their lives after the Civil War.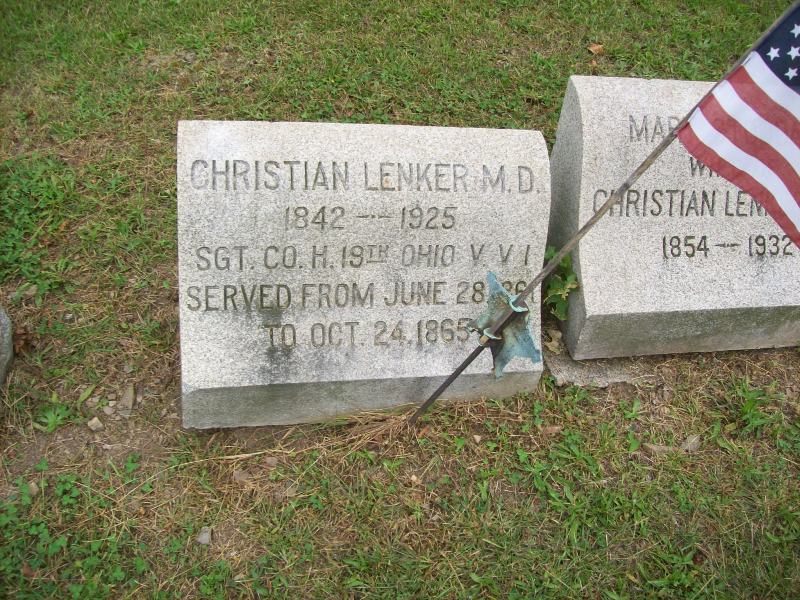 Additional information about Christian Lenker can be found at his Findagrave Memorial.
Dr. Lenker was very active in the Jere Helms G.A.R. Post in Schuylkill Haven and from 1912 to 1915, was invited to write a series of articles about his experiences in the Civil War by the editor of the Pottsville Evening Chronicle.  These articles were compiled from Dr. Lenker's own field notes and letters and include military actions in which he and his regiment participated at Shiloh, Chickamauga, Chattanooga, Pickett's Mill, Kennesaw Mountain, Atlanta, Lovejoy Station, and Nashville.  The Civil War Memoir of Sgt. Christian Lenker was later compiled from surviving copies of those newspaper articles.  The cover of that book, features a photo of Dr. Lenker in his G.A.R. uniform, and is pictured at the top of this post.
Additional information about Dr. Lenker's activities in the Schuylkill Haven G.A.R. can be found at the web site, Schuylkill Haven in the Civil War.
Comments and additional information are always welcome!
---
The newspaper article is from Newspaper.com.