Posted By Norman Gasbarro on August 8, 2016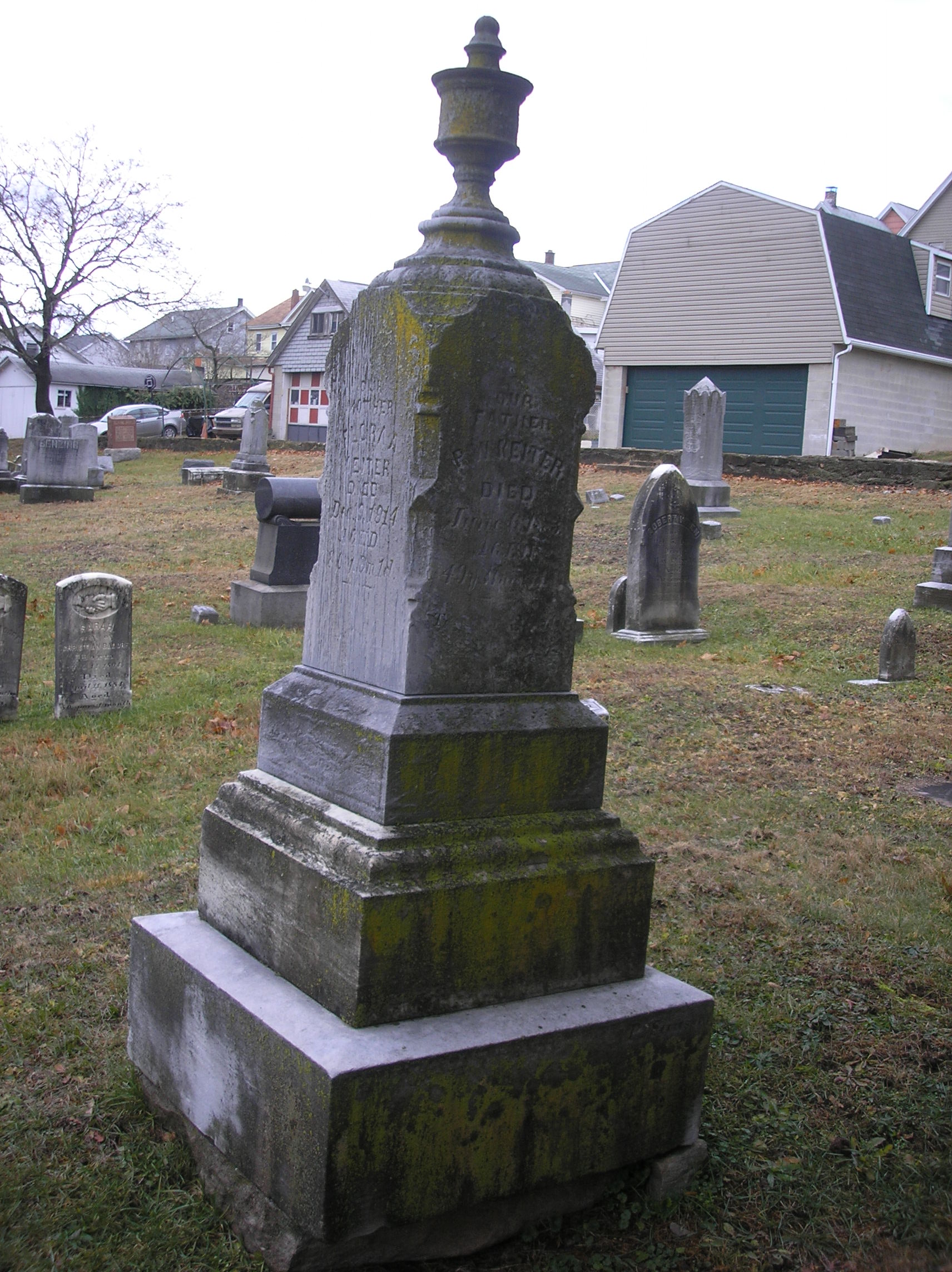 Philip W. Keiter was born on 22 June 1833 in Halifax Township, Dauphin County, and died on 6 June 1883.  During the Civil War, he served in the 36th Pennsylvania Infantry Militia, Company C, as a Sergeant, a company that was formed from what was pre-war known as the "Home Guards" or the Gratztown Militia.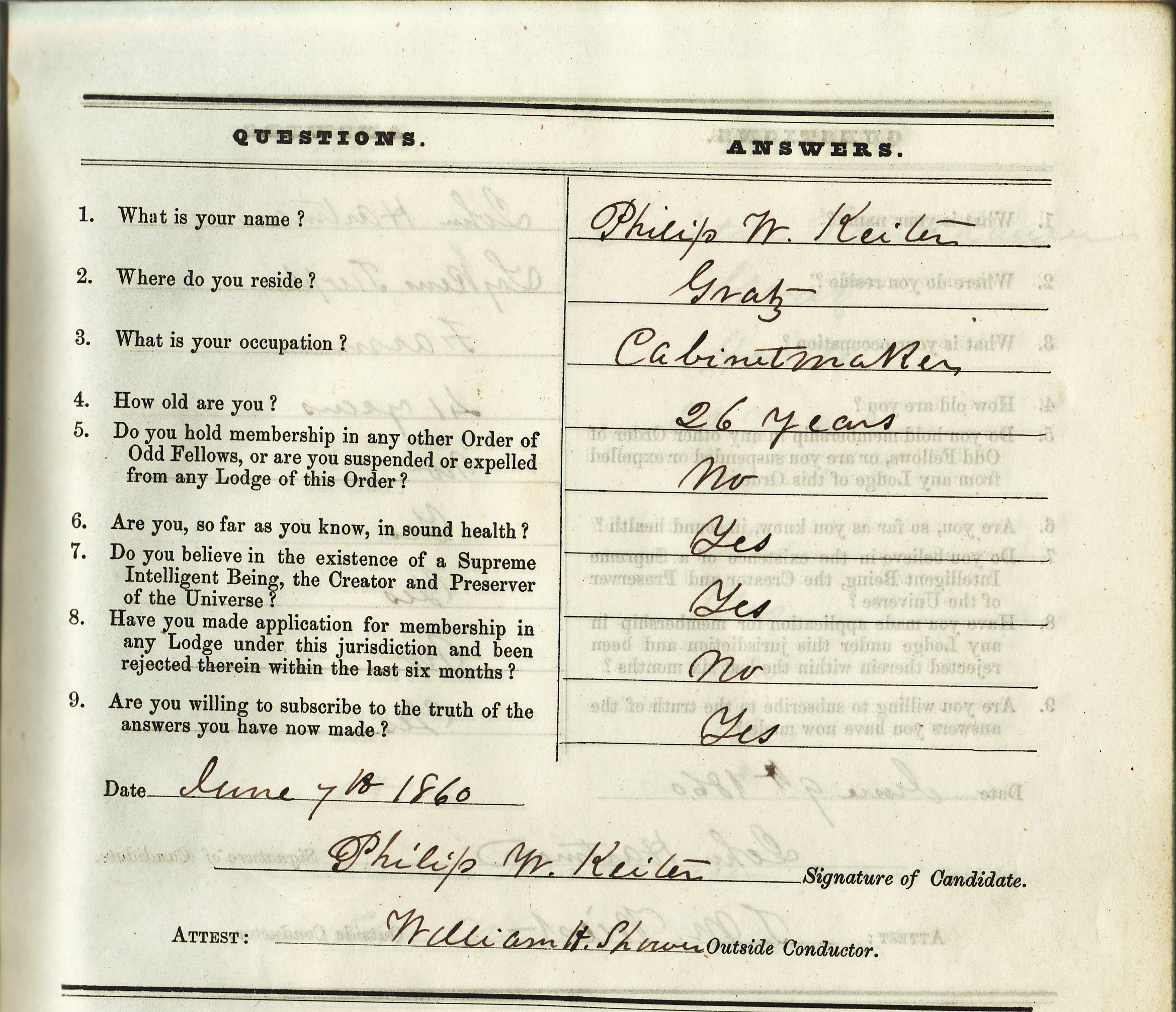 Proof that he was living in Gratz in 1860 is his application to join the Gratz I.O.O.F. (Odd Fellows).  At the time, he was a cabinetmaker, and was 26 years.  When Philip W. Keiter registered for the draft in 1863, he was living in Lykens Township, was married, and was still working as a cabinet maker.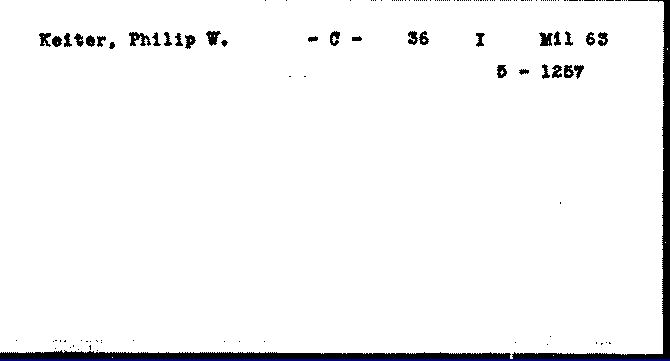 The Pennsylvania Veterans' File Card, shown above from the Pennsylvania Archives, is proof that he served in the 36th Pennsylvania Infantry Militia.  His dates of service were from 4 July 1863 to 11 August 1863.  Previously, a detailed description of service in this regiment and company was presented on this blog in a post entitled, Edward Crabb – Victim of Bigotry in Gratz.  That post indicated that this militia regiment had two African American brothers were were natives of Gratz.
Following the Civil War, Philip W. Keiter is found as a farmer in Mifflin Township in 1870 and as a carpenter in Williamstown in 1880.  When he died, he was buried at Seybert's Cemetery in Williamstown.  His grave marker is pictured at the top of this post.  At the time the marker was photographed two years ago, there was nothing at graveside to indicate that he was Civil War veteran.
Prior to the Civil War, Philip W. Keiter married Florence A. "Flora" Sausser.  After his death, she remained in Williamstown for a while where she is listed as a widow in the 1890 Veterans' Census, but then she moved to Harrisburg, where she died in 1914.  Her obituary appeared in the Harrisburg Patriot on 10 December 1914: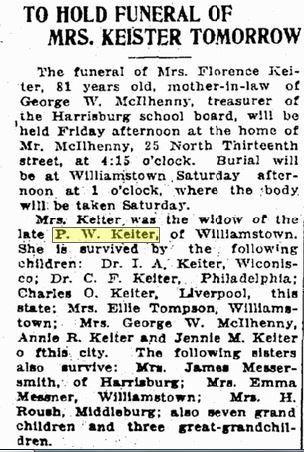 TO HOLD FUNERAL OF MRS. KEISTER [sic] TOMORROW

The funeral of Mrs. Florence Keiter, 81 years old, mother-in-law of George W. McIlhenny, Treasurer of the Harrisburg School Board, will be held Friday afternoon at the home of Mr. McIlhenny, 25 North Thirteenth Street, at 4:15 o'clock.  Burial will be held at Williamstown, Saturday afternoon at 1 o'clock, where the body will be taken Saturday.

Mrs. Keiter was the widow of the late P. W. Keiter, of Williamstown.  She is survived by the following children:  Dr. I. A. Keiter, Wiconisco; Dr. C. F. Keiter, Philadelphia; Charles O. Keiter, Liverpool, this state; Mrs. Ellie Tomson, Williamstown; Mrs. George W. McIlhenny, Annie R. Keiter and Jennie M. Keiter of this city.  The following sisters also survive:  Mrs. James Messersmith, of Harrisburg; Mrs. Emma Messner, Williamstown; Mrs. H. Roush, Middleburg; also seven grandchildren and three great-grandchildren.
---
The news clipping is from the on-line resources of the Free Library of Philadelphia.  The I.O.O.F. application is from the Project files.