Posted By Norman Gasbarro on August 3, 2016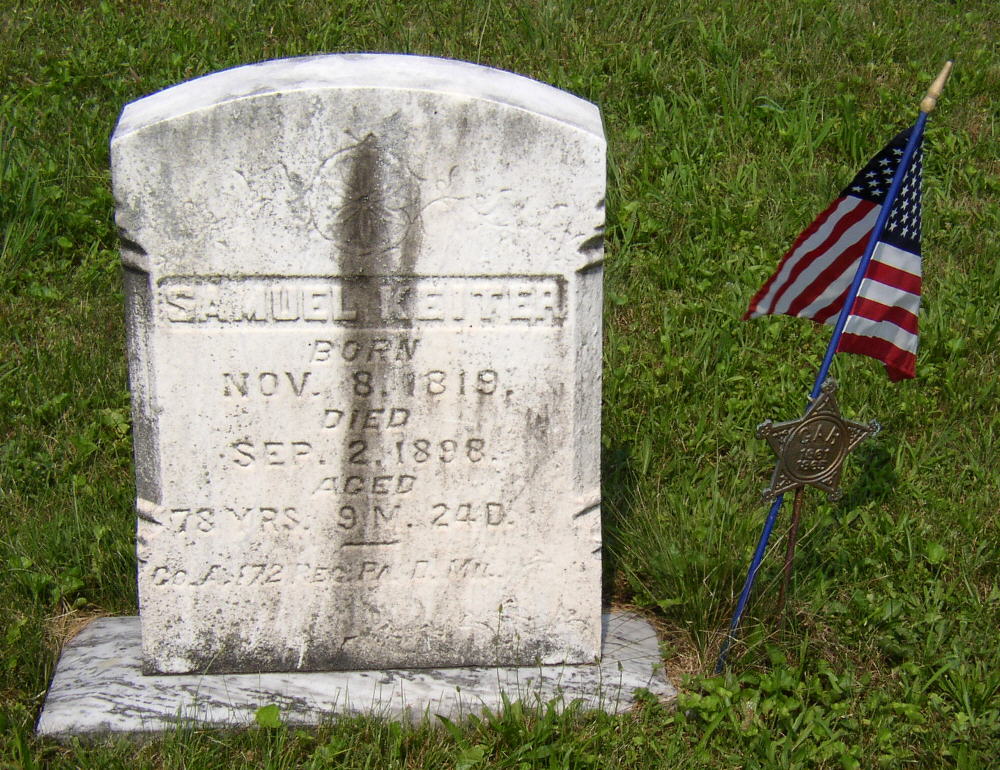 Samuel Keiter was born 8 November 1819, and married Susannah Shutt, who was born 4 October 1922.
His Civil War service was chronicled in Captain Enders Legion, pages 109-110:
Samuel enlisted 2 November 1862 at Camp Curtin, Harrisburg, Pennsylvania in the 172nd Pennsylvania Regiment [172nd Pennsylvania Infantry], Company A for nine months. On 2 December 1862, the regiment proceeded to Washington and after a halt of two days moved by transports to Newport News, Virginia. It remained for a week, busily engaged in drill, at the end of which, they marched to Yorktown and relieved the 52nd Pennsylvania [52nd Pennsylvania Infantry] at the fort. Here the 172nd was soon settled in quarters where it spent the greater part of its term of service. The troops were kept employed in garrison duty and drill in infantry, light and heavy artillery practice. Early in July 1863, it was ordered where it was attached to the Eleventh Corps. It joined in the escape of the enemy across the Potomac, marched with the Eleventh Corps to Warrenton Junction. Its term of service then expired and the regiment returned to Harrisburg where it was mustered out on 1 August 1863. Samuel served as a Private during his enlistment.
A biographical sketch of him was also found in the Commemorative Biographical Encyclopedia of Dauphin County, page 746:
SAMUEL KEITER was born in Jackson Township, Dauphin County, Pennsylvania, 8 November 1819. He is a son of Gerhert Keiter, a Pennsylvanian, of German ancestry, and a farmer and stock raiser of Jackson Township. He married Barbara Lentz. They had ten children: John Keiter, Joseph Keiter, Michael Keiter, Gerhert Keiter, Peter Keiter, Samuel Keiter, Catherine Keiter, Sarah Keiter, Ann Keiter, and Barbara Keiter, all of whom are deceased except Samuel. Mr. and Mrs. Keiter were Lutherans. They died in Jackson Township. Mr. Gerhart Keiter was a Republican.

Samuel Keiter attended the subscription schools, and worked with his father at farming until he was of age. He then learned shoe making, and worked at that trade for eight years. He then bought eighty acres of land on which he now resides, built a louse and barn, and otherwise extensively improved the land, which he continued for some time to cultivate. In 1862, at the age of forty-three, Mr. Keiter was drafted into the army, and assigned to company A, One Hundred and Seventy-second Regiment, Pennsylvania Volunteers, under Capt. Solomon Bowerman and Colonel Cleckner. He served nine months and was then discharged, and returned home. He resumed farming; also, for twelve years, in connection with his brother Michael Keiter, was a manufacturer of lumber. In this business they met with fair success. Mr. Keiter was married, in Jackson Jownship, in 1842, to Miss Susanna Shott, born in Lykens Valley. They had twelve children: Susan Keiter, wife of Henry Hoffman; Jonas Keiter, deceased; Catherine Keiter, deceased; Philip Keiter, farmer; Leah Keiter, wife of Solomon Matter; Ellen Keiter, wife of William Shertzer; Sarah Keiter, wife of Isaac Henninger; Elizabeth Keiter, deceased, wife of James Miller; Amanda Keiter, wife of Isaac A. Enders; Isaac Keiter, farmer, South Bend, Indiana; Charles Keiter, and Hiram Keiter. Mr. Keiter is a Republican, but no office seeker. He is a member of the Lutheran church. Mr. and Mrs. Keiter have passed fifty-four years of wedded life, have reared a family of twelve children, have been industrious and frugal, and are now quietly enjoying the fruits of their well spent life. They are surrounded by three generations of descendants, but are not chilled by the frosts of age. They are cheerful and genial, and by old and young are considered pleasant company. They present an attractive example of the happiness resulting from right living. In their own cheerful old age, in the society of their children and grandchildren, in the enjoyment of home and friends, they proclaim that the marriage relation is no failure, but the largest success of which human nature is capable.
According to information found in Captain Enders Legion, Samuel Keiter's connection with the Enders family was through his daughter, Mary Elizabeth Keiter, who was born in Jackson Township, Dauphin County, Pennsylvania, on 24 August 1857. She married James David Miller on 6 January 1876. He was the son of Catherine Enders and Daniel Miller and was born 11 April 1855 in Halifax Township, Dauphin County, Pennsylvania. Mary Elizabeth [Keiter] Miller and James David Miller had three children, Kate Minerva Miller, born 23 September 1877 and died 23 September 1878; Charles T. Miller, born 8 March 1879; and Robert F. Miller, born November 27, 1880 in Dietrich, Pennsylvania. Mary Elizabeth died on June 30, 1883 at age 25 years, 10 months and 6 days and is buried in the Fetterhoff Church Cemetery near Fisherville, Pennsylvania in Section A, Row 1.  As can be seen from the above biographical sketch, another daughter of Samuel Keiter, Amanda Keiter, also married an Enders descendant, Isaac A. Enders.
Samuel Keiter died 2 September 1898 and Susannah [Shutt] Keiter passed away on 18 March 1904. They are buried next to each other in the Fetterhoff Church Cemetery, Halifax Township, in Section A, Row 3.  Samuel Keiter's grave marker is pictured above.
---
Captain Enders Legion was reviewed here on 19 November 2010.  Copies of this book are still available from the Enders Family Association.  The Commemorative Biographical Encyclopedia of Dauphin County is available as a free download from the Internet Archive.