Posted By Norman Gasbarro on August 24, 2016
In researching the descendants of John Bender (1780-1827), who laid out the town of Elizabethville in 1817, Henry Benjamin Meffert was discovered as a Civil War soldier who served in the 83rd Pennsylvania Infantry, Company F, as a Private and a Corporal.  Portraits of Henry B. Meffert and his wife Lydia Dell Tunks are shown above.
Henry's mother was
Elizabeth Bender
(1807-1893), the daughter of
John Bender
, thus making
Henry B. Meffert
the grandson of the founder of
Elizabethville
. 
John Bender
died in
Elizabethville
in 1824, so it is likely that
Elizabeth Bender
was living there at the time of his death.  It is not known for certain where
Jacob Meffert
(1799-1870) was born, but the marriage of
Henry B. Meffert
's parents took place in Harrisburg in 1827. 
Henry B. Meffert
was born on 29 June 1838, in Dauphin County, according to his draft registration record.  However, at the time of the Civil War, he was living in the western part of Pennsylvania.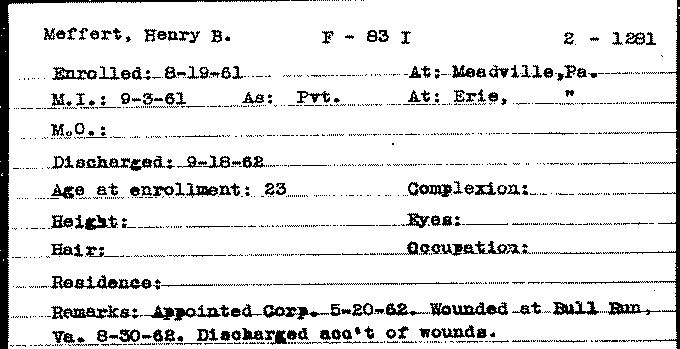 According to the Veterans' File Card available from the Pennsylvania Archives, Henry was 23 years old when he enrolled at Meadville, Pennsylvania, on 19 August 1861.  He was mustered into service on 3 September 1861 at Erie, Pennsylvania, as a Private in Company F, 83rd Pennsylvania Infantry.  On 20 May 1862, he was appointed Corporal.  On 30 August 1862 he was wounded at Bull Run, Virginia, and as a result of those wounds was discharged on a Surgeon's Certificate of Disability on 18 September 1862.  Other records show that he was first wounded on 27 June 1862 at Gaines Mills, Virginia.
After the Civil War, Henry B. Meffert moved to Caldwell County, Missouri, where he worked as a farmer and raised of family of at least 3 children.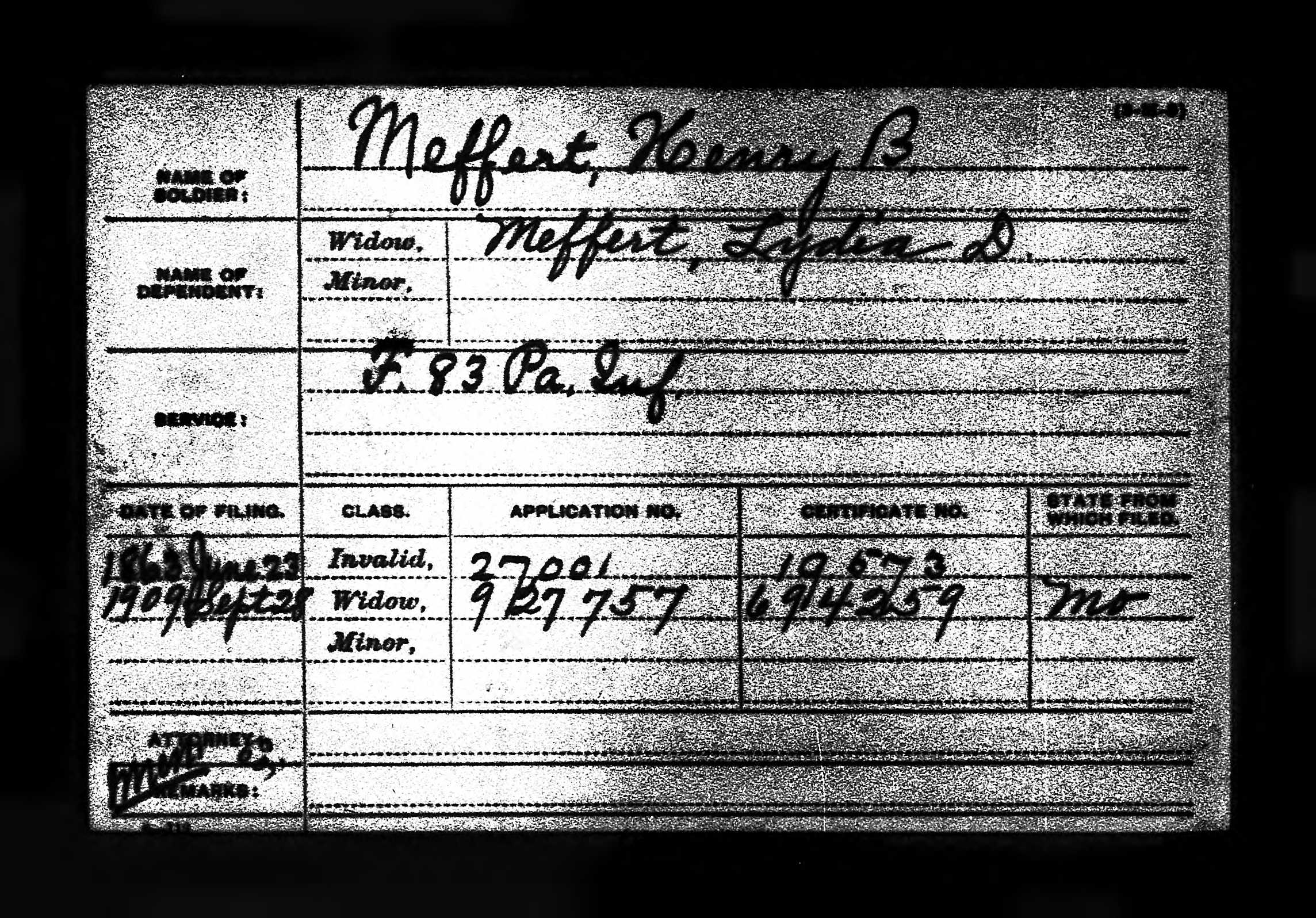 Presumably, Henry B. Meffert's war injuries were sufficient to receive a disability pension, which he applied for on 22 June 1863.  There is no state of application noted in the far right column of the Pension Index Card (shown above from Ancestry.com), so he may have returned home to Pennsylvania prior to going west.  Lydia, the widow, applied on 28 September 1909, from Missouri.
Henry B. Meffert died on 11 September 1909, in Caldwell County, Missouri.  His wife, Lydia D. Meffert survived him, but only for short time. She died on 22 January 1910.  Both are buried at Evergreen Cemetery, Caldwell County, Missouri.  For additional information, see their Findagrave Memorial.  Obituaries have not yet been located for either Henry or Lydia.
Has any reader obtained either the military or pension records?  What was the nature of Henry's military injuries that gave him a discharge and permitted an early pension?