Posted By Norman Gasbarro on August 10, 2016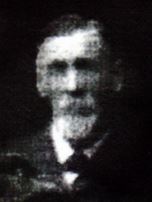 Daniel D. Rumberger was originally located in the 1890 Veterans' Census for Porter Township, Schuylkill County (shown below).  Initially, there was some difficulty in identifying his birth and death dates and his connection to the Romberger family.  However, using some of the information from Bob Averell's Romberger research, he was positively identified as Daniel D. Romberger, born 10 April 1832 in Schuylkill County, and died 6 January 1920, in Philadelphia.  He and his wife Celisa [Weber] Romberger, are buried at the Hillside Cemetery, Roslyn, Montgomery County, Pennsylvania.  The portrait of him, shown above, is cropped from a family photo that was publicly posted on Ancestry.com.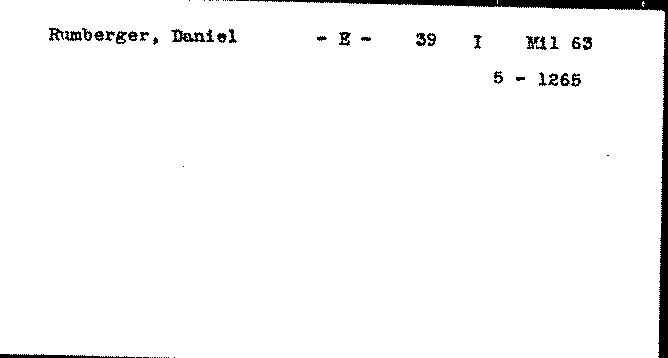 The Pennsylvania Veterans' Index Card, shown above from the Pennsylvania Archives, gives only basic information about Daniel Rumberger's service in the 39th Pennsylvania Infantry [Emergency of 1863], Company E, but refers the researcher to Bates, Volume 5, page 1265.
Dr. John A. Romberger identified Daniel Romberger as a Civil War soldier and his research produced the following information:
Daniel Rumberger served as a Private in Company E of the 39th Regiment of the Militia of 1863.  He was mustered into service some time between 1 July 1863 and 7 July 1863 and was was mustered out on 2 August 1863 due to the passing of the emergency.  He served under Col. James Nagle and Lt. Col. James H. Campbell.  The records of this regiment indicate that it was encamped at Reading during the emergency, and that the troops were discharged without having been involved in any action against the enemy.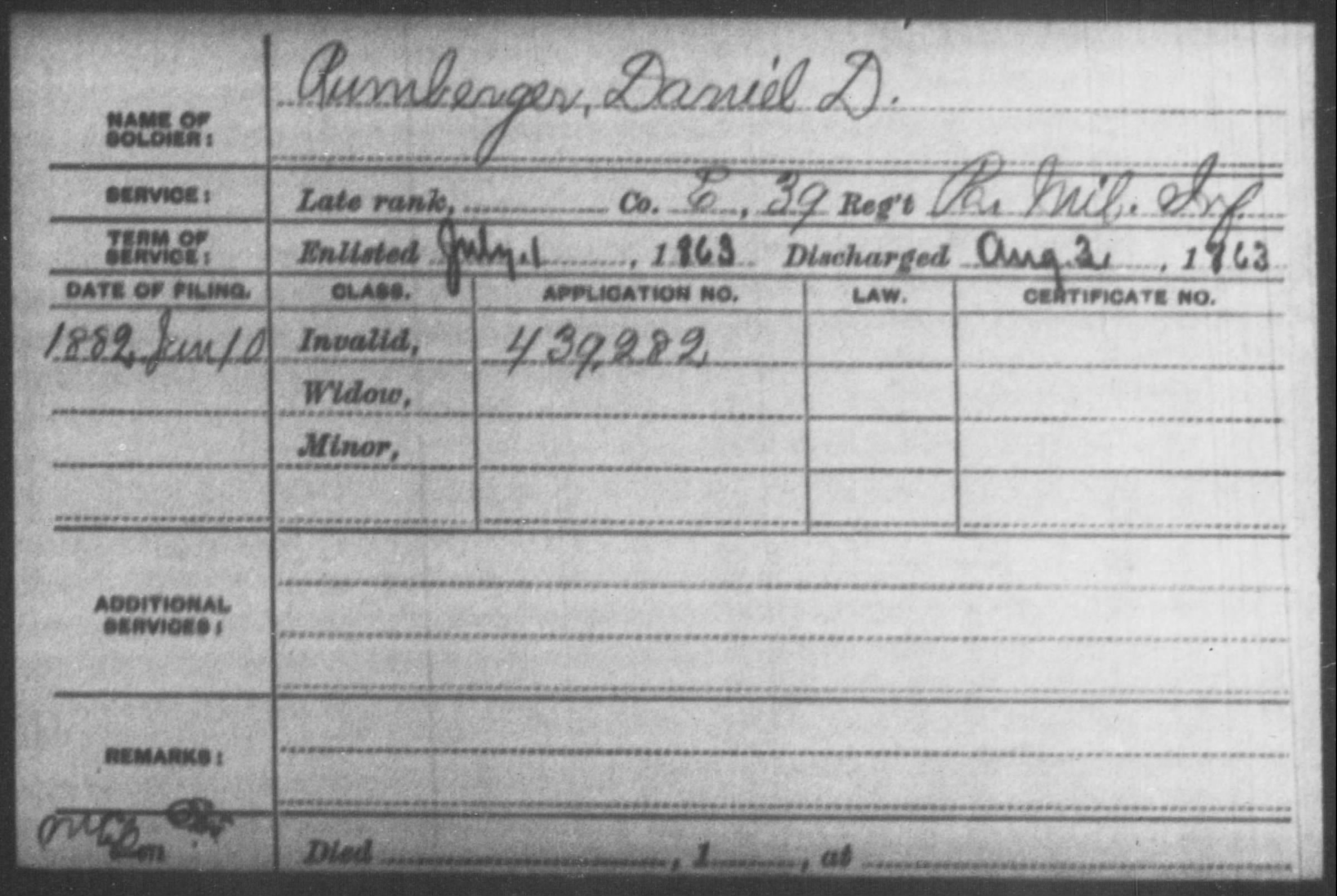 According to the information on the Pension Index Card from Fold3, shown above, Daniel D. Rumberger applied for a pension on 10 January 1889, but he was not awarded benefits.  This was most likely due to the fact that at least 3 months of service was required.  At this time, it is not known why Daniel applied, but that information might be found in the application file which should be available in the National Archives, Washington, D.C.   If any family members or other researchers have obtained copies of that file, it would be appreciated if copies could be sent to the Project, or the information attached as a comment to this post or sent by e-mail.
The page shown above is from the Veterans' Census of 1890 for Orwin, Porter Township.  Daniel D. Rumberger is found on Line 17 in the top portion of the census which gives his regimental service and dates and on Line 17 in the bottom portion, which gives his post office address as Orwin and leaves blank the space where any disabilities from military service were to be recorded.
Genealogical information on Daniel D. Rumbarger, which was compiled by Bob Averell and Dr. John A. Romberger, can be found on RootsWeb.  Corrections should be sent to Bob Averell through the link on that page.
In a series of posts summarized in index form on 31 December 2012, the names of the Civil War veterans from Tower City, Porter Township and Rush Township were presented.  However, the name of Daniel D. Rumberger does not appear in any of those posts because he is not named on the memorial in Tower City.  He should be named there because not only was he born in Porter Township, he lived there most of his life there.
Additional information about Daniel D. Rumbarger can be added with comments to this post and photographs can be sent via e-mail.
---
Source:  Civil War Veterans: Rumbergers/Rumbargers/Rombergers/Rambergers in the Civil War (unpublished), by Dr. John A. Romberger identified "F. Rumbarger" as No. 13 in a list of 40 veterans.