Posted By Norman Gasbarro on July 15, 2016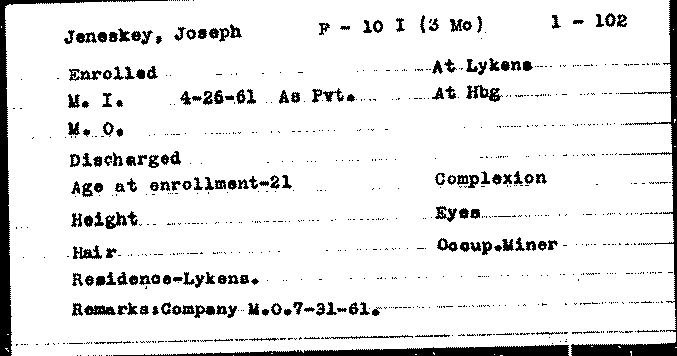 On 26 April 1861, Joseph Jeneskey answered the call to arms by enrolling at Lykens Borough in the 10th Pennsylvania Infantry, Company F. as a Private.  At the time, he gave his residence as Lykens, his occupation as miner, and his age as 21 (born about 1840).
In 1890, a Joseph Jenaskie appeared in Shamokin census.  He claimed Civil War service in the19th Pennsylvania Cavalry, Company D, as a Private, from August 1863 through 1866.  Was this the same person  who served in the 10th Pennsylvania Infantry?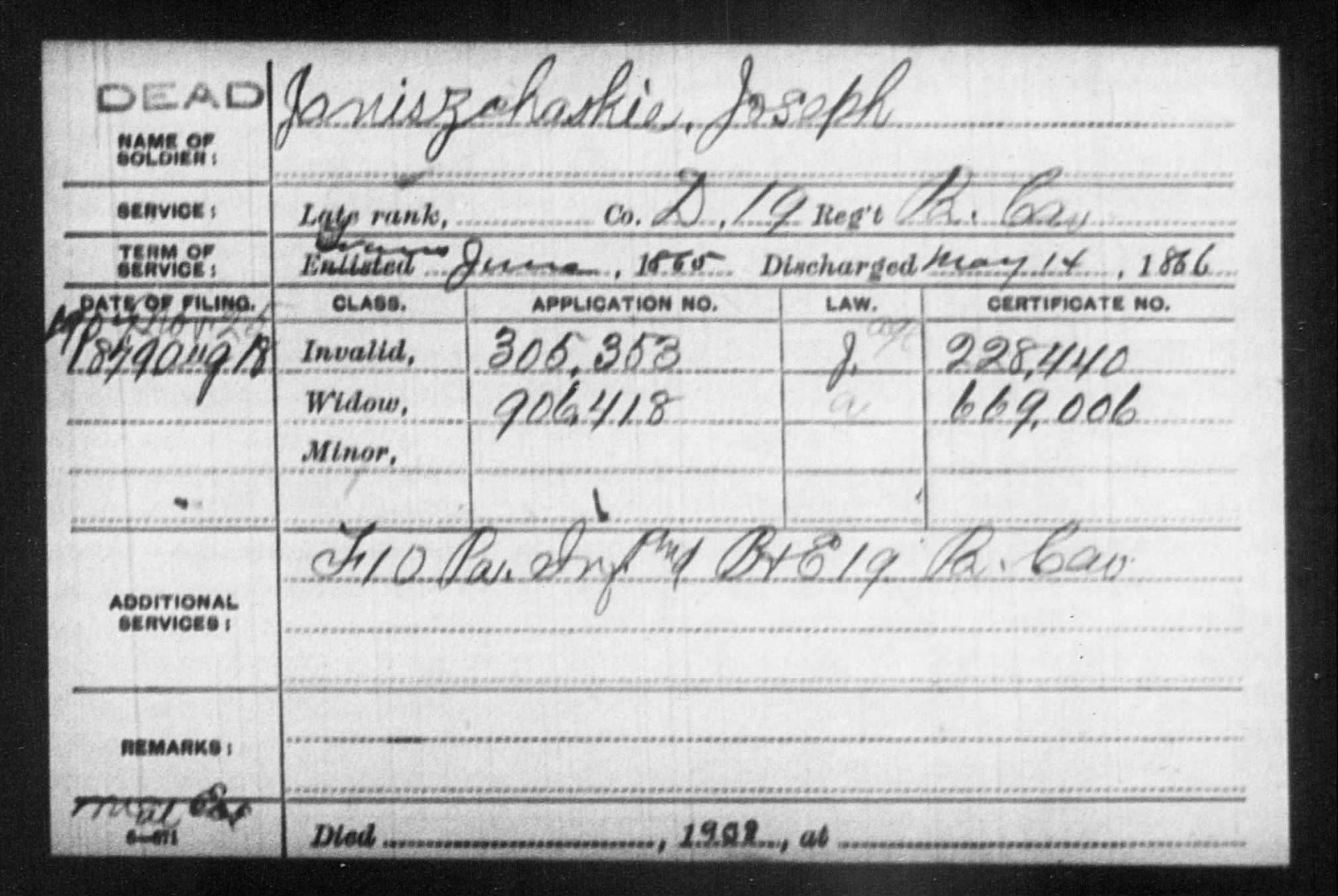 On 18 August 1879, a Joseph Janiszchaskie applied for a disability pension for his service in both the 10th Pennsylvania Infantry and the 19th Pennsylvania Cavalry, thus confirming that the Shamokin individual in 1890 was the same person as the Lykens individual of 1861- although there were surname spelling variations.  In addition to his service in Company D of the 19th Pennsylvania Cavalry, he also served in Company B and Company E.  Records from the Pennsylvania Archives confirm the service in three companies and also add that at some point in this service he was promoted to Corporal.
The above Pension Index Card from Fold3 also gives a death date of 1908.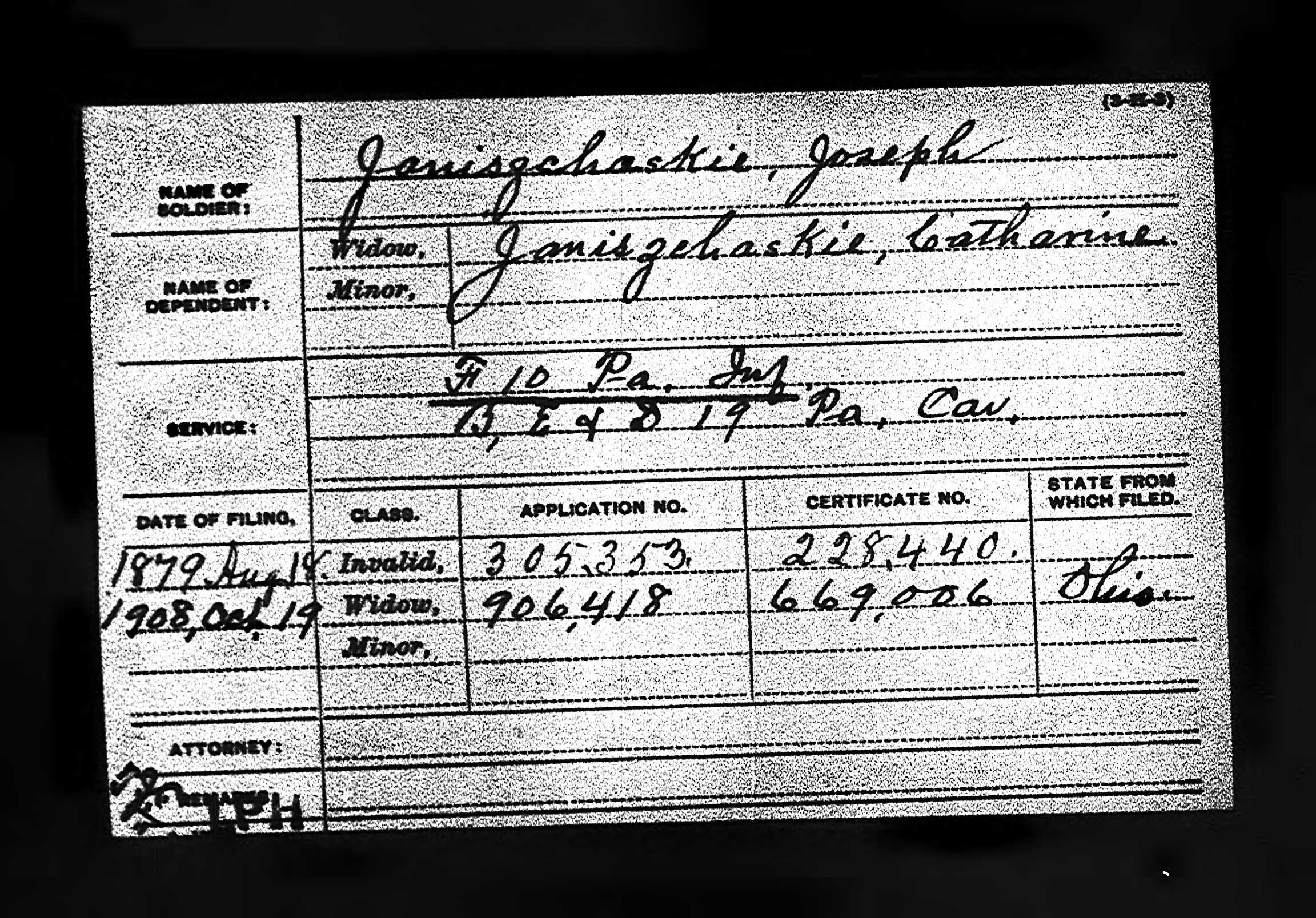 Additional information is found on the Pension Index Card available from Ancestry.com (shown above).  Joseph Janiszchaskie (a different spelling) had a wife named Catherine Janiszchaskie who applied for benefits from Ohio on 19 October 1908.
It is not known why the different surname spelling were not cross-indexed as aliases in the Pension Index Card file.  It was the usual practice to do so, particularly when the military records from different regiments had the name spelled so differently.  Additional information about him will most likely be found in his pension application file which can be found at the National Archives in Washington, D.C.  That file was not consulted for this blog post since obtaining those papers is beyond the budget of this Project.
However, it is clear from the Pennsylvania Archives Veterans' Index Card for the 10th Pennsylvania Infantry that a Joseph Jeneskey was a resident of Lykens Borough in 1861 (see top of post, from Pennsylvania Archives).  Why then is his name (in any variation) not on the Lykens G.A.R. Monument?   This makes him still another forgotten Civil War veteran with a connection to the Lykens Valley.
Comments can be added to this post or sent via e-mail.