Posted By Norman Gasbarro on July 20, 2016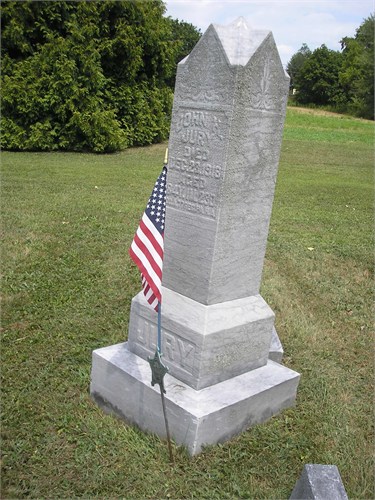 Previously on this blog, as part of a post describing Forney's Cemetery, Washington Township, Dauphin County, the following was published about John Henry Jury:
John Henry Jury was born in 1834 in Berrysburg, Dauphin County, Pennsylvania, the son of Jacob Bretz Jury (1799-1884), a farmer, and Mary Ann or Anne Marie [Schupp] Jury.  John Henry is sometimes found in the records as Johannes Heinrich Jury, the German equivalent of his name.  During the Civil War, he was drafted into the 172nd Pennsylvania Infantry, Company A, as a Private, serving from 2 November 1862.  Bates indicates he was not accounted for at muster out, but this must have been later clarified, because the Pension Index Card indicates he applied for and received a pension when the requirements were much more strict than they were years later.  After his death in 1918, his widow received the pension until her death in 1926. John Henry Jury was a farmer who settled in Upper Paxton Township and with his wife Susanna [Knoll] Jury began raising a family during the Civil War.  His known children were (birth years approximate):  Charles H. Jury (1862); Ann Jane Jury (1864); Ephraim Jury (1866); Harriet A. Jury (1868); William Lawrence Jury (1870); Catharine F. "Kate" Jury; (1872); Emma Jury (1876); Lora Jury (1878); and John H. Jury (1888).  Both John and his wife are buried in Emanuel (Forney's) Cemetery.  John Henry Jury's name is inscribed on the Millersburg Civil War Monument.
The following additional information can now be given about John Henry Jury:
"J. H. Jury" on the Millersburg Soldier Monument:

From the Harrisburg Telegraph, 23 Aug 1889:

Mrs. John H. Jury, residing near Berries Mountain, four miles east of this borough, and her children gathered 900 quarts (over 28 bushels) of berries this season and sold them all in this market.
From the Harrisburg Telegraph, 2 Jan 1885:

John H. Jury of Upper Paxton Township, had two shotes stolen from his pens on the night before Christmas.  They were to have been sold the next day.
From the Harrisburg Telegraph, 20 Jun 1910: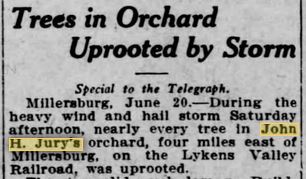 Trees in Orchard Uprooted by Storm

Special to the Telegraph

Millersburg – 20 June — During the heavy wind and hail storm Saturday afternoon, nearly every tree in John H. Jury's orchard, four miles east of Millersburg, on the Lykens Valley Railroad, was uprooted.
From the Harrisburg Telegraph, 7 December 1905:
John H. Jury was elected to the Council of Administration of the Kirkpatrick Post of the G.A.R., Millersburg.
And, in a column entitled "50 Years Ago in Harrisburg," the Harrisburg Evening News reported on 19 July 1937:
John H. Jury, Upper Paxton, recently received from the Government more than $900 back pension and his name had been added to the Pension Lists.
Also, in Portrait of Our Ancestors, page 96.2, more accurate birth-death information is given about the children of John H. Jury, as follows:
Sarah Alice Jury, 19 September 1857 to 12 August 1955.
Charles Harrison Jury, 25 January 1862 to 25 February 1934.
Annie Jane Jury, 21 April 1864 to ?
Ephrum Elsworth Jury, 1 Aug 1866 to 21 June 1943.
Harriet Amelia Jury, 26 July 1869 to 12 October 1939.
William Lawrence Jury, 27 October 1870 to 21 May 1939.
Kathryn Fianna Jury, 8 October 1872 to 8 June 1927.
Henry Oscar Jury, 4 December 1874 to 13 August 1875.
Emma Nora Jury, 3 January 1876 to 12 Jun 1930.
Nora Seville Jury, 14 May 1879 to 1 May 1969.
Verna Celeste Jury, 5 March 1881 to 5 September 1881.
John Edwin Jury, 20 May 1882 to 17 December 1945.
But, in Portrait of Our Ancestors, some incorrect information is given about John H. Jury's Civil War service.  Apparently, based on a misreading of the grave marker (or a mistake on the grave marker), the regiment is given as the 77th Pennsylvania Infantry, Company A, when the correct information should be the 172nd Pennsylvania Infantry, Company A.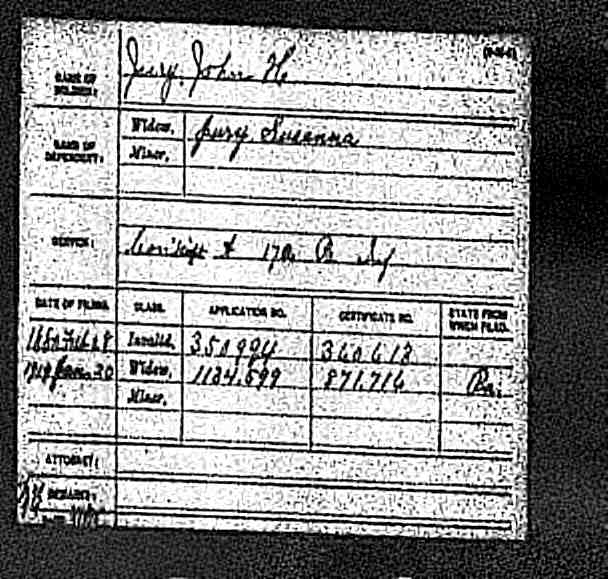 The Pension Index Card (above from Ancestry.com), correctly names the regiment and notes that John J. Jury was a "conscript' [draftee] and gives the first date of pension application as 28 February 1880. From the news column appearing in the Harrisburg Evening News (see above), the awarding date of the pension was July 1885 and the back pay he received amounted to payment to the date of application.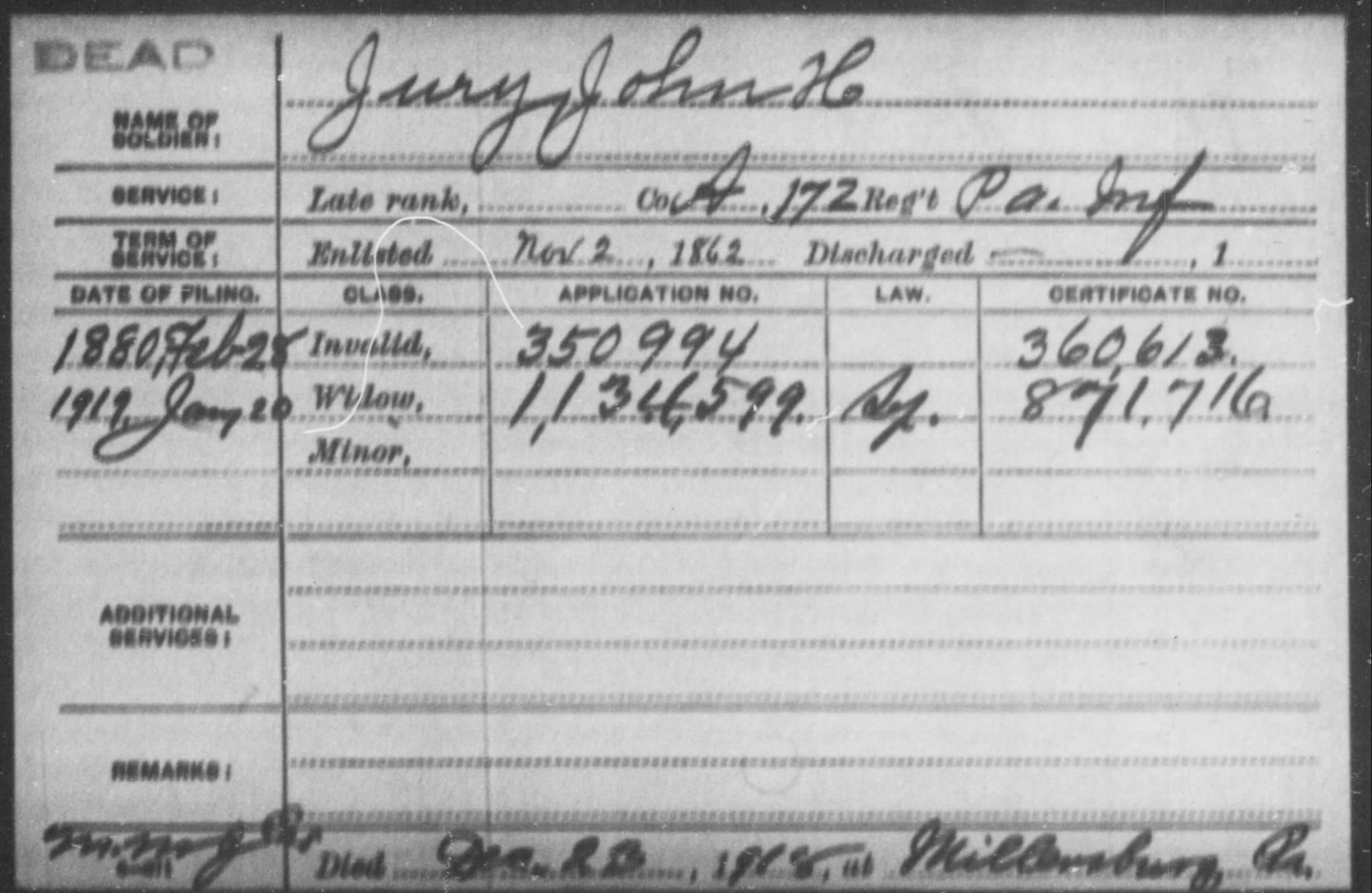 Finally, the Pension Index Card (above from Fold3) adds his death date of 23 December 1918 and place of death as Millersburg.
Additional information is sought on this veteran.  Thus far, no picture of him has surfaced, although he died in 1918 and had many surviving children, some of whom may have passed down a photo.  A photo is particularly desired at this time because of his connection to Washington Township and Millersburg.  Washington Township is participating in the Elizabethville Area Bicentennial in 2017 and Millersburg has an ongoing project of trying to document the soldiers named on their monument.
---
News clippings are from Newspapers.com.