Posted By Norman Gasbarro on July 27, 2016
Franklin B. Rumbarger is buried at the Rumbarger Cemetery in DuBois, Clearfield Co., Pennsylvania.  He has a Findagrave Memorial which identifies him as a Civil War veteran and there is a G.A.R.-Star-Flag Holder at his grave site.  He was born 10 November 1842 and died 1 May 1895.
In his research entitled Civil War Veterans: Rumbergers/Rumbargers/Rombergers/Rambergers in the Civil War (unpublished), Dr. John A. Romberger identified "F. Rumbarger" as No. 34 in a list of 40 veterans.  Other than indicating that "F. Romberger" served in the 105th Pennsylvania Infantry, he provided no other information on this veteran.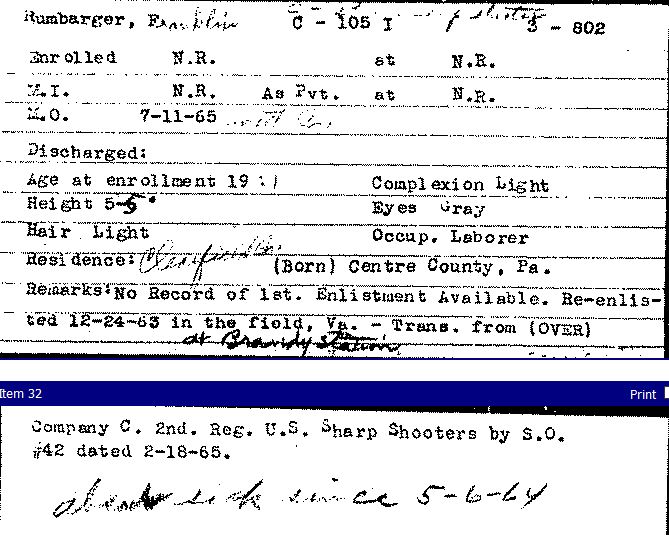 The Pennsylvania Veterans' File Card, shown above from the Pennsylvania Archives, gives some additional information about Franklin B. Rumbarger's service, but it doesn't answer all questions.  There is no record of an original enrollment date, place of enrollment or muster date. However, remarks on the card show that "F. Rumbarger" transferred from the 2nd U. S. Sharp Shooters, Company C, by Special Order #42 dated 18 February 1865.  Previously, he had re-enlisted on 24 December 1863 at Brandy Station, Virginia.  In relation to his record, he was reported to be absent since 6 May 1864.  Another record, not shown here, reported that he was "Deserted – Returned."  His muster out date was 11 July 1865.
Personal information provided included an age of 19 at enrollment (probably the original enrollment in 1861, because other records give his birth date as 10 November 1842),  He was a laborer living in Clearield County, Pennsylvania, was 5 foot 5 inches tall, had gray eyes, a light complexion, and light hair.  Also noted was a birthplace of Centre County, Pennsylvania, but this information is contradicted by his Findagrave Memorial, which gives his birthplace as Huntingdon County, Pennsylvania.
The Military Index Card, shown above from Fold3, is an indication that the military records of Franklin B. Rumbarger are available at the National Archives.  The information should include his location at two-month intervals during his service but may include other information such as enrollment and discharge papers.
No Pension Index Card has been located for the Franklin B. Rumbarger who served in the 105th Pennsylvania.  The absence of a card is usually an indication that the veteran never applied for a pension.
Genealogical information on Franklin B. Rumbarger, which was compiled by Bob Averell and Dr. John A. Romberger, can be found on RootsWeb.  Corrections should be sent to Bob Averell through the link on that page.
Additional information about Franklin B. Rumbarger can be added with comments to this post and photographs can be sent via e-mail.