Posted By Norman Gasbarro on July 5, 2016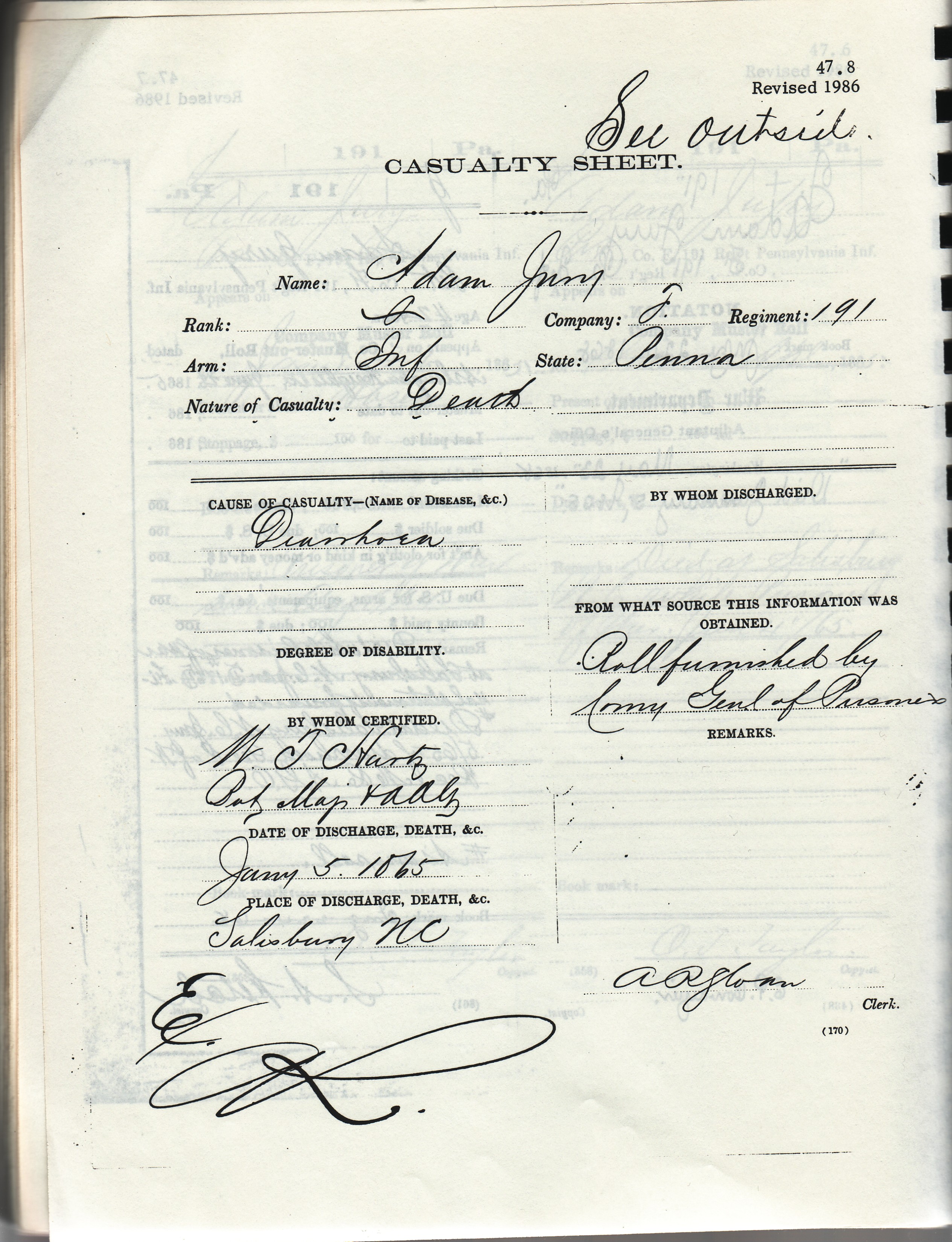 This is some of what is known about Adam Jury who was born near Millersburg and died while a Prisoner of War at Salisbury Prison in North Carolina.  He is another of the many veterans ignored by the Millersburg Soldier Monument, although there are two men with the Jury surname who are included on the plaque.
The following is based on a biographical sketch of Adam Jury (1814-1865) which was written more than 40 years ago and published in Portrait of Our Ancestors – Jury.  Some editing is provided from the original in order to supplement the information and correct a few of the errors.
Adam Jury, was the son of Abraham Jury (1780-1860), the grandson of Samuel Jury (1751-1816)  the immigrant from Switzerland, and the great-grandson of Abraham Jury (1718-1785), also an immigrant from Switzerland.  The family settled in Upper Paxton Township, Dauphin County, Pennsylvania, after arrival in America. At that time, Upper Paxton Township included what is now Washington Township, and Mifflin Township.
Adam was born on 2 June 1814 in Upper Paxton Township, near Millersburg, to parents Abraham Jury (1780-1860) and Anna Maria [Weise] Jury (1791-1845).  Sponsors at his baptism were his mother's parents, Adam Weise (1751-1833) and Margaret Elizabeth [Wingert] Weise (1749-1818).
At some point prior to the 1840 Census, Adam Jury moved to Clearfield County, Pennsylvania, with his parents.
Adam first married Elizabeth Wetzel in Clearfield County, Pennsylvania some time prior to 1840.  Supporting evidence for this marriage includes Adam's second wife's pension application form:

And she further declared that her said husband was previously married and had children as follows, viz., Eveline Jury, born 5 March 1840; Mary E. Jury, born 12 October 1841; Albert Jury, born 15 March 1848, now deceased; Barbara E. Jury, born June 1844; Lorenzo D. Jury, born 16 January 1846, now deceased; Sarah I. Jury, born 18 May 1848; Elmira Jury, born about 20 September 1849; and Katuras Jury, born 20 October 1851.
In the 1850 Census of Girard Township, Clearfield County, Pennsylvania, Adam Jury is enumerated as Adam Shurey as follows:  Adam Jury, age 36, farmer, $800; Elizabeth Jury, age 38; Evaline Jury, age 10; Mary Jury, age 8; Albert Jury, age 5; Barbey Jury, age 4; Lorenzo Jury, age 3; and Elmira Jury, age 5/12.
There is evidence that Elizabeth, the first wife of Adam Jury was probably ill for some time before her death.  In the 1850 Census, seven of her children with Adam are listed with her sister Mary [Wetzel] Heise and brother-in-law George Heise in household #548, Girard Township, Clearfield County.  Additionally, daughter Sarah Jury was living with Peter Lamm in 1850 and the last child, Keturah Jury, was raised by Thomas Leonard and went by the Leonard surname.
Elizabeth [Wetzel Jury died on 2 December 1851 at age 39 years, 3 months, and 16 days.  She is buried at Congress Hill Cemetery, Lecontes Mills, Clearfield County, Pennsylvania.  Additional information about her is found at her Findagrave Memorial.  Note that her death occurred less than two months after giving birth to the last child, Keturah Jury, mentioned in the pension record above.
After the death of his first wife, Adam Jury married second to Sarah Ann [Hoop] Carr in 1852.  She was the daughter of Joshua Hoop and Sarah [Gibbony] Hoop.
In the 1860 Census of Girard Township, Clearfield County, the Adam Jury household consisted of the following:  Adam Jury, age 46, laborer; Sarah Ann Jury, age 42; Lorenzo Jury, age 14; Benjamin Jury, age 6; Pascaline-Paulina Jury, age 4; Newton Jury, age 2; and John Carr, age 18, the son of Sarah Ann by her first marriage.
Then came the Civil War.
At the time of the writing of the Jury history, research into the records of Civil War veterans was much more difficult than today.  It sometimes involved corresponding with state and federal agencies and waiting weeks for a reply.
Around 1957, a family member who was a descendant of Adam's brother John Frederick Jury, gave information that when he heard that his brother Adam was in a Confederate prison, he immediately enlisted and was also taken prisoner.  There was a family legend that Adam starved to death in captivity.
She wrote to the Department of Military Affairs, Adjutant generals Office, Commonwealth of Pennsylvania, and received a response on 25 September 1957.
It is hereby certified that records on file in the Department of Military Affairs, Commonwealth of Pennsylvania, indicate the military service of Adam Jury in the Pennsylvania Volunteers (Civil War) to have been as follows:
Enrolled as Private G, 35th Regiment Infantry, 6th Reserves at Lancaster, Pennsylvania, 16 January 1864.  [35th Pennsylvania Infantry]
Mustered into service at Lancaster, Pennsylvania, 16 Jan 1864.
Captured:  Died at Salisbury, North Carolina, 4 January 1865.
SEAL             A.J. Drexel Biddle, Jr, The Adjutant General
Based on the above information, she sent for the military records, which were pictured in the Jury history.
What was not told by the information received from the Adjutant General was that Adam Jury was transferred to the 191st Pennsylvania Infantry on or around 31 May 1864.  However, the records in the card file of the Pennsylvania Archives notes that.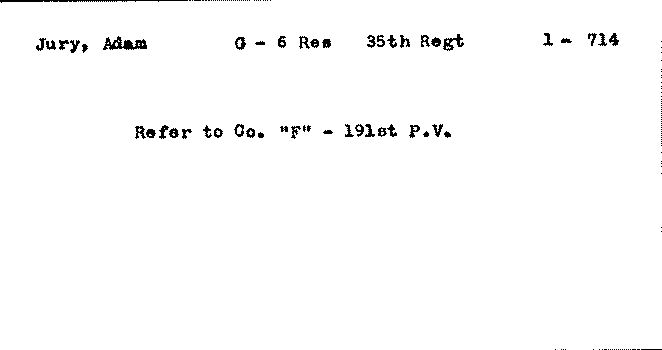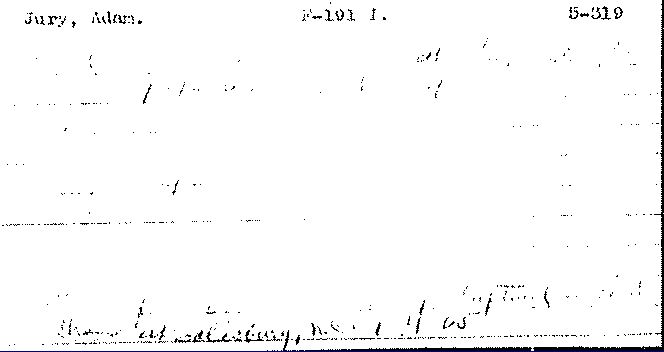 The first card (above) indicates the Bates reference "1-714" (Volume 1, Page 714) and the second card with difficult to read handwriting, indicates the Bates reference "5-319" (Volume 1, Page 319).  These Bates reference can be checked by clicking on the hyperlinks in this paragraph.  For further information about the 5 volumes of Bates, see:  Bates – History of Pennsylvania Volunteers, 1861-1865.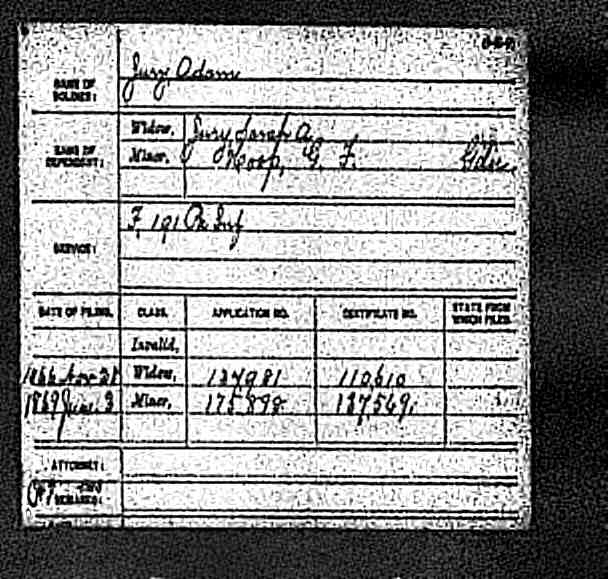 On 3 November 1866, Sarah A. Jury applied for widow's pension benefits and on 3 June 1869, a guardian, G. F. Hoop, applied for benefits for the minor children.  According to the Pension Index Card, shown above from Ancestry.com, the benefits were received.  Sarah collected them until her death which occurred either in 1867 or October 1868. The minor children collected through their guardian, a relative of Sarah.
Fortunately, 45 pages of Sarah's pension application have already been uploaded to Fold3 and may be downloaded by researchers with a paid subscription – or free at a local library that has Fold3 service.  A small portion of one of those pages is shown above in describing Adam Jury's first marriage and the children born to it. [Note:  Of course they also can be obtained by going to the National Archives in Washington, D.C., or applying for and paying for copies by mail].
At this writing, the Findagrave Memorial for Adam Jury pictures Elizabeth's grave marker and gives her date of death.  Perhaps a reader can get this corrected and locate Adam's correct place of burial.
Finally, Adam Jury should be added to the list of Millersburg area Civil War veterans.  He is definitely not named on the Millersburg Soldier Monument, one of more than several hundred veterans not included although they did have a connection with Millersburg.