Posted By Norman Gasbarro on June 17, 2016
A blog post here on 16 May 2016, Was Robert Hunter of Tower City a Civil War Veteran?, has received a response from a regular research contributor, Steve Williams, who pointed out that he believes that the same Robert Hunter mentioned in the 1890 Veterans' Census for Tower City is buried in the Hunter's Valley Cemetery, Liverpool, Perry County, Pennsylvania as noted in the Findagrave Memorial.  Liverpool is on the western side of the Susquehanna River and across from Millersburg.
The Findagrave Memorial has information contributed by Civil War author and researcher Dennis Brandt, who also is responsible for the York and Adams County Civil War Veterans Data Base, which is found on the website of the York County Heritage Trust. Information from Dennis has helped to uncover much about Civil War soldiers in the Lykens Valley area because of the interconnectedness of the areas surrounding the Susquehanna River.  In addition to his work with the York County Heritage Trust, he supplies much of his research to Findagrave.  And, on numerous occasions he has submitted information directly to this project.
Steve Williams noted that the 1890 Census information was incorrect in that Robert Hunter did not serve in the 172nd Pennsylvania Infantry, Company I, during the years indicated, 1862-1863, but rather served in the 173rd Pennsylvania Infantry, Company I, from 6 November 1862 to 17 August 1863. It was mentioned in the previously named blog post that he was not found in any 172nd Pennsylvania Infantry records.
Dennis Brandt noted in the Findagrave Memorial that Robert Hunter also served in the 208th Pennsylvania Infantry, Company I,as a Private, from 9 September 1864 through 1 June 1865.
As a basis for concluding that the Robert Hunter buried at Liverpool is the same person as the veteran identified in the 1890 Tower City Census, the Pension Index Card from Ancestry.com was referenced:
Susan Hunter, the widow, applied for pension benefits on 22 July 1901.  Susan is also named by Dennis Brandt as the wife of Robert Hunter, but with unknown maiden name.  By checking the census returns from 1860 through 1880, both Robert Hunter and Susan Hunter, with children are in Buffalo Township, Perry County, in 1860 and 1870, where he is working as a blacksmith.  However, in 1880, Robert and Susan are living in Shamokin, Northumberland County, where Robert is working as a coal miner.
Susan was still alive in 1901 when Robert Hunter died.  The Pension Index Card, shown below from Fold3, gives his date of death as 28 June 1901.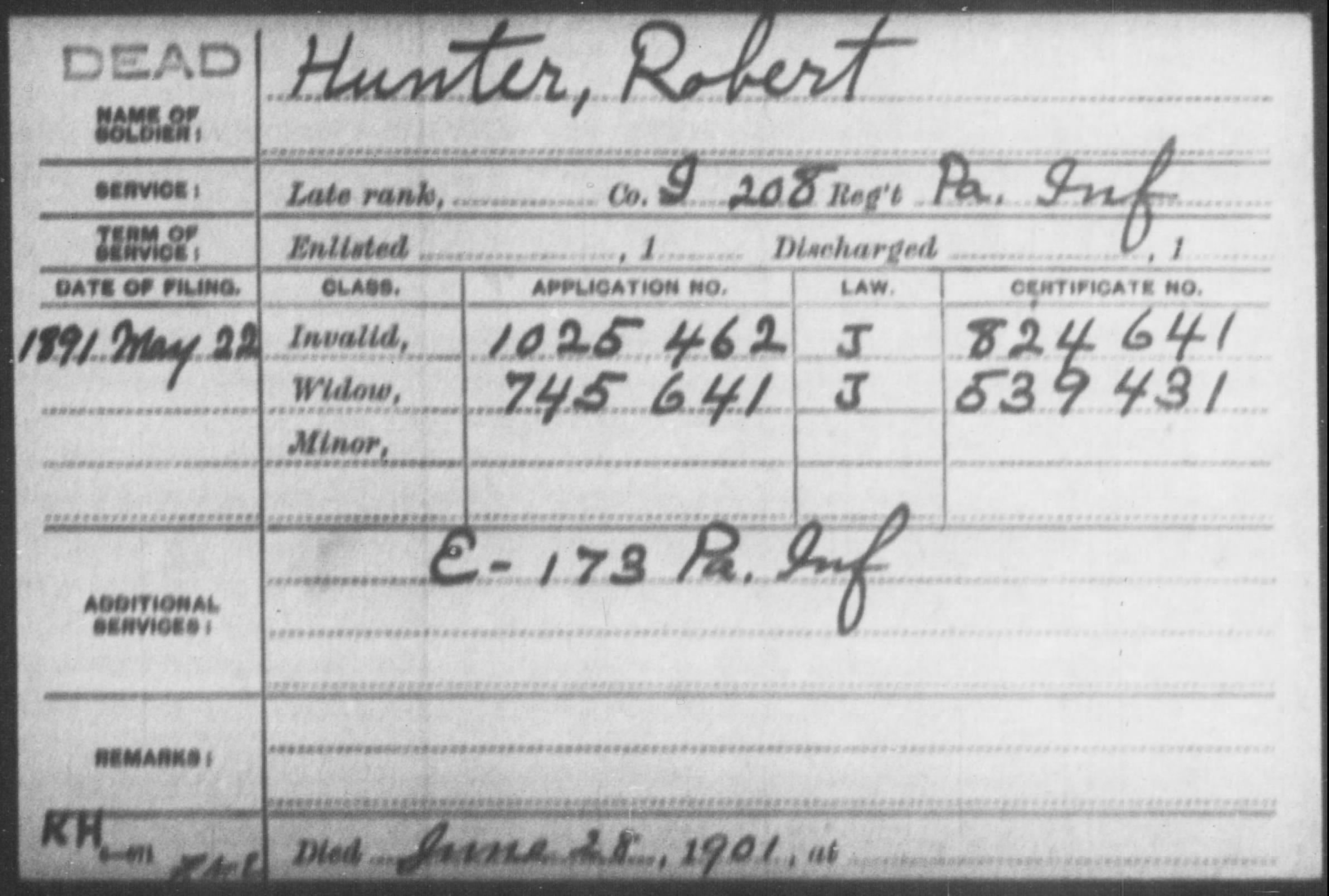 Was Susan with Robert Hunter in 1890 when he was enumerated in Tower City?

From the 1890 Census Substitute for Schuylkill County, shown above from Ancestry.com, there is a Robert Hunter, age 53, a blacksmith, living in Tower City.  However, the spouse's name is given as Amelia, not Susan.  Perhaps Susan's middle name was Amelia?  The age for Robert Hunter is correct, the occupation is correct, and Tower City is correct.
It is not presently known when Susan died or where she died.  She has no Findagrave Memorial.  No Pennsylvania Death Certificate has been located for her.  Known census returns for her give her birthplace as Maryland, so it is possible that after her husband's death, she returned to Maryland.  There is a Susan A. Hunter, widow of Robert, named in Baltimore City directories into the early 1940s, but additional information is needed to determine if this is the same person.
In the absence of a maiden name, it will be difficult to trace her.  The maiden name should most likely be found in the widow's pension application file, available from the National Archives in Washington, D.C.  However, Dennis Brandt, who may have consulted that file, noted that Susan's maiden name was "unknown."  Another other possibility in locating her maiden name is to trace the five children of Susan and Robert Hunter to see if any died in Pennsylvania and if their death certificates give a maiden name for their mother.
The five children are:  Charles Wesley Hunter, born about 1859; Valeria Hunter, born about 1861; Harvey M. Hunter, born about 1864; Mary E. Hunter, born about 1867; and Emma C. Hunter, born about 1869.
Harvey M. Hunter died on 14 February 1938 in Newport, Perry County.  Oh his death certificate, his father is Robert Hunter and his mother is Sarah Sheesley.  Sarah's birthplace is given as Pennsylvania.  Thus far, this is the only Pennsylvania Death Certificate located for one of the children and the information on it is not conclusive.
Susan's death date could also be in the pension application file, as the time her benefits were terminated.
Perhaps a blog reader of family member can offer additional information?
While it is fairly conclusive that the Robert Hunter found in the 1890 Veterans' Census is the same person who served in the 173rd Pennsylvania Infantry and is buried at Hunter's Valley Cemetery in Liverpool, some of the pieces of information cannot be reconciled, leaving some uncertainty, and other information is needed.  If it can be concluded without a doubt, then the current Tower City veterans need to add him to their list of Civil War veterans and honor him by name on their local memorial.