Posted By Norman Gasbarro on June 29, 2016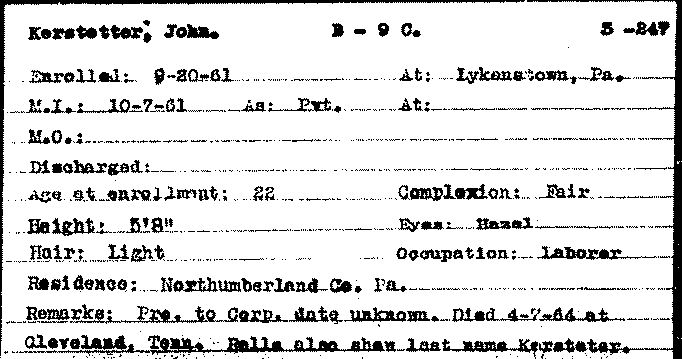 John Kerstetter was born 16 February 1839 in Northumberland County, Pennsylvania, the son of Michael Kerstetter, a farmer and laborer, and Elizabeth [Martz] Kerstetter.  The family lived in Coal Township in 1840, 1850, and 1860.
On 30 September 1861, at Lykens, John enrolled in the 9th Pennsylvania Cavalry, and was mustered into Company B as a Private at Harrisburg on 7 October 1861.  At some point in his service, he was promoted to Corporal.  At his enrollment, he was 22 years old, he was 5 foot, 8 inches tall, had light hair, a fair complexion, and hazel eyes.  He was a laborer and a resident of Northumberland County.
In the book, Yankee Cavalrymen, by John Rowell, a history of the 9th Pennsylvania Cavalry based on the diary of William Thomas of Lykens, a brief mention is made of John Kerstetter:
Sunday 1st [December 1861]

We crossed the river this morning to Jeffersonville Indiana went to camp Joe Bright located On the Confiscated property of Jessie Bright About a 1/2 mile east of town – we drawed new Sibley tents  5 tents for each company – Some of the boys are fetching in the Horses from the boat – The ground all wet and mud –   We seperated into Bunks again –  i went into Bunk no 3.  name of it Savage tribe  – name of the boys that are in the bunk Seargt Wm. Keiser [William Keiser]  John Kerstster  [John Kerstetter] George Schreffler  [George Schreffler] Wm. Kreiger  [William Kreiger] Hen Feindt [Henry Feindt]  James Witman   [James Whitman] John L. Matter [John L. Matter] D. I. Erb  [David Erb] P Messner  [Philip Messner]Hen Pell  [Henry Pell] Cyrus Mark [Cyrus Mark]  Frances Feindt  [Francis Feindt] H. H. Hoffman  [Henry Hoffman] Rich. Martz [Richard Martz] and myself Wm. Thomas [William Thomas] –  Disagreeable camp.  [page 32].

At the time of this writing, not much more is known about John Kerstetter's military service except that he died on 7 April 1864 at Cleveland, Tennessee.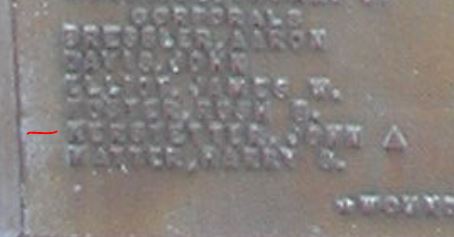 On North Second Street in Lykens Borough, there is a G.A.R. Monument to the men who served in the Civil War from the Lykens-Wiconisco area.  On the table of that monument, under the category of men who served who were not members of the Heilner G.A.R. Post is the name of John Kerstetter. The triangle symbol following his name indicates that he died of disease during the war.
At the time of this writing, no actual military or medical records have been seen to confirm John Kerstetter's death as a result of disease.  Perhaps a reader of this blog has obtained his military records from the National Archives and would be willing to share those records by adding a comment to this post or by sending an e-mail to the Project?
At the time of his death, John Kerstetter was apparently not married since no widow applied for pension benefits.  However, 20 years later, on 20 June 1884, John's mother, herself then a widow, did apply for benefits.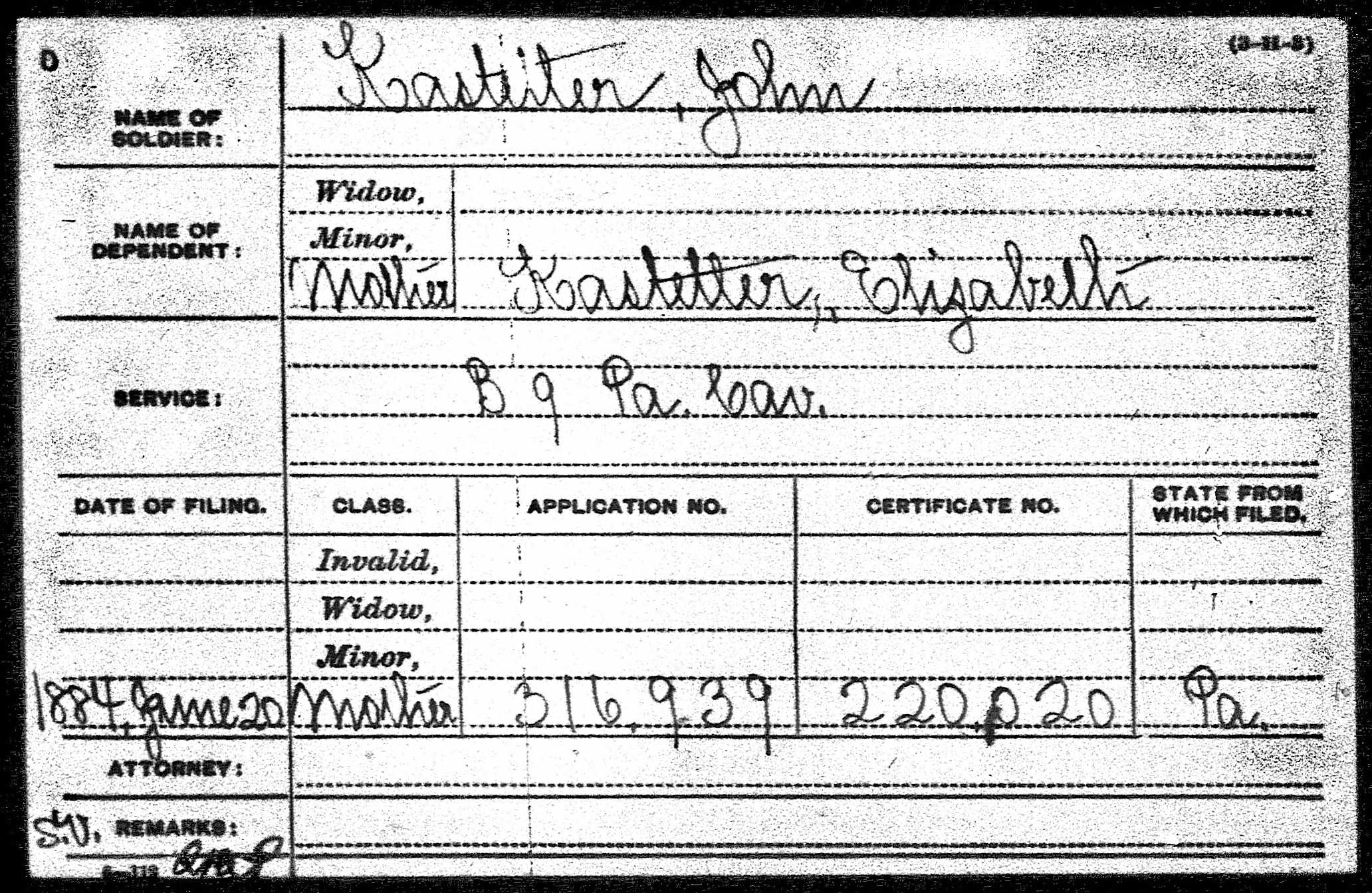 The Pension Index Card, shown above from Ancestry.com, confirms that the application was successful and that she was awarded benefits based on her son's service and sacrifice. The application file, available from the National Archives in Washington, D.C., was not consulted for this blog post.  If any reader has obtained the file, hopefully he/she would be willing to share it with readers.  Either add a comment to this post or send the information via e-mail.
---
Note:  For readers who wish to obtain copies of pension application files, there is an expense involved –  either in going to the National Archives in Washington, D.C. and copying the documents, or by requesting the documents by mail.  It is beyond the scope and budget of this Project to obtain these records for every one of the nearly 3000 veterans who applied for these benefits and thus the Project relies on family members or other researchers to obtain the documents and share them.  A project of Fold3 is to upload to that site the widow's pension application files, but this is a slow process and relies heavily on volunteers.  At the present time, done in chronological order of application, pension files from 1867 are being added to the site.  Once uploaded, the complete files can be downloaded by any subscriber to Fold3, or by any patron of a library that has a subscription to Fold3.