Posted By Norman Gasbarro on June 22, 2016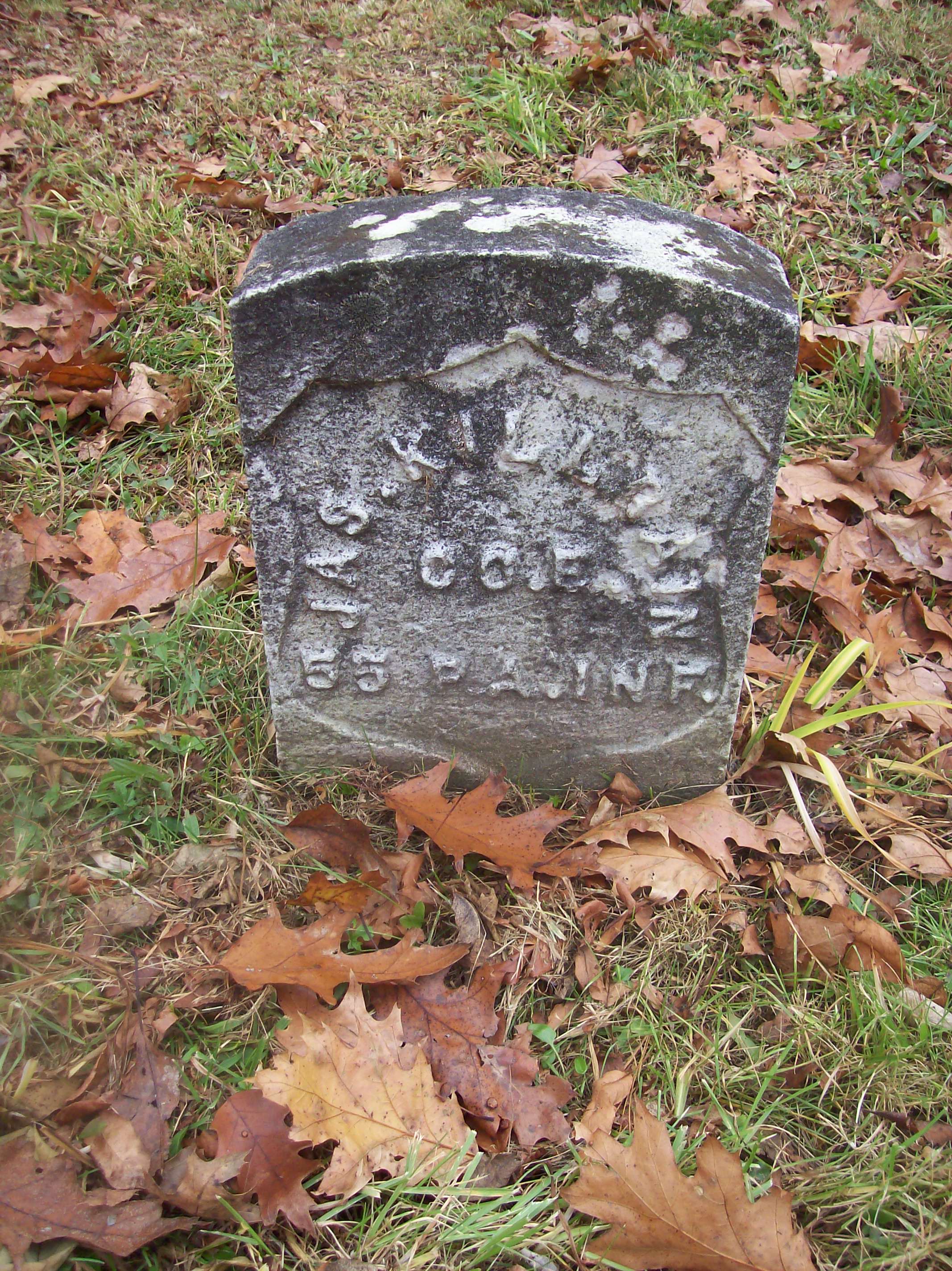 James Kilrain was born about 1839 in Ireland.  At the time of the Civil War, he was living in Minersville, Schuylkill County and working as a coal miner.  He first volunteered for the 16th Pennsylvania Infantry, Company K, as a Private, serving in this 90-day regiment from 8 April 1861 through 10 July 1861.  Later in the war, he joined the 55th Pennsylvania Infantry, Company E, as a Private, serving from 1 March 1864 through his honorable discharge on 30 August 1865.
Kilrain was first discovered as a potential veteran from the Lykens Valley area when the name "James Kelhain" was discovered in the Reilly Township, 1890 Census.  A widow, "Mary Moffat", reported that her husband had served in Company E of the 16th Pennsylvania Infantry from 8 April 1861 through 25 August 1865.  Two piece of incorrect information were given – the company and the concluding date of service.  Fortunately, there is an easy way to find the correct information.
Steve Maczuga's database of Pennsylvania Civil War Soldiers provides a search aid where the entire regiment, in this case the 16th Pennsylvania Infantry, can be brought up on one screen.  Using that aid, the following was discovered:
A "James Killraue" was found in Company K, and his concluding date of service was 10 July 1861.
Using that spelling, the following card was located in the Pennsylvania Archives: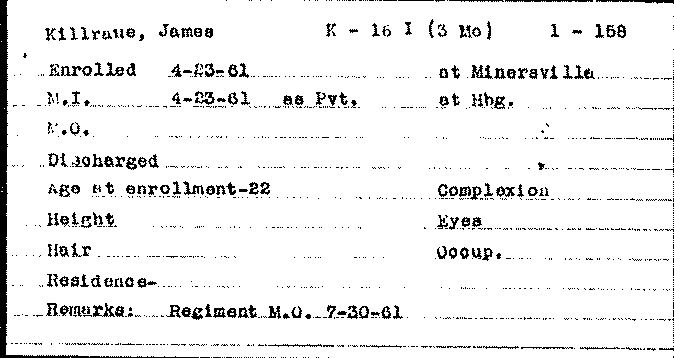 New information found on the "James Killraue" was that he enrolled at Minersville, was mustered into the regiment at Harrisburg, and was 22 years old at the time (born about 1839).
Using the regimental/company Pension Index Card grouping at Fold3, the following card was located in Company K of that regiment: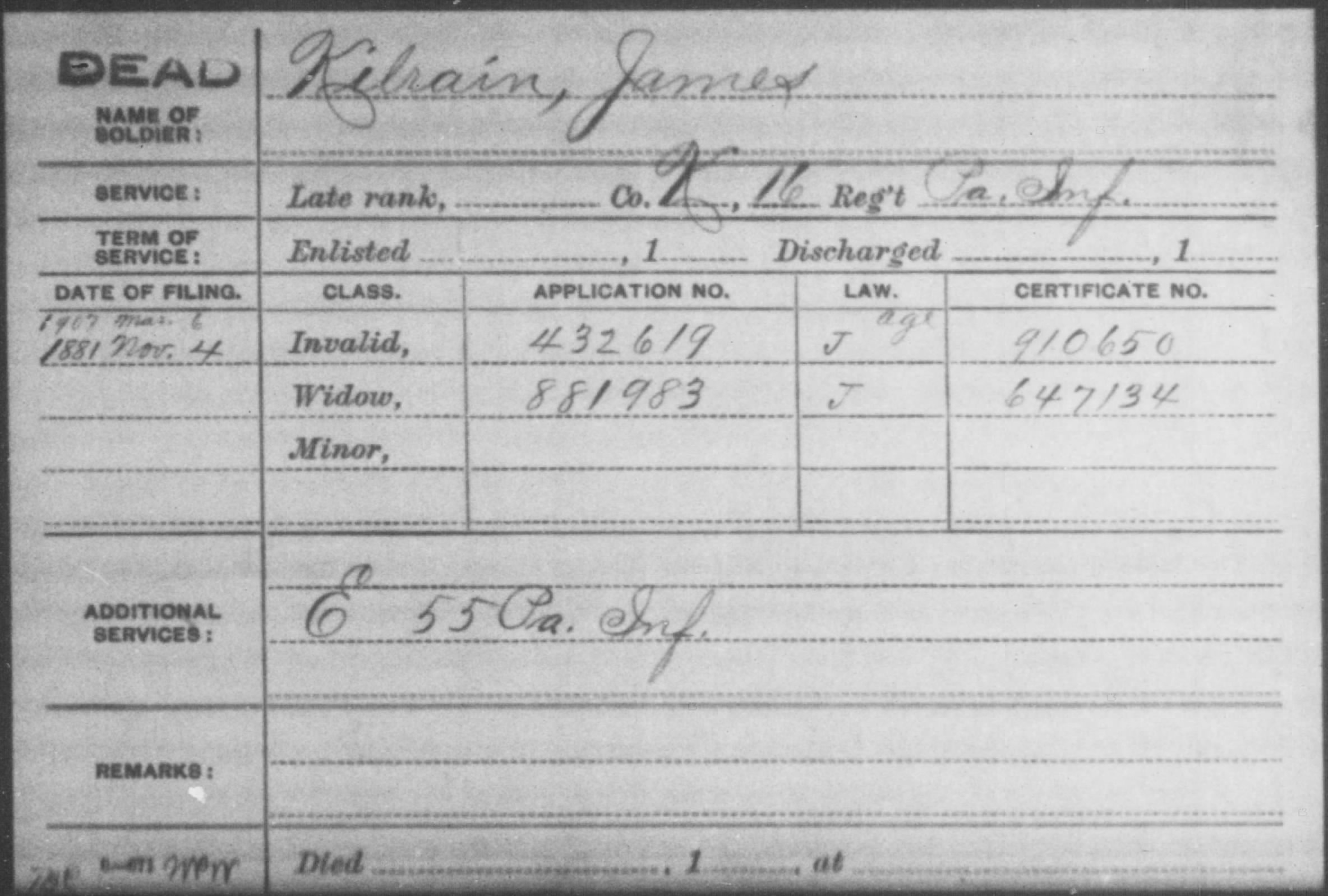 The above card shows that when the application for a pension was made on 4 November 1881, he used the spelling "Kilrain". It also shows that he served in the 55th Pennsylvania Infantry, Company E, that he did receive a pension, and that a widow applied and received benefits after he died.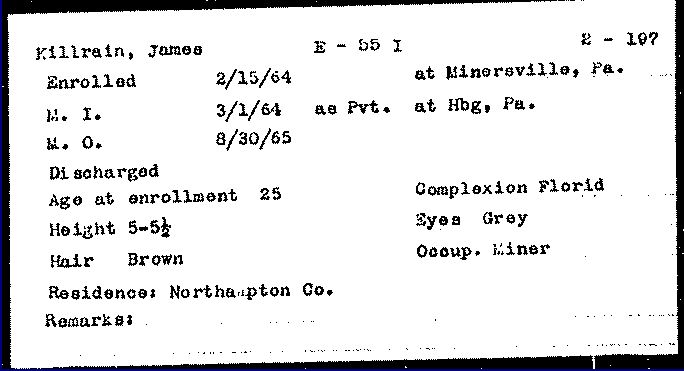 Finding the information on his service in the 55th Pennsylvania Infantry was easy, although the spelling of the surname was slightly different in those military records – "Killrain."  At the time of enrollment in that regiment/company, he gave his age as 25 (born about 1839), his occupation as a miner, and his residence as Northampton County, Pennsylvania [Note: this latter piece of information may be incorrect since Northumberland and Northampton counties are sometimes confused in the records].   Personal information about him included his height of 5 foot, 5.5 inches, and that his hair was brown, his complexion was florid and his eyes were grey.
What was the name of his widow?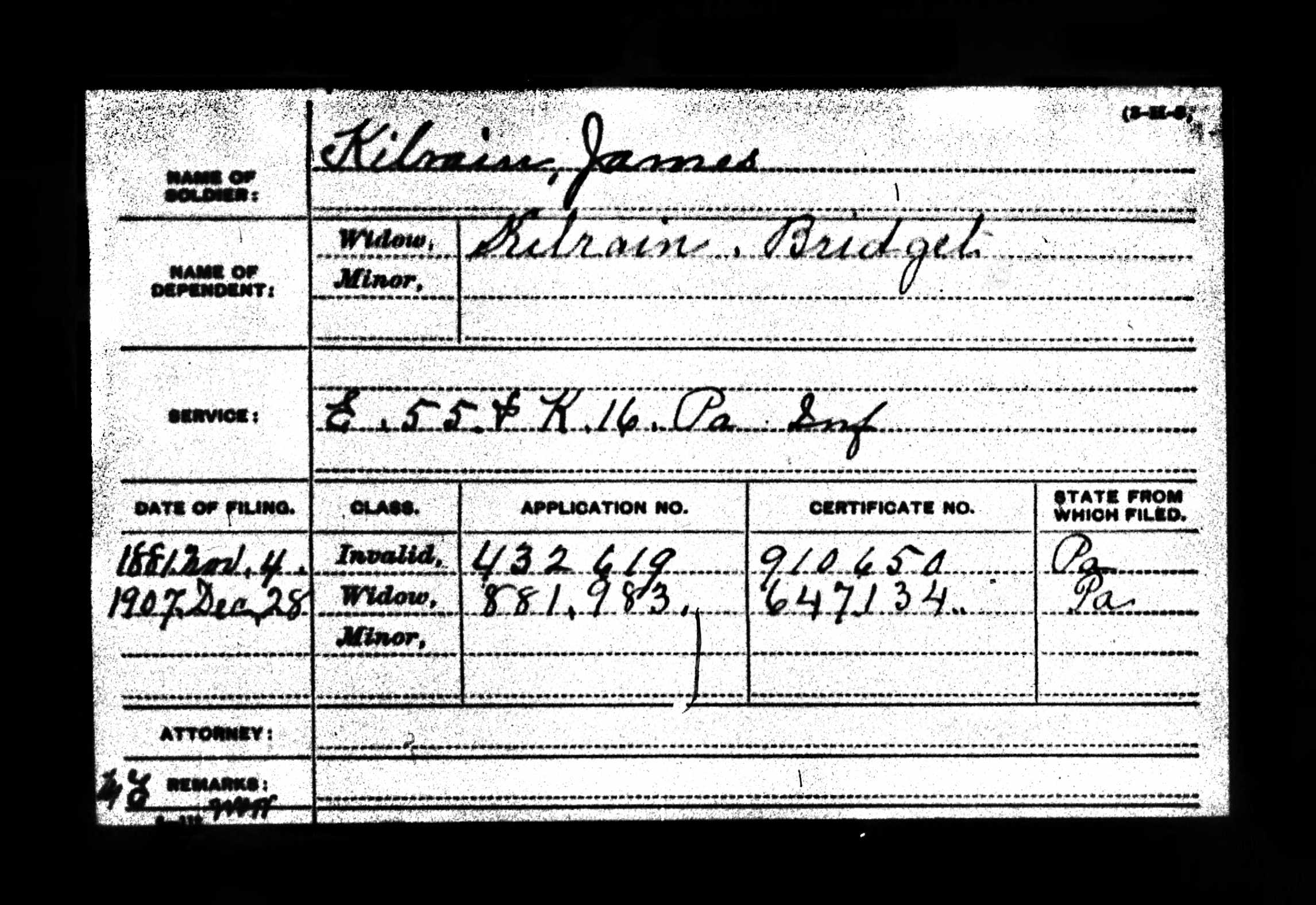 According to the Pension Index Card version available on Ancestry.com, shown above, the widow's name was Bridget Kilrain.  She applied for widow's benefits on 28 December 1907.   Now, points of confusion are discovered.  The 1890 Census appears to name a "Mary Moffat" as the widow of James (see below) – both are on the same line (No. 3).  And, the pension application was not made until 1907.

However, a "line number notation" at the left side of the sheet seems to suggest that Mary should be on "line 2 1/2" and therefore was the widow of David Weir, who appears on 'line 2."  The pattern of naming the widow after the name of the soldier is more evident on "line 6" of this sheet where William Devine is named and his widow is named on "line 7" with the notation of "line 6 1/2."  It must be concluded that James Kilrain did not die before the 1890 census!  It is therefore likely that he died closer to the date when the widow, Bridget Kilrain applied for benefits, 28 December 1907.
Proof that James Kilrain was still alive in 1900 was found in that census for Reilly Township where he is found living with his wife Bridget and daughter Lizzie and working as a laborer in a coal mine.  The immigration date of 1854 from Ireland, as well as the marriage date of 1868, is also established from this census, though a question can be asked about the suggested January 1834 birthdate – which conflicts with the approximate date of his two military enlistments.
A search of Pennsylvania Death Certificate, which began being issued in 1906, produced no matching result for James Kilrain.
A search of Findagrave produced the gravestone photo show at the top of this post.  James Kilrain, who served in the 55th Pennsylvania Infantry, is buried at the St. Vincent dePaul Cemetery, Minersville, Schuylkill County.  The stone is of government issue and does not show the date of birth or death.  However, Bridget Kilrain does appear in the Findagrave database.  She died on 14 July 1910 and is buried in the same cemetery.  Her memorial is not linked to her husband's.
A search of the Ancestry.com database (National Archives), Headstones Provided for Deceased Union Civil War Veterans, 1879-1903, produced no matching results.  However, if the stone was requested after 1903, it would not appear in this database.
A search of Newspapers.com for the time period 1900 to 1910 resulted in no matching obituary for either James or Bridget, although various spellings of the surname were attempted.
At the time of this writing, the best estimate of the death of James Kilrain would appear to be between the beginning of 1904 (post Headstones database) to about December 1907 (pre widow's pension application).
Of course, the actual death date as well as proof of death should be in the pension application files, which were not consulted for this blog post.
There are still many unanswered questions about this veteran who was initially assumed to be "James Kelhain" and is now known to be James Kilrain.  However, the research results in this blog post offer a springboard to to learn more about him.
Comments are invited.