Posted By Norman Gasbarro on June 24, 2016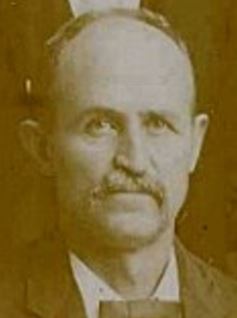 During the Civil War, Isaac Kemble served with the 47th Pennsylvania Infantry, Company C, as a Corporal, enrolling at Sunbury, Northumberland County on 19 August 1861, and mustered into service in Harrisburg, 2 September 1861.  At the time he was 22 years old (born 1839), was employed as a surveyor, and resided at Sunbury.  He stood 5 foot, seven inches tall, was of light complexion, had grey eyes and light hair.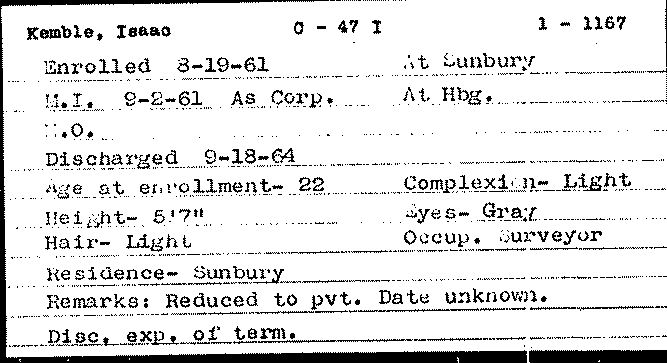 Isaac's enrollment was for three years, and at the end of his service, he chose to be discharged rather than re-enlist.  The card above, from the Pennsylvania  Archives, notes that on an unknown date, he was reduced in rank to a Private.
From Beauford, South Carolina, on 4 September 1862, Isaac Kemble wrote to his friend Emanuel Kawel in Berrysburg, Dauphin County, Pennsylvania: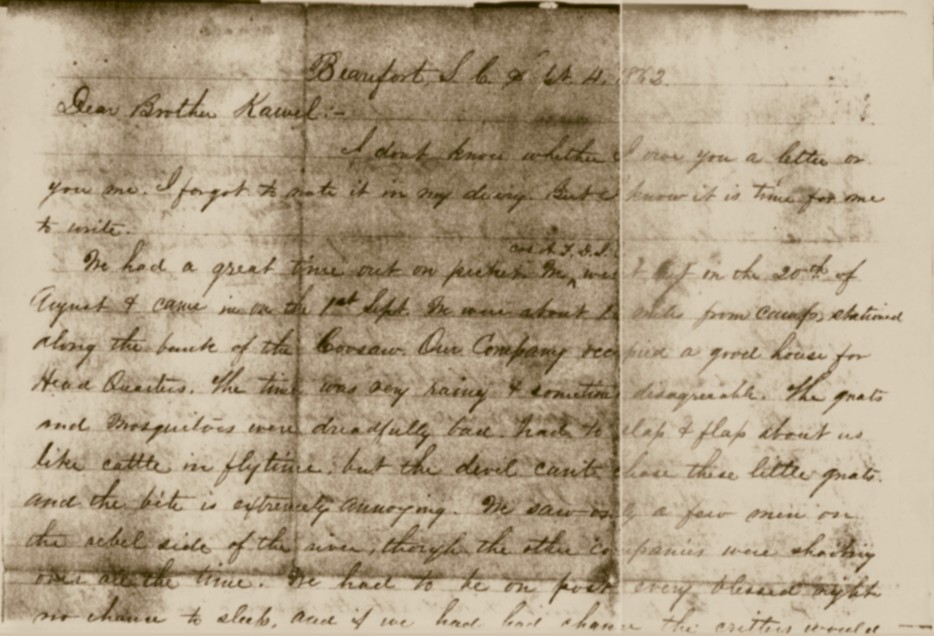 Dear Brother Kawel,

I don't know whether I owe you a letter or you one. I forgot to note it in my diary. But I know it is the time to for me to write.  We had a great time out on picket.  We [Companies A, F, D, I, C.]  went out on the 20th of August and came in on the 1st September.  We were about – miles from Camp, stationed along the bank of the Coosaw.  Our company occupied a good house for Headquarters.  The time was very rainy and sometimes disagreeable.  The gnats and mosquitos were dreadfully bad.  Had to slap and flap about like cattle in flytime, but the devil can't chase these little gnats and the bite is extremely annoying. We saw only a few men on the rebel side of the river, though the other companies were shooting over all the time.  We had to be on post every blessed night, no chance to sleep, and if we had chance, the critters would….

[Note:  a portion of the letter is missing at this point].

By the last news from home, I learn that Brother Harry and nearly all the boys at home are off to the war.  Well, good for that.  We must have help to kill the rebellion and a good deal of help we need. I am sorry to hear that father is left all alone to do his work but the country must be saved at any risk or sacrifice.  It was bad enough before this, but now almost all the boys are gone.  Oh! My! won't there be many sorrowful hearts indeed.  I sometimes pity their case.  Tell one in your next letter whether you could make use of some $40 or $50 — need it I may perhaps send it to you at the pay day following the next, sometime in November. I want all the money I have to spare used by my friends. I know that your taxes may be heavy, so if I can help you any I will cheerfully do so.  But perhaps you will have to go yet if Pennsylvania has to be subject to a draft.  How would you like that?  Then I would pity Harriet and Beckie and all the others.

Well, how are you all getting along now?  Are you all well and happy?  Hope you are.  I am pretty well now, only subject to dyspepsia, which is sometimes very annoying, but I have done my duty every since in South Carolina.

Please excuse this short letter, as news is out of date now.  We have no late news from the North.  Write soon.  Give my love to all.

Your sincere friend,

Isaac Kembel
On 26 September 1870, Isaac Kembel married Matilda Bickel.  One source indicates that the marriage took place at the Oakdale Church in Washington Township, Dauphin County.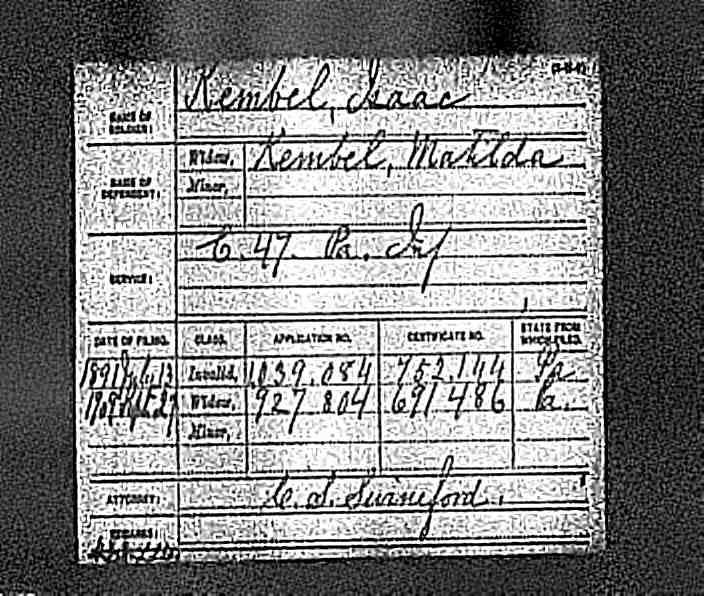 In 1891, Isaac applied for a pension (see card above from Ancestry.com), which he received and collected until his death, which occurred on 19 August 1909.  Then, his widow applied and she received benefits until her death, which occurred in 1915.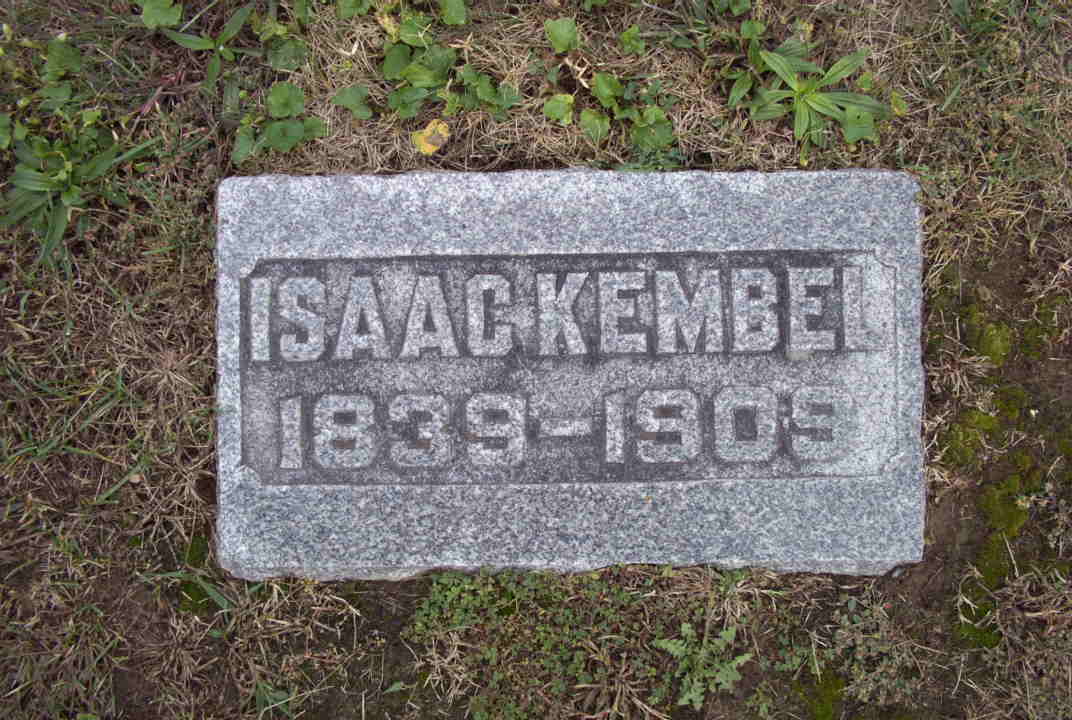 Isaac and his wife Matilda are buried at the Herndon Cemetery in Jackson Township, Northumberland County, Pennsylvania.  Additional information about him can be found at his Findagrave Memorial.
On 19 August 1909, the Daily News, of Mount Carmel, Northumberland County, ran his obituary: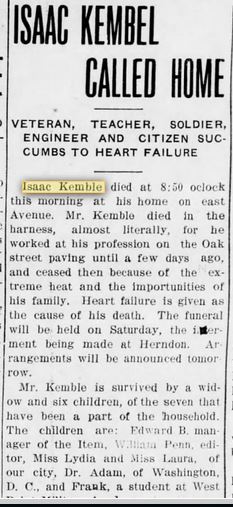 ISAAC KEMBEL CALLED HOME

VETERAN, TEACHER, SOLDIER, ENGINEER AND CITIZEN SUCCUMBS TO HEART FAILURE

Isaac Kemble died at 8:50 o'clock this morning at his home on East Avenue.  Mr. Kemble died in the harness, almost literally, for he worked at his profession on the Oak Street paving until a few days ago, and ceased then because of the extreme heat and the importunities of his family.  Heart failure is given as the cause of his death.  The funeral will be held on Saturday, the interment being made at Herndon.  Arrangements will be announced tomorrow.

Mr. Kemble is survived by a widow and six children, of the seven that have been part of the household.  The children are:  Edward B. Kemble, Manager of the Item, William Penn Kemble, Editor; Miss Lydia Kemble and Miss Laura Kemble, of our city; Dr. Adam Kemble of Washington, D.C.; and Frank Kemble, a student at West Point Military Academy.

Isaac Kemble was born in Jackson Township, this county [Northumberland], on 12 May 1839.  He was educated in the public schools of the county and at the Old Pennsylvania College at New Berlin, of which institution he was a graduate in the classical and civil engineering course.  He taught school a years prior to completing his course in college and for a number of years afterward in this state and in Iowa and Illinois, nearly thirty years in all.  His authority to teach in this state was that of a permanent certificate.

He enlisted in the War of the Rebellion and served in the 47th Regiment, Pennsylvania Volunteers for three years and one month, nearly all of the time in the far South, being in a number of hot contests between the competing forces.  After returning from the South, he spent a few years in the West, teaching and in mercantile pursuits.

Isaac Kemble and Matilda Bickel were married at Tower City, 25 September 1870.  He came to Mount Carmel 26 years ago.  In this community he has served the borough as its engineer a number of years and has been the official surveyor for many of the  municipalities in the region.  He was the President of the Mount Carmel Item Publishing Company, and was always active in the business of that publication.  He was a member of Swatara Lodge, No. 267, F. and A.M. at Tremont, of Tremont Chapter No. 221, and the Prince of Peace Commandery, No. 39, at Ashland;  He was Past Grand of Tower Lodge, No. 755, I.O.O.F., of Tower City, and Post Post Commander of Burnside Post, No. 92, G.A.R.  He was a member of the United Evangelical Church and a trustee of the association here.  He was a member of the church from boyhood before he enlisted for the war.

As a man, Isaac Kemble ranked high.  He had the very laudable faculty of attending his own business to the exclusion of meddlesomeness in other people's affairs; he was dignified in his association with his fellow men; he was kindly disposed toward everybody; he was diligent in the prosecution of his business interests; he was a good husband and a kind and indulgent father; he was an honest man.
---
Th news clipping is from Newspaper.com.  The portrait of Isaac Kembel at the top of this post and a copy of the letter sent to Emanuel Kawel are from Project files.  The surname is found as Kemble and Kembel in the records.