Posted By Norman Gasbarro on June 15, 2016
As a result of a post here on 18 May 2016, Isaac Houtz – Letters to His Sister Leah, some additional information (as well as a correction) has been received from a regular research contributor Steve Williams.  On 21 May 2016, the following e-mail was received:
I was able to find some information on the Isaac Houtz you profiled in a recent post.

First, I need to correct an error in your post. The 29 February 1864 and 30 April 1864 dates have nothing to do with Houtz's military record, they're the dates of the company's bimonthly muster rolls used to generate the record.  All they mean is that Houtz joined the unit between 1 January and 29 February (it doesn't say when). It says that he transferred back on 11 April.
[Note:  These dates were referenced to the New York record pictured below.  The correction is acknowledged with thanks].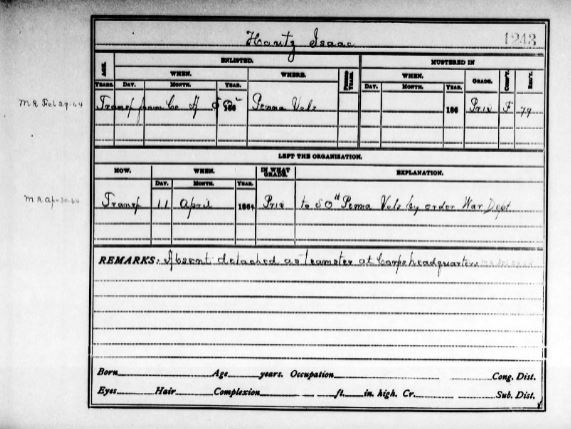 However, I found Isaac on a list of prisoners of war arriving at Annapolis on a steamer sent from Belle Isle under a flag of truce on 9 March 1864 in the Philadelphia Inquirer. I've attached a copy of the article. It says Isaac was admitted to a hospital in Annapolis.

Apparently Isaac was captured as a prisoner of war while with the New York unit but they didn't record it or seeming even inform his unit about it. So probably the details of his capture have been lost to history. I would recommend checking Isaac Houtz's carded medical records for his treatment at Annapolis and to see if he returned to his unit before his June death. Looking at his Pennsylvania muster record, I feel pretty confident the answer will be no, but we won't know for sure until someone checks the carded medical records.

This record seems to indicate Isaac joined the New York unit on 15 January: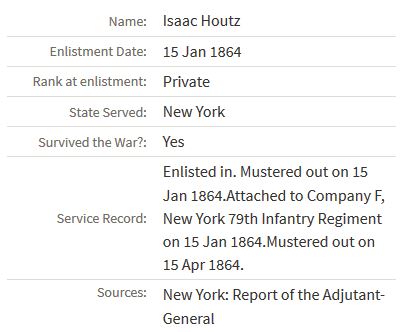 [Note:  The supplied record is from "U.S. Civil War Soldiers Records and Profiles," a database available on Ancestry.com.  The source of the information is the New York Report of the Adjutant-General].
Thank you for this information, which should help get a clearer understanding of what happened to Isaac Houtz during the Civil War!
Corrections and additions are always welcome and can be sent via e-mail or added as comments to any blog post.
---
The complete article from the Philadelphia Inquirer is available through the on-line resources of the Free Library of Philadelphia.