Posted By Norman Gasbarro on June 16, 2016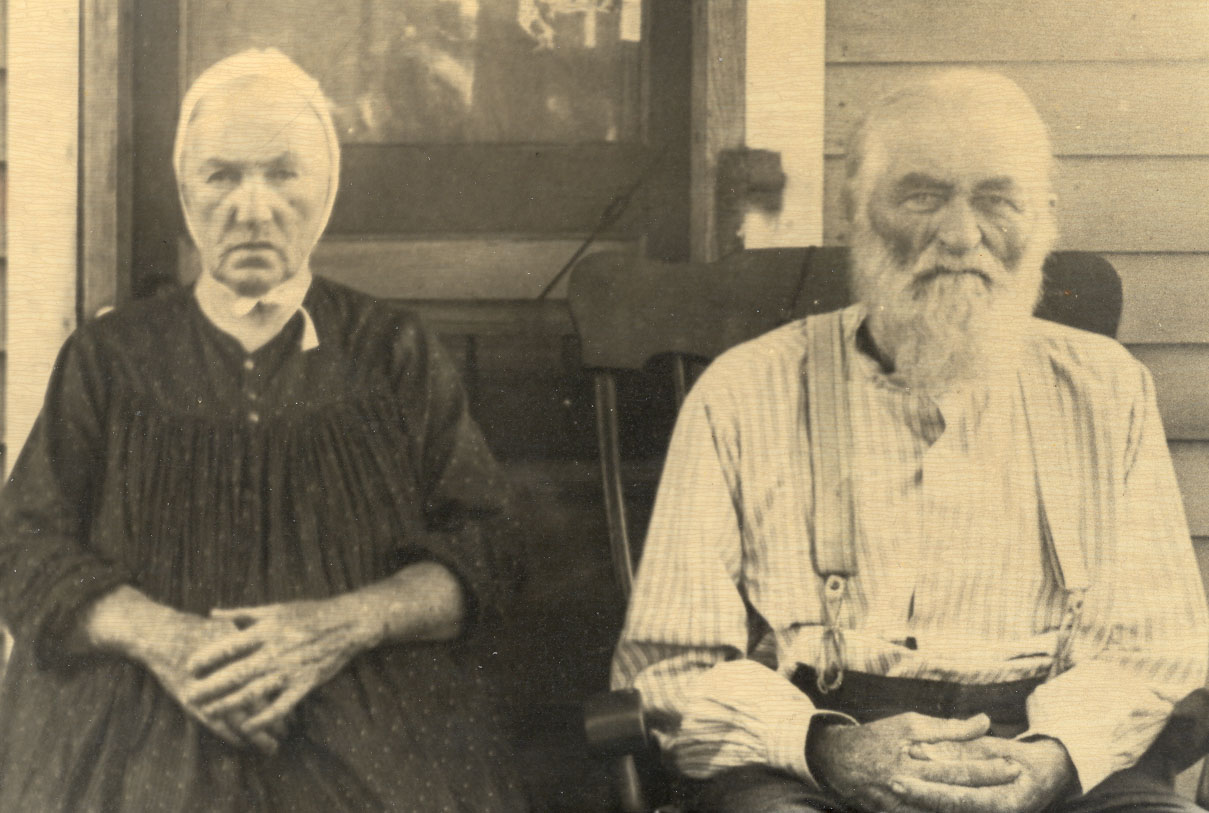 The little that was previously known about George Washington Jury was found in a history of the Jury family entitled Portrait of Our Ancestors, pages 86-87:
George Washington Jury was born 29 December 1939, son of Simon Jury and his first wife Julianna/Juliann [__?__] Jury.  He was baptized at Fetterhoff's Church, Halifax, Dauphin County, on 12 April 1840.  The sponsor of his baptism was Jemima Hermann, single, and whether or not she was related to the mother is not known.

Both parents of George W. Jury were born in Dauphin County, and the 1840 Census of Dauphin shows that Simon was still in his father's home in that year….  Thus it is remotely possible that this first child was also born in Dauphin County.  We do not have the 1840 Census for Perry County to determine if Simon Jury appears there that year.  He is enumerated in Perry County in the 1850 Census.

George W. Jury married Annie Gish in Liverpool, Perry County, Pennsylvania, but no date of marriage was found.  Annie Gish was born in 1841 at Newport, Perry County, Pennsylvania, daughter of Jacob Gish and Salome [Keiffer?] Gish.  She died in 1918 in Holland, Kansas near Abilene and is buried with her husband at Newbern Cemetery, Abilene, Kansas.

George W. Jury died in December of 1918 [sic] at Abilene, Kansas.  He served in the Civil War from 1861 to 1865 per Ruth Russle.  He was a farmer and was affiliated with the River Brethren Church.  He migrated with his family to Kansas between 1876 and 1878 since his daughter Mary [Jury] Nolf was born at Newport, Pennsylvania, in 1876 and the next child was born in Kansas in 1878.

Of the eight children of George Washington Jury and his wife Annie Gish we have descendants for only his daughter Mary.  All the details contributed by Ruth Russell for other children are included below.

*Jacob Jury, born in Pennsylvania in 1866, died in Greencastle, Pennsylvania, date unknown, married Susan Magnum.

*John Jury, born in 1867 in Pennsylvania, died in 1869 in Pennsylvania.

*Benjamin Jury, born in 1869 in Pennsylvania, died in Abilene, Kansas, married Martha Mellinger in Kansas.

*Salome Jury, born in 1871 in Pennsylvania, died in 1921 in Bennington, Kansas, buried in Newbern Cemetery, Abilene, Kansas.  Never married.

*Lizzie Jury, born in 1873 in Pennsylvania, died 1964 at Abilene, Kansas, married Henry Lenhard who died in 1951 in Abilene.  Both are buried at Newbern Cemetery.

*Mary Jury, born 18 March 1876 at Newport, Pennsylvania, died 1 June 1963, at Van Nuys, California, married in December 1898 to Luther Slauson Nolf at Solomon, Kansas.

*Henry Jury, born in Kansas in 1878, died in Kansas in 1880.

*George Jury, born in Kansas in 1886 and died in Abilene, Kansas, married in Abilene to Alice Frymire.
It can be seen from the above biographical sketch, written more than 30 years ago, that with much new information now available on the Internet, corrections and additions are likely possible.
The obituary of George W. Jury, published in the Abilene Daily Reflector (Kansas), 10 September 1914, provides the first major correction.  George died in 1914, not 1918 as previously reported in Portrait of Our Ancestors.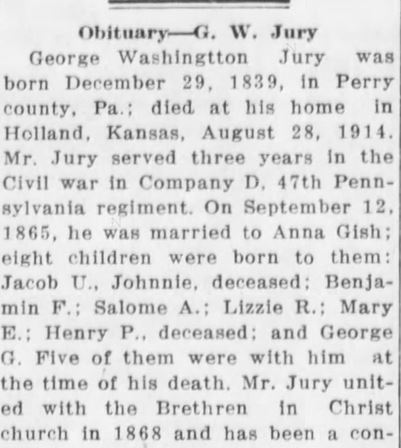 Obituary – G. W. Jury

George Washington Jury was born 29 December 1839 in Perry County, Pennsylvania; died at his home in Holland, Kansas, 28 August 1914.   Mr. Jury served three years in the Civil War in Company D, 47th Pennsylvania Regiment [47th Pennsylvania Infantry].  On 12 September 1865, he was married to Anna Gish; eight children were born to them:

Jacob U. Jury; Johnnie Jury, deceased; Benjamin F. Jury; Salome A. Jury; Lizzie R. Jury; Mary E. Jury; Henry P. Jury, deceased; and George G. Jury.  Five of them were with him at the time of his death.  Mr. Jury united with the Brethren in Christ Church in 1868 and has been a consistent member since.  Mr. and Mrs. Jury came to Kansas in 1878 and have resided here since.  He was a great sufferer for the last few months of his life, but was always kind and patient.  The deceased was highly respected by all who knew him.   The family has the sympathy of a host of friends, as we know Mrs. Jury has lost a devoted husband and the children a loving father.  The remains were laid to rest in the Newbern Cemetery; the services were conducted by Bishop Engle and Elder Cakerice.  A large crowd of friends were present to pay their last respects to a friend whom they will greatly miss.
George W. Jury's military record is confirmed by the following documents: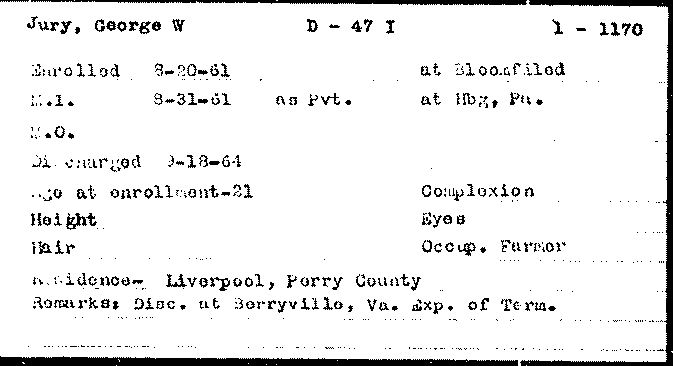 He enrolled in the 47th Pennsylvania Infantry on 20 August 1861 at Bloomfield, Pennsylvania, and was mustered into service in Harrisburg on 31 August 1861 as a Private in Company D.  At the time he gave his age as 21, his occupation as farmer, and his residence at Liverpool, Perry County. He was discharged at Berryville, Virginia, at the expiration of his term of service on 18 September 1864.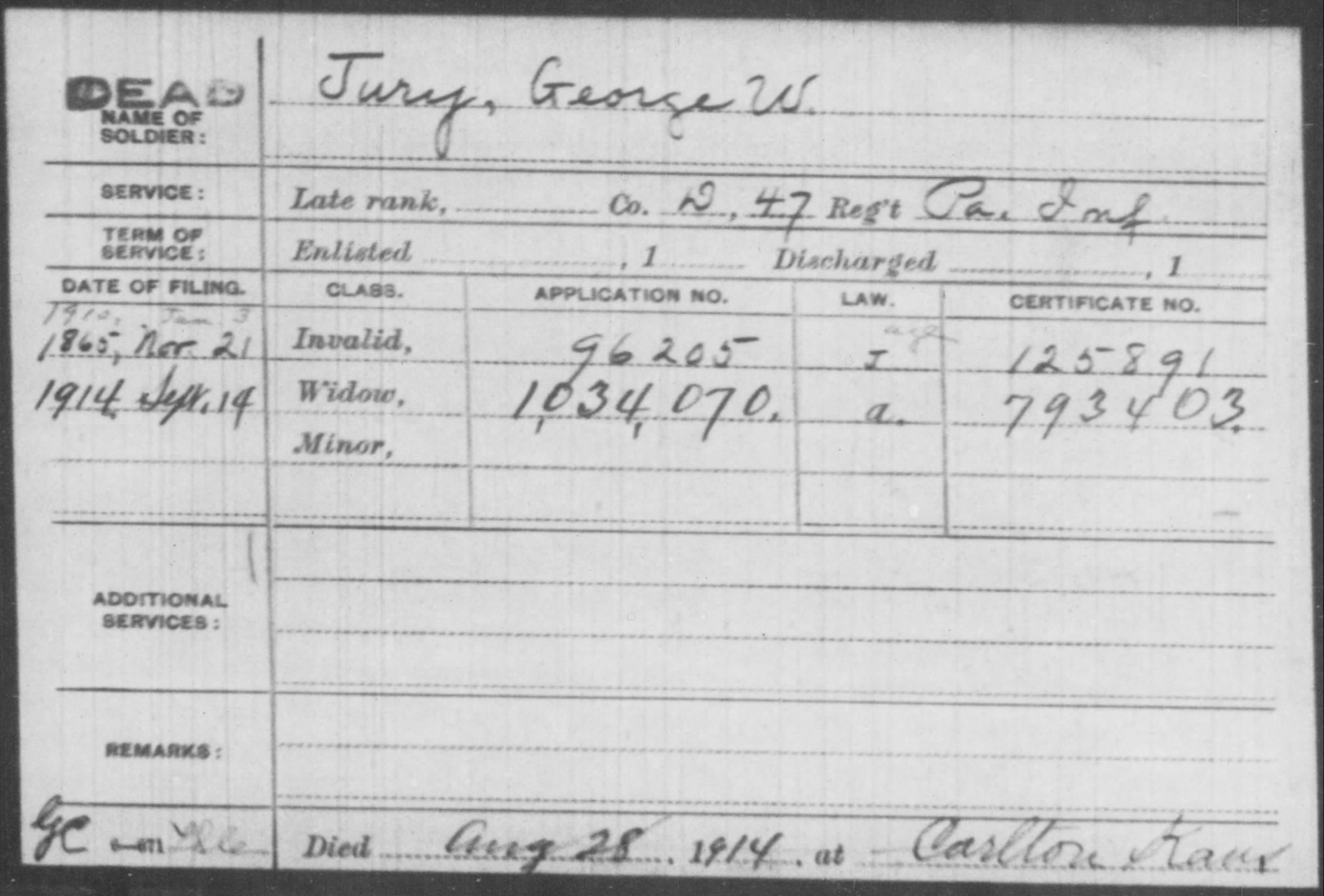 The Pension Index Card, shown above from Fold3, states that he applied for a disability pension on 21 November 1865.  This very early application is an indication that he may have obtained a disability during the war and the documentation of that wartime experience would definitely be in the pension application file available at the National Archives in Washington, D.C.  It is beyond the scope of this Project to obtain those files, so if any reader of this post can shed some light on what is in them and/or provide copies, it would be greatly appreciated!
The above card also confirms the death date of 28 August 1914 and the place of death as Kansas.
The widow applied for benefits on 14 September 1914, which she received and collected until her death.  According to other sources, she died in 1918.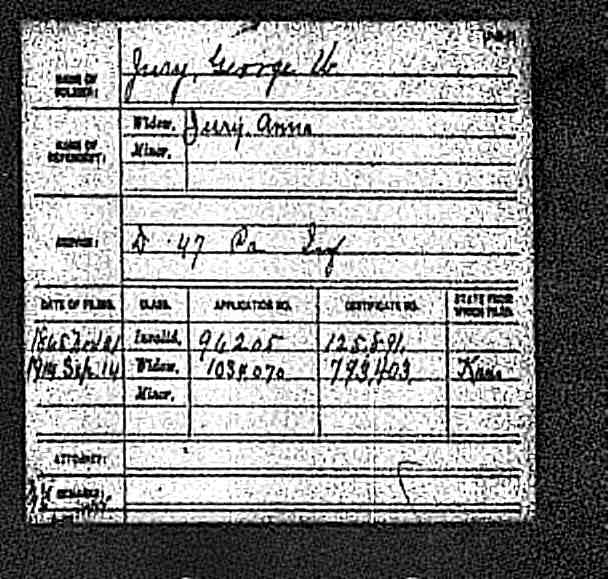 The Pension Index Card, shown above from Ancestry.com, shows that the widow's name was Anna Jury and that she applied for benefits from Kansas.
Another source of readily available information is Findagrave.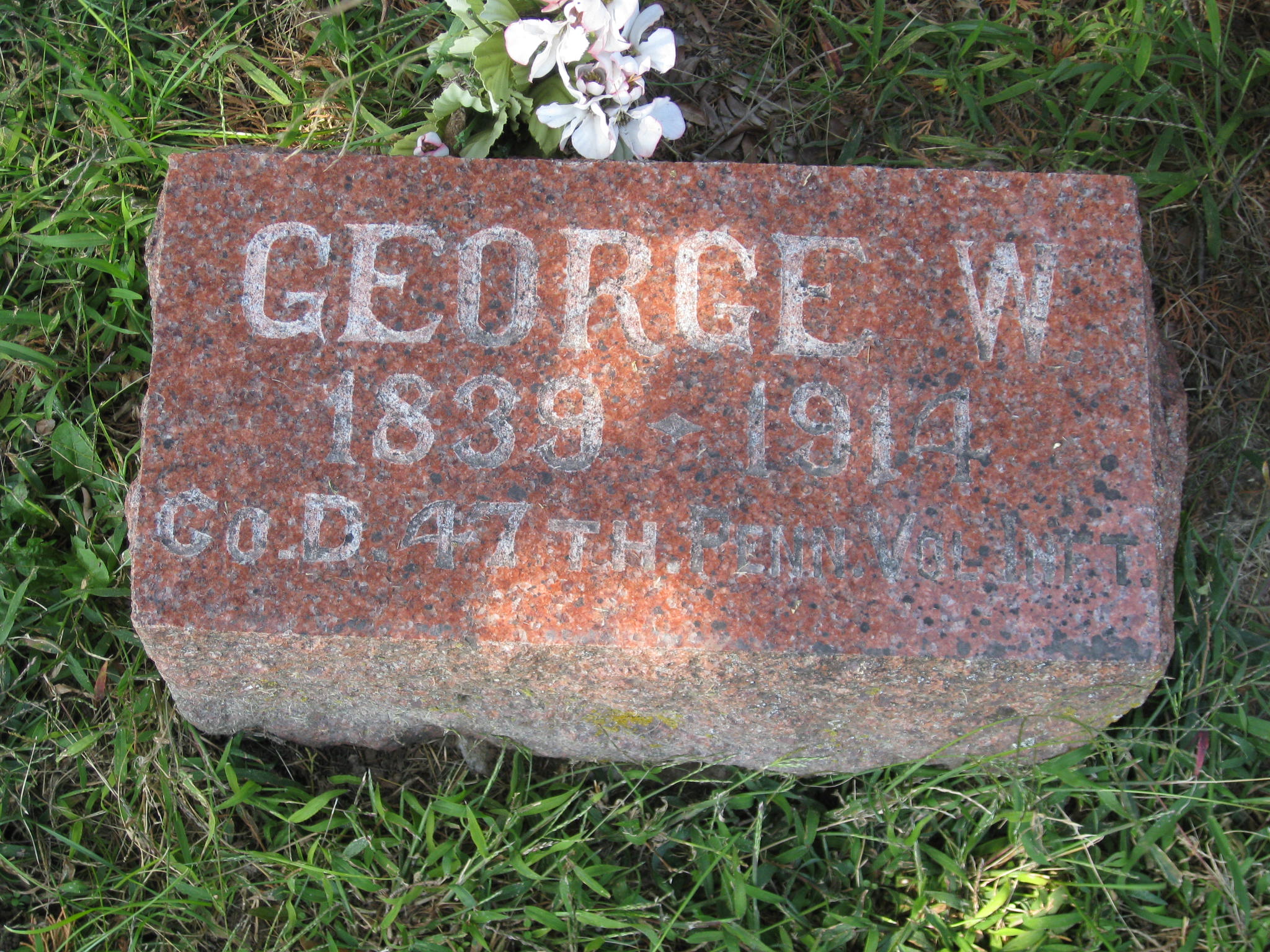 The grave marker at the Newbern Cemetery in Holland, Dickinson County, Kansas, names Company D of the 47th Pennsylvania Infantry as his Civil War service.  Additional information can be found about George and his family at his Findagrave Memorial, including the maiden name of his mother as "Harman."
The Pennsylvania Death Certificate of one of the siblings of George W. Jury, Hannah Jury, identifies the mother's maiden name as Juliann Harman.  Harman and Hermann are easily interchanged names, so it is possible that the Jemima Hermann who stood for George's baptism at Fetterhoff's Church in Halifax was the mother's sister – or perhaps the grandmother if the grandmother was not married.
The question of whether the George W. Jury who died in Kansas is the same George Jury who is named in the Halifax Bicentennial list of Civil War soldiers can answered with a "no" since that George Jury is buried at Long's Cemetery in Halifax.  The question of whether George W. Jury belongs in that Halifax list should be answered with a "yes" since there is documentation that he was baptized at Fetterhoff's Church.  And, whether or not Simon, the father, moved the family to Perry County before or after George was born, the family was clearly in Halifax in early 1840 for his baptism.  Also, if Simon was in his parents' home in 1840, where was George, who was born in the last days of 1839?  Only the heads of families are identified in the census returns prior to 1850, so it is possible that the 1840 census was misread by the researcher.
The photograph of George and Annie Jury is from a family collection.