Posted By Norman Gasbarro on June 13, 2016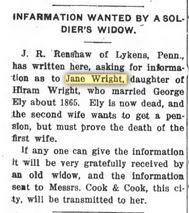 On 11 November 2015, a post entitled Obituary and Memorial to George W. Ely, provided information about his Civil War service in the 13th Pennsylvania Cavalry, his obituary, his family including widow Rebecca [Rudisill] Ely, and photographs of his grave marker and the plaque bearing his name in Lykens.  A request for additional information about him resulted in the following e-mail from a family member:
I read your Civil War blog post about George Ely.  I have some information about him not contained within that post.  During the war, George and the rest of the 13th spent some time in Fayetteville, North Carolina.  While there, he married Jane Wright, daughter of Hiram Wright and Sarah Bowden, 27 June 1865.  Another soldier of the 13th, David Fields, acted as security for the bond.  David was my 2nd great-grandfather.  George then acted as security when David purchased a bond to marry Jane's sister, Sarah, 5 July 1865.

After George's death, Rebecca Ely needed to prove the death of Jane [Wright] Ely in order to receive her widow's pension.  These notices were run in the Fayetteville Weekly Observer:

This ran 10 May 1915, page 5:

INFORMATION WANTED BY A SOLDIER'S WIDOW.

R. Renshaw of Lykens, Pennsylvania., has written here, asking for information as to Jane Wright, daughter of Hiram Wright, who married George Ely about 1865.  Ely is now dead, and the second wife wants to get a pension, but must prove the death of the first wife.
If any can give the information it will be very gratefully received by an old widow, and the information sent to Messrs. Cook & Cook, this city, will be transmitted to her.

And this 10 June 1914, page 3:

Mayor McNeill gave us the following letter this morning, and it may be that some of the older residents can furnish the information desired:

Lykens, Pennsylvania, 30 May 1914.
Chief of Police, Fayetteville, N. C.

Dear Sir:–Would it be possible for you to furnish me with any information that will lead me to get the records of the death and burial of a certain lady who is supposed to have died and was interred in or near you city in the Fall of 1865 or Spring of 1866.

Her maiden name was Jane Wright, was married to one George Ely, who brought her to this place in the Summer of 1865, she however, did not remain here more than a few weeks and returned home again; shortly after she left here a letter was received by a relative of George Ely, stating that she had died, since which nothing has been heard about her.

The people who knew here here at the time have passed away as also has her husband and no information further than the above is known.  It is very necessary that we should have some proofs of her death or whereabouts, if living.

Hoping you can be able to put me on the track of getting the information and that I can reciprocate later on.

I remain
Yours truly,
W. S. Young.

I hope this helps you in your research.
As a result of the e-mail, the following documents were located on Ancestry.com:
Marriage Bond: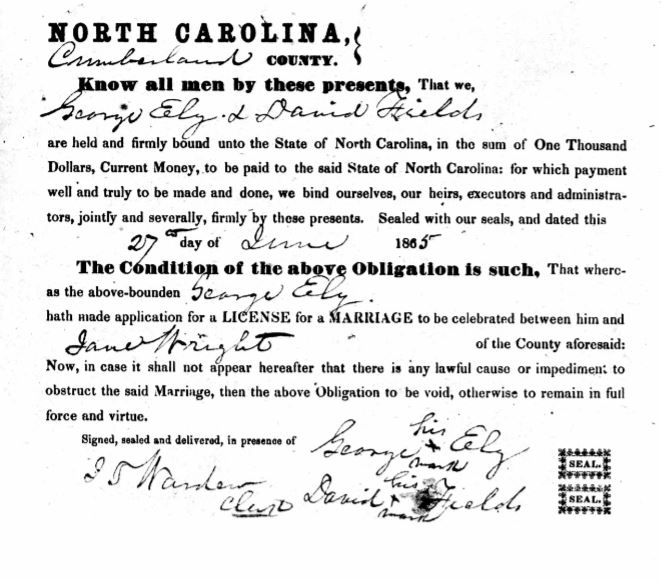 Marriage Register:
Marriage Certification:
Continuing the research, reference is made to the Pension Index Card for George W. Ely, which notes his death date and fact that his widow applied for an received a pension based on his service.  From the fact that she received the pension it can be concluded that her attempts to prove that George's first wife was dead were successful.  However, without consulting the pension application files, available at the National Archives in Washington, D.C., it cannot be determined what proof was provided.
In searching the records of David Fields, nothing has been found to place him in the Lykens Valley area.  His Pension Index Card, shown below from Fold3 indicates that he served in the 13th Pennsylvania Cavalry, Company C, from 2 September 1863 to 14 July 1865.  According to the pension information, he died on 21 April 1917 at Pembroke, North Carolina, but state death records and cemetery records indicate he died on 14 April 1917.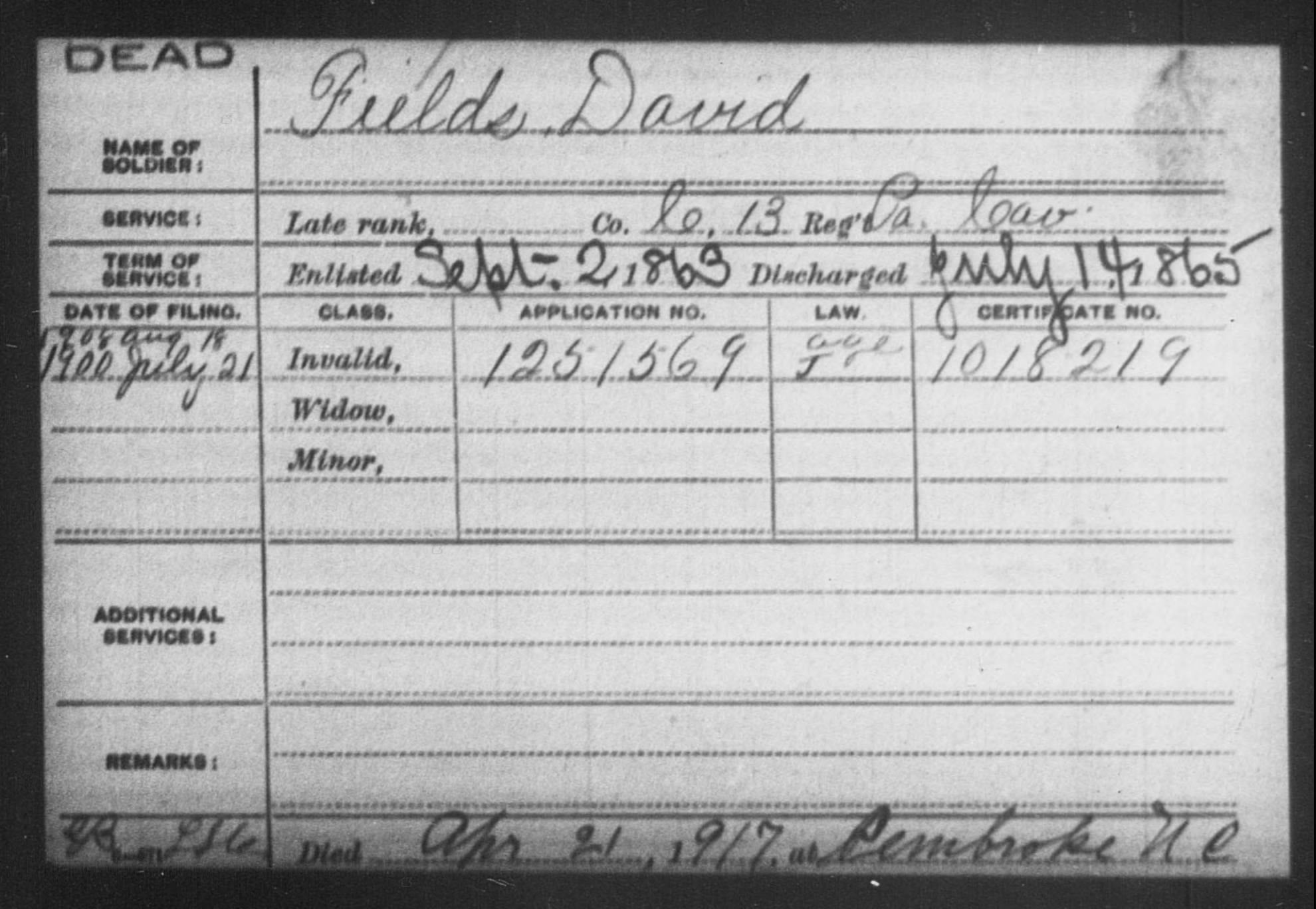 David Fields is buried at McNeill Cemetery, Pembroke, Robeson County, North Carolina.  His Findagrave Memorial does not indicate that he served in the Civil War as a Union soldier.
---
The news clipping at the top of this post is from Newspapers.com.