Posted By Norman Gasbarro on June 20, 2016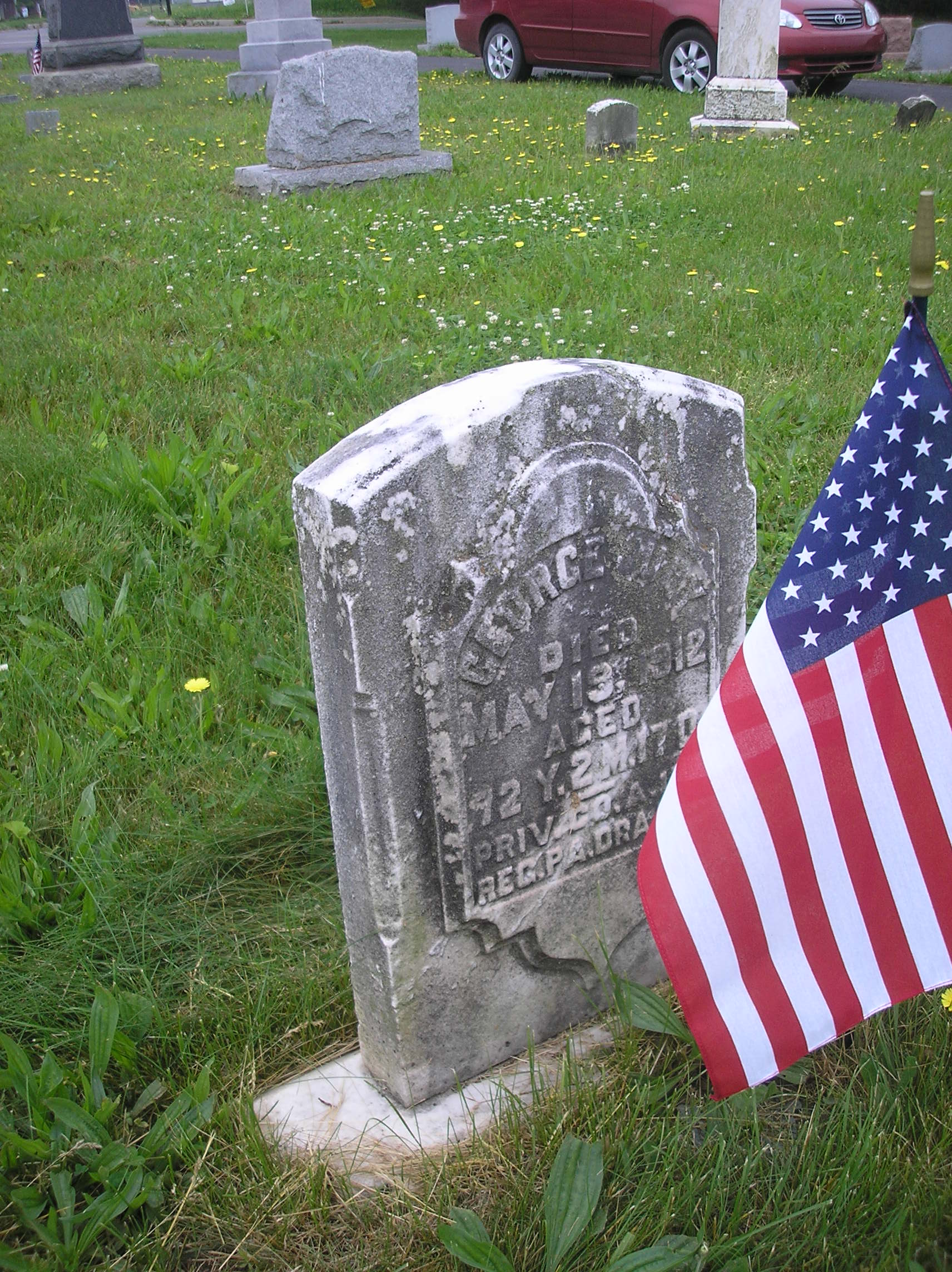 George Jury was born on 2 March 1840 in Pennsylvania and died on 19 May 1912 in Halifax Township, Dauphin County, Pennsylvania. During the Civil War he served in the 172nd Pennsylvania Infantry, Company A, as a Private.  After the Civil War, he applied for a pension on 25 September 1890.   He is buried at Long's Cemetery, just outside the Halifax Borough.  After his death, his widow, Mary E. [Baker] Jury applied for benefits.  Both George and his widow received those benefits, which were collected until their respective deaths. Mary died on 30 March 1935 and is buried next to her husband at Long's Cemetery.
Previously on this blog, it was mentioned that the name of George Jury appears in the Halifax Bicentennial Book as a Civil War soldier from the Halifax area. He also appears in the veterans' cemetery list for Long's Cemetery found in that same book.  Another soldier named George W. Jury was previously profiled here.  He served in the 47th Pennsylvania Infantry.  It is possible that that George W. Jury was born in Halifax Township because he was baptized at Fetterhoff's Church, but the family moved to Perry County by 1850 and after the Civil War, he moved to Kansas where he died.  In the profile of George W. Jury, it was noted that if he was born in Halifax Township, then he too belongs in the Halifax list.  No proof has been seen of his actual place of birth although his obituary which appeared in a Kansas newspaper states that he was born in Perry County.  In any event, the two Georges were very close in age and were descended from the same pioneer settler of the Lykens Valley area, Abraham Jury.
The ancestry of George Jury, 172nd Pennsylvania Infantry:
Parents:  George Bretz Jury (1799-1884) and Anna Marie Shoop (1800-1850)

Grandparents: Abraham Jury (1753, Switzerland – 1805) and Elizabeth Bretz (1763-1829)
The ancestry of George W. Jury, 47th Pennsylvania Infantry:
Parents:  Simon S. Jury (1815-1894) and Juliann Harman (1819-  ?)

Grandparents:  John George Jury (1794-1869) and Susanna Cooper (1800-1836)

Great Grandparents:  Abraham Jury (1753, Switzerland – 1805) and Elizabeth Bretz (1763-1829)
Therefore, George Jury and George W. Jury were 1st cousins, once removed.
---
Pension Documents
Several selected pages of the pension application of George Jury (1840-1912) of Halifax, Dauphin County, Pennsylvania, are presented to show what was required of a veteran to prove that his disability was incurred during the Civil War.  However, it should be noted that the original application was submitted after the pension laws were relaxed to allow "old age" be a sufficient reason for a benefit claim.
His Deposition
Four pages of the original deposition follow.  Click on any thumbnail to enlarge the page.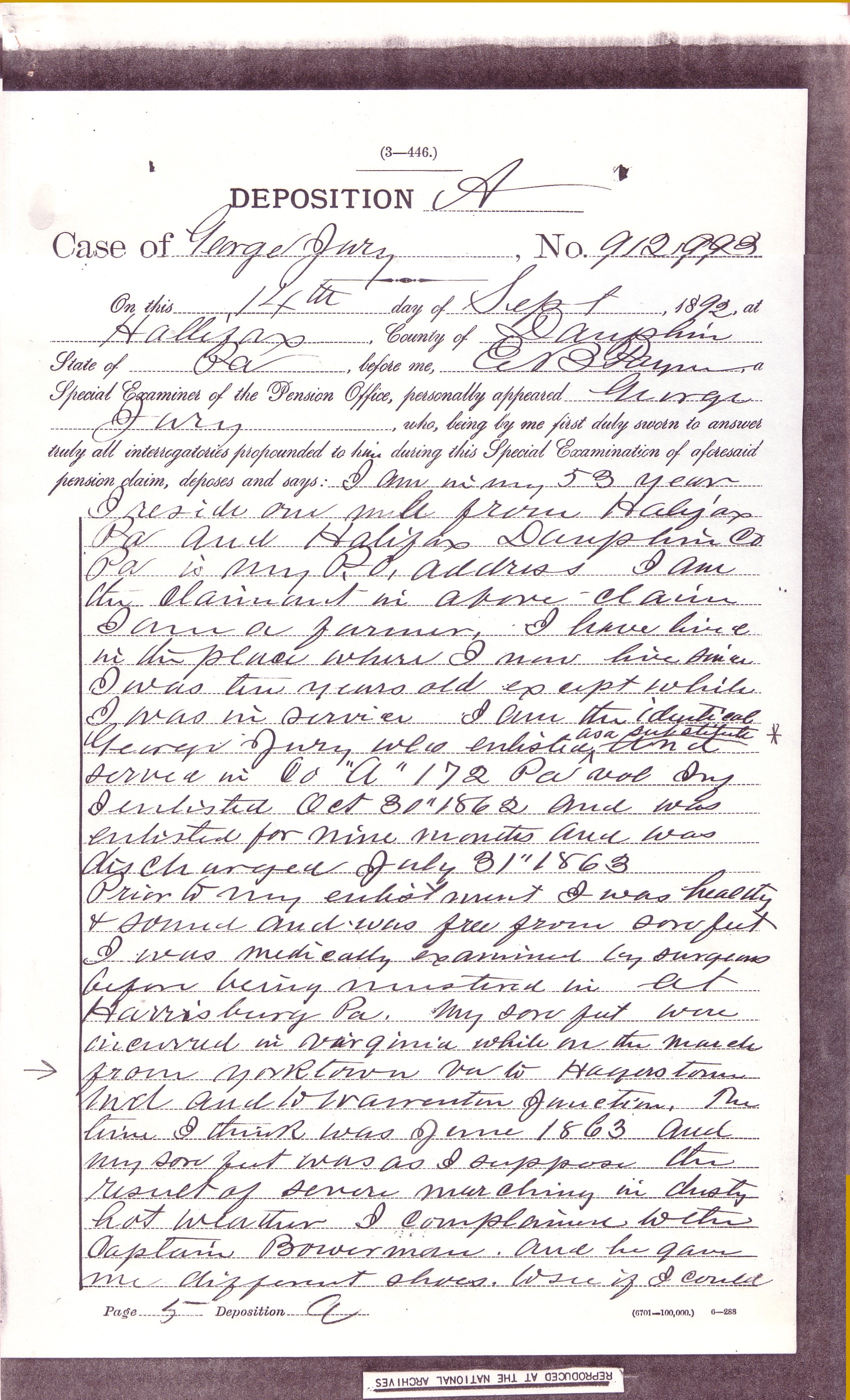 In page 1, George Jury makes the claim that while on march from Yorktown, Virginia, to Hagerstown, Maryland and Warrenton Junction, in July 1863, he got "sore feet" as a result of the "dusty hot weather."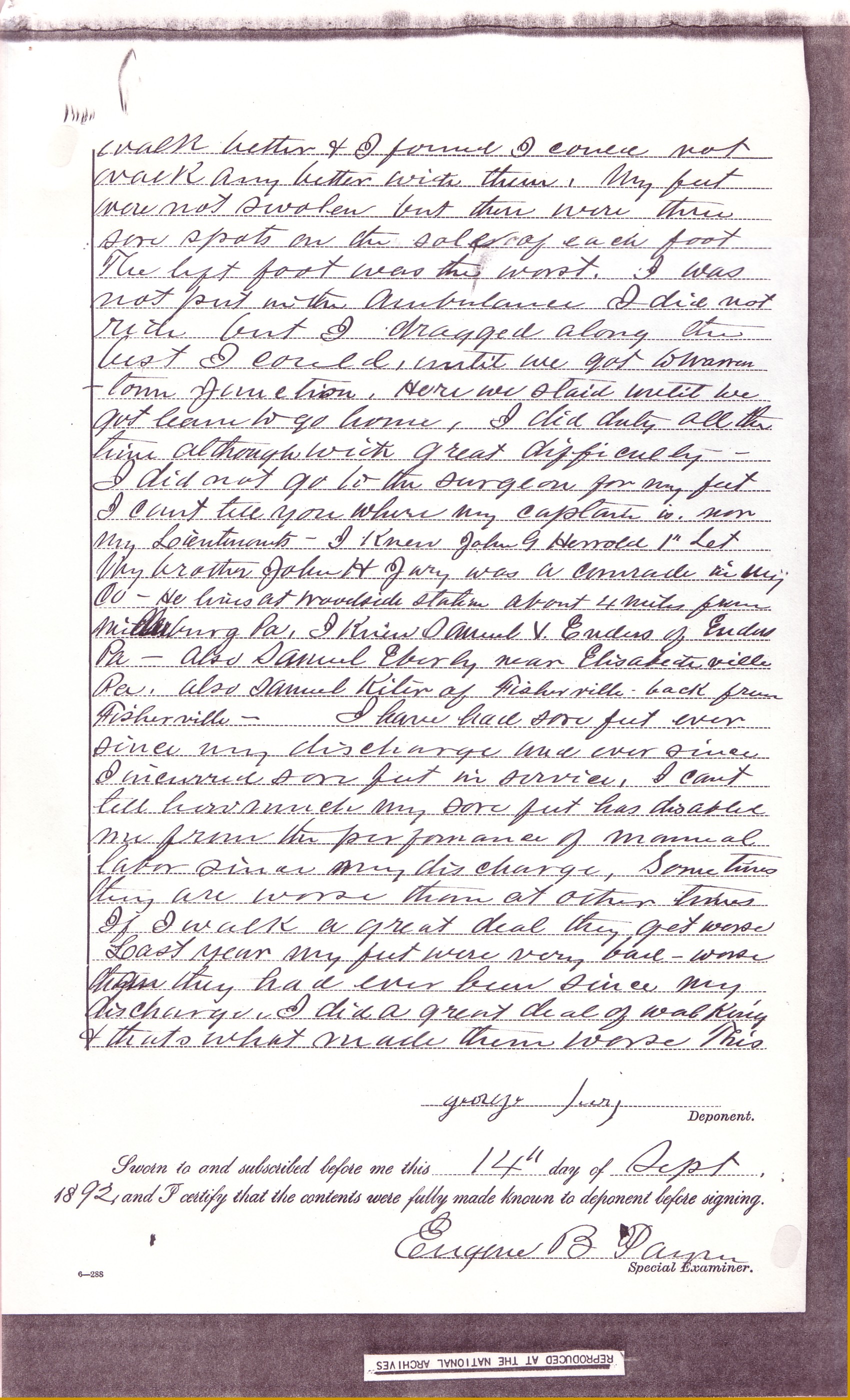 In page 2, George Jury notes that he has had sore feet ever since his discharge and that the sore feet "has disabled me from the performance of manual labor."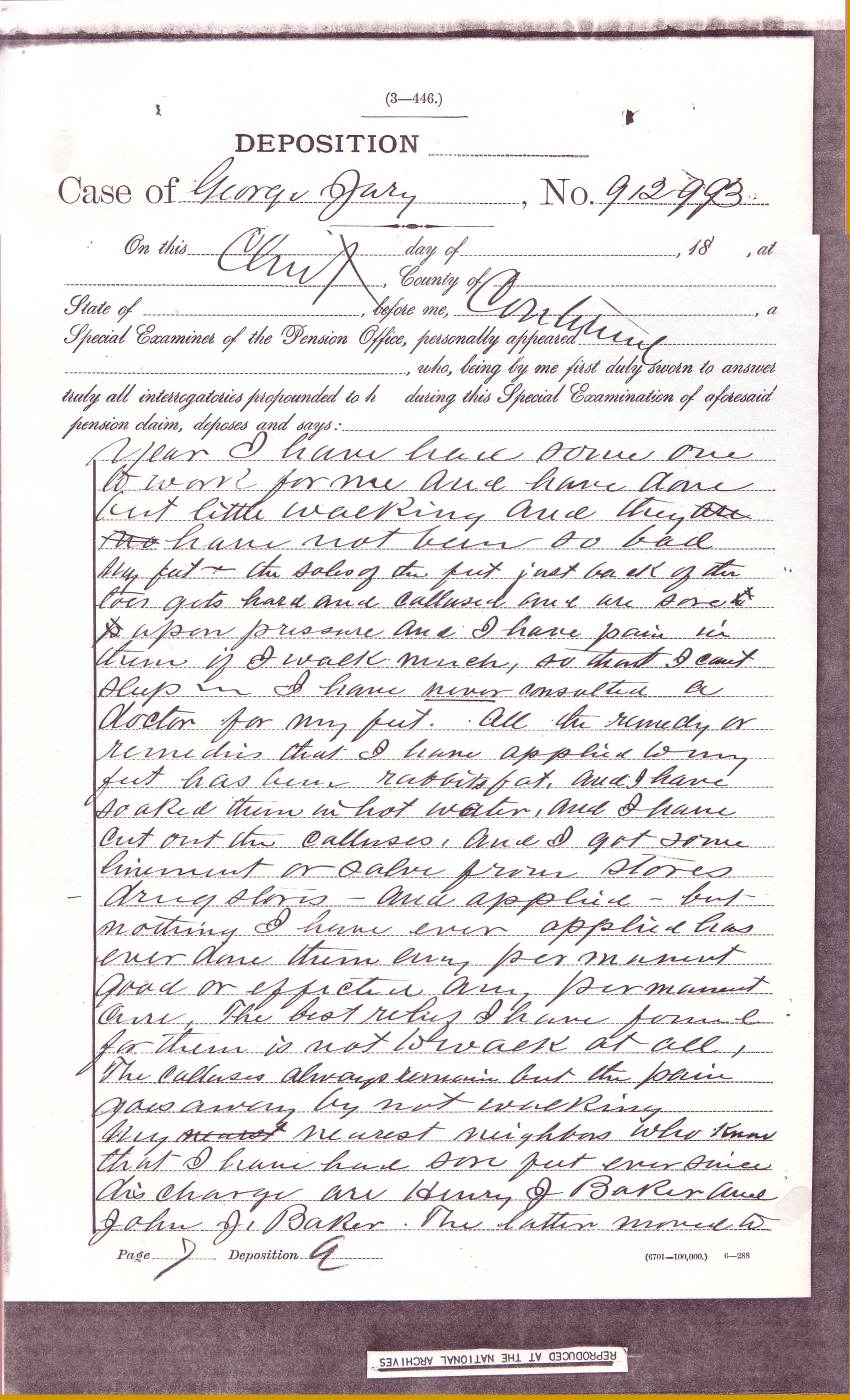 In page 3, he makes the claim that there is "pain in them that I can't sleep… [and] can't walk much."  He also claims that he does get some relief from "rabbits fat" and other liniments purchased at stores, but the relief is only temporary and that the best remedy "is not to walk at all."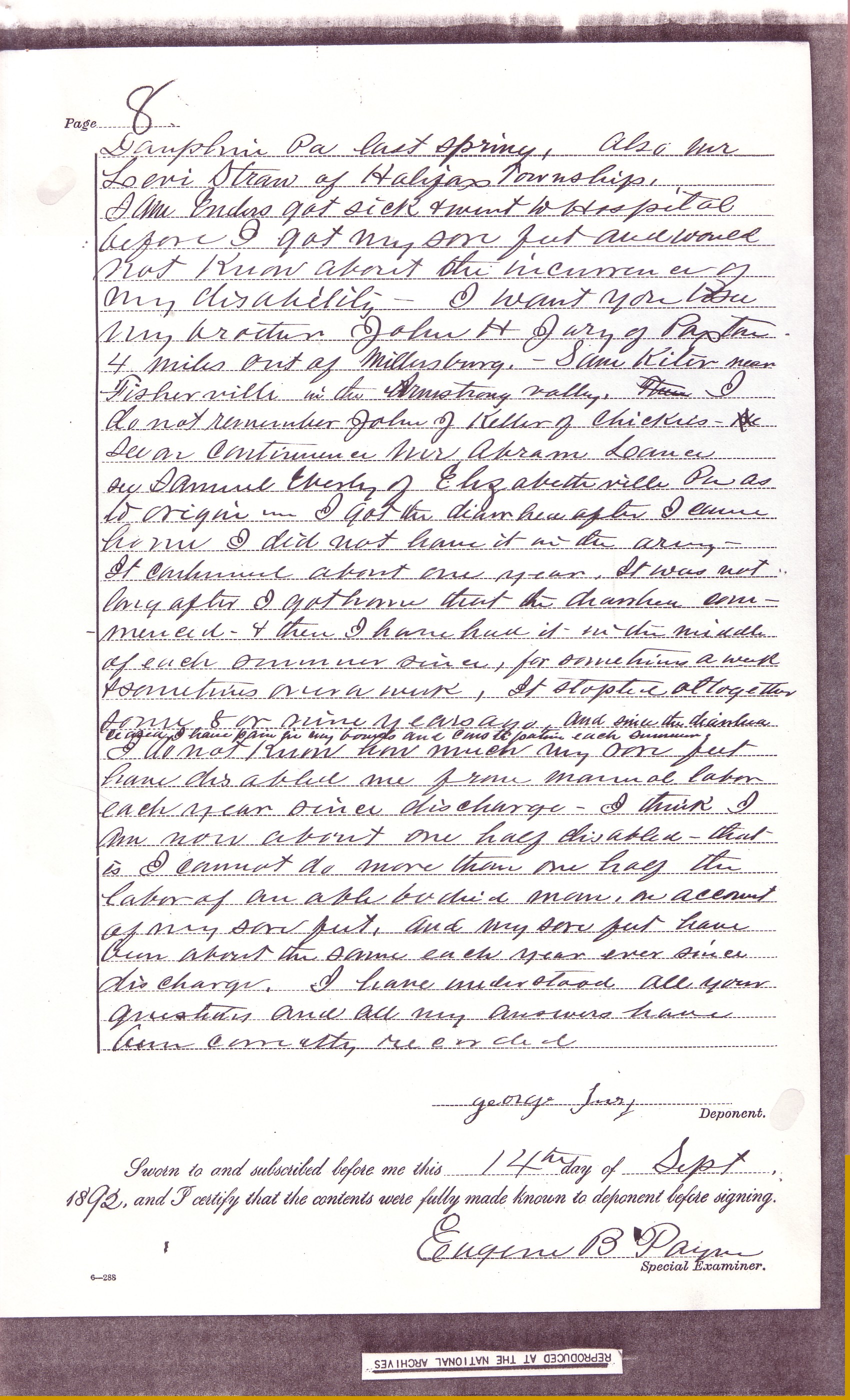 Finally, in Page 4 of the Deposition, George estimates that the "sore feet" have made him "about one half disabled" and "my sore feet have been about the same each year ever since discharge."
He signed the Deposition himself.
Throughout the Deposition, George Jury gives the names of others who served with him in the 172nd Pennsylvania Infantry, as well as neighbors in the area of Halifax Township who could testify in support of his claim.
Summary Declaration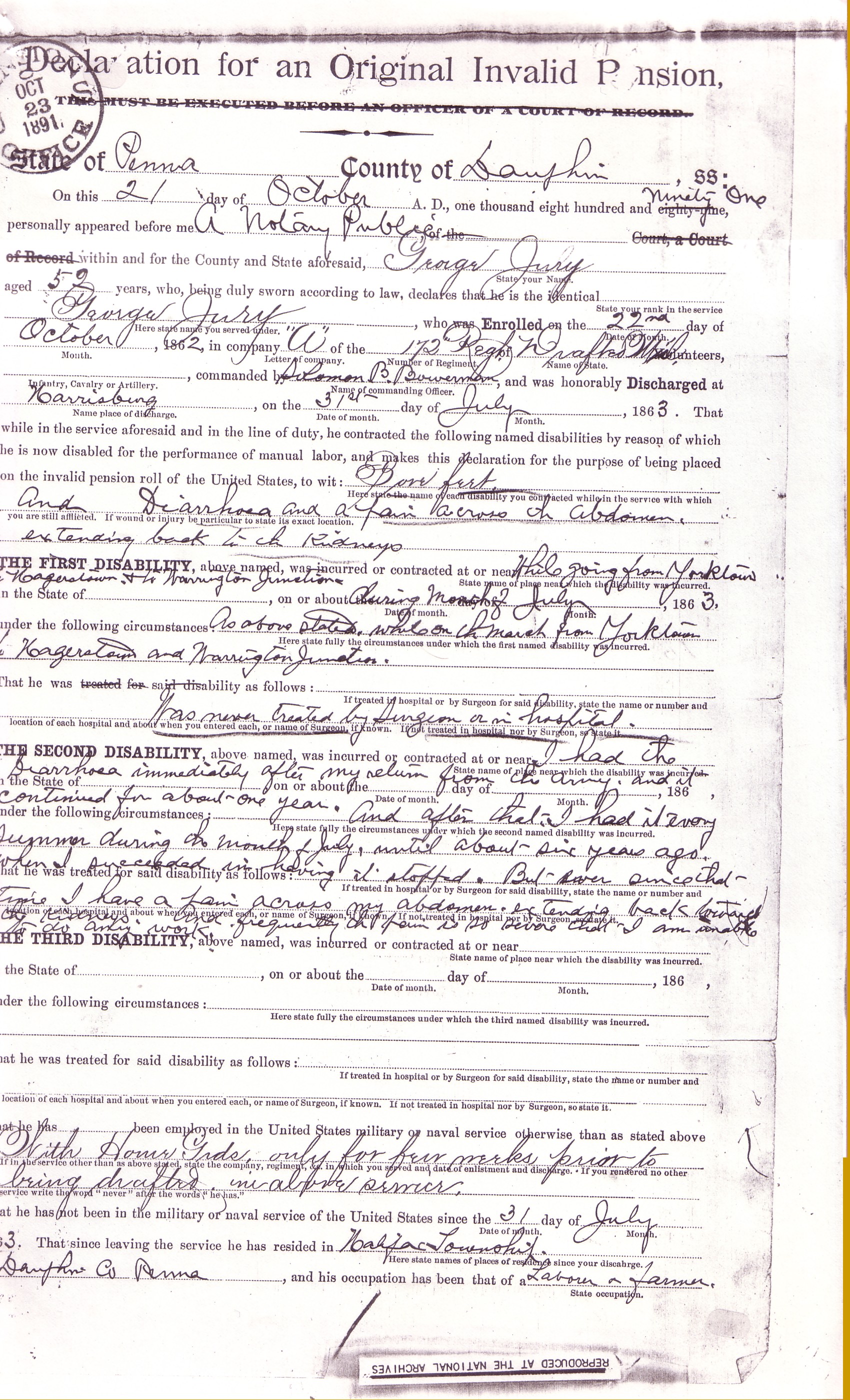 On a summary page received by the Pension Office on 23 October 1891, a second disability was given as "diarrhea" which occurred after his return from the army, and although alleviated, he had a "pain across my abdomen" which at times was "so severe I am unable to to do any work."  On this summary page additional information is given about his military service.
Marriage Information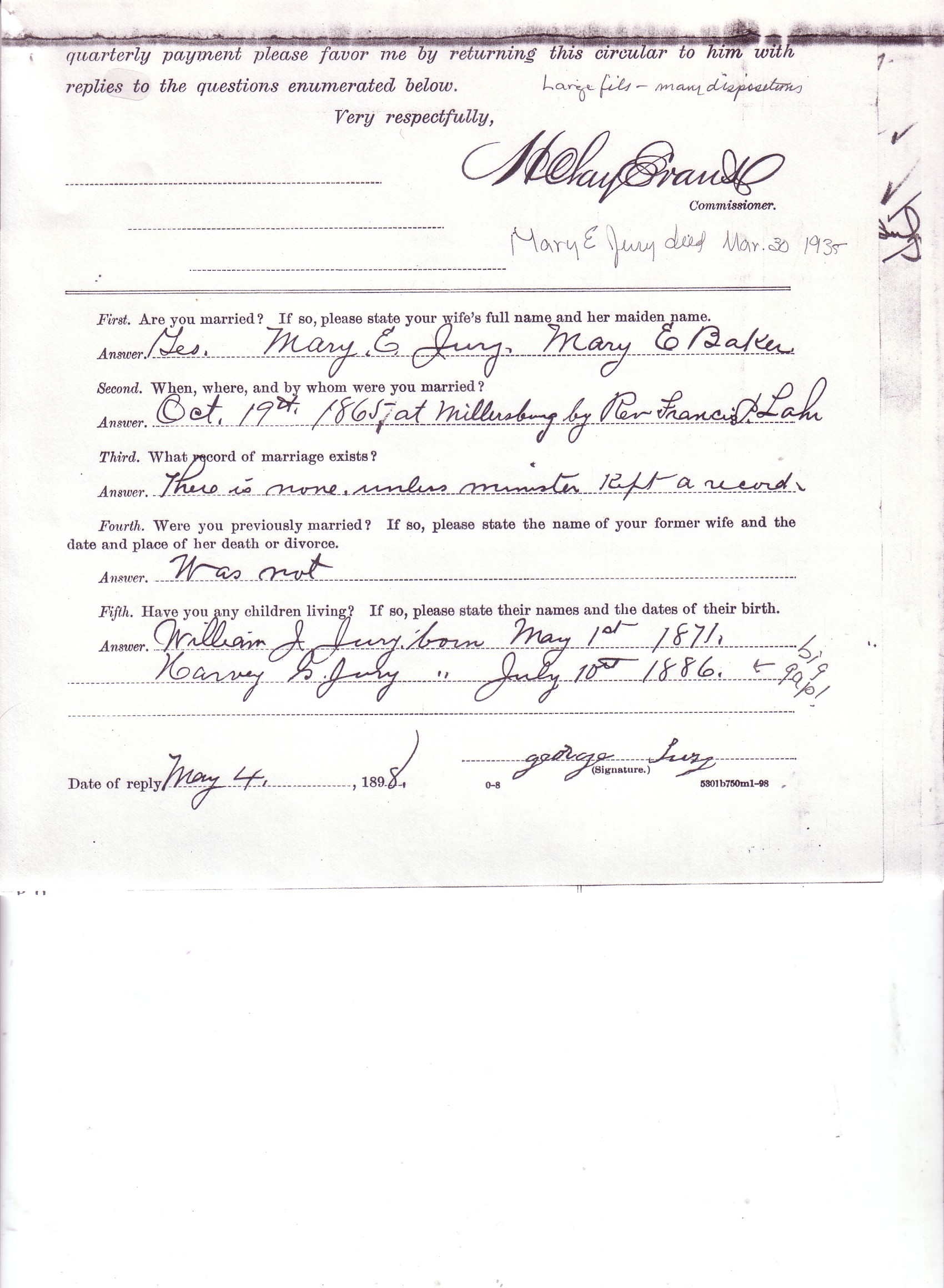 Mary Jury had to prove that she was married to George Jury when she applied for widow's benefits.  Although there was no "official" record available, she stated that her maiden name was Mary E. Baker, and she married to George on 19 October 1865 at Millersburg by the Rev. Francis Lahr.
Widow's Declaration
On the "Declaration for Widow's Pension," Mary stated that she had no living children under 16 years of age.  She also had to repeat much of the information about her husband's military service.  Genealogical records on Ancestry.com show that George and Mary had at least two known children:  William J. Jury (1871-1949) and Harvey Grant Jury (1886-1984).
---
Pennsylvania Death Certificate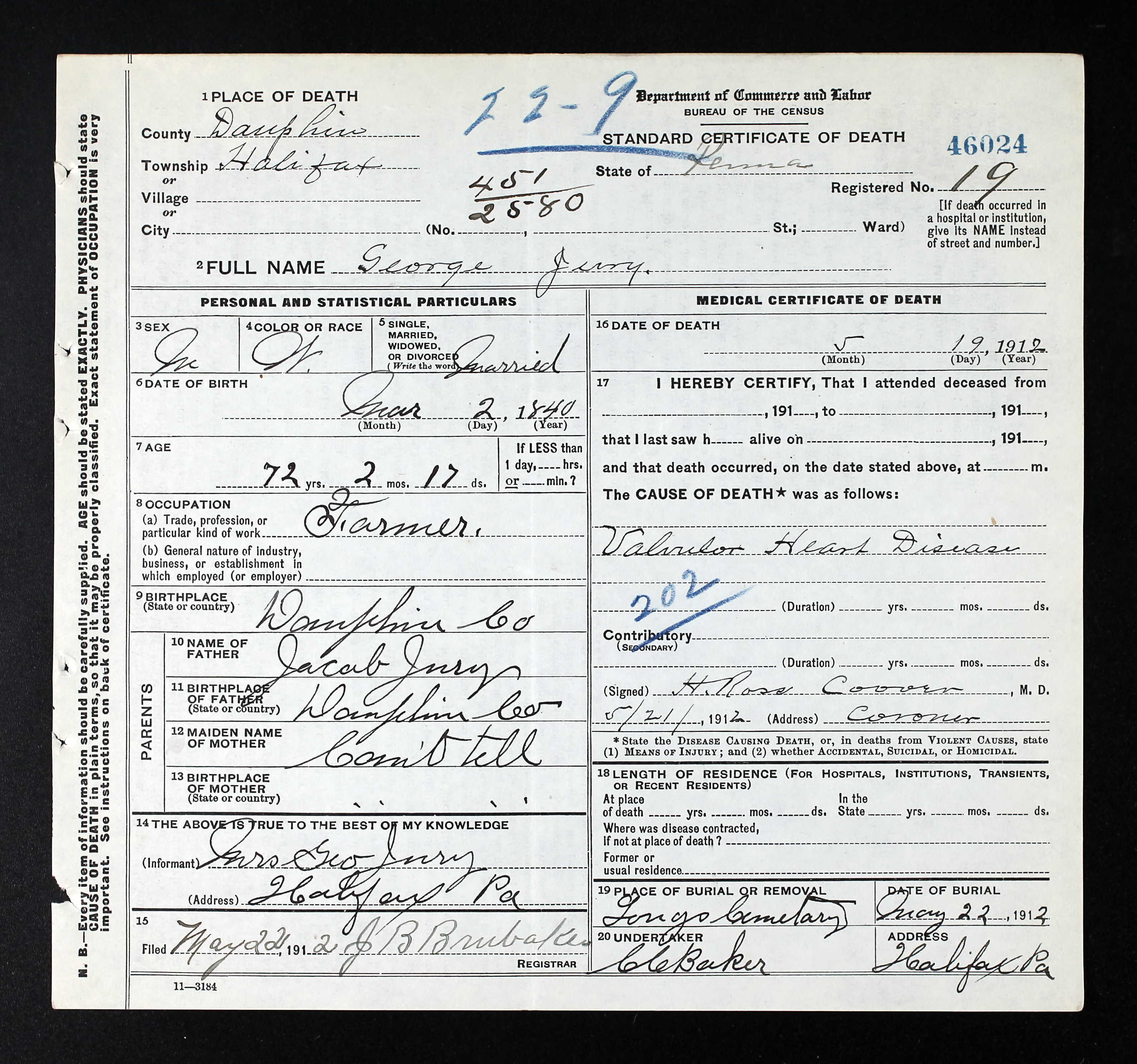 The Pennsylvania Death Certificate of George Jury states that he died of "valvular heart disease." From:  Ancestry.com.
---
Pension application papers are from the National Archives in Washington, D.C.  The Pension Index Card is from Ancestry.com.