Posted By Norman Gasbarro on June 3, 2016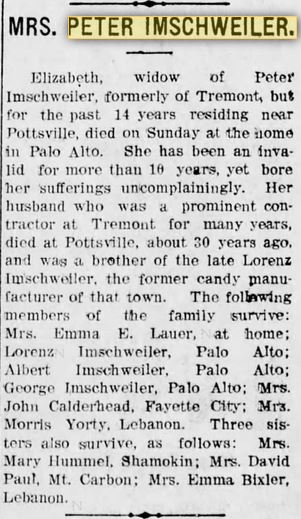 When Elizabeth Imschweiler died in 1908, her obituary did not mention that she was the widow of a Civil War veteran, but it did contain information about Peter Imschweiler, who, according to Civil War veteran records, served in the 173rd Pennsylvania Infantry, Company H, as a Sergeant.  The obituary, which appeared in the Lebanon County Weekly Report, 17 July 1908, stated the following:
MRS. PETER IMSCHWEILER

Elizabeth, widow of Peter Imschweiler, formerly of Tremont, but for the past 14 years residing near Pottsville, died at the home in Palo Alto.  She has been an invalid for more than 10 years, yet bore her sufferings uncomplainingly.  Her husband who was a prominent contractor at Tremont for many years, died at Pottsville, about 30 years ago and was a brother of the late Lorenz Imschweiler, the former candy manufacturer of that town.  The following members of the family survive:  Mrs. Emma E. Lauer, at home; Lorenz Imschweiler, Palo Alto; Albert Imschweiler, Palo Alto; George Imschweiler, Palo Alto; Mrs. John Calderhead, Fayette City; Mrs. Morris Yorty, Lebanon.  Three sisters also survive as follows:  Mrs. Mary Hummel, Shamokin; Mrs. David Paul, Mt. Carbon; Mrs. Emma Bixler, Lebanon.
From the records of the 173rd Pennsylvania Infantry, Peter Imschweiler enrolled in the regiment on 30 October 1862 at age 25 (born about 1837) and was mustered into service as a Sergeant in Company H, on 5 November 1862.  He served for 9 months in that regiment.  However, he apparently did not apply for a pension, as shown by the Pension Index Card (below, from Fold3).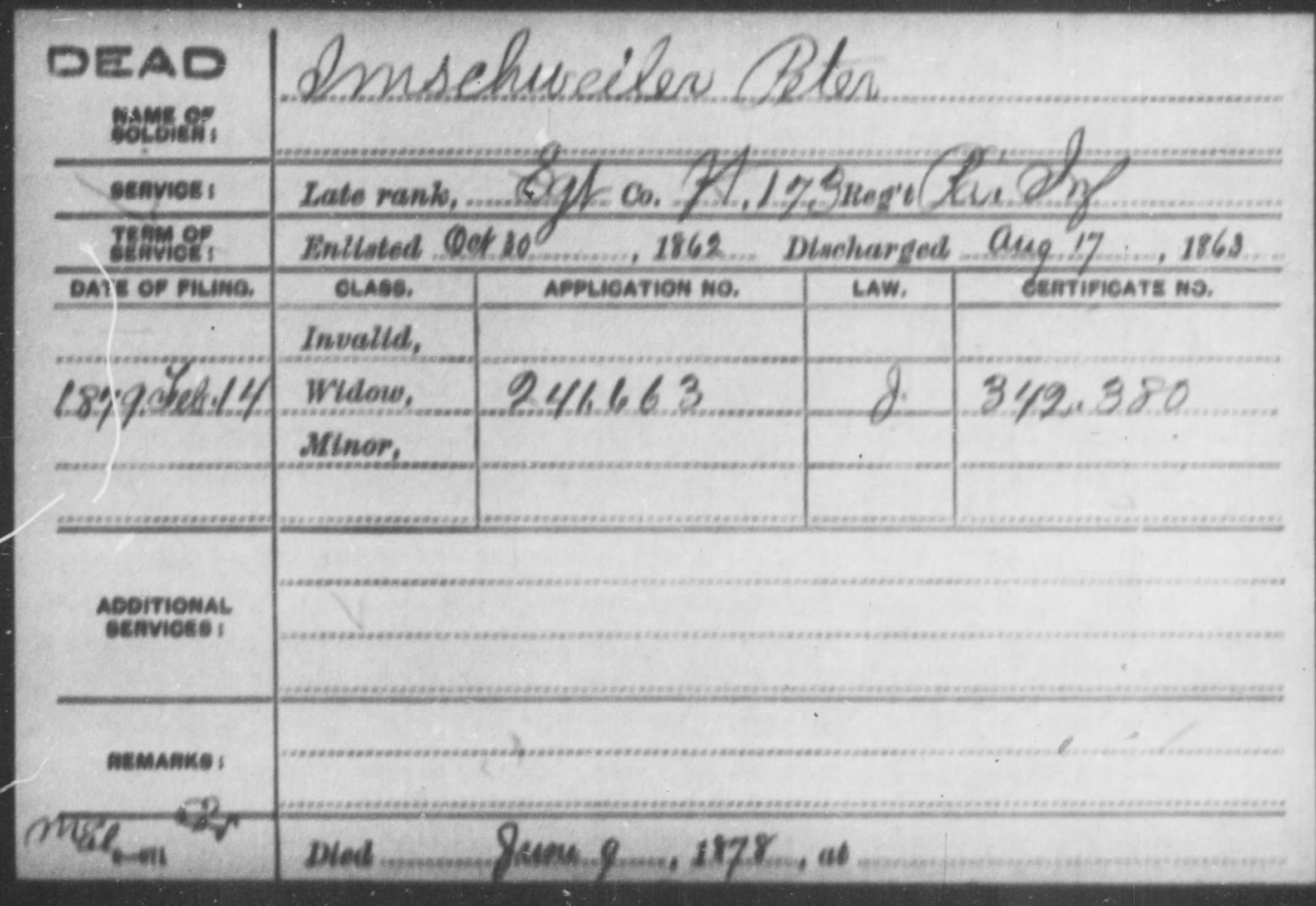 Peter Imschweiler's death date, as noted on the card, was 9 June 1878, which confirms information in the obituary of his widow.  On 14 February 1879, the widow applied for pension benefits, which she received and collected until her death. The widow's name?  As given on both the Pension Index Card from Ancestry.com and the 1890 Veterans' Census from Tremont, her name was Elizabeth Imschweiler.
Using the above information about Peter Imschweiler, the following additional facts were obtained through research:
In 1870, the Peter Imschweiler family was living in Tremont where Peter was working as a carpenter.
Peter was born in Bavaria (Germany), the son of Jacob Imschweiler and Wilhemina Imschweiler, immigrants who died in Tremont and are buried in the Methodist Cemetery there.
Peter's brother, Lorenz Imschweiler was living in Tremont in 1880 with his family and was working as a confectioner.  Lorenz was born in Bavaria and died in Tremont in 1904.
There was another brother, John Imschweiler, also born in Bavaria, who was living in Tremont in 1860 and working as a miner.  He died in Tremont in 1910.
Elizabeth Imschweiler's death certificate (1908) names her parents as Jacob Hostler and Elizabeth [Zimmerman] Hostler.
Most of the children of Peter Imschweiler and Elizabeth [Hostler] Imschweiler remained in the Tremont area most of their lives.
Despite the fact that much information can be discovered about the personal life of Peter Imschweiler, very little is known of his military record other than what was stated here.
Additional information is sought about Peter Imschweiler.  Readers who can supply any information should either add comments to this blog post or send the information via e-mail.
—————————–
The news clipping is from Newspapers.com.