Posted By Norman Gasbarro on June 8, 2016
The Williamsport Sun Gazette reported the death of Cornelius Hoke in its 8 January 1913 edition:
RENOVO VETERAN ON DEATH'S ROLE [sic]


Cornelius Hoke Dies After Long Sickness Aged 71 Years

Cornelius Hoke, an aged and respected citizen of this place, died last evening at 6:40 o'clock at his residence on Eleventh Street after a two years' illness, two months of which he passed in bed.  The deceased was born 1 April 1842, at Halifax, Dauphin County.  He was married at Lock Haven, 6 August 1867, to Miss Susan McElhaney, of Hynor [?], who with the following children survive him:  Arthur T. Hoke, of Altoona; Mrs. David McLatchie, of Reading; Mrs. Vinton Markley, of Mad–, Clearfield County; Mrs. John Hand, of Youngstown, Ohio; Amy Hoke and Mrs. Jacob Huff, of Renovo.

He was a veteran of the Civil War, having served as a Private in Company D, Forty-sixth Regiment, Pennsylvania Volunteers [46th Pennsylvania Infantry], from 2 September 1861 to 18 September 1864. He enlisted at Harrisburg and was honorably discharged at Chattanooga.  The funeral will take place on Friday afternoon at the residence.  Services will be in charge of Rev. James E. Skillington, of the Methodist Church.  Interment will be made in Fairview Cemetery.  The funeral will be in charge of Bucktail Post, No. 142, G.A.R., of Renovo, of which the deceased was a member.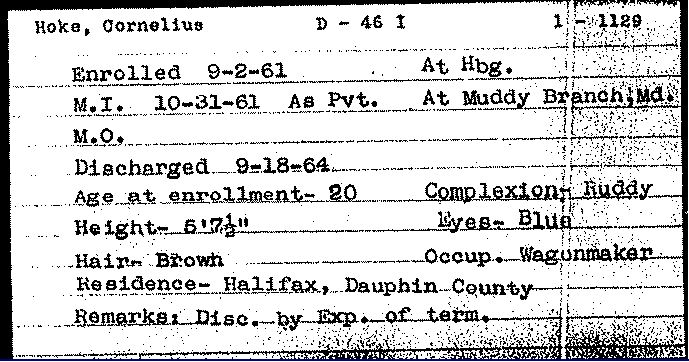 The Pennsylvania Veterans' File Card from the Pennsylvania Archives, confirms that at the time of his enrollment in his Civil War regiment, that he was a resident of Halifax, Dauphin County, that he was about 20 years old, his height was 5 foot – 7.5 inches, that he had a ruddy complexion, blue eyes and brown hair.  His occupation was given as wagonmaker.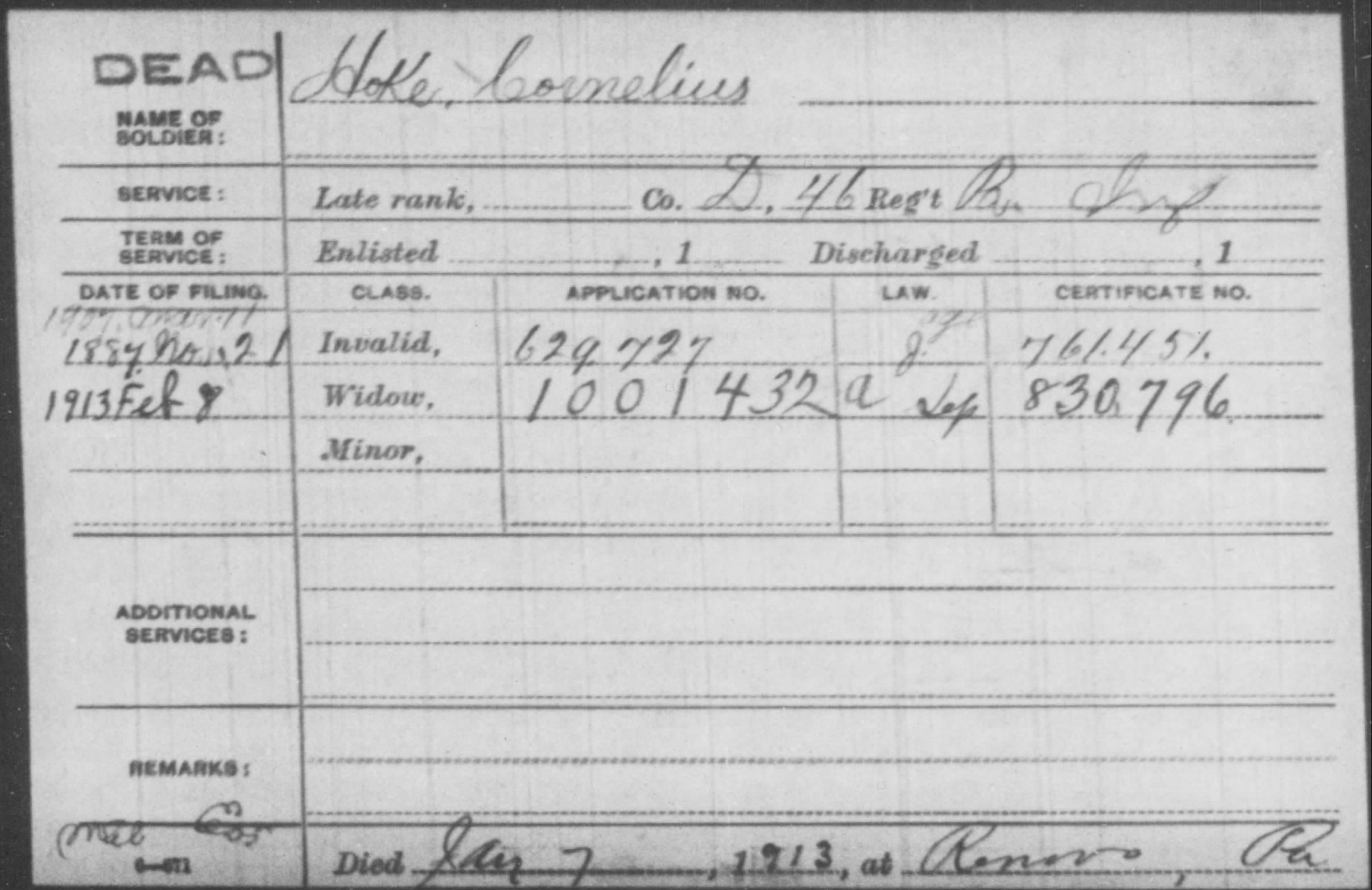 After the war, on 1 November 1884, Cornelius applied for a pension, which he received and collected until his death, which occurred on 7 January 1913 at Renova, Pennsylvania.  After his death, his widow, Susan E. [McElheny] Hoke, applied for benefits, which she received and collected until her death, 30 May 1921.
Additional information about Cornelius Hoke can be found on his Findagrave Memorial.