Posted By Norman Gasbarro on June 9, 2016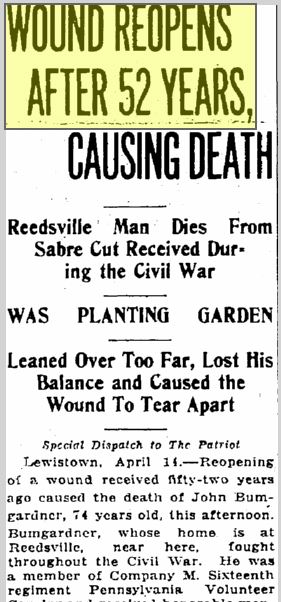 The following story appeared in the Harrisburg Patriot, 15 April 1915:
WOUND REOPENS AFTER 52 YEARS, CAUSING DEATH

Reedsville Man Dies From Sabre Cut Received During the Civil War

WAS PLANTING GARDEN

Leaned Over Too Far, Lost His Balance and Caused the Wound To Tear Apart

Special Dispatch to the Patriot

Lewistown, 14 April 1915 — Reopening of a wound received fifty-two years ago caused the death of John Bumgardner, 74 years old, this afternoon.  Bumgardner, whose home is at Reedsville, near here, fought throughout the Civil War.  He was a member of Company M, Sixteenth Regiment Pennsylvania Volunteer Cavalry [16th Pennsylvania Cavalry] and received honorable mention for special bravery in several battles.

Fifty-two years ago today he received a sabre cut in the left side during a skirmish between two detached parties.  Loss of blood at this time nearly proved fatal but after months of nursing he was again able to join his company where he served until President Lincoln mustered the men out of service.  After his return to his home he was incapacitated for a time but later recovered from the effects of the wound.

He had been setting out a garden for several days at his home and today was planting onions when he leaned over too far and fell on his side.  The fall opened the old wound, nearly forgotten, and his death occurred a few minutes later.  He died near the place where he fell among the newly planted vegetables.
Despite the interesting story, the official Pennsylvania Death Certificate  for John Bumgardner gives the cause of death as "chronic nephritis".  The certificate was signed by Dr. Charles J. Stambaugh who claimed he had been treating Mr. Bumgardner for a week for that same disease.  The doctor also did not indicate that there were any contributing factors.
If John Bumgardner was wounded 52 years earlier while on detachment, the incident would have occurred in April of 1863 while the regiment was located in Virginia.  By July 1863, the regiment was participating in the Battle of Gettysburg.  But John Bumgardner does not appear on the Pennsylvania Memorial tablet for Company M of the 16th Pennsylvania Cavalry (shown below), perhaps because he missed the battle due to  his hospital recovery?

According to Civil War records, John Bumgardner was mustered into service as a Private in Company M of the 16th Pennsylvania Cavalry on 23 September 1862 and was discharged by General Order on 31 May 1865.  Unless President Lincoln issued the order prior to his death in April 1863, the presidential order would have been issued by his successor, Andrew Johnson.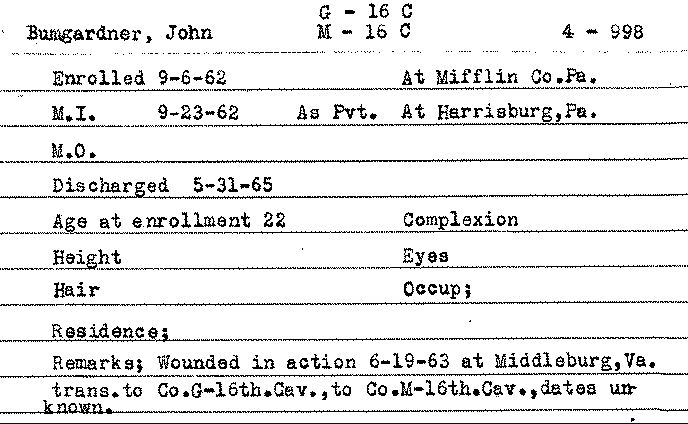 The Pennsylvania Veterans' Index Card, shown above form the Pennsylvania Archives notes that John Bumgardner was wounded in action on 19 June 1863 at Middleburg, Virginia.  This could be the wound mentioned in the obituary, although not quite 52 years prior.  A transfer to Company G is also noted, but his records have been kept with Company M, because he was eventually transferred back to Company M, dates unknown.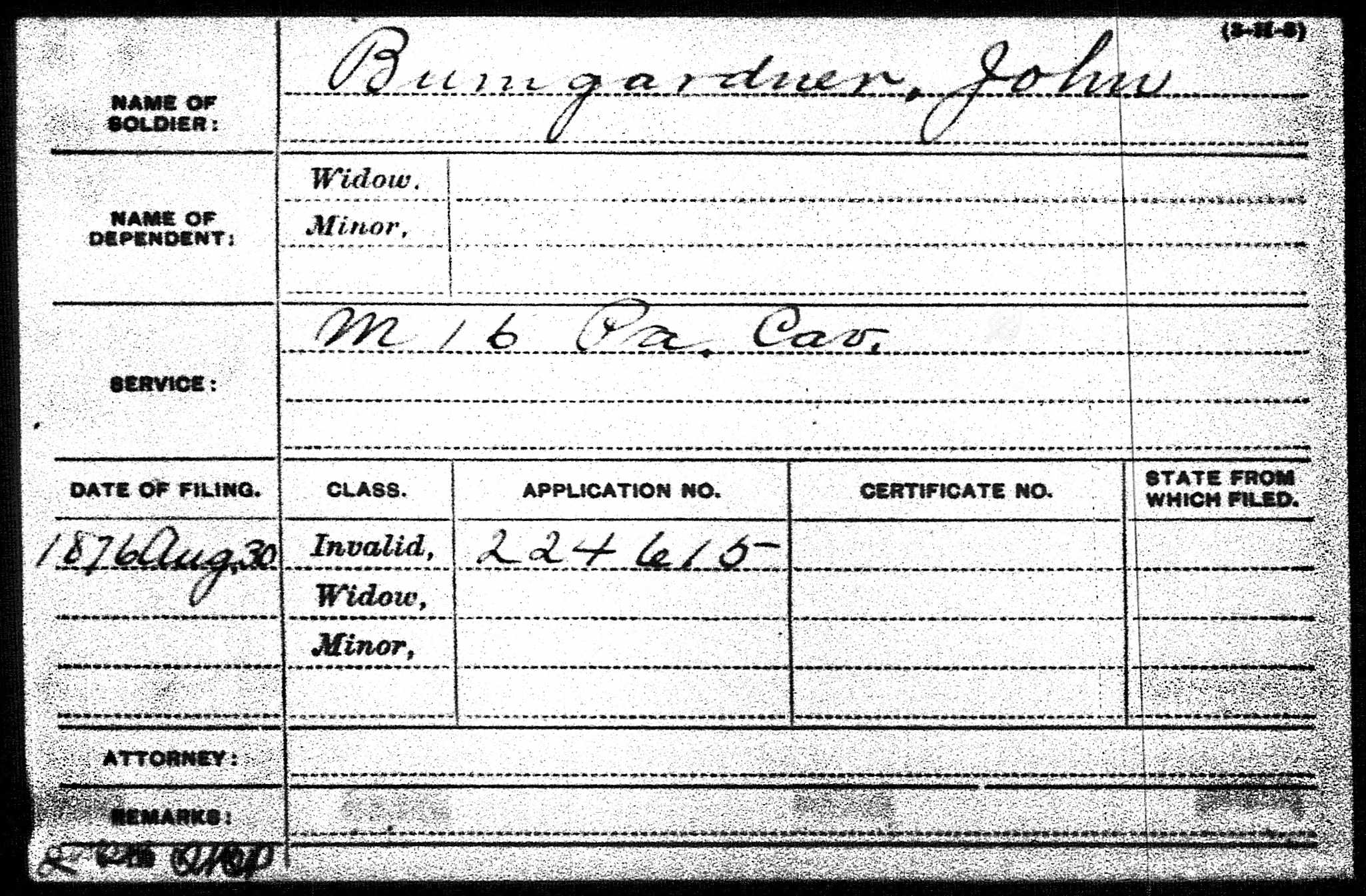 The final document examined for John Bumgardner is the Pension Index Card, shown above from Ancestry.com.  It shows that he applied for a disability pension on 8 August 1876 for a disability incurred as a result of his service in the 16th Pennsylvania Cavalry, Company M.  However, he did not receive benefits!  Whatever problem occurred which prevented him from receiving a pension would be documented in his application papers, which are available at the National Archives in Washington, D.C.  If he received several "honorable mentions for special bravery in several battles," why didn't he qualify for a pension?
While there are some elements of truth in the report of the death of John Bumgardner, the fact that he did not qualify for a pension and the fact that the death certificate did not cite an open wound as either the cause or the contributing factor to his demise, there are too many unanswered questions about this Civil War story for it to be believable.
For those wishing to research this story further, the military records may give some indication of John Bumgardner's actual service and include any time he spent in a hospital recovering – and the pension application file will surely give the reason for the denial of benefits.  Both the military record cards and the pages of the pension application file are available from the National Archives in Washington, D.C.