Posted By Norman Gasbarro on June 27, 2016
On 14 December 2014, the story of Henry Kemble was presented here in a post entitled, Farmer of Northumberland County. Another obituary of him was recently located in the Mount Carmel Item of 6 January 1922: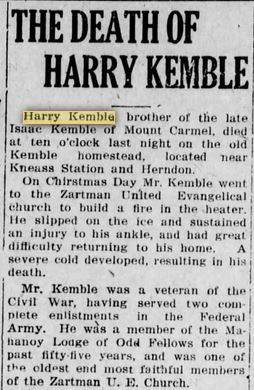 THE DEATH OF HARRY KEMBLE

Harry Kemble, brother of the late Isaac Kemble of Mount Carmel, died at ten o'clock last night on the old Kemble homestead, located near Kneass Station and Herndon.

On Christmas Day, Mr. Kemble went to the Zartman United Evangelical Church to build a fire in the heater.  He slipped on the ice and sustained an injury to his ankle, and had great difficulty returning to his home.

Mr. Kemble was a a veteran of the Civil War, having serve two complete enlistments in the Federal Army.  He was a member of the Mahanoy Lodge of Odd Fellows for the past  fifty-five years, and was one of the oldest and most faithful members of the Zartman U. E. Church.

Although he lived on the farm all his life, except during the time he served in the Army, Mr. Kemble was a writer and poet of note, and was one of Northumberland County's best informed men.

The immediate survivors are a sister, Mrs. Mary K. Baum, Herndon, and a stepbrother, Jacob Drumheller, residing at Supply House, between Mount Carmel and Kulpmont.

The funeral will be on Monday, burial to be made in the Zartman Church Cemetery.
---
The news article is from Newspapers.com.