Posted By Norman Gasbarro on May 13, 2016
The death of Lewis F. Hummel in Shamokin on 30 November 1906 helped to bring to light some interesting information about some ties to several communities in the Lykens Valley area as well as his Civil War service.  His obituary appeared in the Mount Carmel Item on the day he died: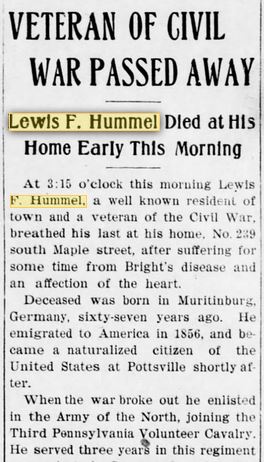 VETERAN OF CIVIL WAR PASSED AWAY

Lewis F. Hummel Died at His Home Early This Morning

At 3:15 o'clock this morning Lewis F. Hummel, a well known resident of town and a veteran of the Civil War, breathed his last at his home, No. 329 South Maple Street, after suffering for some time with Bright's Disease and an affection of the heart.  Deceased was born in Muritinburg, Germany, sixty-seven years ago.  He emigrated to America in 1856, and became a naturalized citizen of the United States at Pottsville shortly after.

When the war broke out he enlisted in the Army of the North, joining the Third Pennsylvania Volunteer Cavalry [3rd Pennsylvania Cavalry].  He served three years in this regiment as a private in Company L, and during that time took part in many engagements, notably among them the battles at Gettysburg, Fairfax courthouse, Lookout Mountain, Wilderness, Malvern Hill, Second Bull Run.

Five years ago he came to Mount Carmel and his quiet, friendly demeanor gained for him hosts of friends who will be grieved to learn of his death.

His wife and the following children survive:  Louis W. Hummel, of town; Charles H. Hummel, of Shamokin; Oscar C. R. Hummel, of Scranton; Emma [Hummel] Old, of Camden, New Jersey;

Ida C. [Hummel] Chamberlain, wife of W. H. Chamberlain, of Youngwood, Westmoreland County.

The funeral arrangements will be announced later.
A service record card was located at the Pennsylvania Archives for Lewis F. Hummel: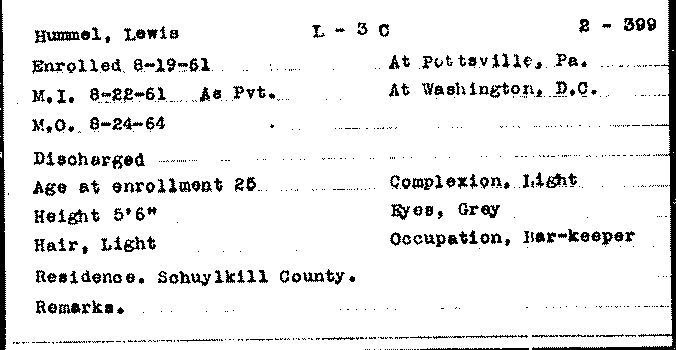 The card shows that Lewis Hummel enrolled in the 3rd Pennsylvania Cavalry at Pottsville, on 19 August 1861, and was mustered into service three days later at Washington, D.C., as a Private in Company L.  At the time of his enrollment, he claimed he was 25 years old (born about 1836), was employed as a barkeeper, and resided in Schuylkill County.  He stood 5 foot, 6 inches tall, had light hair and a light complexion.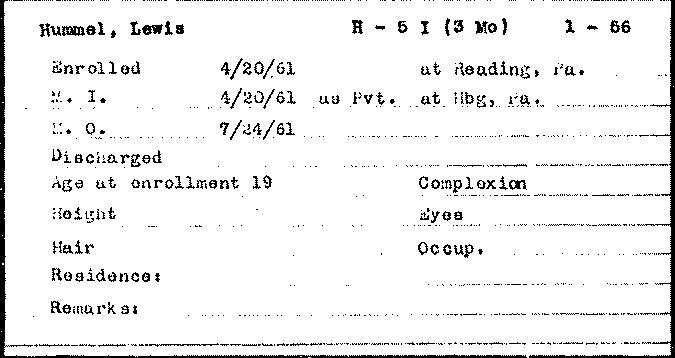 Another record card was located for a Lewis Hummel, possibly the same person but not confirmed, for an initial 3-month service in the 5th Pennsylvania Infantry, Company H, as a Private.  This enrollment took place at Reading, Berks County, with a muster in at Harrisburg on 20 April 1861 and a discharge date of 24 July 1861.  The General Index Card to the military records (not shown here, but available on Fold3), notes that the Lewis Hummel in that regiment was mustered in as a Corporal, but mustered out as a Private, a demotion in rank, but with no reason given for the demotion.  An age of 19 years old was given to the recruiter (born about 1842), so this is possibly a different Lewis Hummel.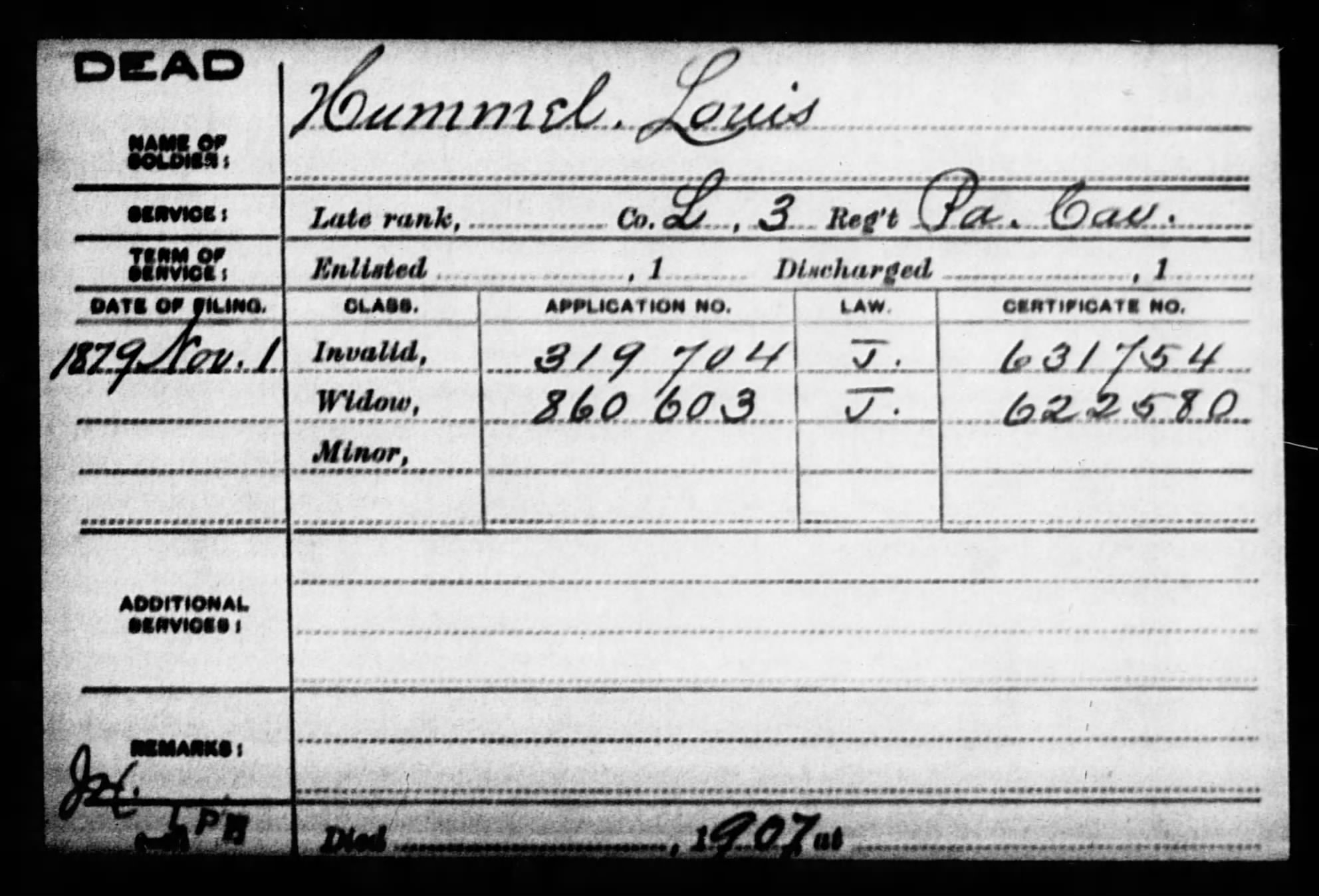 The Pension Index Card (shown above from Fold3) for Lewis Hummel (as Louis Hummel), for the 3rd Pennsylvania Cavalry, with no other service mentioned, notes that he applied for benefits on 1 November 1879, and after his death, his widow applied.  The death date on the card of 1907 is incorrect, but it is close to his date of death which occurred in late 1906.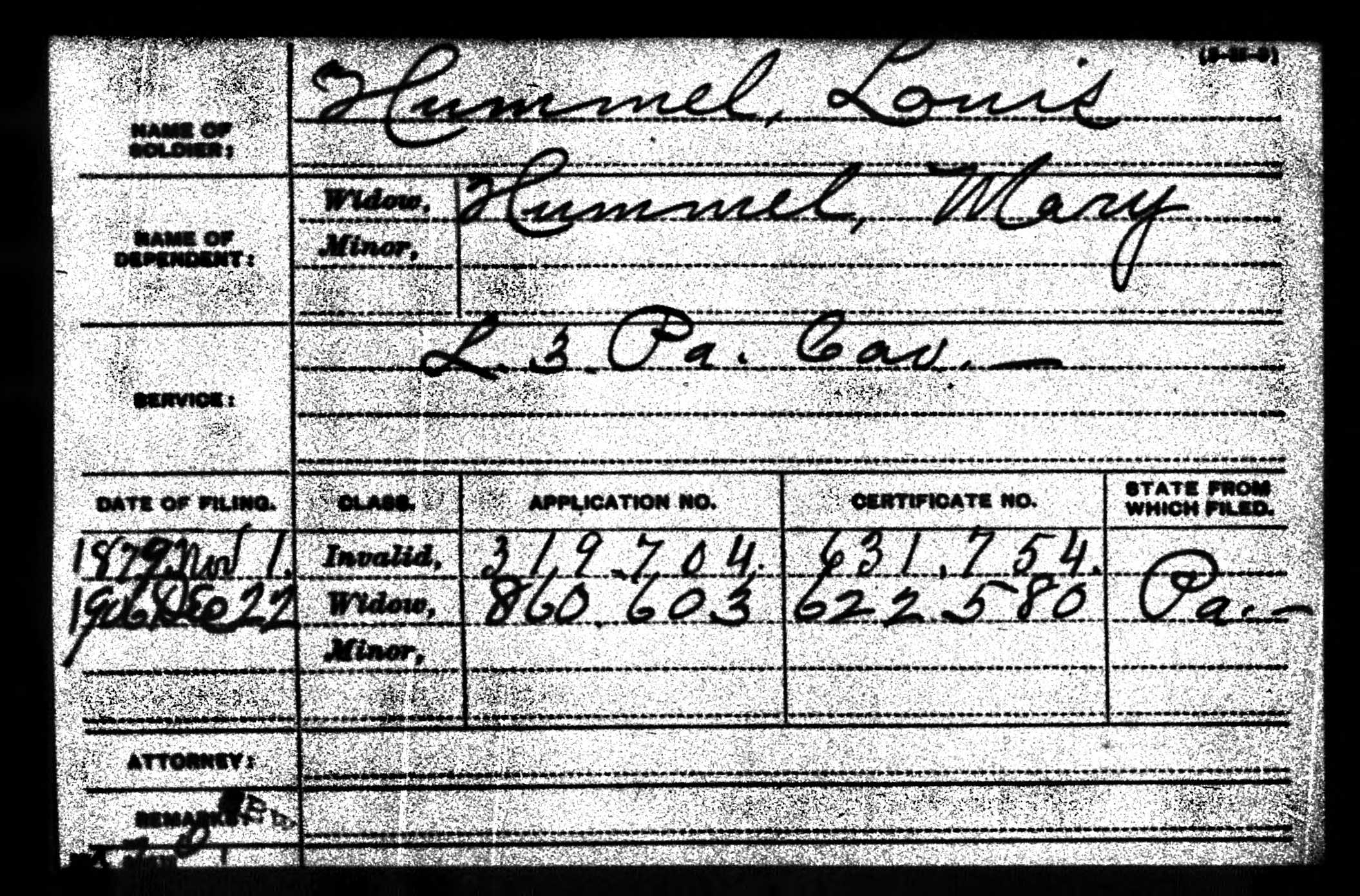 The Pension Index Card (shown above from Ancestry.com), shows that his widow, Mary Hummel, applied for benefits on 22 December 1906, which she received and collected until her death.
On the 1890 Veterans' Census sheet for Williams Township, Post Office Williamstown, Lewis Hummel appears as a resident who served in the 3rd Pennsylvania Cavalry.  At the time, he did not indicate that he had any war-related disabilities.
After arriving in the United States, Lewis F. Hummel appeared in the 1860 Census for Frailey Township, Schuylkill County, where he was working as a laborer.
On death certificates for her children, Mary Hummel appears as Mary Hossler (her maiden name), who was born in Tremont.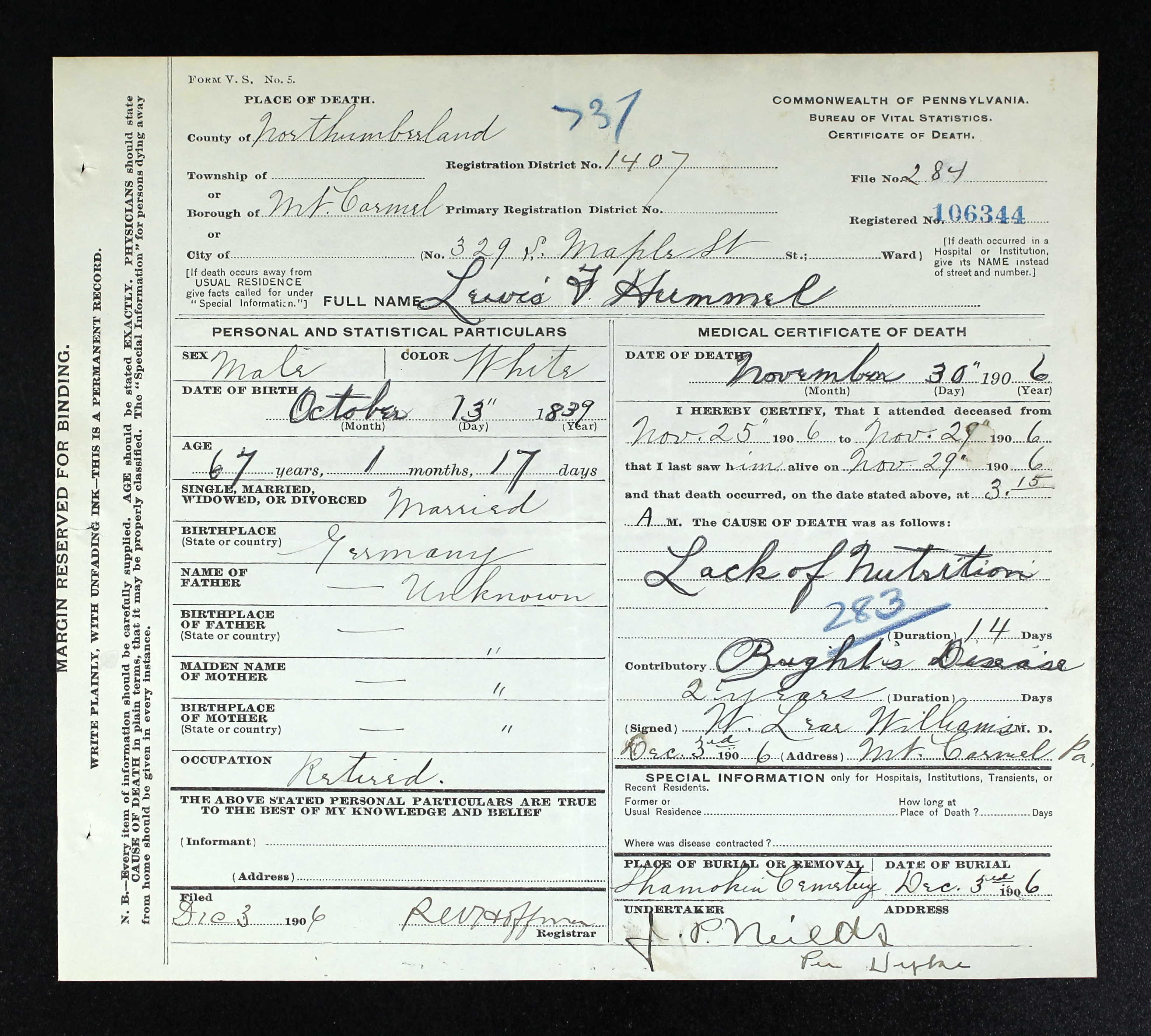 On his Pennsylvania Death Certificate, Lewis F. Hummel's birth date is given as 13 October 1839, which is about 5 years later than what is actually believed to be his correct birth date.  The informant did not know the names of his parents, but did know that he was born in Germany.  The place of burial was given as Shamokin Cemetery. Pennsylvania Death Certificates are available from the Pennsylvania Archives, via Ancestry.com.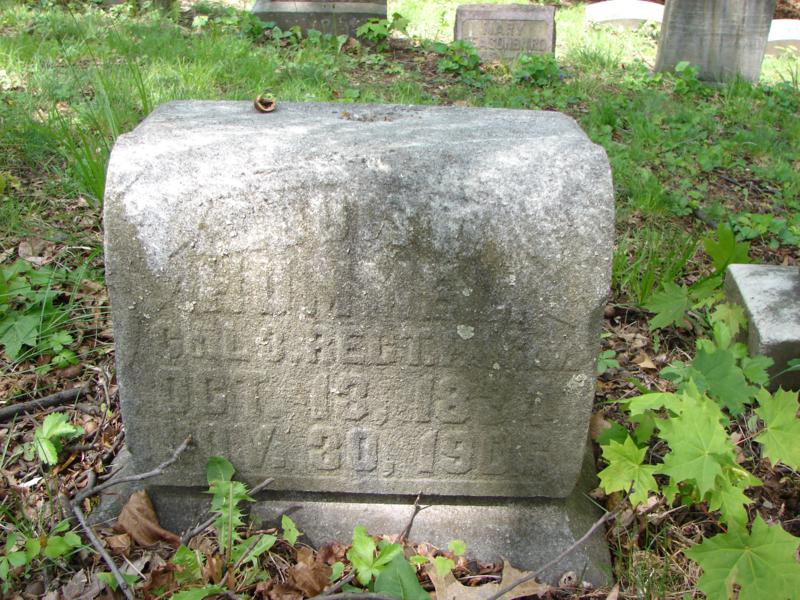 Lewis F. Hummel is found on Findagrave, as buried at the Shamokin Cemetery, Northumberland County.  However, his memorial needs to be updated to recognize the fact that he was a Civil War veteran.
Finally, although the obituary of Lewis F. Hummel states that he served at Gettysburg, the plaque for Company L of the 3rd Pennsylvania Cavalry does not contain his name.  This could be an error and his name should have been included, but it is possible that Lewis was not with the regiment at the time of the battle.  The National Park Service is no longer correcting errors on the monument itself, but does keep a record of the errors, and if a descendant or battle researcher can prove that he was there during the battle, he can be added to the list of corrections.  See:  Correcting Errors.
As always, more information is sought on Civil War soldiers for the Project files.  When received, the information is shared with historical societies and often posted here on the blog or added to Ancestry.com where it can be widely disseminated.  Comments can be added to this specific post or can be sent by e-mail.  Photographs are especially welcome!