Posted By Norman Gasbarro on May 23, 2016
John Peter Crabb, Civil War veteran and native of Gratz, Pennsylvania, moved to Harrisburg after the Civil War, where he became a founder and Commander of Stevens Post No. 520, G.A.R.  He was previously profiled here, but not included in that article was a fair conducted by that post in 1889 for the purpose of raising funds to help needy African American war veterans, and widows and orphans of war veterans.  This occurred one year before the rules for obtaining a pension were relaxed to make it easier to obtain benefits for all veterans.  As a show of solidarity, the commanders of the all-white Harrisburg G.A.R. posts attended and gave well-received speeches to open the fair.
An article from the Harrisburg Telegraph, 15 January 1889, told the story: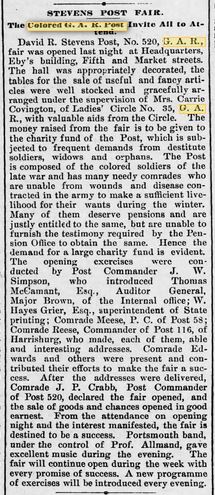 STEVENS POST FAIR

The Colored G.A.R. Post Invite All to Attend

David B. Stevens Post, No. 520, G.A.R., fair opened last night at Headquarters, Eby's Building, Fifth and Market Streets [Harrisburg].  The hall was appropriately decorated, the tables for the sale of useful and fancy articles were well stocked and gracefully arranged under the supervision of Mrs. Carrie Covington, of Ladies' Circle No. 35, G.A.R., with valuable aids from the Circle.

The money raised from the fair is to be given to the charity fund of the Post which is subjected to frequent demands from destitute soldiers, widows, and orphans.  The Post is composed of the colored soldiers of the late war and has many needy comrades who are unable from wounds and disease contracted in the army to make a sufficient livelihood for their wants during the winter.  Many of them deserve pension and are justly entitled to the same, but are unable to furnish the testimony required by the Pension Office to obtain the same.  Hence the demand for a large charity fund is evident.

The opening exercises were conducted by Post Commander J. W. Simpson, who introduced Thomas McCamant, Esq., Auditor General, Major Brown, of the Internal office; W. Hayes Grier, Esq., Superintendent of State Printing; Comrade Meese, P. C. of Post 58; Comrade Reese, Commander of Post 116, of Harrisburg, who made, each of them, able and interesting addresses.  Comrade Edwards and others were present and contributed their efforts to make the fair a success.

After the addresses were delivered, J. P. Crabb, Post Commander of Post 520, declared the fair opened, and the sale of goods and chances opened in good earnest.  From the attendance on opening night and the interest manifested, the fair destined to be a success.  Portamouth Band, under the control of Professor Allmand, gave excellent music during the evening.  The fair will continue open during the week with every promise of success.  A new programme of exercises will be introduced every evening.
—————————–
News article is from Newspapers.com.