Posted By Norman Gasbarro on May 31, 2016
John Peter Crabb, Civil War veteran and native of Gratz, Pennsylvania, moved to Harrisburg after the Civil War, where he became a founder and Commander of Stevens Post No. 520, G.A.R. and was very active in Republican Party politics. He was previously profiled here, and last week a blog post told of a fair held in 1889 for the purpose of raising funds to help needy African American war veterans, and widows and orphans of war veterans.  This fair occurred one year before the rules for obtaining a pension were relaxed to make it easier to obtain benefits for all veterans.
But, even after the Congress passed legislation in 1890, many were still not satisfied that the major parties were giving sufficient attention to the needs of veterans.  For that reason, John Peter Crabb became the Vice President of an inter-racial group of veterans which met in Harrisburg in late August 1890 to consider proposing a slate of candidates in opposition to both the Republican and Democratic candidates who would be running in the upcoming election.
The story was told by the Harrisburg Telegraph, 28 August 1890: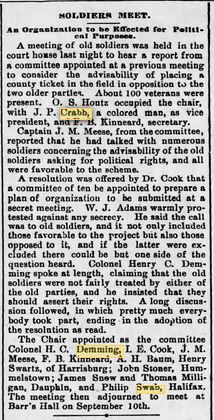 SOLDIERS MEET

An Organization to be Effected for Political Purposes

A meeting of old soldiers was held in the court house last night to hear a report from a committee appointed at a previous meeting to consider the advisability of placing a county ticket in the field in opposition to the two older parties.  About 100 veterans were present.  O. S. Houtz occupied the chair, with J. P. Crabb, a colored man, as vice president, and F. B. Kinneard, secretary.

Captain J. M. Meese, from the committee, reported that he had talked with numerous soldiers concerning the advisability of the old soldiers asking for political rights, and all were favorable to the scheme.

A resolution was offered by Dr. Cook that a committee of ten be appointed to prepare a plan of organization to be submitted at a secret meeting.  W. J. Adams warmly protested against any secrecy.  He said the call was to old soldiers, and it not only included those favorable to the project but also those opposed to it, and if the latter were excluded there could be but one side of the question heard.  Colonel Henry C. Demming spoke at length, claiming that the old soldiers were not fairly treated by either of the old parties, and he insisted that they should assert their rights.  A long discussion followed, in which pretty much everybody took part, ending in the adoption of the resolution as read.

The Chair appointed as the committee: Colonel H. C. Demming, I. E. Cook, J. M. Meese, F. B. Kineard, A. H. Baum, of Harrisburg; John Stoner, Hummelstown; James Snow and Thomas Milligan, Dauphin; and Philip Swab, Halifax.

The meeting then adjourned to meet at Barr's Hall on September 10th.
At this time it is not known what became of this group.
——————————
News clipping from Newspapers.com.